Best Credit Card Promos In The Philippines For June 2018
4 min read
We're finally at the tail-end of the summer. If you're a parent, you've probably started bustling about with back-to-school preparations. Some others, however, are still gearing up for one last hoorah before the sunny days are gone.
Thankfully, the gods of freebies and discounts are not about to rain on your parade, as tons of great deals and steals are up for grabs for credit cardholders this June.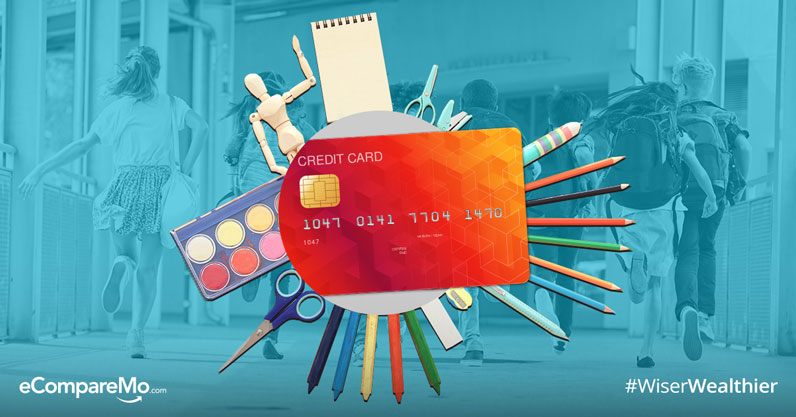 Here, check out the top credit card promo picks for this end-of-summer, back-to-school month.
BPI
Pack up for another school year ahead with High Sierra!
Use your BPI card to settle your bill on regular-priced High Sierra items and get a 20% discount for a P3,000 minimum spend at department stores and outlets. Qualified cards are BPI credit, debit, and prepaid cards. Promo runs until July 15, 2018.
BDO
Hungry for a savory treat? BDO cardholders get an exclusive P100 gift voucher to several dining establishments with a minimum P3,000 purchase made using their BDO Credit Card.
You may use your gift certificate in, Jamba Juice, Yellow Cab Sizzlin' Steak, Teriyaki Boy, and Dencio's. Simply register your transactions and to claim your electronic promo code. Promo runs until July 15, 2018. The redemption date is until September 15, 2018.
Citi
Capture the best moments of your summer with quality cameras from Henry's Cameras.
Use your Citi credit card with a minimum spend of P25,000 on PayLite 0% up to 24 months to get a Lens Cleaning Kit worth P780. Present your charge slips at the Henry's Cameras outlet where you made the purchase. Promo is from March 10 to July 31, 2018. Redemption is until October 1, 2018.
Another camera deal from Citi! Shop at Camerahaus, PayLite up to 24 months, and get awesome gadget freebies to match your purchase.
Citi cardholders get a Charge J-speaker worth P1,595 for a single-receipt worth P30,000. For single transaction worth P50,000, the customer gets a Tamrac Rally 2 worth P2,195. To claim, simply present your charge slips at the Camerahaus outlet where you made the purchase. Promo period is until July 31, 2018. Redemption is until October 1, 2018.
And it's still up! Get a well-deserved P5,000 eGift when you apply and subsequently get approved for any of the following cards until September 30, 2018: Citi Rewards Card, Citi PremierMiles Card, Citi Cash Back Card, Shell Citi Card, or Mercury Drug Citi Card. Simply make a one-time spend worth P20,000 with your new Citi card to claim your freebie.
HSBC
Are you an HSBC Red Mastercard Credit cardholder? Here's an exclusive promo for you!
Head to the SM Store for your back to school shopping to get the chance to win up to P100,000 cash back. To qualify for the raffle, spend a minimum P3,000 straight or P5,000 on installment purchase and settle your bill using any HSBC Credit Card. You can instantly check if you win by checking the receipt on the spot. Red Master Card, Plus! Promo is valid until July 31, 2018.
Eastwest
Celebrate your birthday this month at Gumbo!
Get a Petite Combo Delicioso worth P795 for a minimum single receipt worth P1,000 and a beverage. The celebrant will also get an additional complimentary slice of cake for P2,500 minimum single receipt order.
To avail of the offer, the cardholder must use their EastWest Credit Card to settle the bill and present a valid government ID. Advance reservation is required. Applicable for dine-in only. Promo is valid until March 31, 2019.
Security Bank
Here's a delightful promo for both students and professionals!
Security Bank's Back-To-School promo allows you to take home the latest Apple gadgets on 0% ChargeLight terms.
Use your Security Bank credit card to pay at accredited Power Mac Center and Apple stores. Cardholders have the Charge Now, Pay Later options of 3, 6, 12 and 24-month installment on selected items. Security Bank Corporate Mastercard and Security Bank Debit Mastercard are excepted from the promotion. Promo is valid until July 31, 2018.
Metrobank Card
Take a dip at the serene seas before the summer ends. Explore the paradise of Lagen Island, El Nido Resorts—with 50% discount!
Use your Metrobank Femme Signature or Metrobank Travel Platinum Visa to avail of this promo. Package includes transfers, water and beachfront accommodation for minimum two nights, meals at the Club House Restaurant and activities and tours. This promo is available from Monday to Sunday. Booking date is until June 15, 2018, only. Travel period is from May 15, 2018, to September 30, 2018
UnionBank
Looking forward to watching blockbuster movie hits? Free your Wednesdays and get well-deserved movie treat! Get P100 off when booking online tickets at SM Cinemas!
No need to queue and simply pay conveniently with your UnionBank Visa card! Valid on purchases made on Wednesdays, including advanced bookings. Minimum purchase of two movie tickets to avail, so bring along a buddy! Discount will automatically be deducted from the total bill. Promo is valid ever Wednesdays until November 30, 2018.