Find the best credit cards in the Philippines
Compare the best credit cards in the Philippines. Find the perfect match for you then conveniently apply online within minutes.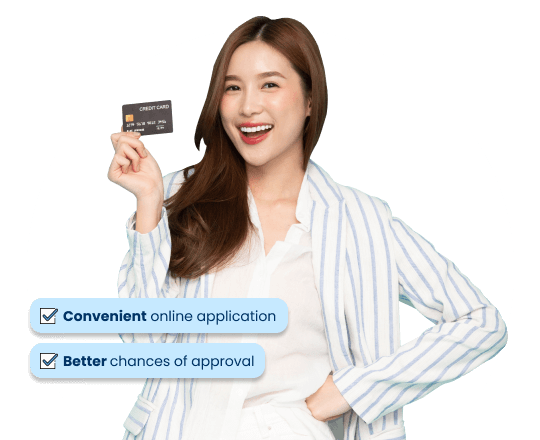 Compare 70+ Credit Cards From Top Credit Card Companies
Get matched with the most suitable credit card for your lifestyle.
Get the Best Credit Card in the Philippines
With hundreds of credit cards to choose from, how do you make sure you get one that's tailor-fit for your budget and lifestyle? eCompareMo does all the work for you.

Find the right credit card in seconds
Compare credit cards & pick the best fit for you within seconds.

Fully Digital Application
Fully online application for your utmost convenience when applying for a credit card.

Guaranteed safe and secure
We value your data & privacy, that's why we maintain the highest level of data security.
Compare now
eCompareMo makes sure you get the right credit card—fast. Through an online comparison platform, people can easily compare a wide variety of credit cards and find the best fit. Also, the relevant rates, fees, and other details are displayed to guide potential cardholders in choosing the card that best suits their lifestyle.
Our banking advisors make sure your application gets processed immediately upon completion of the required documents. It's like having your own personal assistant—only using our services is absolutely free!
Before you apply for a credit card, think about your income, spending habits, lifestyle, and…yeah, life goals. Given the number of cards available from different banks in the Philippines, how will you know which is the right one for you? Consider these things when choosing your next credit card:
Low interest rate
Annual fee
Payment terms
Charges and other fees
Credit card promos
Perks and privileges
Loyalty points and rewards
Cash rebates
If you can use your credit card to empower your life decisions and stay away from unnecessary debt by being responsible financially, a credit card is packed with features that you'll enjoy.
Main features of credit cards:
Cash back
Redeemable rewards points
Frequent flyer-miles
Safer to use than debit cards
Balance transfer
Convenience of use at most establishments
Building credit
More than just for paying with the utmost convenience, credit cards offer benefits that unlocks opportunities not available for other payment channels.
Benefits of a credit card:
0% interest installment
Auto pay bills payment
Special promos with discounts and freebies
Cashless transactions
With hundreds of credit cards on the market, applying for the right one may seem intimidating and confusing especially for first timers.
Not only that, credit cards come in different specs and features, have different interest rates, and offer various promos and perks. With that, it's better to has all the information in your hands before applying for what you believe is the best credit card in the Philippines.
Compare and choose the right credit card for your lifestyle
Check your eligibility requirements
Submit your credit card application online 
Prepare and attach necessary documents and requirements
Wait for confirmation and for credit card processor to reach out
Compare now