Save Big Time on Car Insurance
Compare providers, enjoy up to 30% savings, and experience hassle-free concierge service all-year-round
Get your FREE car insurance quote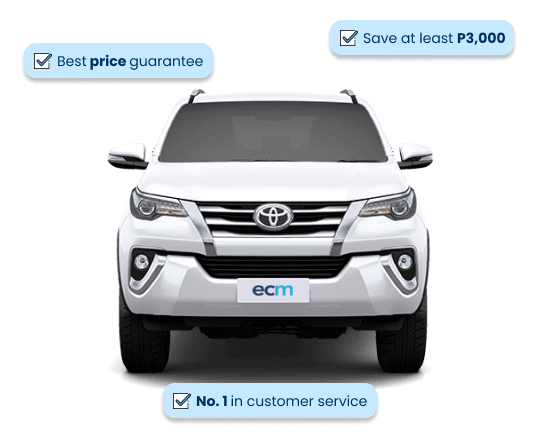 What car owners say about us
Our VIP Concierge team is committed to assisting you with car insurance policy adjustments, claims, and renewal
It was really easy dealing with you and I'm glad my husband found you! My husband also said you're professional to deal with. Keep it up!
eCompareMo has been very helpful since Day One! When the time came for me to file a claim, they made sure the repair was done in a week's time.
I commend your efforts to process the insurance. Well coordinated, resulting in a smooth transaction. Thank you, eCompareMo!
The best way to get car insurance quotes online
eCompareMo is trusted by thousands of car owners in the Philippines

Get multiple free car insurance quotes
It only takes a few taps and clicks to generate car insurance quotes from different providers to match your budget.

Get your e-policy within 24 hours
Found a provider you like? Complete the process and we'll send the policy in your inbox

Enjoy peace of mind all year round
Our dedicated VIP Concierge is here to assist you with claims and all other concerns
Get your FREE car insurance quote
Compare offers from the best car insurance companies in the Philippines
Save money and enjoy hassle-free service all-year-round
Comprehensive car insurance made simple
eCompareMo makes your search for car insurance simple. We've put together the country's top providers and their features in one place; all you have to do is choose. We've devised custom premium pricing that lets you save money if you're looking for the cheapest auto insurance policy. It's also easy to see all the coverage and features online to see what matches your driving lifestyle and requirements. And if you want a reliable provider with a proven track record for emergency assistance and claims, you can compare different car insurance companies side by side.
We are pro car owner
eCompareMo works with the best car insurance companies in the Philippines to give car owners the best deal online. We give you up-to-date information and the latest offers from our partners. Our goal is to empower motorists with the right decisions before making a purchase. Not only that, you can save as much as 30 percent—or up to ₱10,000 on some higher-end models—on your comprehensive insurance when you purchase online!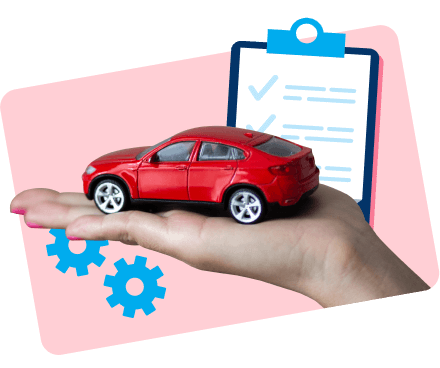 Everyone's a VIP
We also take pride in having the country's first and only VIP Car Insurance Concierge—handled by our experienced account managers—that's always ready to assist you from issuance to policy adjustments, claims, renewal, and other special requests.
Looking for special add-ons? You can customize your policy with Acts of Nature (Acts of God), Loss of Use, legal assistance, coverage for personal injury and pet injury, and more.
Need to file a claim? Just reach out to our Concierge Advisor and we'll do the work for you. Know someone looking for a comprehensive insurance? Earn awesome rewards with our Customer Referral Program.
Get reminders about your renewal
And don't worry about renewal—you can turn choose to get an alert from our advisor when your policy is about to expire. eCompareMo's vehicle insurance tools are free to use. It only takes 15 seconds to get a quotation online and less than 24 hours to receive your electronic policy in your inbox.
Compare car insurance quotes today and start your journey toward worry-free driving!
Seamless processes in the face of COVID-19
As all our auto insurance partners are fully operational during the community quarantine, we continue to serve all our customers' requests for policy issuance, renewal, and claims. During this period, we practice safety measures by issuing an electronic policy, or e-policy sent to your email address, which work just as good as the printed copy. Should you want to request for your Certificate of Cover on paper, you may get in touch with our Concierge Advisor and we can make a special arrangement for delivery.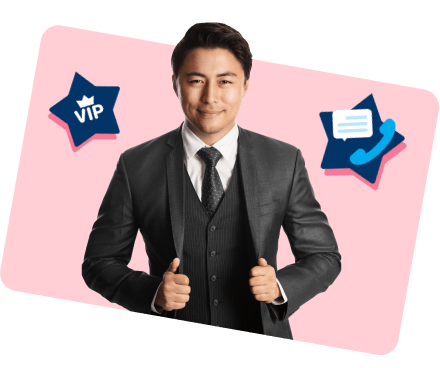 Get your FREE car insurance quote
A comprehensive car insurance policy is a contract between a vehicle owner and an insurance company that covers the policyholder from financial loss in case something unfortunate happens to their car.
A responsible car owner, you should know that unexpected things can happen to your car, which could result in costly damages. Yes, even while it's parked safely in a garage.
That's why comprehensive car insurance is important. Paying for a vehicle insurance premium may be costly, but it can save you a lot of headaches later on. Aside from the standard protection and Acts of Nature cover, your policy may entitle you to add-ons that can come in handy later. These include legal assistance, free towing, free lodging, among others.
Coverage of comprehensive car insurance includes:
Bodily injury coverage
Property Damage coverage
Auto personal accident
Comprehensive coverage
Acts of Nature coverage
CTPL is a type of coverage that will financially insulate you from damages incurred to other people.
Comprehensive car insurance casts a wider net on coverage. Apart from the parties involved, all passengers of the vehicle are covered. Coverage is also extended beyond accidents like own damage, theft, bodily injury, property damage, acts of nature, passenger personal accident, etc.
The best way to get car insurance in the Philippines lets you compare multiple car insurance quotes for FREE so you could see which comprehensive car insurance matches your budget. And to top it off, you can apply for your chosen car insurance quote all in one place.
You can do all this and more in eCompareMo.com.
Regardless of insurance providers, insuring your car in the Philippines will require you to do some basic procedures such as submitting important documents and providing your vehicle details. This can be done through eCompareMo's online car insurance application and get your e-policy in as fast as 24 hours.
The cost of auto insurance will depend on the fair market value (FMV) of the vehicle which is the estimated amount a buyer and seller can theoretically agree to.
In the Philippines, the Philippine Insurers and Reinsurers Association (PIRA) periodically updates FMVs for insurance companies.
An e-policy is a digital copy of your comprehensive car insurance policy that shows the total coverage of your insured vehicle.
It's also a convenient way to store your car insurance policy on your mobile devices. You can also print it out to serve as a copy that you can stash in your glovebox.
Car insurance claim process varies depending on the vehicle insurance company and the vehicular incident you were involved in.
There are a number of lists of the requirements and procedures needed for each type of claim: Bodily Injury, Property Damage, Loss or Stolen Vehicle, and Acts of Nature.
You can find out more about filing car insurance claim through this guide here.
Want to make car insurance renewal hassle-free? Let this quick guide help you.
Carefully review insurance coverage and policy components. Renewing your car insurance enables you to modify your policy or change insurance providers. You should review your previous insurance coverage to determine if there is any additional protection you might need.
Compare different insurance providers. Apart from reviewing the insurance coverage, take time to compare different insurance providers as well. Since there are several car insurance companies out in the market, chances are, there are insurance companies that may offer a better deal than your current insurance provider.
Call your vehicle insurance agent. If you decide to renew your policy with your current provider, call your insurance agent about the policy renewal. You can ask them about additional information that you might need, especially if you choose to make some changes in your policy.
Understand the policy contract. Read the fine print carefully before signing any policy contract. You must understand all the terms and conditions stated in your policy. Check if there are any hidden clauses that may cause conflict in the future.
You can read the full car insurance renewal guide here.
A participation fee is the amount billed by insurance companies to their clients whenever they make an insurance claim. If the policyholder would like the insurer to cover the cost of repairs or other types of damages such as bodily injury, the latter will invite the former to "participate" in shouldering the expenses stemming from the insurance claim.
Most insurance companies will ask you to pay out-of-pocket costs before they cover the rest of the expenses based on your car's type and market value:
For smaller vehicles, policyholders are usually billed 0.5 percent of the car's total market value as participation fee.
Meanwhile, insurers ask owners of bigger vehicles such as vans and trucks to pay one percent of the car's market value as deductible.
For instance, a sedan with a current market value of ₱800,000 with repair expenses totaling ₱70,000 will have the following figures for participation fee:
The car's deductible will be ₱4,000 based on the 0.5 percent participation fee rate of the car's market value, which is ₱800,000.
Meanwhile, the total amount to be shouldered by the car insurance company will be ₱66,000, which is the total repair cost (₱70,000) minus the participation fee (₱4,000).
Other insurance companies charge private and commercial vehicles with a participation fee of ₱2,000 and ₱3,000, respectively.
Some providers offer fixed deductible, while some also have the first three deductibles waived.
A car insurance can't be cancelled once it's paid for and the policy has been issued. However, your car insurance can be cancelled if you haven't paid for it and the policy hasn't been issued.
You can't transfer your car insurance policy to another vehicle because the policy is exclusively tied with your car. The details in your car insurance policy bears the same details that's specific to your car--as indicated in its OR/CR.
Usually, older cars are easier to insure since their fair market value is lower than newer cars. However, there are certain cases that older cars might actually have increasing market value, such as one-off vehicles, classic cars, and limited releases.
Always consult with your car insurance agent for a quote on your vehicle.
You can shop and buy cheap comprehensive car insurance in the Philippines at eCompareMo. With our new and improved tool, you can get a free car insurance quote online from the best car insurance companies in the Philippines. Just follow the process and you'll be able to get your comprehensive car insurance policy of your choice in as fast as 24 hours.
We recommend you compare car insurance quotes because this is the easiest and fastest way to save up to 30% on your comprehensive car insurance. Being able to see car insurance quotes from several top insurance companies ensures you get the best car insurance in the Philippines within your budget.