Best Air Miles Credit Cards in the Philippines
Enjoy earning air miles that can be redeemed for FREE flights with an air miles credit card. Choose the right one that will bring you to your dream destination.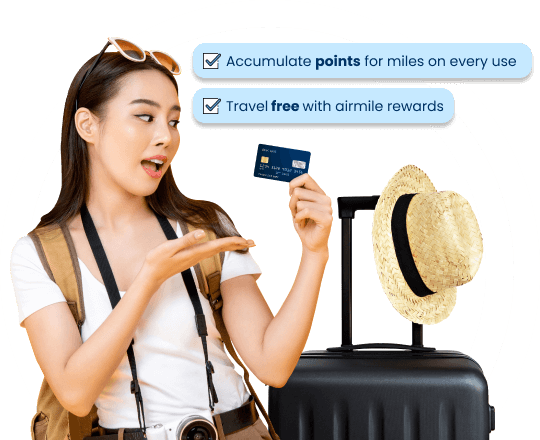 Air Mile Credit Cards FAQ
Your pressing questions on air mile credit cards, answered here.
Airline Miles, sometimes known as frequent flyer miles, are a loyalty program offered by credit card companies in conjunction with airlines. You accumulate points or miles in two ways: First, based on the distance you fly with a certain airline and second, based on how much you spend with your credit card. Once you have accumulated enough points or miles, you may use them to buy tickets.
Sounds simple, right? However, it can be a little more complicated than you think. For starters, how many miles do you actually need to get a free flight? Sometimes, it would depend on the terms of the credit card you have so that's why it's better that you fully understand the terms and conditions of the Airline Miles on your credit card.
How do you earn Airline Miles? How does this thing work?
Choose an airline miles credit card and use it. Take note that it is important to find a card that fits your annual income. You may be approved for a higher credit limit with promising rewards and accumulated points but you need to make sure that you are able to pay the monthly premiums
Sign up for welcome bonuses. Most credit card companies offer these perks for new users (or even existing ones). Each issuer has its own terms.
Travel and fly! Some cards allow you to accumulate more points that can be converted to miles is you use them for travel related purposes. Maximizing the usage of your credit card will helps you accumulate points and miles
Enroll in Dining Programs! Dining at a particular restaurant can earn you extra points for your credit card as some establishments are partnered with credit card institutions. If your card allows reward points to be converted to airmiles, you going to earn even more miles by dining out.
It is easy to utilize and maximize the points that we have accumulated by knowing the existing programs that our chosen credit card has.
An air miles credit card is typically best to earn FREE domestic or international flights as it allows you to earn more points for travel and book hotels or resorts at a discount. You can also use your air miles credit card for shopping abroad because of the wide network of merchants supporting your credit card.
It depends on the loyalty program as each program has different ways of calculating how you earn air miles and how many you need to accumulate to get that free flight.
For example, for BDO Platinum / Titanium MasterCard users, two (2) Elite Points is equivalent to one (1) Mile. The minimum points for transfer is 1,000 Elite Points.
Furthermore, the exact number of miles needed for a free flight will depend on your origin and destination, the cabin type, and what airline you fly with.
You may ask your issuing bank about the terms and conditions and how many Air Miles you'll have to accrue for you to get a free flight.
Here at eComapreMo, we can provide you with a list of the best Miles Credit Cards to choose from.
Choosing the best one for you is pretty easy if you know what type of traveler you are, so think now, are you a luxury traveler or a budget traveler.