Amazing Freebies And Discounts You Can Get On Your Birthday
3 min read
Because you only celebrate your special day once a year, put on your party hat and tag along your loved ones for a party filled with discounts and birthday freebies.
Check out the stores and establishments list below and take advantage of their exclusive promos happening only on your big day.
1. Eat your hearts out with free buffets
Make your tummy happy with a hearty buffet from Vikings, Dads, Sambokojin, and Yakimix. Celebrators can dine on the day of their birthday for free as long as they're accompanied by at least one paying adult.
Here are the month-long celebration buffet mechanics:
Vikings – Celebrant can dine for free for a whole month as long as accompanied by 4 paying adults.
Dads & Sambokojin – Celebrant can dine on the actual date, three days before, and three days after accompanied by one paying adult.
Yakimix – Celebrants can dine for free the whole month accompanied by 3 paying adults.
Just present your original and valid government-issued ID to avail of the birthday freebie.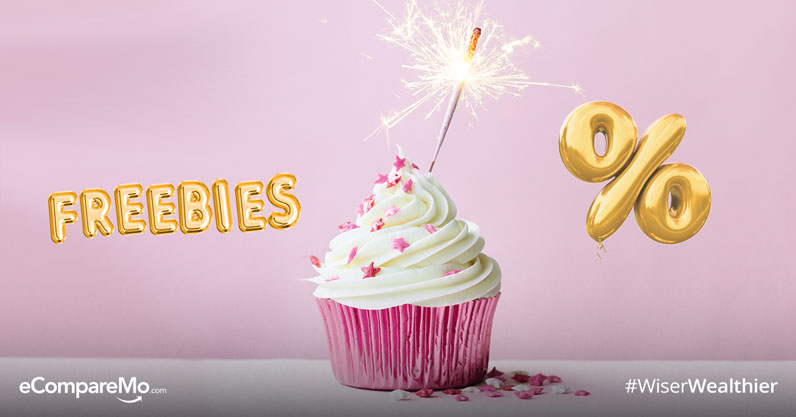 This promo is applicable for both lunch and dinner in all branches all year round. Just present your original and valid government-issued ID to avail of this birthday freebie.
2. Fine dining at Resorts World Manila
RWM members are entitled to get a 30% discount on signature restaurants like Café Maxims, NYPD, Vitoria Harbour Café, Passion, Prosperity Court, Ginzadon, The Terrace, Impressions, Happy 9, and Kimchi Mojou on their special day.
Cardholders also get a surprise birthday gift at the Redemption Store. Just go to any of their I-kiosks or the RWM Membership Counter to get your birthday voucher.
3. Lay Bare
Going for a beach trip for your special day? Lay Bare has a beauty prep treat for you.
Celebrants get a month-long 15% birthday discount. You are also entitled to a free eyebrow threading session. Just don't forget to bring your ID for validation.
4. Experience an Enchanting birthday
Celebrants get a free admission and access to rides at the Enchanted Kingdom! Companions of the celebrator get 10% off on tickets and 5% off on meals at restaurants.
Or why not get a bundle? Purchase four regular day passes and get a free ticket with a set meal inclusive of dessert and beverage, priced at only P3,750 on a weekday and P4,100 on weekends. Simply bring a valid ID and visit on your exact birthday or within six days before and/or after your birthday.
5. Have an Asian feast at Tong Yang
Birthday celebrants can dine for free on their big day at all Tong Yang branches as long as they are accompanied by one paying guest.
Celebrants who will dine on any day of their birth month can eat for free if accompanied by four paying guests. Celebrants should present a valid ID with photo and birthdate.
6. Kuya J 's month-long birthday blowout
Get the "big brother" treatment as celebrants can celebrate every day for the entire birth month.
To determine the amount of discount, the bill will be divided by the number of guests. The amount per head will be the celebrant's discount.
Celebrants are entitled to claim once every day along with four paying adults. Promo is available until December 31, 2018.
7. Spa-lebration at IM Onsen Spa
Get the peace and relaxation you deserve at I'M Onsen Spa at I'M Hotel Makati.
Tag along one paying friend and get a 50% discount on ala-carte service. This birthday blowout can be redeemed any day during the birth month. Present valid ID for validation.
8. Be entertained at DreamPlay City of Dreams
Children and even kids at heart are entitled to a FREE entrance at DreamPlay on the day of their birthday or seven days before or after. Just don't forget to bring a valid ID!
Accompanying guests also get a 10% off on ticket rates. Applicable to a minimum of two guests and maximum of ten guests.
9. Fly for free with Skyjet
Celebrate your day out of town as Skyjet is flying you to a tourist destination for free!
The celebrant must avail the promo on dates of their birth month and must be accompanied by one paying roundtrip passenger. Passenger must also register at SkyJet Dash registration form. The celebrant must also book at least seven days before departure. Promo is valid December 31, 2018.