Top Credit Card Promos For December 2018
6 min read
This season, it's time to take your credit card out of the wallet so you can shop to your heart's content—and enjoy some merry, jolly credit card rewards as well.
If freebies, discounts, and overflowing reward points fill you with joy and cheer, we've got you covered. We've rounded up the best credit card promos for the month of December. Happy holidays and happy shopping!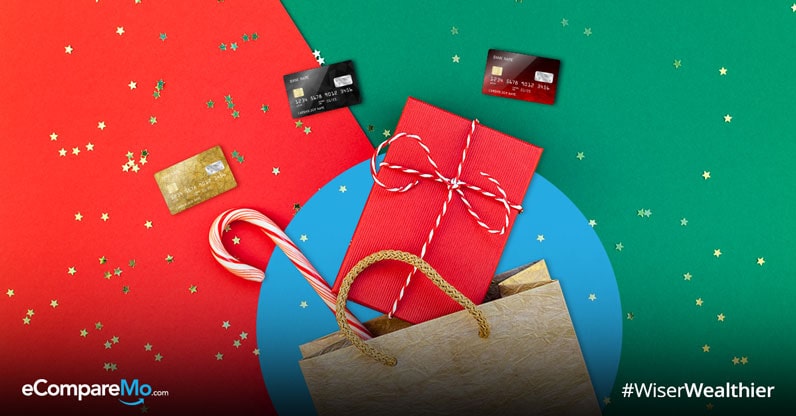 AUB
Planning to fly out of the country for the holidays? This season, AUB has extra special rewards for vacationing cardholders.
If you're one of the select owners of the AUB Gold or Platinum Mastercard, it's time to pack your suitcase and head to Thailand! You can get up to 70 percent off on your accommodation when you use your AUB credit card to book at the following Wyndham hotels in Thailand this holiday:
Ramada Plaza Bangkok Menam Riverside
Wyndham Grand Phuket Kalim Bay
Wyndham Sea Pearl Resort Phuket
Qualified guests just have to attend a 90-minute presentation about the perks of becoming a Club Wyndham Member. That's it, no purchase necessary.
You can take advantage of this major discount until December 31 and the discounted stay can be until January 31, 2019.
UnionBank
It's raining Christmas ham and concert discounts this holiday as UnionBank sweetens your holidays with their exciting promos.
Get as much as 20 percent off on concert tickets for the Voice of Fra Lippo Lippi: Per Sorensen concert at the Resorts World Manila on December 6.
To get the discounted ticket prices, simply book your ticket via TicketWorld using your UnionBank credit card and use the promo code UBRWMFLL10 upon checkout. Per Sorensen's concert is on December 6 so grab your tickets fast!
Meanwhile, Walter Mart will make sure you have a mouth-watering Purefoods Fiesta Ham this Christmas.
To get your free ham, simply use your UnionBank credit card at any Walter Mart Supermarket, spend at least P6,000 on a single purchase, and claim your Purefoods Fiesta Ham by surrendering your charge slip to Walter Mart's customer service representative. You can only do this until December 15, 2018.
(Read: Beat Inflation: How To Avoid Overspending This Holiday Season)
BPI
Christmas comes early for BPI credit card holders as they spoil their loyal customers with a lot of freebies and perks.
Jollibee lovers rejoice! Spend at least P3,000 using your BPI credit card and you can get free Jollibee e-coupons through BPI Real Thrills.
It's so easy: just register a BPI Real Thrills account, use your card to spend a minimum purchase of P3,000, and their Jollibee meal is on you.
Take home a luscious Purefoods Fiesta Ham when you use your BPI credit card to shop at any Walter Mart Supermarket.
With a single-receipt purchase of P6,000 at any participating Walter Mart Supermarket branch, you can claim a free Purefoods Fiesta Ham.
Just give your charge slip to their customer service station and you're all set. Promo runs until December 15 only!
Metrobank Cards
Whether you're a seasoned cardholder or just planning to get one, Metrobank Cards will give you a Christmas season worth shopping for.
For newly minted Metrobank Card holders, you can get up to P5,000 back to your account by using your new Metrobank credit card.
For Metrobank Classic, Gold, Femme, M Free, M Lite, Toyota, and Robinsons card, get an accumulated spending of at least P20,000 and you'll get a welcome cashback gift of P2,000.
Meanwhile, Metrobank World, Platinum, Femme Signature, and Travel Platinum cardholders can get as much as P5,000 when you have a total accumulated spending of at least P30,000. This promo will extend all the way to February 15, 2019 so better rack up your purchases now.
For bigger cash rebates, use any Metrobank credit card for overseas and international e-commerce platforms and you can get up to P15,000 cashback bonus. Plan your spending now so you can get the following rebates:
P150,000 to P299,999 = P5,000 cash rebate
P300,000 to P499,999 = P10,000
P500,000 and above = P15,000
This promo ends on January 31, 2018.
If you're a Metrobank World or Metrobank Peso Platinum Mastercard user, savor the exquisite flavors of the finest meals at Melo's and UMU at Dusit Thani Manila.
Simply order a minimum amount of P5,000 using the said Metrobank cards and you'll get 50 percent off your bill. Enjoy the discount at Melo's until December 28 while fulfill your dining fantasies at UMU until January 31, 2019.
Citi
More than the spirit of gift-giving, Christmas is also about another thing: food. This holiday season, Citi is giving out a ton of discounts at your favorite restaurants.
If you love the Bistro Group restaurants like TGI Fridays, Buffalo Wild Wings, Texas Road House, Denny's, and Italianni's, get 40 percent off your bill when you use your Citi credit card.
Spend between P3,000 and P6,000 on the said restaurants and 40 percent off your bill will be slashed. This promo only lasts until December 7 so make sure you plan your nights out well.
(Read: Top Credit Card Promos For November 2018)
BDO
From travel to shopping to food, BDO has found ways to treat their credit cardholders this Christmas.
Travel in style with Cathay Pacific as BDO credit cardholders get exclusive rates for flights. Get cheap tickets to Hong Kong, Japan, Australia, and other international destinations this holiday season with your BDO credit card.
Simply book your tickets using your BDO credit card and enjoy maximum savings to your holiday flights. Promo runs up to December 9 in Manila, December 16 in Cebu, and August 2019 in Davao.
If you badly need a new sofa this season, BLIMS has good news for you: enjoy zero-percent interest on installment programs of up to 24 months.
You can also get a gift certificate of up to P1,500 when you shop using your BDO credit card. Finally, enjoy hassle-free payment your bill will be deferred by three months before you get charged.
Get P300 off your holiday purchases with a minimum spend of P3,000 at Lazada. Simply use your BDO credit card to pay your purchases and use the promo code BDOVISA300 upon checkout. This promo lasts until December 12, 2018.
It's ham season again—and Walter Mart is also giving away a Purefoods Fiesta Ham to BDO shoppers. It's just as easy as this: visit any Walter Mart Supermarket and spend at least P6,000 on a single receipt to get your ham. That's it!
EastWest Bank
Do you love rebates? This holiday, EastWest is giving away cashback treats to its customers.
Got a family or friend who wants a credit card? Get up to P2,500 of cash credit for every successful referral to EastWest!
Not only are you getting cash credit, but your referred cardholder will also get as much as P2,500 worth of SM Gift Passes! This promo runs up to March 31, 2019.
If you want more, be one of the 10 winners of P100,000 cash credit through Win Back Your Purchases with EastWest Mastercard.
For every P1,000 spent using your EastWest Mastercard, you earn one raffle entry to the promo. On January 11, 10 winners will be chosen to win up to P100,000 of their spent amount returned. So shop til you drop until December 31 and win back your purchases.
HSBC
Earn red-hot rewards this season as HSBC kicks their holiday promos to overdrive.
Win bonus points, cash credits, or gift certificates when you shop using your HSBC credit card. To play HSBC's Shop, Shake, and Win, simply use your HSBC credit card and spend at least P1,000 using it to get a raffle entry. For every P1,000 spent, you will get a unique code and a link to the game website where you'll enter the said code. Once you're there, just do some shake to win your prize.
This promo runs until May 1, 2019.