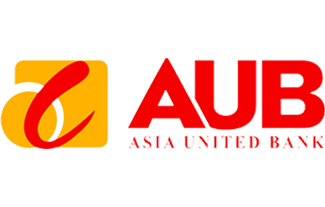 Asia United Bank Corporation
Asia United Bank Corporation (AUB) is a commercial bank licensed in 1997. AUB was formed by Filipino industrialists and Taiwanese banks, and is one of the fast-growing commercial banks in the Philippines. The bank is steadily growing by building loyal client base through its careful planning and technological innovations for deposits and lending.
AUB offers a wide range of products like Deposits, Corporate and Consumer Loans (Auto, Home, Salary, and Commercial) and Cash Management Facilities. It has several branch all over Metro Manila. Such products are offered to a wide range of customers, including consumers, SMEs, and large corporations.
They continue to uphold high standards and best practice for their management and staff, shareholders, and other stakeholders. They maintain honesty and integrity in their services, proving to be the major catalysts in their steady growth and success despite being a new bank in the Philippines.