How To Apply For BPI Credit Card 2020
1 min read
The Bank of the Philippine Islands, better known as BPI, is one of the largest, most profitable banks in the country.
Whether it's your first credit card or not, applying for a BPI credit card is always a good decision. Aside from being reputable and reliable, they are also known for giving out exciting rewards and programs to their loyal cardholders.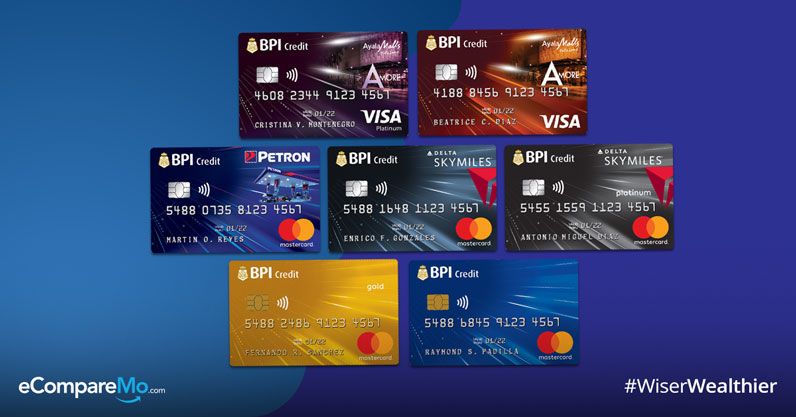 So, if you're planning to get a card, read on and learn about how to apply for a BPI credit card.
1. Choose your BPI credit card
BPI may have a fewer credit card variants than other competing banks, but theirs are packed with solid features, rebates, and other lifestyle rewards. Here are the different BPI credit card types that you can choose from.
This BPI card is designed for those who do not want to deal with high annual fees as this card offers lower fee compared to its counterparts. Its affordable fees make it easier for people to manage cards.
| | |
| --- | --- |
| Pros | Cons |
| Low finance charge | Limited cash advance |
| Zero monthly installment feature | Annual fee waived for the first year only |
BPI Amore Visa allows you to avail members only mall perks and privileges. Plus, you can enjoy up to 4% rebates to any participating Ayala Malls.
| | |
| --- | --- |
| Pros | Cons |
| Exclusive rewards from Ayala Malls | Most of its benefits revolve around shopping and may not suit other preferences |
| Cinema tickets discount | High-interest rate of 3.50% |
If you are looking for a card that enables you to avail several shopping rewards, BPI Amore Visa Platinum is the right card for you. Earn cash rebates every time you shop using this card.
| | |
| --- | --- |
| Pros | Cons |
| Unlimited shopping perks and privileges | High annual fee of P5,000 |
| Cash rebates up to 4% | High monthly income requirement: P200,000 |
Upgrade your style with BPI Edge Mastercard. This card provides you with several discounts and freebies from your favorite stores.
| | |
| --- | --- |
| Pros | Cons |
| A low annual fee of P1,320 | High-interest rate of 3.50% |
| Low monthly income requirement: P15,000 | |
Looking for a card that you can use across the globe? Opt for BPI Blue Mastercard. Its reward system will let you fly to your dream destination.
| | |
| --- | --- |
| Pros | Cons |
| A low annual fee of P1,550 | Limited cash advance |
| Free travel insurance up to P2M | Only first supplementary cardholders have waived annual fee for life |
BPI Gold Mastercard is the ideal card for those who want to maximize the cash advance feature. Plus, this card allows you to earn rewards for every purchase.
| | |
| --- | --- |
| Pros | Cons |
| 100% cash advance of your limit | High-interest rate of 3.50% |
| Free travel insurance up to P10M | High minimum monthly income requirement: P40,000 |
Especially designed for motorists, Petron – BPI Mastercard rewards its cardholders with free full tank every year and exclusive privileges at Petron stations.
| | |
| --- | --- |
| Pros | Cons |
| A fuel rebates | High finance charge of 3.50% |
| Discounts at participating Petron stations | Most features cater for motorists and may not suit another lifestyle |
Created for travelers, BPI SkyMiles Mastercard enables its cardholers to earn miles every time they spend.
| | |
| --- | --- |
| Pros | Cons |
| Free travel insurance up to 10M | High-interest rate of 3.50% |
| Non-expiry SkyMiles points | |
BPI SkyMiles Platinum Mastercard is the best option for those frequent flyers as this card provides double miles for every spend on Delta Air Lines.
| | |
| --- | --- |
| Pros | Cons |
| Earn miles for every spend | High annual fee of P5,000 |
| Get free travel insurance up to P20M | High minimum annual income of P1M |
Extension Card: BPI eCredit
The BPI Credit MasterCards come with free extension upon request. Those who would opt for the free BPI eCredit companion card will have more security for online payments. It has its own set of a lower credit limit, and a different card number to avoid fraud. It also comes with free for life annual fee.
Know your eligibility
Check your eligibility. Make sure you meet BPI's cardholder qualifications and have their document requirements available.
Valid age for applicants is between 21 to 60 years old
Applicants must meet the minimum monthly income requirements for the following BPI credit cards. Over time, commissions, or service fees are not included:

P15,000 — BPI Blue Mastercard, Petron-BPI Mastercard, BPI SkyMiles Mastercard, BPI Amore Visa Card, and BPI Edge Mastercard
P40,000 — BPI Gold MasterCard
P80,000 — BPI Amore Visa Platinum Card, BPI SkyMiles Platinum Mastercard
P30,000 — OFWs and Self-employed

Residence or business contact number
3. Complete BPI credit card requirements
Bring the original copies and prepare photocopies of the following documents:
Duly filled out an application form. This is available on the

BPI Credit Card Apply Now page on the BPI website.

At least two (2) valid government IDs, with a photo. Below are the valid photo-bearing IDs: (Voter's ID, Postal ID, SSS/GSIS ID, Passport, BIR TIN, PRC ID, Driver's License, Company ID)
Most recent Pay Slips / Proof of Income
Certificate of Employment (COE) – it should show your job title, income, and work tenure (how long you have worked for the company)
For Employed: Latest Income Tax Return (ITR) with BIR stamp
For Self-Employed: Most recent Audited Financial Statements (AFS) with a stamp from BIR or the bank, and most recent ITR with BIR or bank stamp
BPI credit card requirements for OFW
OFWs have a custom set of requirements compared to other applicants. Here are the required documents:
Sea-based: POEA-validated contract of employment, and most recent two (2) months' worth of remittance
Land-based: POEA-Validated contract of employment, Overseas Employment Certificate or POEA-validated OFW information sheet, and most recent two (2) months' proof of remittance
Direct hire: POEA-Validated contract of employment, Overseas Employment Certificate or POEA-validated OFW information sheet, and Latest two (2) months proof of remittance
Gather all the documents needed for your card application. Completing all your documents and submitting them altogether saves you time and money, and expedites the application process. Note that BPI will cancel your application if you failed to submit your application within three (3) banking days.
4. Submit the requirements for BPI credit card
Once completed, submit your filled out application form and document requirements to the nearest BPI branch. You can also email your requirements at bpicardsales@bpi.com.ph.
If you want a faster and easier application process, you may opt to apply with eCompareMo. Just follow the instructions on the website. Wait for the call of a banking specialist to guide you with your card application.
5. Check your BPI credit card application status
A BPI credit card processing time normally takes one to two (2) weeks. There are two ways on how to check your status:
Via Express Online Banking — For online banking users, they can check their application by logging in to their account. Click Other Services then choose Application Status Inquiry. If not yet registered, go to BPI website and follow the online registration instructions.
Via Phone Banking — Credit card applicants may also opt to call the 24-hour hotline of BPI. For Metro Manila, call (02) 89-100. For Domestic Toll-Free, 1-800-188-89100. For credit cards, dial option 2 and 2 for credit card application status inquiry.
To get the right credit card, it's always best to use an online comparison portal where you can enter the rewards and promos that you want to avail, all according to your lifestyle. Find miles packed credit card for your travels, or a more rewards-centered card if you shop most of the time.