BPI Express Online Banking: A Walkthrough Of The Mobile App Services
7 min read
The Bank of the Philippine Islands (BPI) wants to double its number of clients using their BPI Online banking services. How? By making it more convenient with their mobile app.
As one of the first banks of the country, BPI built its brand over the years, with more than 800 branches in the Philippine archipelago and overseas, such as Hong Kong and Europe. The Ayala-led bank boasts consistent growth in the number of its clients, reporting 8.5 million customers in 2017. No wonder the branches can be full sometimes!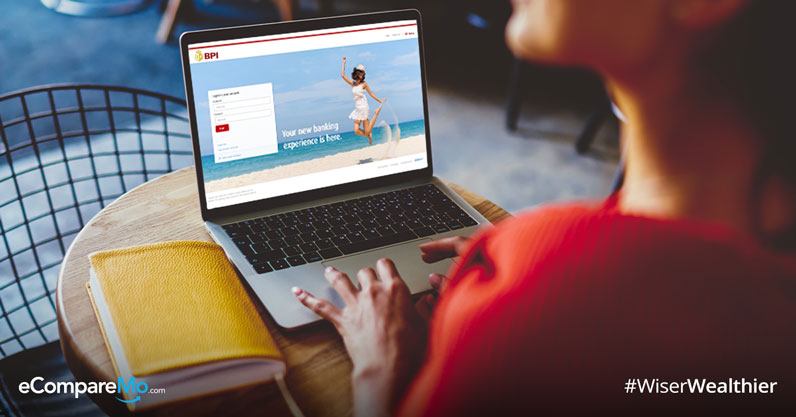 If you find that waiting in line at the bank is a hassle, you should think about just doing your financial transactions online. That's one way that BPI is trying to enhance customer experience with their mobile app services.
BPI Express Online and BPI Online Beta
BPI Express Online was the original website of the bank, but its outdated design and poor functionality did not serve its purpose well. It can still be accessed on the internet, but it's not managed by the bank anymore.
In 2018, a replacement was formally launched. It's called BPI Online Beta.
The new website offers a sleek layout, easy interface, enhanced customer experience, and guaranteed banking convenience. One-Time PIN (OTP) is also an added security measure for your account protection.
All services available on Online Beta can also be accessed through the BPI Mobile App (see below).
(Read: Top Mobile Banking Apps in the Philippines)
How to register for BPI Online Banking
First things first—you must have an account on BPI to enjoy the service of BPI Online Beta. The types of account available for enrollment are:
ATM (BPI, BPI Family Savings, or BPI Direct deposit)
Passbook (BPI or BPI Family Savings deposit account)
BPI Europe account
BPI Credit Card account
Debit Mastercard
Registration steps
1. Go to the BPI Online Beta website and click the small text that says, 'Register Now.'
2. You will be redirected to another page where the types of BPI accounts will be shown.
3. Tick on the appropriate account type you are registering for.
4. You will be redirected to another page asking where you are located.
5. Tick the appropriate location. • If within the Philippines—you must visit any BPI Express Teller ATM within 20 banking days to activate enrollment • If outside the Philippines—you need to print, sign and mail the duly accomplished form to complete the enrollment. The address would be:
BPI Fulfillment Banking Department 9th Floor BPI Card Center 8753 Paseo de Roxas Makati City 1200, Philippines
6. Terms and Conditions will be flashed. After ticking the box saying you have read the agreement, press 'Continue.'
7. Submit the needed account information. • Account number • Join Account Indicator (JAI) • Type of Account
8. Fill out the online registration forms with the necessary personal details.
9. Double check your inputs and click, 'Submit'.
10. Wait for the confirmation message on the page.
(Read: BPI Credit Card Online Application: A Complete Guide)
What is the BPI Mobile App?
After enrolling your account on BPI Online Beta, you can now access it anytime and anywhere you go using the new BPI mobile application. BPI Mobile app makes the bank processes fast and hassle-free. It has a new, modern look with improved features to give the convenience you deserve.
The app can be downloaded on Google Play or App Store.
What are the BPI Mobile Services?
Now, you can manage BPI transactions without having to line up at a physical bank. These services include:
1. Viewing of account information
Through the BPI Mobile app, you can check on your balances and other details. This service covers prepaid cards, deposits, credit cards, and investments. It's a quick and effective method of tracking your finances.
Here are the steps: a. Open your BPI Mobile app and log in. b. Choose what account you want to view. c. Review your information and account balances.
2. Online payment for your bills
By downloading the app, you allow yourself to settle your obligations no matter where you are. Be it a utility bill or a online purchase, you can make payments using BPI Mobile to more than 600 merchants. Here's how:
a. Log in to your BPI Mobile app, and open 'Side Menu'. b. Choose the 'Payment/Load' button, and under its sub-options, tap 'Pay Bills'. c. Enter the amount to pay, the receiver's details, and notes to add. d. Confirm and wait for the OTP sent in your phone. e. Enter the OTP and submit.
3. Bank-to-Bank fund transfer
Using your phone is the most convenient approach to transfer your funds to any account. You have the control when to send it, and as long as there's an internet connection, you can process it anywhere.
Online Fund Transfer Features:
The amount available for funds transfer has no limits, if you have an enrolled account.
You have an option to use QR codes to transfer your money to avoid repeated typing of the account number.
One-Time PIN secures every transaction, and this means you don't have to activate 'Transfer to 3rd Party' feature.
An unenrolled account can transfer P50,000 at most per day. If you are sending money to someone on a regular basis like your family members, it is best that their account (receivers) should also be enrolled for them to quickly confirm if the transaction was successful on their end.
NOTE: Starting July 1, there will be changes in BPI Online and Mobile service features:
A fund transfer to unenrolled account is free for a LIMITED time only.
A fund transfer to an unenrolled 3rd Party account will cost P10 per transaction but will be waived when you use QR Codes.
A new feature called Dollar to Peso Transfer will debut and it's for free.
Another feature to be launched is the fund transfer to other banks through Instapay with a fee of P50 per transaction
How to transfer funds using QR Code
This method made Funds Transfer quick an easy, sparing you from errors in typing your account number. The steps are:
Log in to BPI Mobile app, and tap the Side Menu tab.
Choose 'Select Transfer Money' and the what type of account you're getting the money from.
Type in the amount you're about to send.
An empty type box for 'Transfer to 3rd Party' will appear.
Instead of entering the account number, you can tap 'Scan QR' or 'Import QR' instead.
Scan QR. Your phone camera will open for you take a photo of the QR
Import QR. Your image gallery will open to let you choose what QR you will use.
After checking the inputs, the OTP ends the transaction.
How to get a QR Code
This pattern of dots is like an ID you can use for transactions instead of giving your account number. Getting one for BPI Mobile takes four easy steps.
• Open your BPI Mobile app and tap the Side Menu. • Look for the 'Other Services' button, and next, 'QR Generator.' • Choose the account and a QR code will be provided. • Give your QR code a nickname. Yes, a nickname. It could have at most 10 characters—combined letters and numbers. • Press 'Save to Device.' It's now ready to use. • You can also ask other BPI account holders enrolled in BPI Mobile to share their QR code and have it saved on your device for future use.
4. Instant reloading of prepaid phones and utilities
With this feature, you won't run out of prepaid load again! Phone reloading from your BPI account is available to all networks and free of process fee.
How to reload a prepaid phone
1. Open your BPI Mobile app, and then, 'Side Menu.'
2. Tap the 'Payment/Load' button and choose 'Load Prepaid Phone.'
3. Select the source account and fill out the needed details.
Load recipient. Whether you type in the mobile number or import the contacts, the system will identify the network right away.
Amount of load
Extra notes
4. Confirm the transaction and end by OTP.
(Read: BPI Personal Loan Application Guide For First-Time Borrowers)
5. BPI One-Time PIN security feature
The concept of OTP has been utilized for quite some time, and it proves to be useful for business and organizations for all non-physical and internet processes.
A unique 6-digit password to add security on online transactions.
Verifies the users and reduces the risk of possible fraud.
Automatically sent to your registered mobile number via SMS.
Valid for a single transaction and expires in five minutes.
6. Feed for latest BPI promos and products
This feature basically updates you of the services and/or product descriptions, recent events, and upcoming promos that you might want to know.
To end this, BPI continues to customize their services in their mission to provide excellent customer service. Aside from the first Philippine bank to introduce Cash Deposit machines, the BPI Online banking sees more clients experience the convenience in the future.