Guide to Keeping Your Credit Cards Secure This Holiday Season
4 min read
The holidays are upon us and we're pretty sure that credit cards will be on extra duty during these days.
This is also why we need to increase our awareness and practice in terms of keeping our credit cards and personal information safe from enterprising entities who are up to no good–and working double-time this season as well.
So to keep our holidays merry and bright, take note of these tips and guide to keeping your credit card secure for the holidays.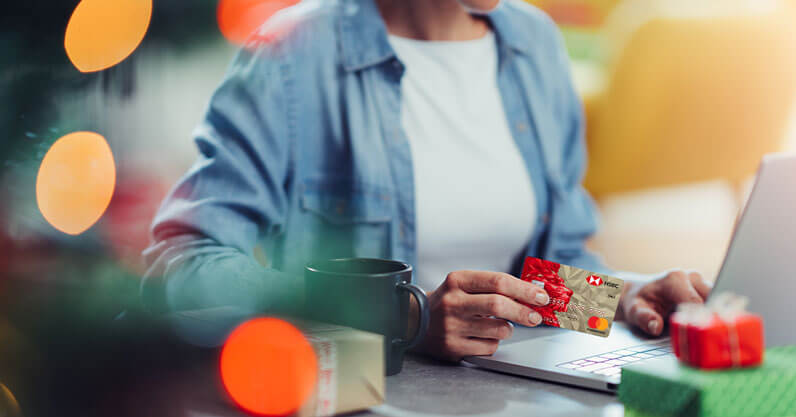 Going Cashless is a safe way to shop
Since debit and credit cards are now universally accepted anywhere, including online, paying cashless is a safer way to shop for big-ticket items or if you're going on a shopping spree. Why? Think about the amount of cash you need to bring with you when you're shopping during the holidays and that gets stolen. Now imagine just having a handful of cards that you can block or report a dispute on just in case something unfortunate happens.
Remember, stolen cash is gone forever. With credit cards or debit cards, at least you have an extra layer of security and insurance coverage in some cases. Online payment via apps are also available in a wider network nowadays too, so you don't even need to bring your debit or credit card with you as well.
While you may receive certain incentives in purchasing with cash such as cash discounts, these are often matched or even exceeded by card promos in some cases already. And we're not even talking about the rewards or points you can incur with each purchase.
Get into the habit of checking your accounts frequently.
It's not hard to keep track of your every spend and purchase these days since apps are readily available with whichever card provider you're associated with–unlike before when you have to wait for some time before your statement arrives. Actually, getting into the habit of checking your accounts is a good practice to begin anyway as it keeps you aware of your spending patterns and improve on them.
Hitting two birds with one stone, what's not to like?
Keep your cards away from prying eyes and devices.
Thieves are sneaky and smart. They'll take advantage of the chaos that usually comes with the shopping spree this holiday season. But you're also smart as well since you're attentively reading this article. However, a few reminders won't hurt.
Request that the card terminal be brought to you. If that's not possible, be present when and where your card is being charged.
Cover your hands as you key in your PIN at the point of sale.
Don't leave your cards lying around.
Refrain from using transaprent bags or wallets. We recommend ones with RFID blockers.
You can also put a tape over the CVV or CVC that's located at the back of your card, the 3-digit code. Have a copy of them separate from your cards.
Remember these tips when transacting online.
If you want to save yourself the hassle of going out to shop, there are plenty of ways to do it in the comfort of your own home through online shopping. To make your experience safe and secure, follow these tips:
Look for https on the URL of the site your transacting on. For example: https://www.ecomparemo.com
Shop with sites you're already familiar with.
Don't transact using public Wi-Fi.
Take advantage of your credit card provider's security measures such as 2-step verification, virtual account numbers, and one-time passwords (OTP).
Save your proof of transaction.
While it can be bothersome to keep a record of slips and receipts, it's your surefire evidence when you spot potentially fraudulent transactions. This can also help your card provider understand your transaction history so they can verify if something off happened to your account.
Fight the urge to throw out any duplicates or old receipts, at least until you've paid off the verified purchases you've made.
Report lost cards and abnormal activity right away.
Time is of the essence when you're protecting yourself against potential fraudulent activities. So the moment you see something abnormal on your transaction history or if you have lost/stolen cards, report them to your providers right away. They can block your card immediately so no one else can use them. With some providers, you can preemptively disable your cards via their app so you can take that step first before reporting.
Speaking of credit card security, you'll get an extra level of protection when you're shopping online or offline with HSBC credit cards.
HSBC Secure Pay is an online shopping service powered by Verified by Visa and Mastercard® SecureCode™ that provides you with personal and unique passwords for your HSBC credit cards thus giving you added assurance that only you can use your card to make online purchases.
Here's a brief explanation of its features:
Password protection – To protect your transaction, HSBC will ask you to create an additional password. It's similar to your ATM PIN (Personal Identification Number) and it will help ensure that you are the only one registered to use your credit card online.
Personal Message – They will also ask you to create a personal message on top of the confidential password. This is designed to confirm that your transaction is authenticated by HSBC and prove that you are the authorized HSBC Credit Cardholder.
Final word
While there are risks to shopping whether online or offline, this shouldn't deter you from enjoying the experience this holidays. Shop with confidence now that you're properly prepared and armed with the knowledge you've learned through this guide. The Grinch will not steal Christmas anytime soon.