You're Probably Not Aware Of These Non-Standard Credit Card Features
6 min read
Credit cards in the Philippines, and anywhere in the world, are authorized, monitored, and processed by credit card networks Visa, Mastercard, JCB, Discover, American Express, and China Unionpay. But it is the banks and financial institutions that issue the credit cards to consumers.
It is also the card issuers that bring in most of the different features for each card, making them attractive and suitable for certain markets and various lifestyles. These include rewards, discounts, and promos that are meant to appeal to different demographics and entice them to choose that particular credit card.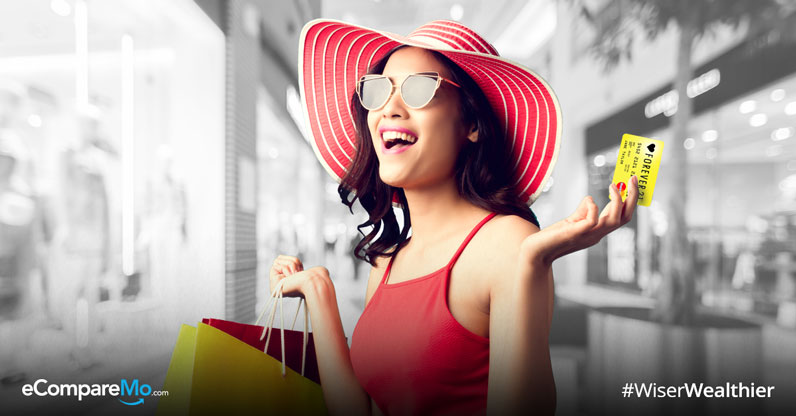 As banks tend to get more creative and generous with their credit card perks and features, there are even more exciting, non-standard credit card privileges you need to know about. You know, just in case you get tired of the "plain vanilla cards" and others' not-so-sulit packages, take a look at these.
1. Flexible payment terms: AUB
Yes, we've all heard of 0% installment rates and longer payment periods. However, one stands out in the market right now, by taking flexible payment terms to another level.
AUB credit cards allow users to choose the date/s to pay. Want to schedule your payment due date on your payday? That's totally possible! You can even choose from weekly, twice a month, or single monthly payments. You will also be given the option to choose your minimum amount due for those dates.
What makes it even more generous is that it does not charge any interest on your first purchase, after your cut-off date.
All this comes with free Annual Membership Fee (AMF) for life. This applies to all credit cards from AUB Easy and Classic, to AUB Gold and Platinum credit cards.
2. Tailor-fit for women: Metrobank
A woman who knows what she wants would find a lot of rewards in—you guessed it—a credit card that's made just for her. And there's not a lot of women-centered credit cards, nor are there any world-famous ones, anywhere.
So, it's very special when Metrobank released their Metrobank Femme Visa and Metrobank Femme Signature Visa credit cards. It lives up to its promise of welcoming women "to a world of beauty, wellness, and shopping privileges."
There's the following regular signature offers, plus Metrobank's monthly exclusive offers for women.
Metrobank Femme Visa: 50% off at The Spa
Metrobank Femme Signature Visa: 50% off at The Spa, and 30% off at The Lind Boracay. There's also the free travel accident insurance and airport lounge access.
All this comes with a generous rewards program of P20 spend = 1 rewards point.
(Read: Top Credit Cards In The Philippines 2019: Air Miles, Rewards, Cashbacks, And More)
3. Co-branded cards: BDO, BPI, Citi, Metrobank Cards, Unionbank, PNB, EastWest, Maybank, RCBC
Co-branded cards are credit cards in which the issuing banks have partnered with merchants to provide next level exclusive offers.
Think of it as a membership card, plus rewards card in one. These cards come with logos of the merchant or retailer and, of course, specific perks that you can get with that card's merchant partner.
Some great co-branded credit cards that are available in the Philippines are the following:
When it comes to getting more specific with lifestyle perks, nothing beats these co-branded cards. But of course, you can always mix and match credit cards according to the ones that will bring the most convenience and promos for you. For example, you could get a travel rewards card with a certain co-branded card for gas. It's all up to you.
4. Secure credit card
We all know that credit cards are a line of credit under one's account. They don't come with much conditions other than good credit history, and documents proving your eligibility to own one.
There is, however, one non-standard way to get a charge card even for those who are trying to build their credit scores from the ground up.
A secure credit card functions the same as a typical card, except that it is a collateral-based account. This comes with conditions such as a minimum deposit, and a lower credit limit than the usual credit card.
Over time, as you show diligent and regular card payments, this credit limit can improve, along with your credit score. The minimum deposit is the security deposit or collateral in case of non-payment. Purchases are still charged with interests, and delinquent payments will be reported to the biggest credit bureaus and damage your credit score, as usual.
(Read: Why You Should Get A Credit Card With No Annual Fee)
5. Customized credit cards
Fun, quirky, and full of personality, customized credit cards are truly non-standard, as only a few banks offer this in the country. You are asked to send your favorite photo, which, depending on the bank's rules, could only be you, or can be anything personal to you, such as your dog.
One example was Metrobank's promo to personalize credit cards for FREE. However, as promos go, it was only available for a limited period.
6. A credit card with no preset limit
The American Express Centurion card, most commonly known as the Amex Black Card, is one of the most exclusive, coveted, and hard-to-acquire credit cards in the world.
To get this card, you need to have an invite from Amex itself. There is no online application available, and the Amex invitation is based on one's net worth and monthly spend.
According to Forbes, these are the eligibility requirements to be qualified for an Amex Black card invite:
Must be an active user of American Express credit card for at least one year
A spending record of no less than USD 100,000 to USD 450,000 annually
An annual income of at least USD 1 million
A high net worth
An account of one Amex Black card user via Quora stated that one can actually set a preferred credit limit. However, this can be waived by Amex anytime. She also added that they had, "once charged a Porsche Cayenne on the card, with no issues."
Further, she fairly argues the whole claim that this card is only for status or ego, a statement that reflects real and informed credit card use, no matter the type of credit card:
"There are a lot of [people] who suggest that the black card is a waste of money and purely to boost one's ego. My husband has a platinum card. We've actually compared and discussed what we can get with each card and the centurion's benefits way surpasses the platinum in terms of rewards and benefits. This card is not for everyone. It's specifically targeted at people who spend a lot on lifestyle (shopping, food, travel), which fits us perfectly. The free flights we get just by putting charges on the card more than paid for itself (by a couple of fold)."
Still not sure about which one of these non-standard credit cards is right for you? Use our credit card comparison tool. All you have to do is click on the features you want and we will provide you with a list of the best credit cards that match your preferences.