Best Credit Card Promos In The Philippines For December 2017
4 min read
The top credit cards in the Philippines are the most useful to their holders during the Christmas season. Due to the holiday sales and discounts that are available everywhere, consumers are using their credit cards more often this season to shop for gifts or to fulfill their personal wish lists.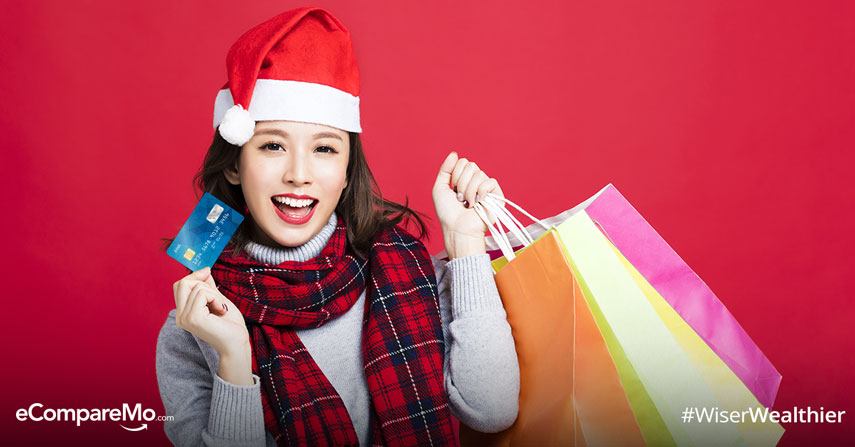 Let your Christmas be merrier and end your year right! To take full advantage of the Christmas sale season, here are more discounts and freebies from top banks and credit card providers.
BPI
Here's a sweet treat for the loyal users of BPI. Make a purchase worth P3,000 minimum straight using your BPI Amore Visa Card and get FREE Krispy Kreme treats. Just register your card through SMS and/or email to redeem your eCoupon. Promo runs until January 31, 2018 and the redemption period is until March 31, 2018.
You deserve to sit back and relax this season. Get P150 OFF on your first movie using GMovies mobile app! Use your BPI prepaid or credit cards and enter promo code BPI150OFF to redeem the discount. Promo runs until December 31, 2017.
BDO
Shop at Titan using your BDO card and get a 20% discount on footwear brands Nike, Jordan, Adidas, Under Armour, and Brandblack. Promo period is from November 26 until December 31, 2017, only on selected Titan branches.
Dine and drink at the Buddha-Bar Manila and use your BDO card to get big discounts! Head to Picar Place, Kalayaan Avenue, Poblacion, Makati and get a 40% off on food and 25% off on beverage on regular a la carte menu items. Valid for both dine-in or take-out transactions. Promo period is from December 1, 2017, to March 31, 2018. Blackout dates apply.
(Read: When and Where: The Best Christmas Bazaars Of 2017)
HSBC
Make your shopping more convenient this season with the lighter payment terms of your HSBC Credit Card. Enjoy 0% Installment plan, 0% interest up to 36 months from Beyond the Box, The SM Store, Forever 21, Watsons, Crate &Barrel, and other partner merchants.
With an HSBC credit card, you can also convert all your travel-related purchases into easy installments with the Balance Conversion Plan. Use your card to purchase plane tickets, travel packages, and overseas purchases and convert to installments up to 24 months for as low as 1.37% interest rate. Valid until December 31, 2017, only.
Metrobank Card
Use your Metrobank credit card at The SM Store and receive free P300 SM Gift Passes. For a minimum single-receipt 0% installment worth P10,000 purchase at The SM Store, customers can Shop Now, Pay Later for up to 90 days. Promos are open to all Metrobank credit cards except Metrobank ON Internet Mastercard and Metrobank Dollar Mastercard. Promo period is until December 31, 2017, only.
For a single receipt worth P3000, cardholders get a Free Crispy Chicken Sandwich with a McFreeze of McFloat, or a Free McSpaghetti and regular fries. For a single receipt worth P6000, cardholders get a Free Cheese Burger Deluxe Small Value Meal, or a Free One-Piece Chicken Mcdo with Spaghetti Meal. Just wait for your McDonald's treats code via SMS for confirmation. Promo period is until January 31, 2018, and redemption until March 31, 2018. Promo is open to all credit cards except Metrobank Dollar Mastercard.
EastWest
Fresh Fragrance Bar offers an exclusive 20% discount to EastWest cardholders. Use your card to avail of top-notch featured fragrances like Bvlgari, Calvin Klein, Davidoff, Dolce & Gabbana, Givenchy, Gucci, Versace and many more. The promo is open to all EastWest Dolce Vita Mastercard and Dolce Vita Titanium. This promo runs until April 30, 2018.
Make your shopping hassle-free – and loaded with discounts. EastWest cardholders are entitled to a 12% discount for a minimum single-receipt purchase worth P1000 at www.lazada.com.ph or LAZADA Mobile App. Just use the promo code EWBREV12 to avail discount. Promo period is from December 7 to 12, 2017 only.
(Read: Proudly Philippine Made Products To Add To Your Holiday Shopping List)
Security Bank
Savor a free one-month Booky prime membership and exclusive Buy One Get One promos. Simply log on to http://bit.ly/sb-booky to subscribe to this promo. Enter your mobile number and your Security Bank card details to start the membership. Promo is from November 1, 2017 to January 15, 2018.
Get big discounts on gadgets and tech accessories at Adobomall. Use your card to avail of a 30% discount on select items at Kipling, a 5% discount on select items at Digits / Marshall and freebies from Memo Express. Just use your credit cards when purchasing to avail of the discount. Promo period is until February 15, 2018.
AUB
Have a luxurious holiday staycation at Joy-Nostalg Hotel and Suites in Pasig City. Use your AUB credit card to enjoy a 20% discount a the Nostalgia Dining Lounge, a 20% discount at the Nostalgia Bar Lounge and 15% off on room rates inclusive of breakfast for two. Simply use the promo code AUB to avail discount. Promo runs until January 31, 2018.
Shop at Robinsons Specialty Stores and get a chance to bring home P365,000 worth of gift certificates and a one-year style and beauty advisor service. Every P3000 worth single receipt purchase at any Robinsons Specialty Stores using your AUB card is equivalent to one raffle entry. Promo is until December 15, 2017, only.