5 Amazing Airport Amenities We Wish NAIA Had
3 min read
The Ninoy Aquino International Airport (NAIA) has been making improvements and its efforts have been recognized by London-based research firm Skytrax.
Skytrax placed the Philippines' main airport tenth on their list of World's Most Improved Airports during their latest World Airport Awards. The research firm ranked and evaluated 550 airports through a survey answered by more than 13 million travelers from different parts of the world.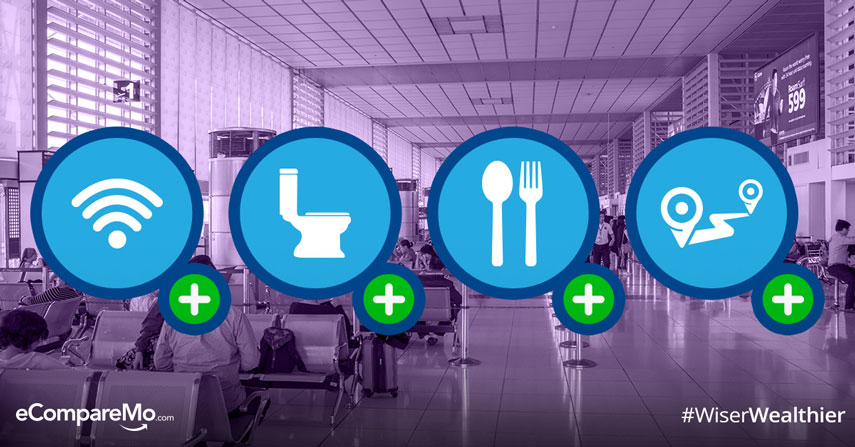 Overall, though NAIA exhibited promising changes in its facilities and services, it still has a below-average rating on Skytrax. Based on 366 customer reviews, NAIA only scored 4/10 based on convenience, cleanliness, safety, and amenities. Comments about the airport range from "dysfunctional in multiple ways" to "average."
Fortunately for the future of travelers to and from the Philippines, there has been great interest in improving NAIA. A "super consortium" formed by seven companies in the Philippines has proposed a P350-billion mega rehabilitation program that will span 35 years. Meanwhile, a partnership between Megawide Construction Corporation and India's GMR Infrastructure Limited is also training its eyes at rehabilitating NAIA, proposing a 25-year rehabilitation contract for a $3-billion budget.
With the airport overhaul gradually becoming a reality, we can only dream of some features our beloved airport could have over time. Consider this post our appeal to the government as we list down the amenities and features we wish would be included in the NAIA rehabilitation plans. Who knows, your future Holy Week trips might finally include these.
1. Lightning-fast wireless internet
Model airport: Don Mueang International Airport, Thailand
In 2016, local major telco player Smart upgraded their free public internet access at the NAIA to 1 gigabit per second. This means up to 3,000 wireless users can enjoy hassle-free internet connection. However, the Philippines still has a long way to go in terms of airport Wi-Fi.
In comparison, Bangkok's Don Mueang International Airport was hailed by public Wi-Fi watchdog Rotten WiFi as the paragon of internet access in Asia, offering up to 37.10 MBPS on average download speeds.
2. Squeaky-clean toilets
Model airport: Narita International Airport, Japan
Airports must always maintain high toilet standards to avoid world nomads spreading viral horror stories of the time they sought to relieve themselves. One of the most impressive toilet bathrooms in the world can be found in Narita Airport, which was created by Japanese toilet manufacturer TOTO.
Apart from above-average basic amenities, Gallery TOTO doubles as an art installation with huge LED panels showcasing the best qualities of Japan. You can't get any more extra than that.
3. Ultra-convenient airport links
Model airport: Hong Kong International Airport, Hong Kong
Last January, the Manila-Clark Railway finally broke ground, which will make the trip to Clark International Airport more convenient. The Philippines has also finally sealed the deal with the Japan International Cooperation Agency to fund the construction of the Metro Manila Subway, an underground rail line from Quezon City to NAIA.
While waiting for those two projects to come to fruition, we're hoping for something similar to Hong Kong's Airport Express. That airport rail link comes with free porter services, wireless connection, in-train charging, and overnight baggage check-in services.
4. Ample gate seating
Model airport: Changi International Airport, Singapore
A noisy barkada, a whiny tita, and a guy in a suit who talks loudly over the phone—these are just some of the most obnoxious characters you'll encounter at the gate. Unfortunately, you have no choice but to sit with them because of inadequate seats in the waiting area.
There's a reason why Skytrax has hailed Changi as the best airport in the world for six years in a row. They don't just provide enough seats for people; the lobby also showcases insane chairs coming from the ateliers of B&B Italia and Marcel Wanders. Your news feed will become 100 percent more interesting with a few selfies taken on these set pieces.
5. Cheap yet amazing terminal meals
Model airport: Suvarnabhumi Airport, Thailand
For the budget traveler, a pocket-friendly food place is a god-send. Despite the many wonderful flavors inherent in Philippine cuisine, NAIA's restaurant catalog is decidedly lackluster.
In Thailand's Suvarnabhumi Airport, a foodie haven exists in the form of Magic Food Point. The food court houses more than 20 stalls offering delicious and cheap Thai, Chinese, and Vietnamese dishes. Some of the items you must try at Magic Food Point are banh mi, papaya salad, shrimp dumplings, and the porridge.
Sources: Airline Equality, World Airport Awards, The Philippine Star, Rotten Wifi, Businessworld