Road Trip Guide: How To Prepare Your Car And Yourself For A Safe And Fun Long Drive
5 min read
Summer is here and the top destinations in the Philippines are just waiting for you to take to the highways and see them.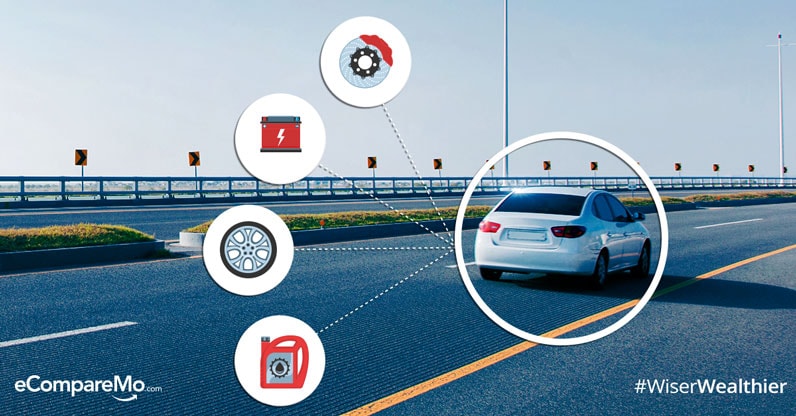 Whether you're going on a road trip to see and ride the magnificent swells of Baler or to camp out on Zambales' best-kept coves, every successful long drive requires preparation. How do you prepare your car, yourself, and the people you're hauling for an out-of-town shebang?
Here are a few handy preparation tips to make sure you don't hit snags on your road trip.
1. Condition your car for the long haul
A ride outside the city is different from driving in city traffic. Out of town road trips will test the limits of your car in hours of travel time on the open highways.
To make sure your car won't stall during your joyride, remember the most important acronym for a smooth drive, which is the ever-memorable BLOWBAG.
Here are the things to check:
Brakes – brake fluid, pads, and pedal
Lights – engine lights, headlights, taillights, brake lights, signal lights
Oil – full oil level, oil leaks
Water – radiator water level, extra water supply, windshield washer bottle level
Battery – battery terminals, extra jumper cables
Air – tire air pressure
Gasoline – gas gauge, gas level
In other cases, such as the information campaign launched by the Philippine Information Agency back in 2015, they add three more things to check, making the acronym hilariously called BLOWBAGETS.
The remaining items on the revised checklist are the following:
Engine – drive belt, transmission fluid, coolant, air filter, power steering fluid, hoses, leaks
Tires – tread depth, wheel alignment
Self – vitamins, water, sleep, coffee
2. Prepare your emergency kits
When you're on a road trip, there are only two kinds of emergencies you have to worry about: human emergencies and vehicular emergencies. Fortunately, it's easy to prepare for not-so-worst case scenarios regarding either. Just make sure you have a couple of fully-stocked emergency kits at all times.
For your human emergency kit, the New York Times suggested having the following items:
Bottled water
Nonperishable food like energy bars and canned goods
Portable lighting
Emergency whistle
Dust mask
Solar chargers and power banks
Various medications and first-aid materials
Blanket
Multitool
Emergency cash
Meanwhile, your car also needs an emergency kit, which isn't just handy during excursions. We highly advise people to bring the following and stash them in your car's trunk at all times:
Early warning device
Road flares
Extra oils
Jumper cables
Fuses
Spare tire
Jack
Lug wrench
Basic tool kit
Pro Tip: Did you know that carrying an early warning device at all times is mandated by the law? A 2011 LTO memorandum made it a requirement for all cars to stash those triangles in your car all the time. Failure to carry one when driving will cost you P500 for every infraction.
3. Get a full rest the night before your road trip
A well-conditioned car is pretty useless if the driver isn't in good condition themselves. Get some good sleep before your long drive. As recommended, a proper rest means around eight hours of sleep the night before. Aside from a good night's rest, you also need to pop some vitamins and eat the right food.
4. Wear proper and comfortable driving gear
When we say driving gear, we didn't mean you should suit up like the Stig. Proper driving attire just means both comfortable and practical clothes. This means proper driving shoes, shorts, a top that doesn't restrict your arm movements, and sunglasses or driving glasses for glare reduction. Don't forget to remove your glasses at night however since it's dangerous and you're not Corey Hart.
5. Create an awesome playlist
Road trips outside the metro can be pretty long. If the person riding shotgun has terrible taste in music or if all you are picking up is local stations, it's better to have your own music.
Gone are the days of mixtapes and burned CDs; but you can still create instant playlists on your phone! Just remember that road trip songs are supposed to keep you up without distracting you, which means no classical music to doze you off to or tracks from Hamilton that can distract you with rapping.
We listed down a few titles for your consideration:
Foo Fighters – All My Life
Battle Tapes – Belgrade
Max Coveri – Running in the 90's
Tom Waits – Goin' Out West
Nine Inch Nails – The Hand That Feeds
Kavinsky – Nightcall
The Ataris – In This Diary
Them Crooked Vultures – New Fang
The Smiths – This Charming Man
Kendrick Lamar – i
6. Pick your road trip buddies wisely
A good road trip group is like an expertly picked role-playing game party. Everyone has a responsibility to the group and specialties that are needed. As the driver, it's your goal to simply focus on the road and make sure everyone makes it to your destination.
As the second-in-command, the shotgun passenger is the person in charge of a lot of things such as keeping the driver awake and helping with navigation. This means they are the one with the smartphone handy for messaging, navigating, pumping out sick tracks, and so much more. Extreme cognitive mapping skills and great taste for music are a big plus.
Backseat passengers may not be able to do much, but they should be good at one thing, which is handing out snacks to everyone. In other cases, they should also be ready to take over the driver's seat if the driver is too tired to go on. So, they should have a driver's license with them and a bag full of chips and drinks. Passengers should also know how to calm the driver down in case of an encounter with incompetent drivers.