Beach Cleanup Drives You Can Join For A Productive Summer In The Philippines
3 min read
For the socially conscious Millennial (and even the green-minded "older" generations) it's all about environmental protection and responsibility now, even in the summer.
Activities like beach cleanups and sustainable livelihood efforts once seen as merely band-aid efforts have brought huge and long-standing positive changes across communities. These are commonly seen on social media to inspire change and educate other people.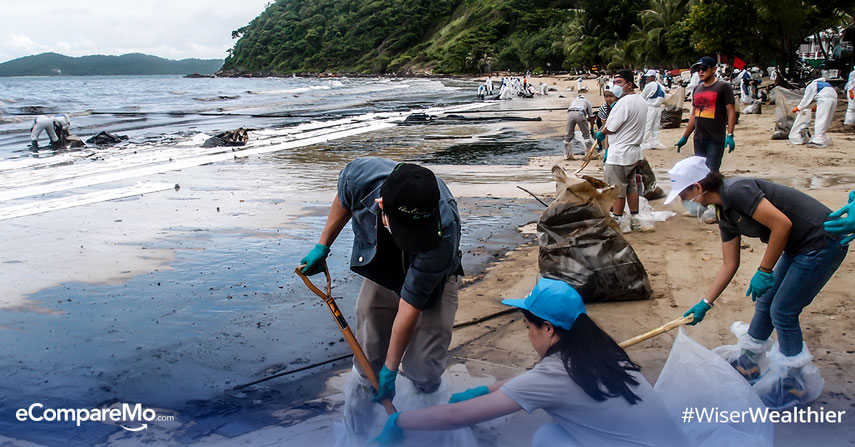 The green movement's gotten so popular that even corporations have made Corporate Social Responsibility (CSR) a standard practice, knowing the positive effect it can have on their image.
This summer, take more than just beautiful, Instagrammable snaps by the beach and join these organizations. Sign up and help educate communities on social responsibility, and volunteer for coastal cleanups. These organizations may even inspire you to start your own advocacy.
SEA Movement Siargao
Facebook: @SeaMovementPH
Instagram: @s.e.a.movement
As "The Surfing Capital of the Philippines", Siargao steadily attracts more tourists each year. And with this rise in tourism, there's also a rise in concern that Siargao might suffer the same fate as Boracay in terms of substandard waste management.
Luckily, the local community in Siargao has been having regular environmental activities to ensure their island remains a paradise. 
One of the most active local organizations is the SEA Movement Siargao. They're actively organizing volunteer coastal cleanups, minimizing non-biodegradable wastes and educating people about proper waste management. Check out their social media pages for volunteer cleanup schedules if you're planning a trip to Siargao. You won't only get stoked by surfing, you'll also get to help the community and hang out with like-minded, driven people.
The Circle Hostel
Facebook: @TheCircleHostel, @ThePlasticSolution
Instagram: @TheCircleHostel, @plasticsolutionph
Located in three popular surfing destinations, Baler, La Union, and Zambales, The Circle Hostel is also the birthplace of The Plastic Solution.
The Plastic Solution is an initiative that makes eco-bricks out of one (1) liter plastic bottles stuffed with cut-up, non-biodegradable waste products. These bricks are used to fill cement walls to make a sturdy, eco-friendly home.
This is just one way The Circle Hostels' contribute to their local communities. Just this month, The Circle Hostel La Union started their Plastic Free Campaign #SustainablePalengke Challenge at the San Fernando public market which promotes the use of reusable bags instead of single-use plastics. They also encourage people to start collecting eco-bricks wherever they are, either for donation at their designated drop-off locations or use it to build eco-friendly structures.
Plastic Free Bohol
Facebook: @PlasticFreeBohol
Instagram: @plasticfree_bohol
Two of Bohol's most sought out destinations are the famous beaches Alona and Dumaluan on Panglao Island. Thanks to the Plastic Free Bohol movement, beach clean-ups are regularly held at these two spots to keep pollution at bay and keep the areas pristine.
Most of their volunteer clean-ups are in Panglao, but they just recently had a successful clean-up drive at Quinale beach with 47 volunteers. They are open to signing up more volunteers.
If you think you can help them spread their word, follow them on their social media pages and sign up for volunteer work when you're in Bohol.
Reef Nomads
Facebook and Instagram: @ReefNomads
According to one photo caption on Reef Nomads' Instagram page, every dive is a cleanup dive for them. True to their word, they are actively promoting ocean cleanups and environmental responsibility on their social media pages, spearheaded by one of its founders, Gela Petines.
Enrolling in their classes will not only develop your skin diving skills, you'll also learn more about marine life and get immersed in sustainable community development programs. Next time you're feeling adventurous, sign up for Reef Nomads' skin diving expeditions.
International Coastal Cleanup Day
Facebook: @OceanConservancy
For a worldwide scope, there's the largest annual ocean volunteering organization Ocean Conservancy's International Coastal Cleanups (ICC). This organization started thirty years ago with the mission of cleaning oceans, rivers, and lakes of non-biodegradable wastes. Their annual coastal cleanup forums and activities are organized worldwide every September. And yes, they're active in the Philippines, too.
On September 2017, the ICC held a successful two-week cleanup drive at Manila Bay, in partnership with other organizations like Greenpeace. It's done in other parts of the Philippines too, with places like Zambales, Subic, and Capiz holding their own local cleanup activities. Maybe this year you can even start organizing a cleanup drive in your own local community. Go to Ocean Conservancy's website to find out more.