4 Things You Should Always Buy At The Airport (Because They're Cheaper There)
4 min read
To say that Filipinos are big on pasalubong is an understatement. Every trip, no matter how far or how short, is marked by the accumulation of gifts and goodies for those left behind, and everyone knows that for the best hauls, Duty Free is the place to go.
From multi-packs of Toblerone–that staple of OFW pasalubongs--to expensive perfumes, all otherwise pricey luxuries in stores back home are sold tax-free, and therefore, cheaper.
But the huge markdowns often lure buyers to buy in massive quantities, and whether they're using credit cards or spending what remained of the local currency, this impulsive shopping and spending becomes a very expensive way to say "Here's a little reminder of the latest stamp I got on my passport."
If you consider yourself a savvy traveler who lives for a solid airfare deal, then the prospect of bargain airport shopping should thrill you. Like airfare, finding the best price is only a matter of comparing prices via online searches, as discounts can vary per airport. Here, we listed the best duty-free deals so you already know what to look for the next time you travel.
1. Chocolates and local confections
Apart from buying chocolate at really low prices, you can also get some local delicacies at the airport. It's best to compare prices with local shops before you head out to the airport to see the best price.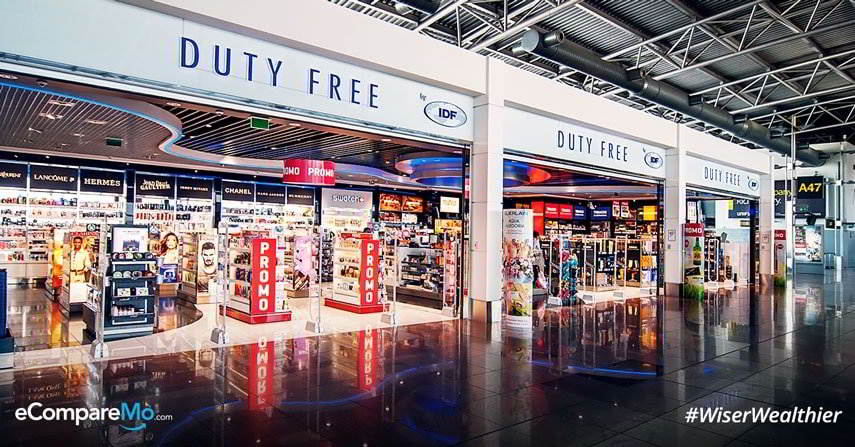 Brussels National Airport, Belgium
This is the number one seller of chocolates in the world. According to the Brussels Airport website, over two (2) tonnes of chocolate are sold every day, at an average of 1.5 kilograms per minute. While you're there, look for famous brands like Neuhaus, Corné Port-Royal, and Godiva Belgian chocolates, which are often sold at discounted prices.
Paris Charles de Gaulle Airport, France
Luxurious products are often discounted at the Paris CDG, much to the excitement of travelers. Prepare more time to line up for small metal cans of foie gras, a box of macarons, and bottles of either French wine or liqueur at airport shops. Cheese is allowed in your luggage up to a certain limit, and as long as it's sealed and packed well.
Dubai International Airport
This airport ranks sixth place in the list of  Best Airports for Shopping by the Skytrax 2017 World Airport Awards.  One of the more popular local delicacies you can buy at a discount is camel milk chocolate, a true home-grown Dubai food item, as well as dried dates.
Tokyo-Haneda International Terminal
Worth mentioning, as there's just so many unique items to buy in Japan. One place to shop is at Muji, where prices are three times cheaper than the franchises open in the Philippines. You'll also find cheap toys and souvenirs at the airports.
Wines and liquor such as Yamazaki and Hibiki are quite popular, as they're sold at a discount in the airport. As for sweets, go crazy with the 15 flavors of Japanese Kit-Kats, Royce, that famous confectionery from Sapporo, and maybe grab some Pocky and other matcha-flavored sweets, too.
2. Alcohol and cigarettes
Cigarettes, premium cigars, and fine wines and spirits are common airport buys. If you're planning to take some home, follow the local airport regulations where you're at.
Airports usually set a limit of one (1) liter for alcohol, and less than a ream of cigarettes to bring home. Exceed that and you risk getting your purchases confiscated.
Philippine Customs set the following import regulations:
Two (2) reams of cigarettes, maximum of 400 cigarettes
Two (2) tins of tobacco, 250 grams of pipe tobacco, and 50 cigars
Two (2) bottles of alcoholic beverage, not exceeding one (1) liter each
3. Fragrances
The Emirates 24/7 business news reported that perfumes continue to be the best-selling item at Duty-Free Dubai, so be on the lookout for discounted items of popular scents from Calvin Klein to Chanel No. 5.
Most airports in the Middle East, from major OFW hubs Dubai, Abu Dhabi, to Hamad International in Doha, are known to have lower prices for perfumes, confectioneries, and cosmetics.
4. Cosmetics and skin care
Makeup is often sold 50% cheaper at airports. If you're planning to buy prestige makeup products like MAC, Estee Lauder, or Chanel, a little online price comparison will help you find if an airport purchase is a steal compared to local retail stores.
Things to look out for
Some luxury items can be a lot cheaper in certain countries. Leading designer handbag and accessories website PurseBlog released their 2017 report showing the infamous Hermes Birkin is cheapest in France, at EUR 7,000 (P421,572) compared to Japan, at JPY 1,260,000 (P588,243).
Chanel perfume, Cartier or Tag Heuer watches, plus Dior or Ray-Ban sunglasses are on sale for mostly cheaper at the airport than in local shops.
Other branded items may come at discounted prices in different airport shops. From luggage to gadgets, you'll be lucky to snag some good deals at the airport. The best way to find heavily marked down items is through online research.
That way you'll save time on shopping, and you already know what to buy when you're there. Well, that's one way savvy shoppers make sure their pasalubong means more while costing less–it's all about the effort!