Rave-Worthy Music Festivals Around The World
6 min read
Wanderland, Neverland, Chroma, Pulp Summer Slam, Malasimbo. You might have gone to one of these music festivals – or at least hoped to go. Well, now is as good a time as ever.
In this post, we're going to share with you some fantastic and rave-worthy music festivals that delight music-lovers the world over. Take a look and start planning your next trip.
Coachella
Music, art, and Hollywood stars
One of the largest and most famous music festivals in the United States and the world, The Coachella Valley Music and Arts Festival is held every year for three consecutive weekends in April. Festival-goers flock to the Empire Polo Club in Indo, California in the Coachella Valley where they can mingle with Hollywood celebrities and gawk at the art installations and sculptures set up across the grounds. Numerous artists from various musical genres including rock, indie, hip-hop, and electronic dance music wow the crowd and keep the festival pumping.
Ultra
An electronic music lover's dream
The Ultra Music Festival is on the absolute top of the bucket list for EDM fans. This annual electronic music festival is held for three days in March at the Bayfront Park in Miami, Florida. The festival was founded in 1999 and is named after the 1997 Depeche Mode album. In 2008, Ultra began Ultra Worldwide, holding festivals in locations all across the globe. Choose your dream destination, check the date, and book your ticket.
Exit
Music and social responsibility mashup
The Exit summer music festival in the Petrovaradin Fortress in Novi Sad, Serbia is said to be one of the best major European festivals.  The festival started in 2000 as part of a student movement, seeking democracy and freedom in Serbia and the Balkans. Today, social responsibility is still at the heart of festival activities. The party starts on the second Thursday of July and continues for four days.
Burning Man
A celebration of music, self-expression, and creativity
Burning Man is an annual gathering of artists, free-spirits and music lovers at the majestic Black Rock Desert in Nevada. The community, known as Burners, was born out of a movement that values artistic self-expression and creativity. Every year, from the last Sunday in August to the first Monday of September, Burners gather and erect the temporary city Black Rock City and a large wooden effigy known as the Burning Man. The city is taken down and the Man is burned at the end of the festival. But while the festival is ongoing, festival goers can enjoy fantastic, one-of-a-kind showcases of experimental and interactive sculpture, building, performance art, and music.
Fuji Rock
Music in the great outdoors
Fuji Rock is the largest outdoor music event in Japan and one of the most exciting in the world. Held on the last weekend of July at the Naeba Ski Resort in Niigata Prefecture, this three-day event features seven main stages and other minor stages scattered throughout the site. More than 200 Japanese and international musicians play these stages during the festival. Enjoy the view and the sounds with forests walks in between stages or ride the Dragondola lift for a view of the festival site from the top.
Vive Latino
For Latin and Spanish music fans
Fly to Mexico City and have a fiesta at Vive Latino, the largest rock en español music festival. The three- day event is usually held in Foro Sol in either April or May. The event features two to four stages with Latin and Spanish musical acts to enjoy.
Lollapalooza
Something for everyone
The popular traveling music festival Lollapalooza is a yearly gathering of some of the most popular artists of this generation from different musical genres. Whether you're a fan of alternative rock, heavy metal, punk rock, hip-hop, or EDM, you'll find something to groove to at Lollapalooza. Lollapalooza also serves as a means for non-profit and political groups as well as visual artists to share their advocacies.
Pentaport Rock Festival
Korea's largest rock and electronic music festival
Book your next trip to Incheon, South Korea for the three-day Pentaport Rock Festival. Deemed as one of largest live musical events in Korea, the festival runs for three days at the end of July. It features musicians from all genres but mostly caters to fans of rock and electronic music.
Golden Plains
Camp out and enjoy music in a natural amphitheater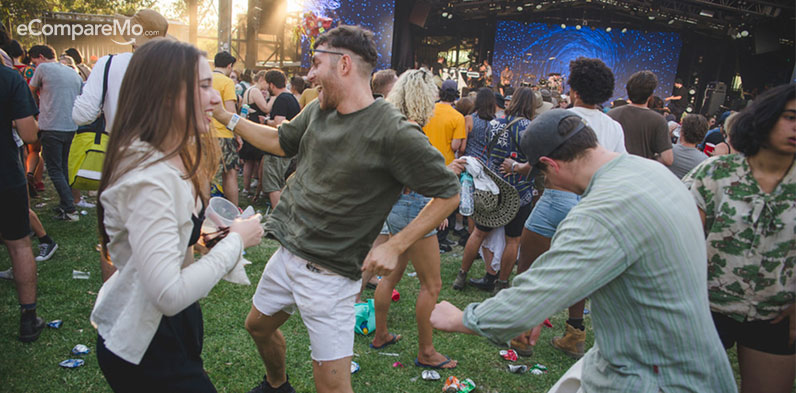 The Golden Plains outdoor camping festival in Victoria, Australia features a natural amphitheater for bands to play and wow the crowds with their musical artistry.  Hope you like camping as Golden Plains is held on private farmland 90 kilometers away from Melbourne.  Most attendees bring tents or sleep in vans.  The festival lasts for three days over the Victorian Labor Day weekend in March.
Vans Warped Tour
Skate and music
The punk-emo kids know this 'Off The Wall' event all too well. The Warped Tour is the longest-running touring music festival in North America. This roving rock festival stops at various cities in the United States and Canada from June to August. Though the skateboard shoe manufacturer Vans is the main sponsor of the tour, other sponsors have also started participating, paving way for more stages and more emerging performers.
Tomorrowland
Belgium's hottest EDM festival
Another top entry on any EDM fans' bucket list, Tomorrowland tickets get sold out in minutes.  First held in Boom, Belgium in 2005, this yearly gathering of the hottest EDM musicians lasts for two weekends – usually in July or August.
Sziget
Island party in the middle of the Danube
The Sziget Festival is one of the largest musical and cultural events in Europe. Held in  August in Óbudai-sziget, an island in the Danube river in northern Budapest, Hungary,  Sziget is the European alternative to Burning Man. It was ranked as one of the 5 best festivals in Europe by The Independent in 2011.
Mawazine
Over a million happy music lovers
Mawazine, or "World Rhythms", is an annual musical shindig in Rabat, Morocco.  Held for several days in May, with performances from both international and local artists, this isn't just a big party but an awesome life experience.  The 2013 festival had an estimated 2.5 million attendees, making Mawazine the biggest festival in the world.
Glastonbury
Bastion of the British hippies
Glastonbury is a five-day festival of contemporary performing arts held on the last weekend of July in England. Aside from featuring today's music, the festival also serves as a venue for other artists to present their talents in other areas such as dance, comedy, and theatre. Springing from the 1970s, it is still seen as an inspiration by the tenets of the hippies, counterculture, and other British movements.
In crowded festivals like these, instances of loss of personal belongings such as money, cellphone, and important documents may happen. AXA's Smart Traveller provides extensive coverage against theft and many other unforeseen setbacks while traveling.  Make sure you have peace of mind during your trip by getting Smart Traveller before you go.