30 Instagrammable Restaurants In Manila
11 min read
When it comes to picture-perfect restaurants, Manila doesn't disappoint. These establishments come with their own style and ambiance, serving delicious dishes that suit even the pickiest of eaters.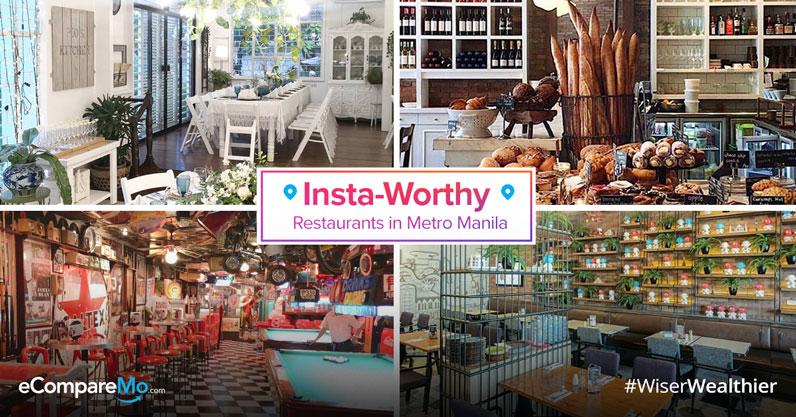 Not only do we have restaurants catering to all sorts of taste buds, but many of these offer a feast for the eyes with décor, plating, and overall mood that will look great on an Instagram feed.
Here is our list of the top 30 Instagram-worthy restaurants in Manila. Get ready for a sensory feast for both the palate and the eyes.
Instagrammable restaurants in Makati City
Known for its busy streets and tall buildings, this city houses beautiful restaurants catering to foodies who want a pleasant dining experience in a visually stimulating environment.
For the most attractive, check out our list below.
1.Antidote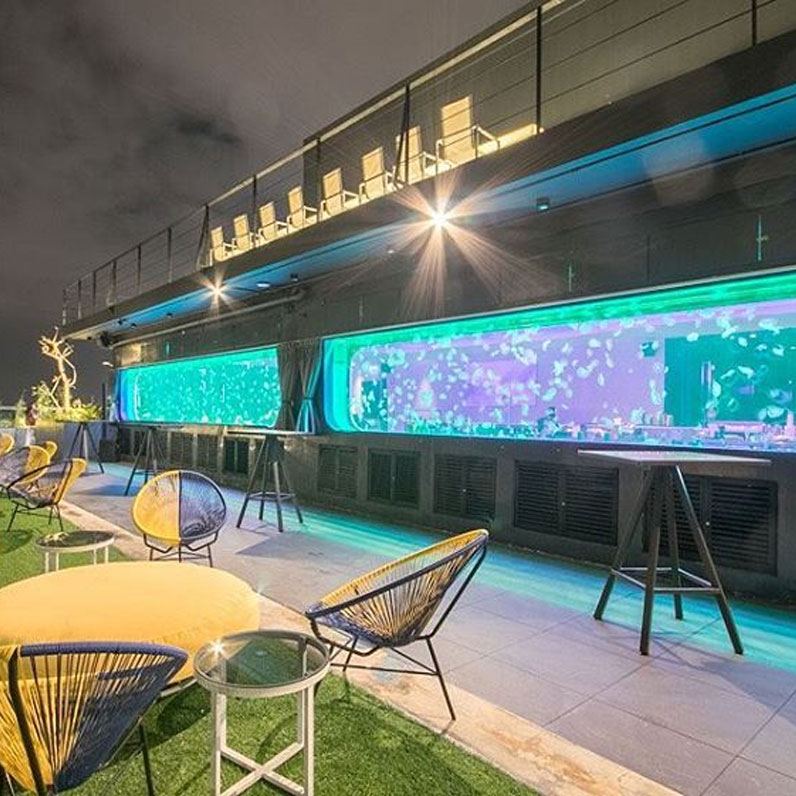 If you think relaxing with jellyfishes around you is not a good idea, this rooftop bar is going to change your mind.
For a picturesque night out head over to Antidote, conquer your fear of heights with its view of the Makati skyline, and enjoy good food and cocktails.
As one of the best rooftop bars in our country, this trendy chill-out place features a glowing jellyfish tank that extends throughout the area, providing a mesmerizing experience.
Address: I'M Hotel Roof Deck, 7862 Makati Avenue corner Kalayaan Avenue, Makati City
Contact number: (02) 7755 7888
2. Polilya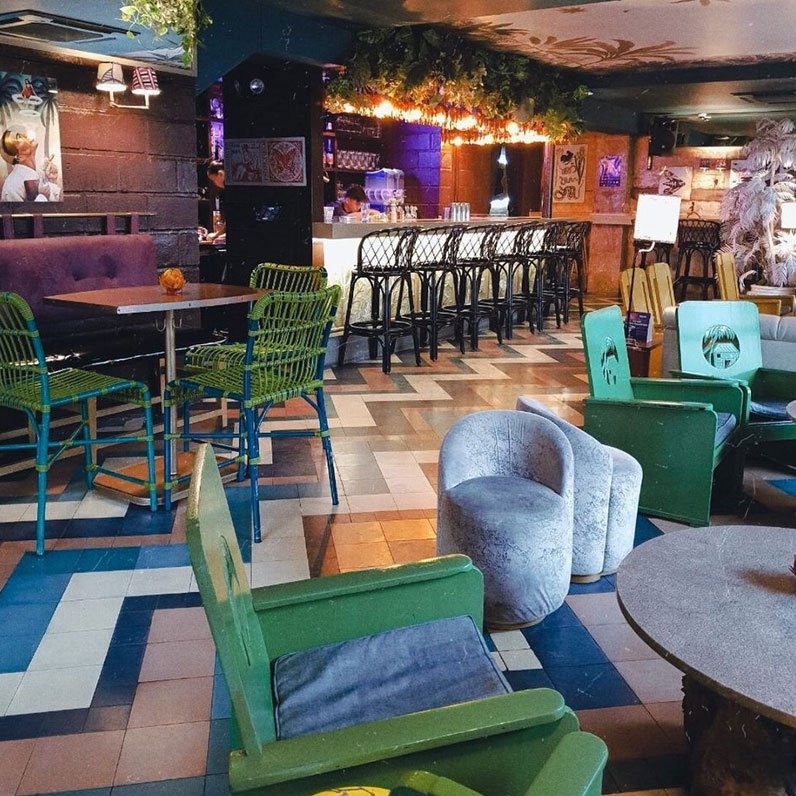 Easily spotted in the bustle of Poblacion with their inviting neon purple signage outside, the word Polilya means moth in our local dialect. The place provides a relaxing yet eclectic energy with their mismatched chairs and tables that gracefully complement their multicolored floor.
Their dimly lit bar utilizes another neon sign "Have you figured out what you want yet?" which greets customers wanting a drink. It's highly recommended that you try out their "Engkanto Beer" which is locally crafted with natural ingredients.
Address: 5658 Don Pedro Street, Poblacion, Makati City
Contact number: 0917 502 9590
3. Kyo-to Kaiseki Restaurant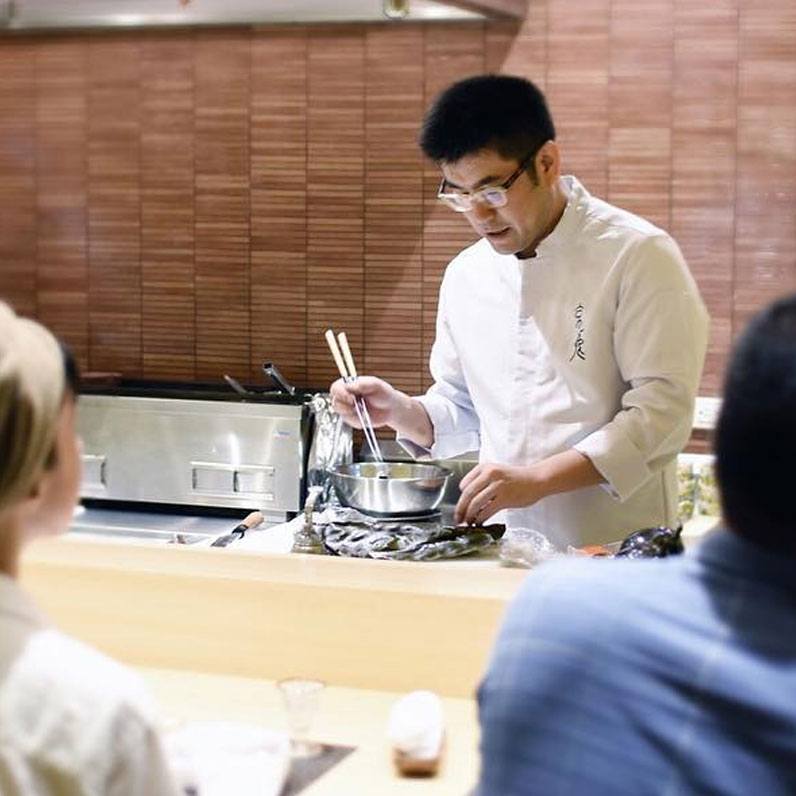 Kyo-to Kaiseki Restaurant's minimalist appeal is a sure hit for anyone looking for a relaxing feast in this city.
The entrance is reminiscent of traditional Japanese homes with delicate bonsais, garden stones, and pebbles that stand out amidst the concrete structures nearby.
Wood dominates the whole interior area while their flooring is tiled with beautiful timber and granite.
Address: Ground Floor of Coyiuto Building, 119 C. Palanca Street, Legazpi Village, Makati City
Contact Number: (02) 8805 7743
(Read: 6 Fine Dining Restaurants In The Philippines That Are Strictly By Reservation)
4. Happy Garden Café by Bizu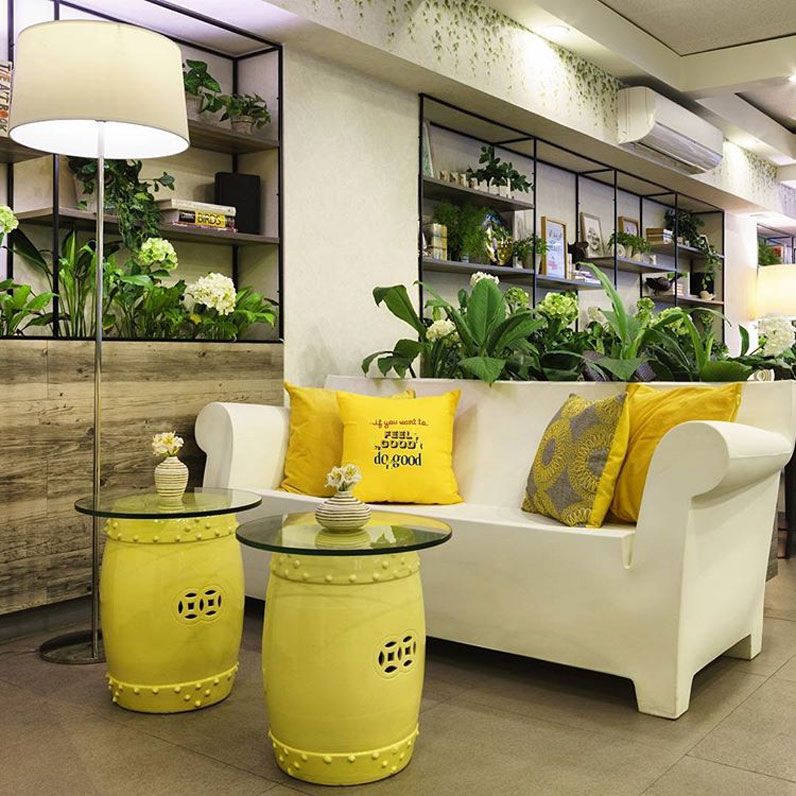 Tired from work and longing for something fresh? Visit Happy Garden where everything is refreshing, including their detailed interiors that will remind you of a roofed courtyard.
Address: 56 Jupiter Street, Sunshine Place, Bel-Air, Makati City
Contact number: (02) 8824 5440
5. Harlan + Holden Glasshouse
Harlan + Holden's venture into concept diner resulted in "Glasshouse", quietly stationed in a lush area, cocooned in glass and strengthened by black pillars for an air of an unrestricted and modern laidback elegance.
Address: Rockwell Center R1-GH, Hidalgo Drive, Makati City
Contact number: 0917 109 2156
6. BlackBird Makati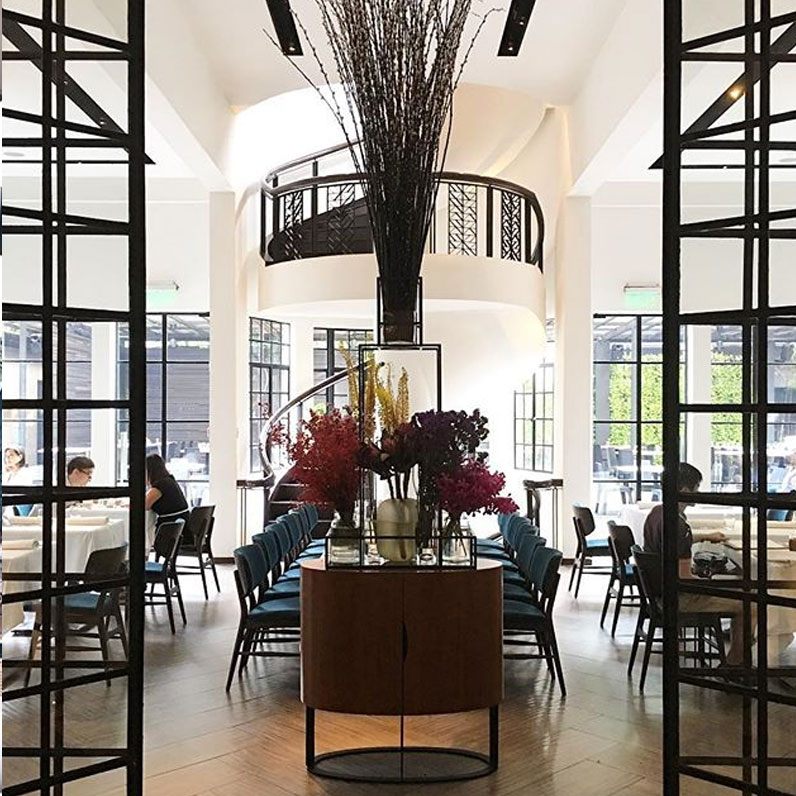 BlackBird Makati is a grand place nestled in Ayala Triangle. It is sought after for its world-class menu that can be enjoyed in a retro, glam styled interior reminiscent of old Manila.
In addition, the dramatic grand staircase serves as the focal point of the main area.
Address: Nielson Tower, 1299 Ayala Triangle, Makati Avenue, Makati City
Contact Number: (02) 8828 4888
7. Filling Station Bar and Café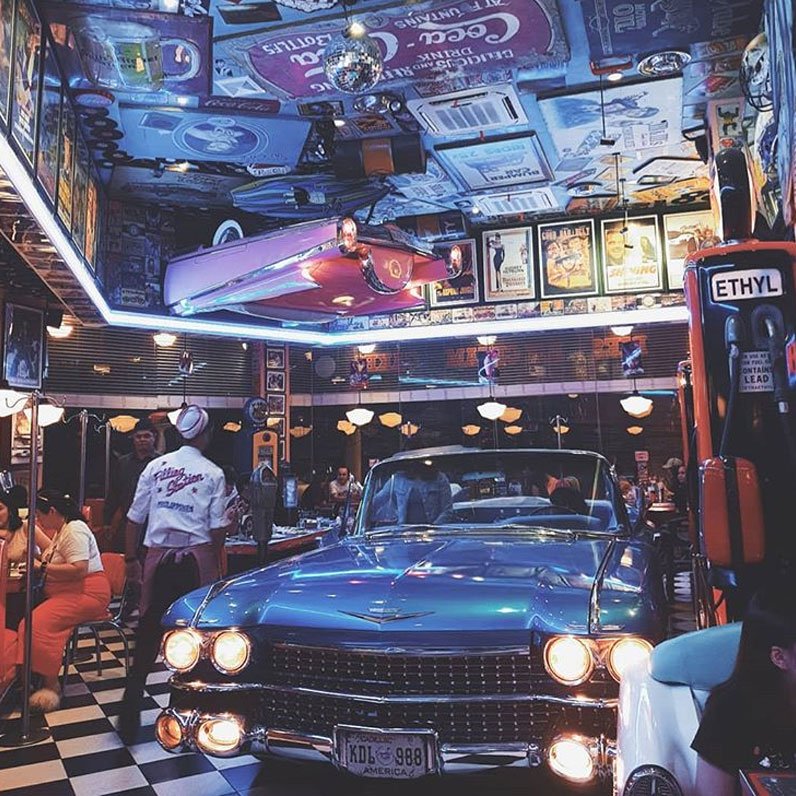 Built as a homage to America's 50's golden age, the Filling Station Bar and Cafe takes you back in time with its retro pop interior touches. Have fun dining among colorful posters, statues, a full-sized Cadillac, and vivid lights, evoking a more innocent time.
Address: 5012 P. Burgos Street, Poblacion, Makati City
Contact Number: (02) 8897 2053
(Read: 2019 Buffet List: Top 18 Affordable Eat-All-You-Can Restaurants In Metro Manila)
8. The Wild Poppy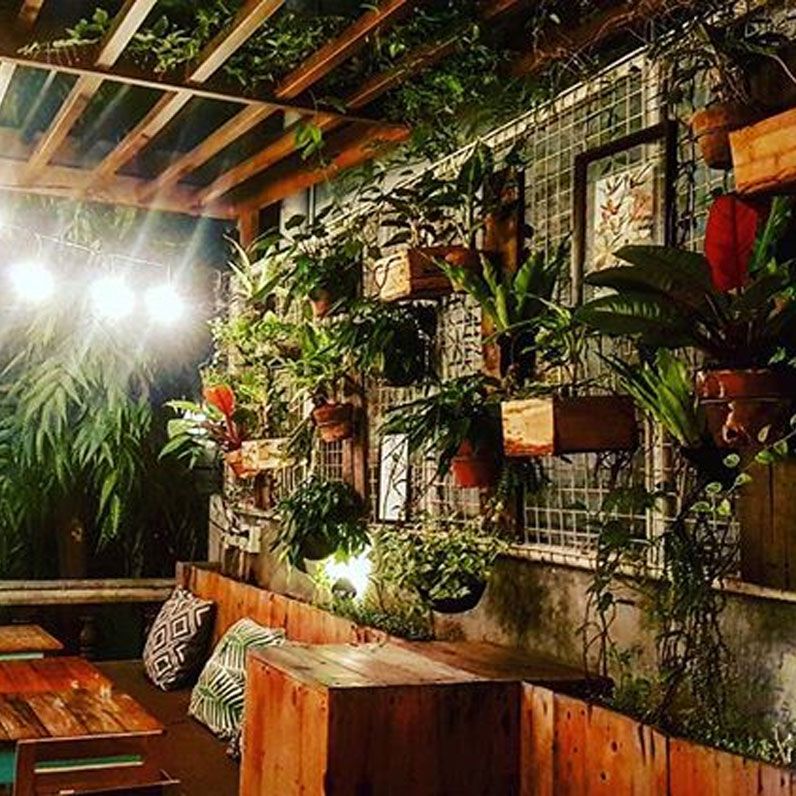 Though small compared to other cafes and diners in Población, The Wild Poppy is a crowd favorite due to its stylish and calming ambiance brought about by hanging plants, wooden furniture accentuated by multi-colored pillows, and painted walls with neon accents.
Dining outside their glass-roofed veranda is quite an experience as vines and more plants relax diners while having a great view of the busy street below.
Address: Second Floor, 5666 Don Pedro Street, Poblacion, Makati City
Contact Number: 0995 990 8737
9. The Penthouse 8747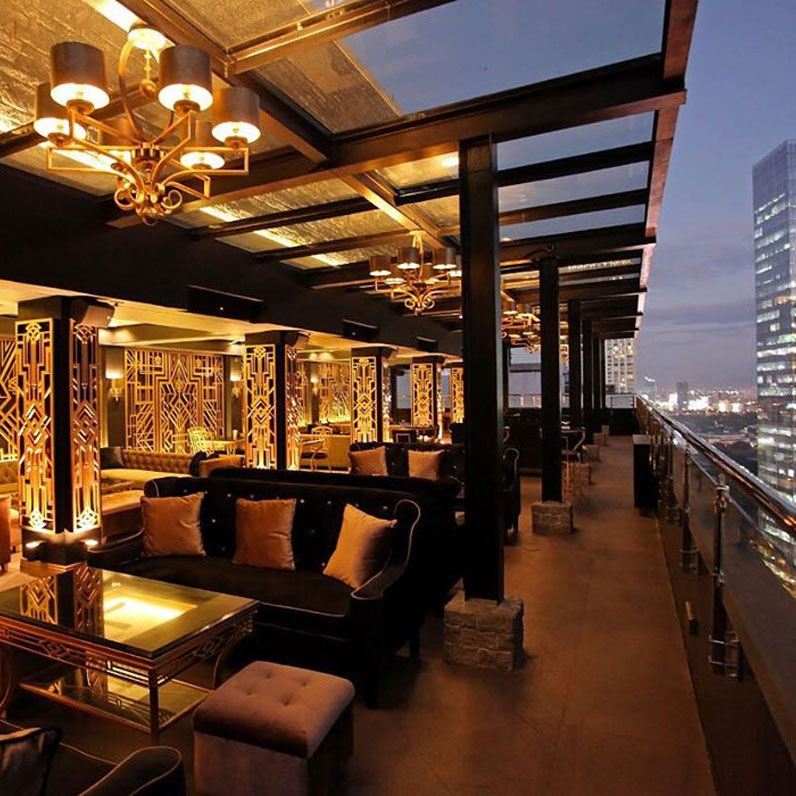 The Penthouse 8747 evokes the unforgettable decadence of the 1920s. At this ultra-luxe rooftop diner, you can dress up ala Gatsby style and match the charm of the space with its interiors of gold and black accentuated with sleek art deco touches.
Address: 1209, 8747 Paseo de Roxas, Makati City
Contact Number: 0917 801 0655
10. Sala Restaurant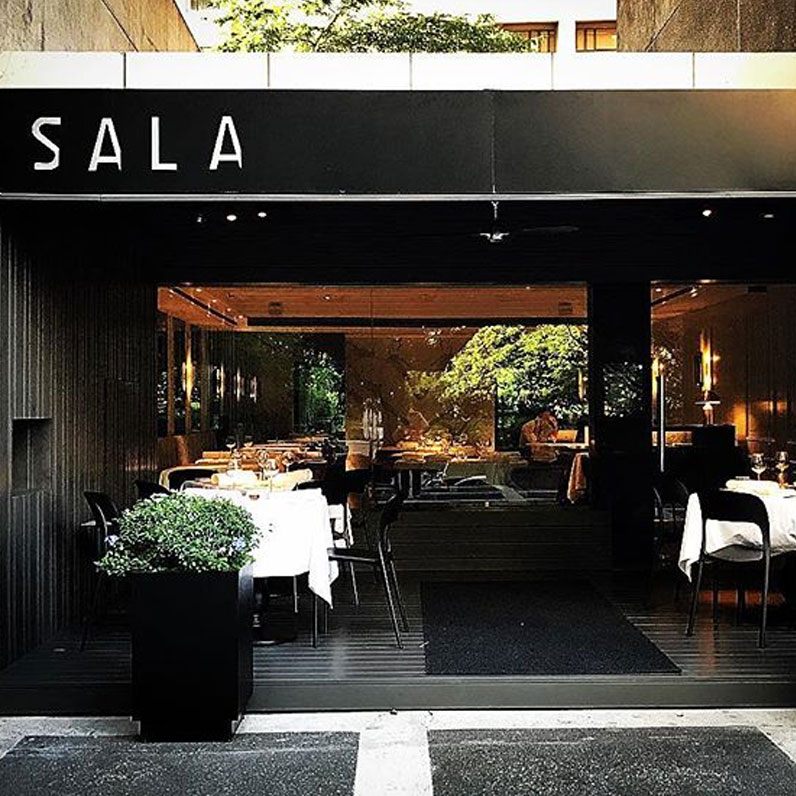 Not only known for their exquisite menu acclaimed by online websites, but Sala is also appreciated for its styling, described as smoothly elegant.
As you get inside this fine-dining European bistro, a romantic and dusky lighted stair will welcome you while the atmosphere inside is subdued and regal.
Address: Podium Level, LV Locsin Building, 6752 Ayala Avenue, Makati City
Contact Number: (02) 7750 1555
Instagrammable restaurants in BGC
As skyscrapers multiply in BGC, more and more concept restaurants are popping up to serve and provide some respite for hungry employees, visitors, and residents of this highly urbanized city.
Read on to familiarize yourself with photo-ready diners on this side of the metro.
11. Perry's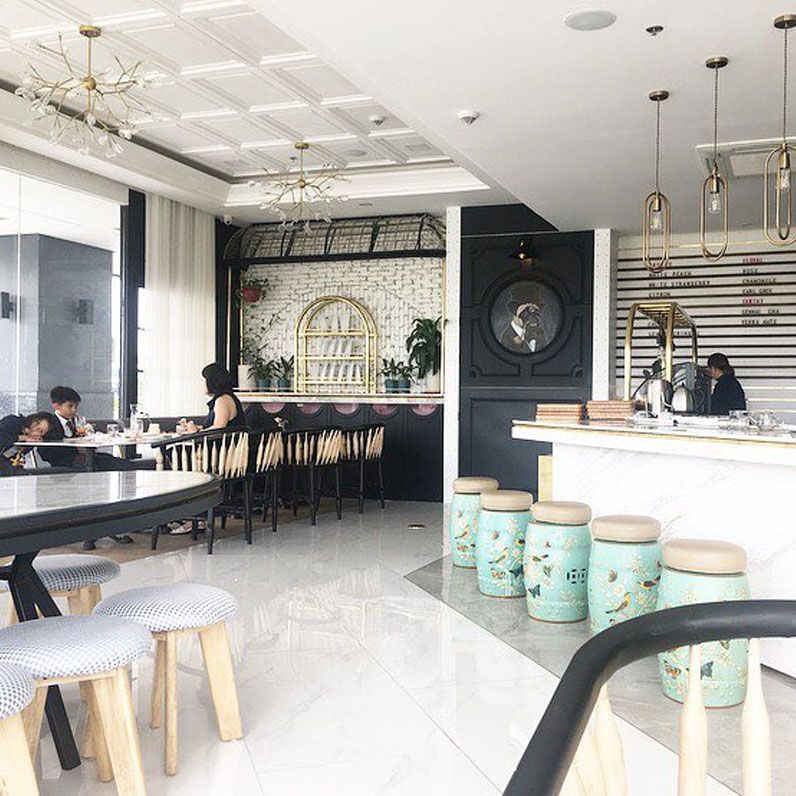 Inspired by European tea houses, Perry's should be on top of your list if you want to slow down and unwind while enjoying a pleasant gastronomical feast. You should also savor their wide array of artisanal teas personally selected by one of its owners.
Address: Le Grand Avenue, Taguig
Contact Number: 0945 177 5589
12. Mecha Uma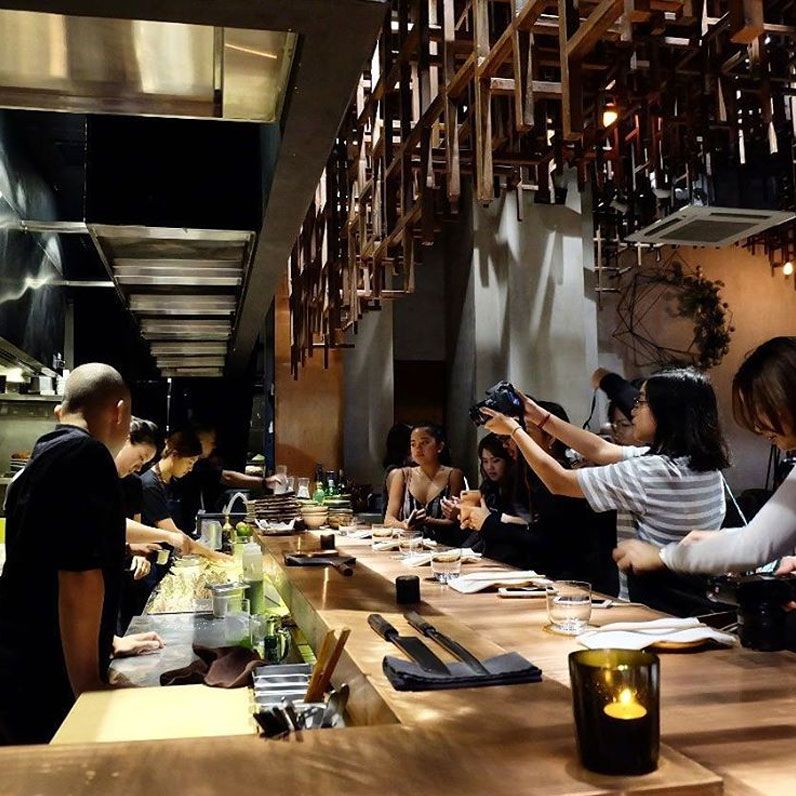 Mecha Uma stands out for it's industrial but inviting interiors mainly consisting of glass, concrete, and copper accentuated by an intricate wooden bar.
Take note that though small, this in-demand restaurant offering meals oozing with umami was included in The Diners Club World's 50 Best Restaurant for 2016.
Address: Ground Floor, RCBC Savings Bank Corporate Center, 1634, 25th Street, Taguig
Contact Number: (02) 7964 9605
13. B.A.D. Late Night Breakfast Bar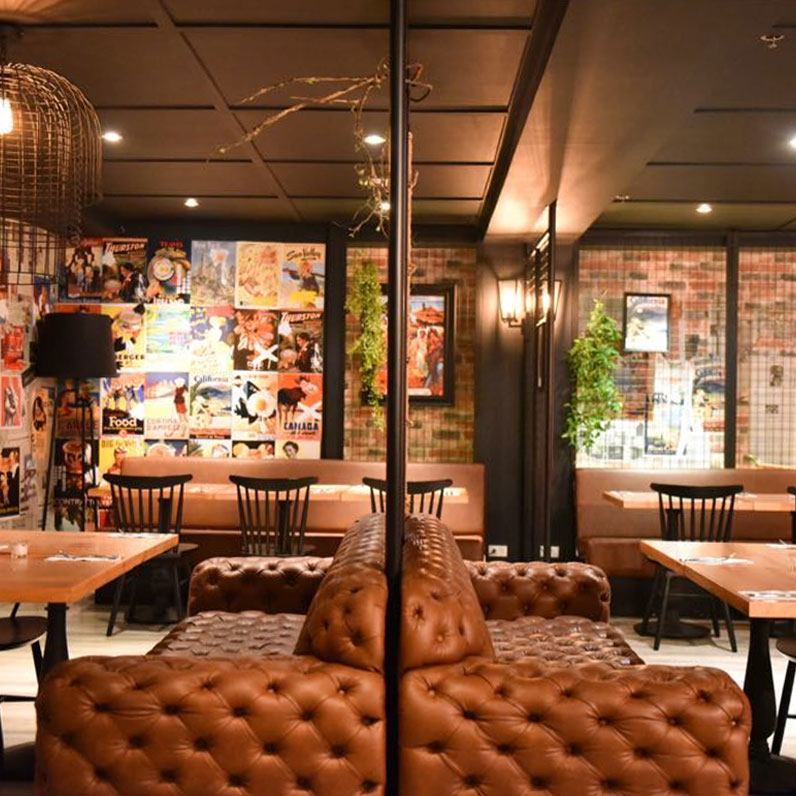 Craving for breakfast food at night? Head out to B.A.D. Late Night Breakfast Bar radiating a street vibe outside, but has a very fun and homey atmosphere inside with their collage painted walls and quirky floor accentuated by a large fried egg sticker.
Brown couches are evenly distributed inside with black fences as dividers, giving diners privacy to savoring their awesome offerings.
Address: 11th Avenue, The Palace Complex, Uptown Bonifacio, The Fort
Contact Number: 0917 550 9999
(Read: Vegetarian-Friendly Restaurants To Try In Metro Manila )
14. Kushikatsu Daruma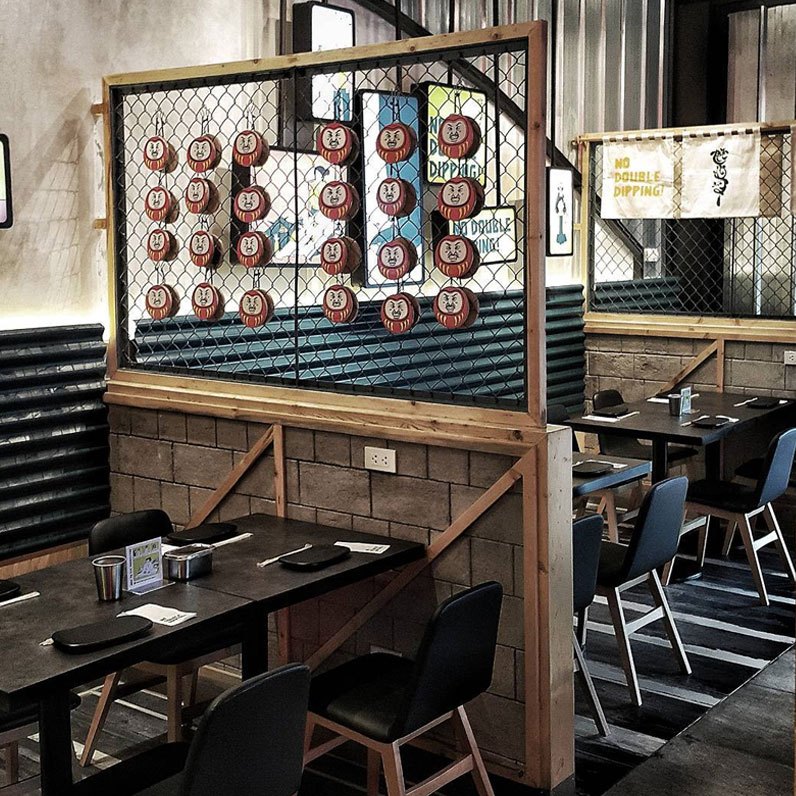 A popular franchise from Osaka, Japan, Kushikatsu Daruma is creating buzz not only because of their perfectly deep-fried skewers, but also because of their animatedly designed eatery that deserves a spot on your IG.
Various posters and cut-outs of Mr. Ueyema, their official poster boy, are displayed inside amidst hanging Japanese lanterns that add warmth to their charming space.
Address: Second Floor, Uptown Place Mall, 36th Street Corner 9th Avenue
Contact Number: 0917 554 1716
15. Tomatito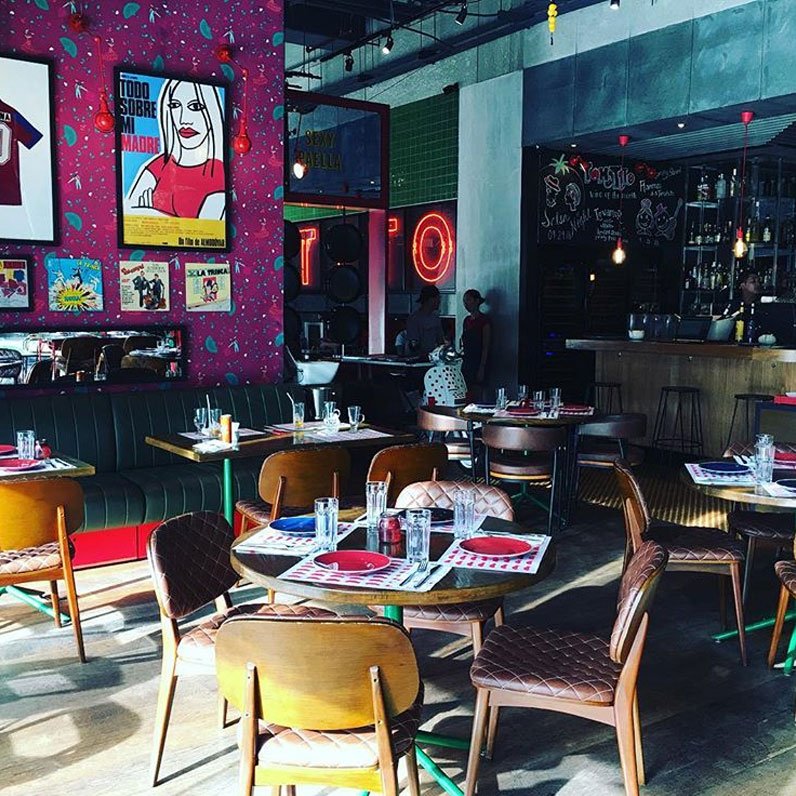 Like traditional Spanish bistros, Tomatito's appeal is in its flamboyant and sexy atmosphere. The color red reigns here backed with displays such as a flamenco and matador outfit, vinyl record covers of famous Spanish superstars, and other funky ornaments coming together to create an entertaining atmosphere.
Address: BGC Corporate Center, 11th Avenue, Taguig, Metro Manila
Contact Number: (02) 8805 7840
16. Hello Kitty Cafe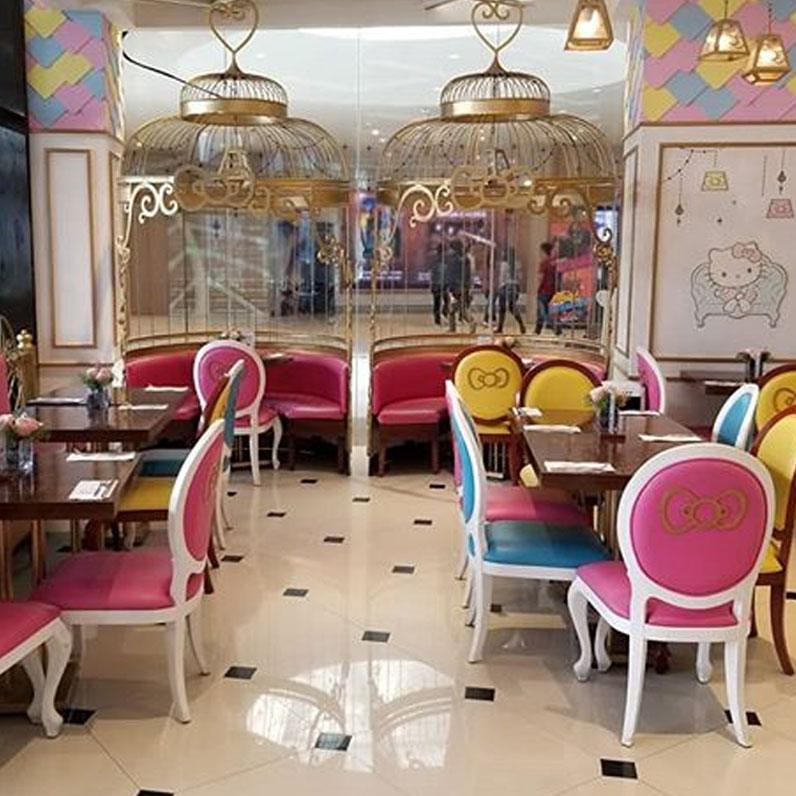 Successfully mixing an iconic and adored character with their French-inspired motif, the Hello Kitty Café presents an Instagram ready backdrop with their cute, pastel-colored interiors and Sanrio collectibles displayed throughout.
Furthermore, every dish prepared is also IG-ready with Hello Kitty's famous bow or face meticulously crafted on to it making dining a delightful experience.
Address: Third Floor, Uptown Mall, 36th Street, Taguig
Contact Number: 0945 305 0713
17. Caravan Black Coffee Company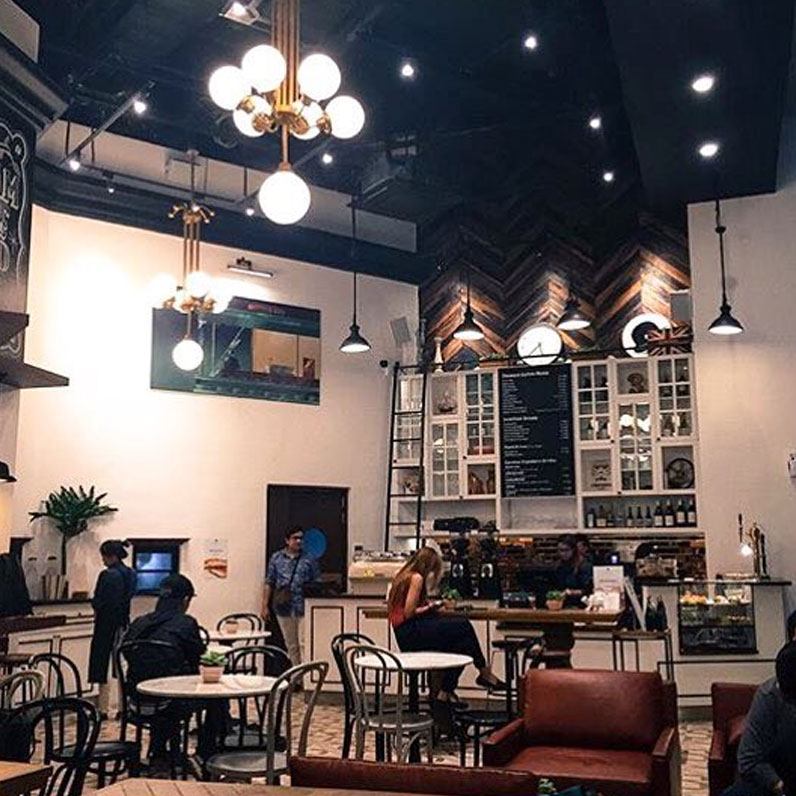 Noticeable from afar with their glass front exposing a fine interior and high ceiling, the very metropolitan Caravan Black Coffee Company is a must-visit for coffee lovers and health-conscious eaters who want nutritious yet flavorful selections.
Address: Net Park, 1634 4th Avenue, Taguig
Contact Number: (02) 7946 3610
18. Wildflour Café and Bakery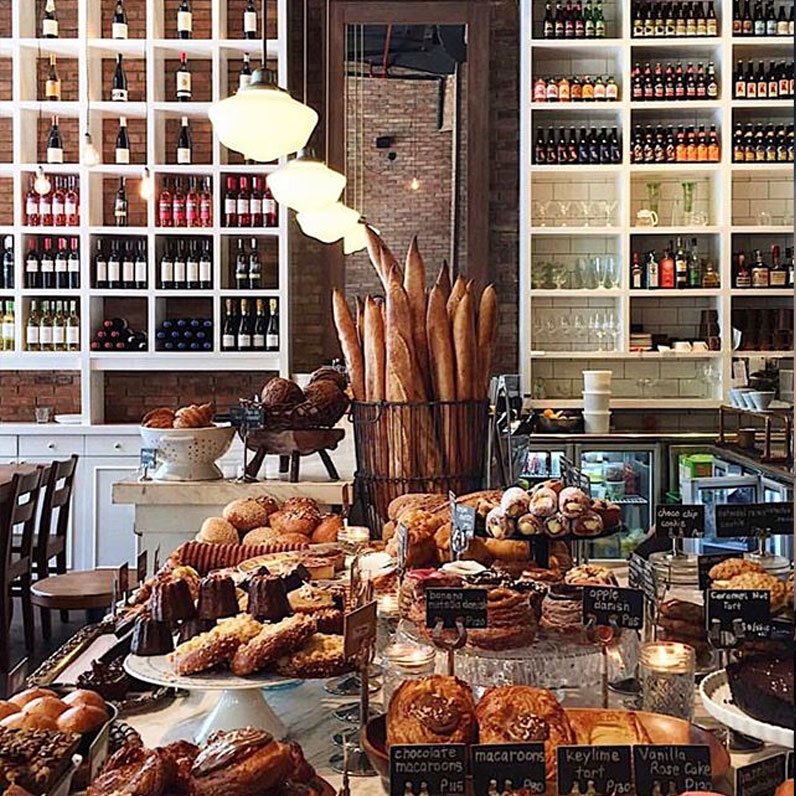 Styled with brick walls, antique-looking furniture, and wooden and stone patterned tiles. The Wildflour Café and Bakery is an example of how a modern Filipino home should look like: effortlessly sophisticated.
This successful local restaurant utilizes homegrown ingredients to further enhance their yummy offerings.
Address: Net Lima, Ground Floor, Fourth Avenue, corner 26th street, Taguig
Contact Number: (02) 8856 7600
19. Aivee Café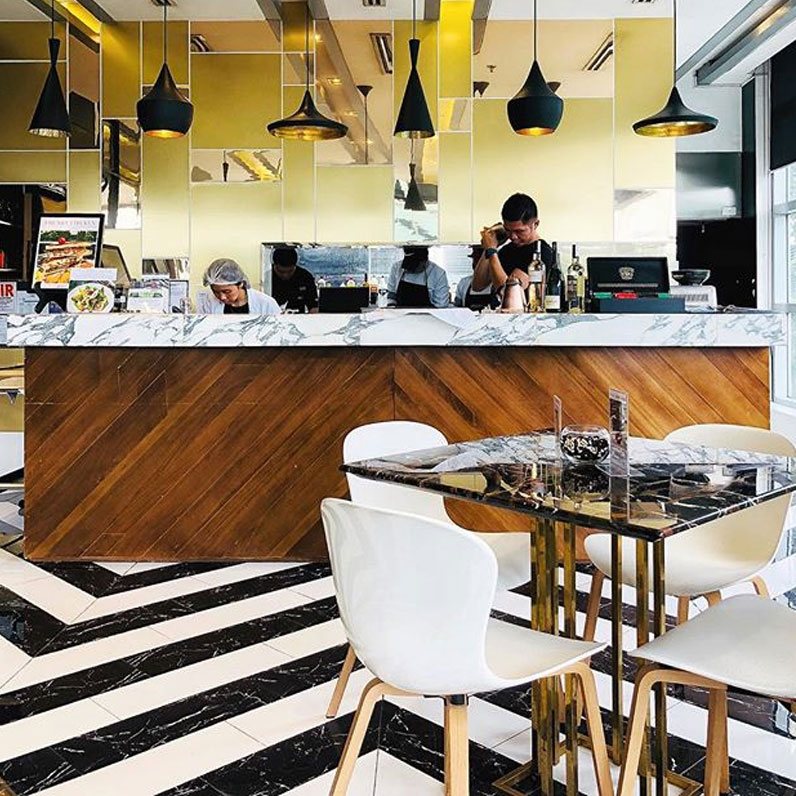 Taking wellness eating a notch higher is Aivee Café, a chic diner that has an inhouse certified dietician and nutritionist ready to advise you on what to eat and what to avoid.
In addition, this diner's interiors are accentuated with colorful seats and mesmerizingly patterned marble tables. Enclosed in glass, this is a great place to get a good view of the city while dining.
Address: 3/F Burgos Park Building, Forbestown Road, Taguig
Contact Number: 0917 728 3838
20.Olivia & Co.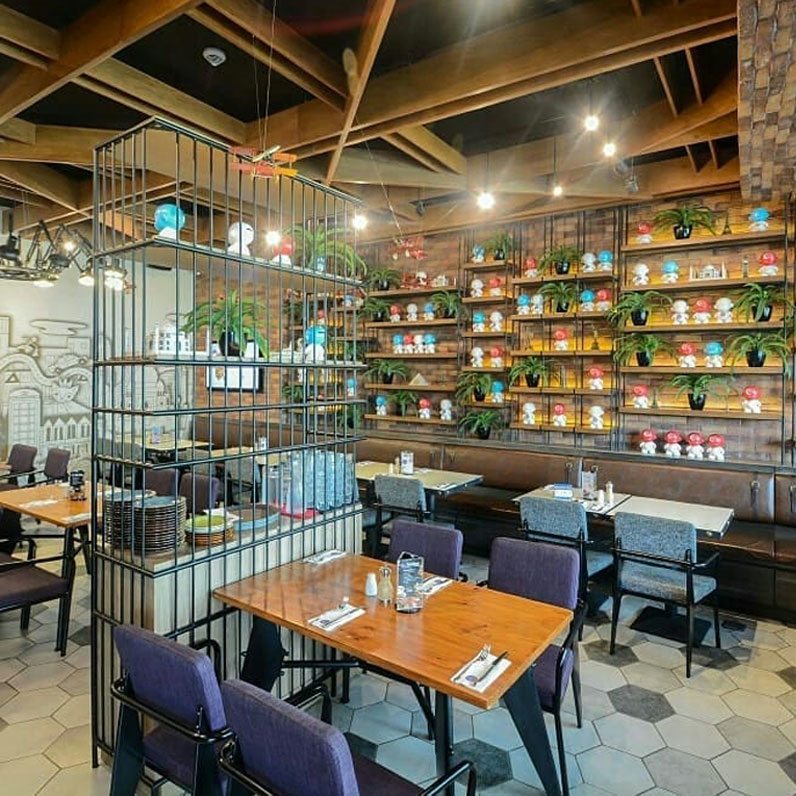 Olivia & Co. is a must-visit if you like being surrounded by one of a kind souvenirs from famous places around the world.
The interiors follow a modern garden concept and their menu is filled with exciting dishes inspired by known cities around the world.
Address: Second Floor, Uptown Place Mall, 36th corner 9th Avenue, Taguig
Contact Number: (02) 8845 1714
Instagrammable restaurants in Quezon City
The northeast side of Manila has interesting eateries boasting well-designed interiors that make eating more enjoyable.
Check out our list below and find out which ones can offer you and your food buddies a uniquely Instagrammable experience.
21. Mad Café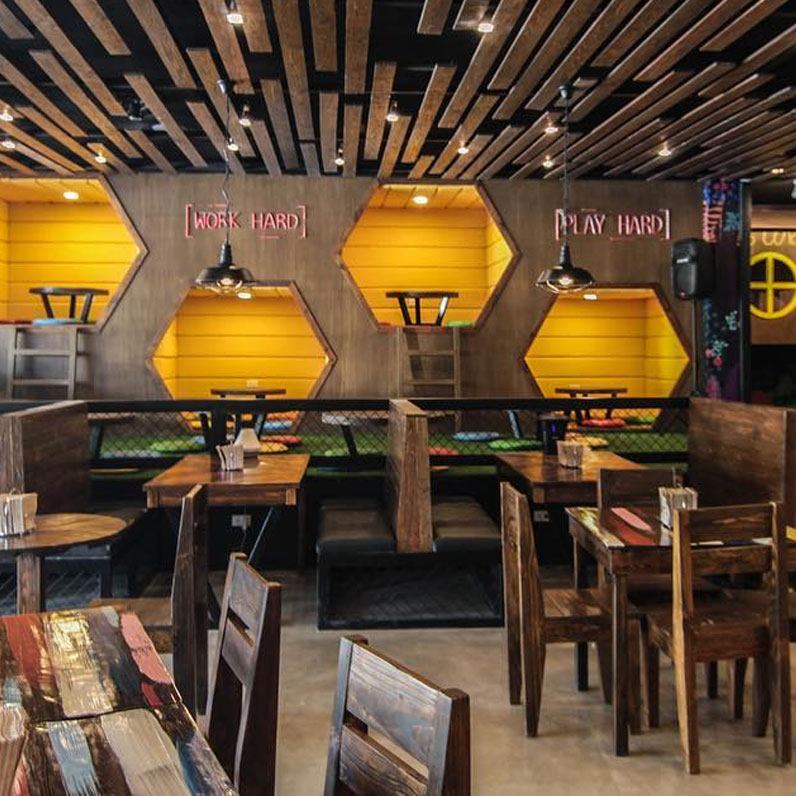 Mad Café is a concept food hub that caters to everyone of all ages. It offers a play area for kids, private dining space for dates, board games for groups and other entertaining details all carefully executed for a memorable stay.
Address: 1106 Congressional Avenue, Bahay Toro, Project 8, Quezon City
Contact Number: 0915 642 6435
22. Earth Kitchen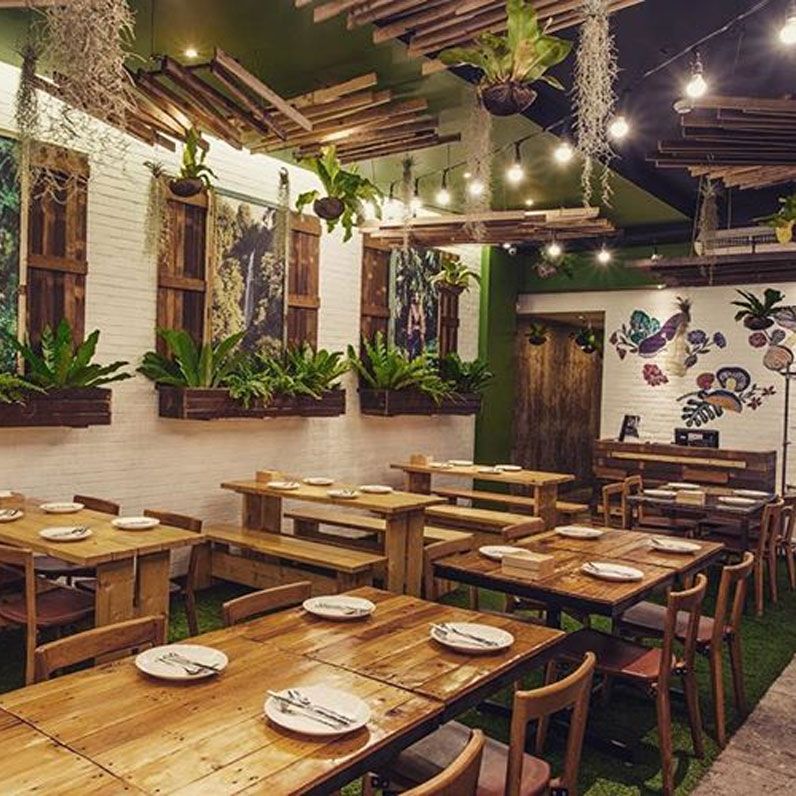 A perfect balance of rustic interiors and a lush garden theme, Earth Kitchen offers delicious meals prepared with fresh and organic ingredients with no added artificial flavorings.
Aside from the tasty food, their mission is to help farmers all over the country by supporting their products. That, and its good food, are one of the main reasons to try this acclaimed restaurant.
Address: Lot 10, B-10 Katipunan Avenue Extension, White Plains, Quezon City
Contact Number: 0917 584 3278/ (02) 7577 9138
23. Pio's Kitchen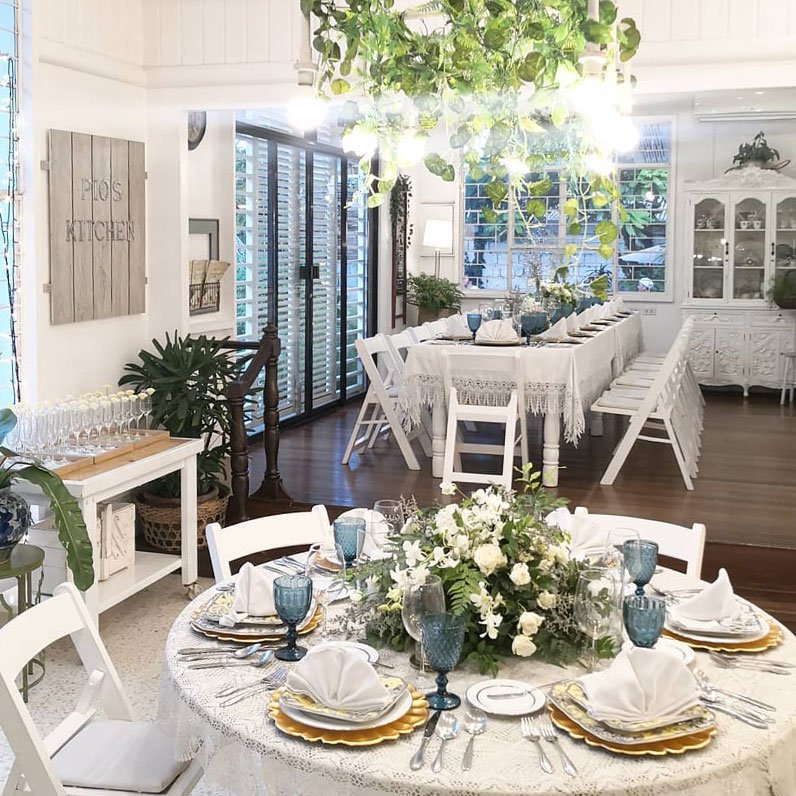 Situated in a gorgeous mid-century home, Pio's Kitchen provides intimate dining in a cozy setup with glorious home-cooked dishes. Tables are available by reservation only.
Demos on how to cook their famous paella are offered to add more excitement to their guests' dining experience.
Address: 96 Scout Reyes corner Scout Fuentebella, Barangay Laging Handa, Quezon City
Contact Number: 0917 532 2892
(Read: Top 20 Ramen Places In Manila: Savory Goodness From Noodles To Broth)
24. Las Casas Filipinas de Acuzar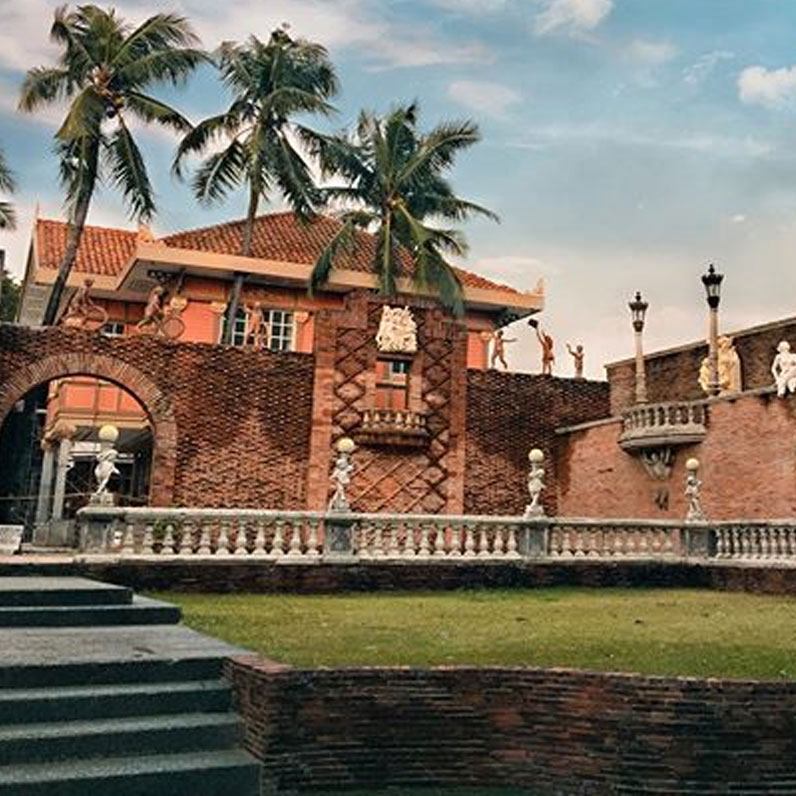 You'll feel like a royalty when you dine at Las Casas Filipinas de Acuzar, a 7,000 square meter art deco mansion filled with stunning paintings, elaborate wall decorations, and classic furniture.
Address: 134 Roosevelt Avenue, San Francisco del Monte, QC
Contact Number: 0917 711 3714
25. Half Saints Café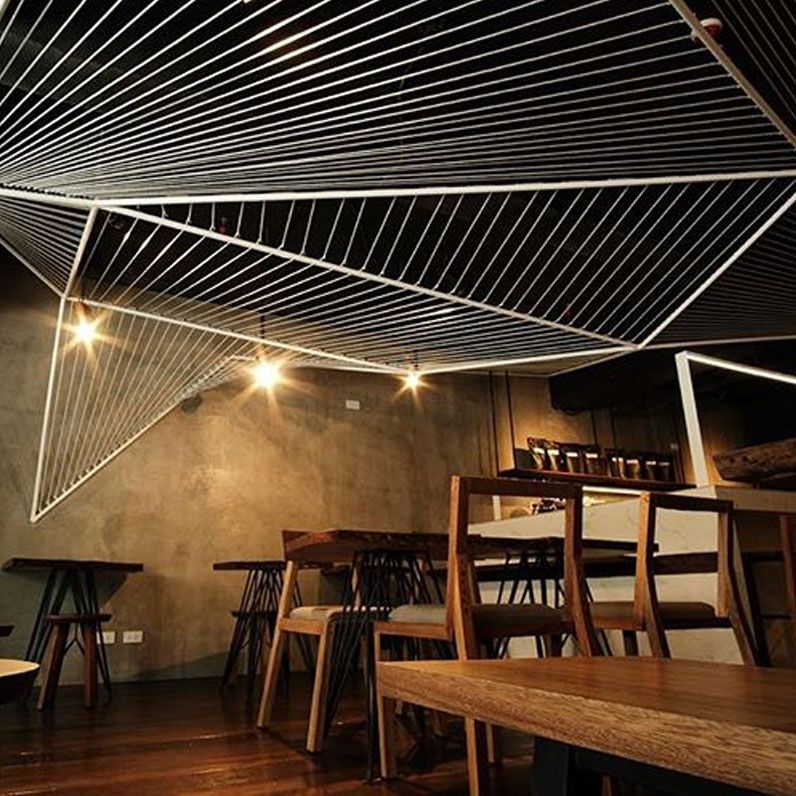 Clean, straightforward but aesthetically pleasing are the words oftentimes used in describing this Tokyo-inspired café catering.
Students and young professionals love this café, falling in love with their industrial interiors and minimalist charm.
Address: 62 Sgt. Esguerra Avenue, Diliman, Quezon City
Contact number: 0935 933 0512
Instagrammable restaurants in Pasay, Alabang, Paranaque, and Las Pinas
26. Sunset Bar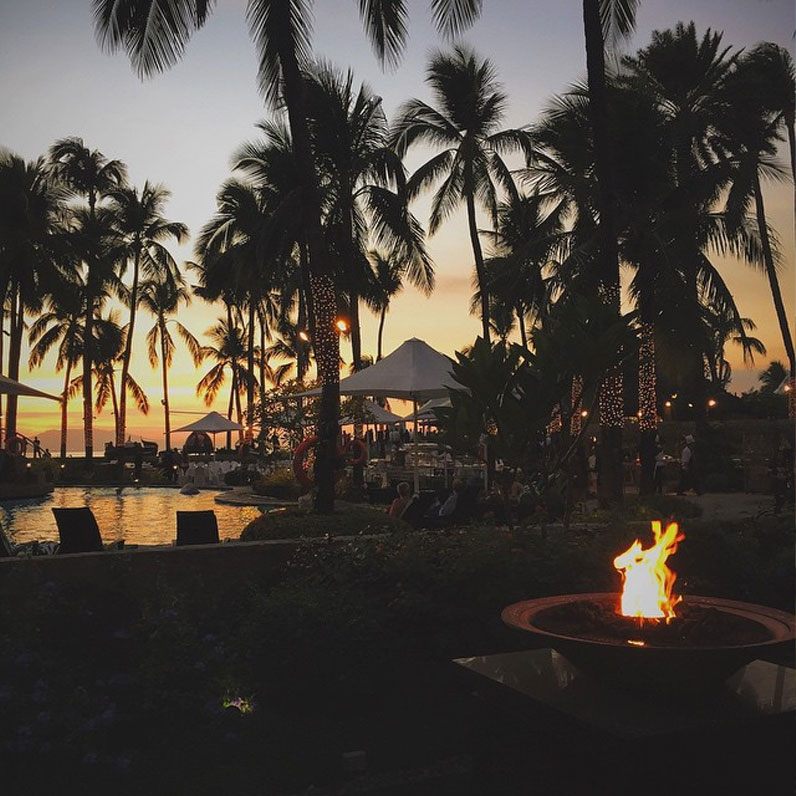 Nestled inside the picturesque Sofitel Manila, the Sunset Bar serves unlimited grilled barbecue paired with overflowing beer, wine, and cocktails. Enjoy this feast while feeling the breeze of Manila Bay.
For couples, it is highly suggested to dine as the sun goes down as this ups the place's romantic feel and is a great backdrop for couple shots.
Contact Number: (02) 8573 5555
Address: CCP Complex, Roxas Boulevard, 1300 Pasay City
27. Ichiban Japanese Market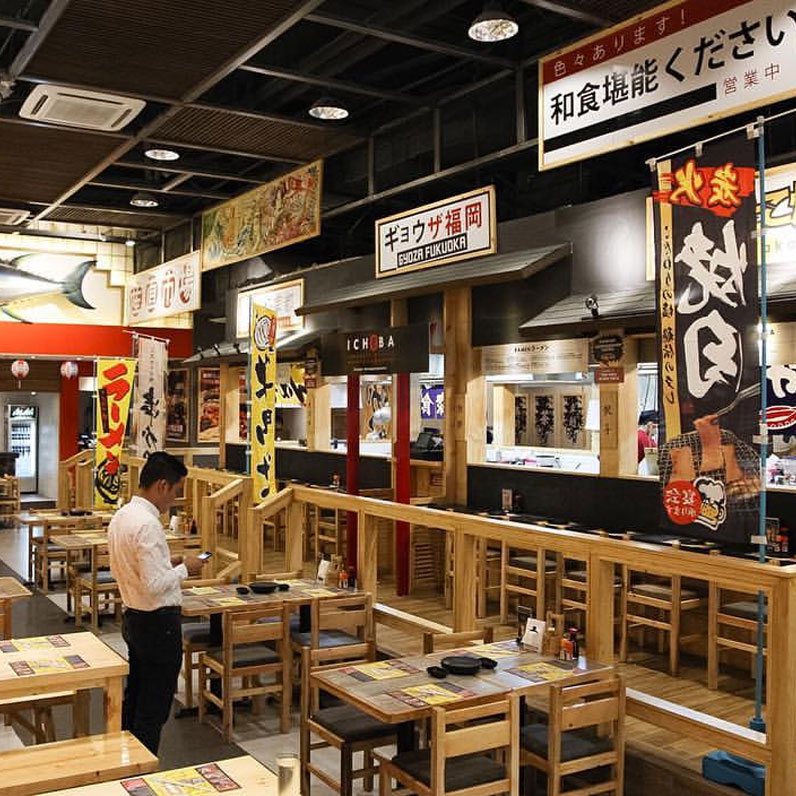 Mimicking a traditional Japanese marketplace, where you can pick from a variety of live seafood then choose the way it will be cooked, this busy establishment is conveniently located right across the airport.
Furthermore, kids can also enjoy the Ichiban Japanese Market where they can watch fish in their mini aquarium.
Address: Second Floor, Newport Mall, Resorts World Manila, Pasay City
Contact Number: (02) 8865 6559
(Read: Top Samgyupsal In Metro Manila For Budgets Of P500 And Below)
28. Derive Café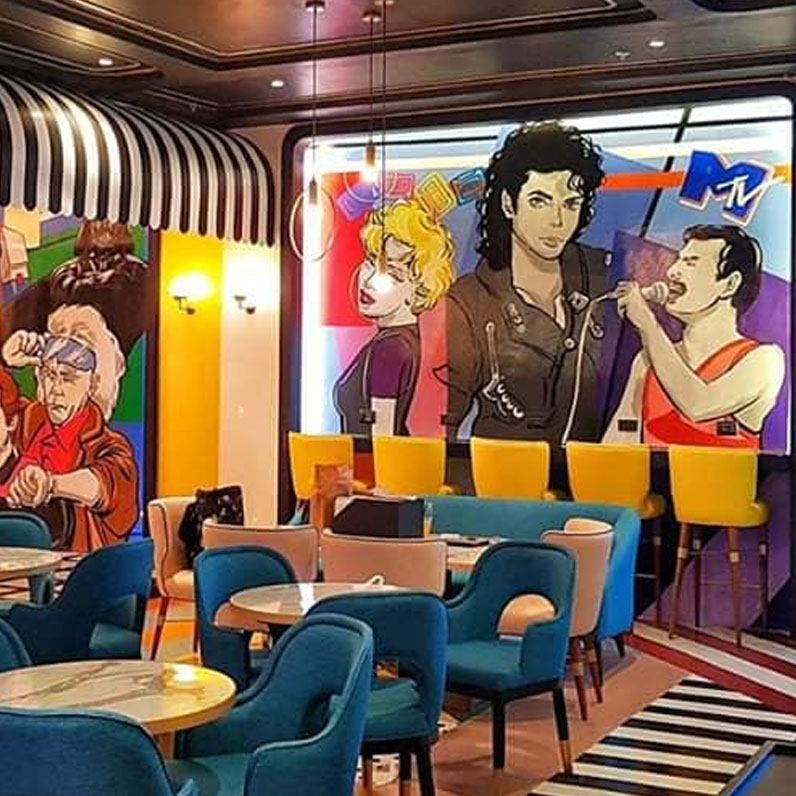 Relive the high energy of the '80s at Derive Café complete with disco balls, arcade games, a mural of music gods, and everything that glorious era is known for.
Take note that its interiors may change soon as the owners want it to be adaptable to different demands.
Address: Fourth Floor, Madison Galeries, 398 Don Jesus Boulevard corner West Service Road, Alabang Hills, Barangay Cupang, Muntinlupa City
Contact Number: 0917 711 4937
29. Kiwa Korean Grill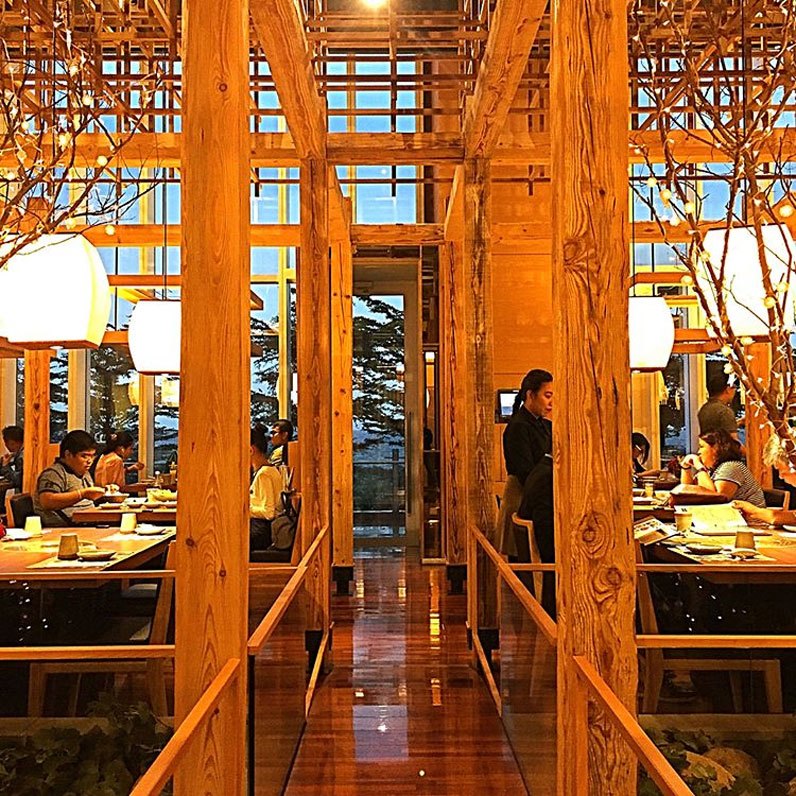 Aside from having one of the best Korean grilled food in town, customers rave about how relaxing this place is with its detailed wood furnishings softened by dim lighting from hanging lanterns.
In addition, Kiwa Korean Grill has an amazing view of Manila Bay completing the whole Zen vibe.
Address: Solaire Resort & Casino, Aseana Avenue, Paranaque City
Contact Number: (02) 8888 8888
30. Buku-Buku Kafe
"Buku-Buku" translates to "many books" in Bahasa and this café is full of them: suspended, shelved, and some up for sale.
Furthermore, this modern industrialist / rustic/artsy establishment has a special spot where you can purchase handmade crafts like braided bracelets, stationaries, etc. created by local artists.
Address: Upper Ground Level, SM Southmall, Almanza Uno, Las Pinas City
Contact Number: (02) 8805 4632