Treat-Filled Halloween 2019 Parties For Kids And The Whole Family
15 min read
Halloween is right around the corner…and if you are looking for spooky yet family-friendly activities that everyone can enjoy, we've made it easier for you.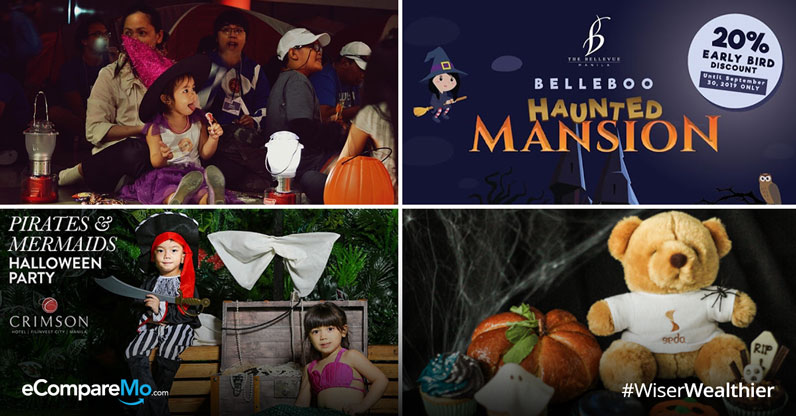 Get your spooky outfits ready, take out your broomsticks, and fly over to these locations to have a fun and exciting Halloween this 2019.
1. Dia De Los Muertos: Day of the Dead at Tierra Pura
Calling all kids and kids at heart! This October 29, 2019 (Saturday) from 4 PM to 8 PM, Tierra Pura has prepared a Magical Halloween experience at the Tierra Pura Covered Court and Social Hall.
Tierra Pura Homeowners Association (TPHA) invites everyone to celebrate "Dia De Los Muertos: Day of the Dead," Tierra Pura's Trick or Treat Halloween Party.
Inspired by the Disney movie "Coco," the party features Mexican-inspired music, performances, food, and abundance of colors. The young and the old Señores and Señoritas are invited to dust off their sombreros and dress up in their best and most vibrant costumes that scream fiesta!
The best-dressed participants will have a chance to take home prizes and everyone will take home loot bags packed with goodies from sponsors who helped make the event happen.
Homeowners are also encouraged to decorate their homes and prepare treats for the trick-or-treaters. Those who will go around the village after the event should expect more surprises, get tricked, and receive more treats from the homeowners. This is indeed Nacho ordinary Fiesta!
The TPHA homeowners club is making this annual event possible as a part of their advocacy that through this celebration, they will be able to give back to the less fortunate children of the neighboring barangays.
For inquiries and reservations, you may call TPHA at (02) 8944-2947.
Ticket Prices
Early bird rate (until October 20, 2019): Kids: P300 Adults: P250
Regular rate: Kids: P350 Adults: P300
2. Bellevue Hotel Manila: Haunted Mansion 2019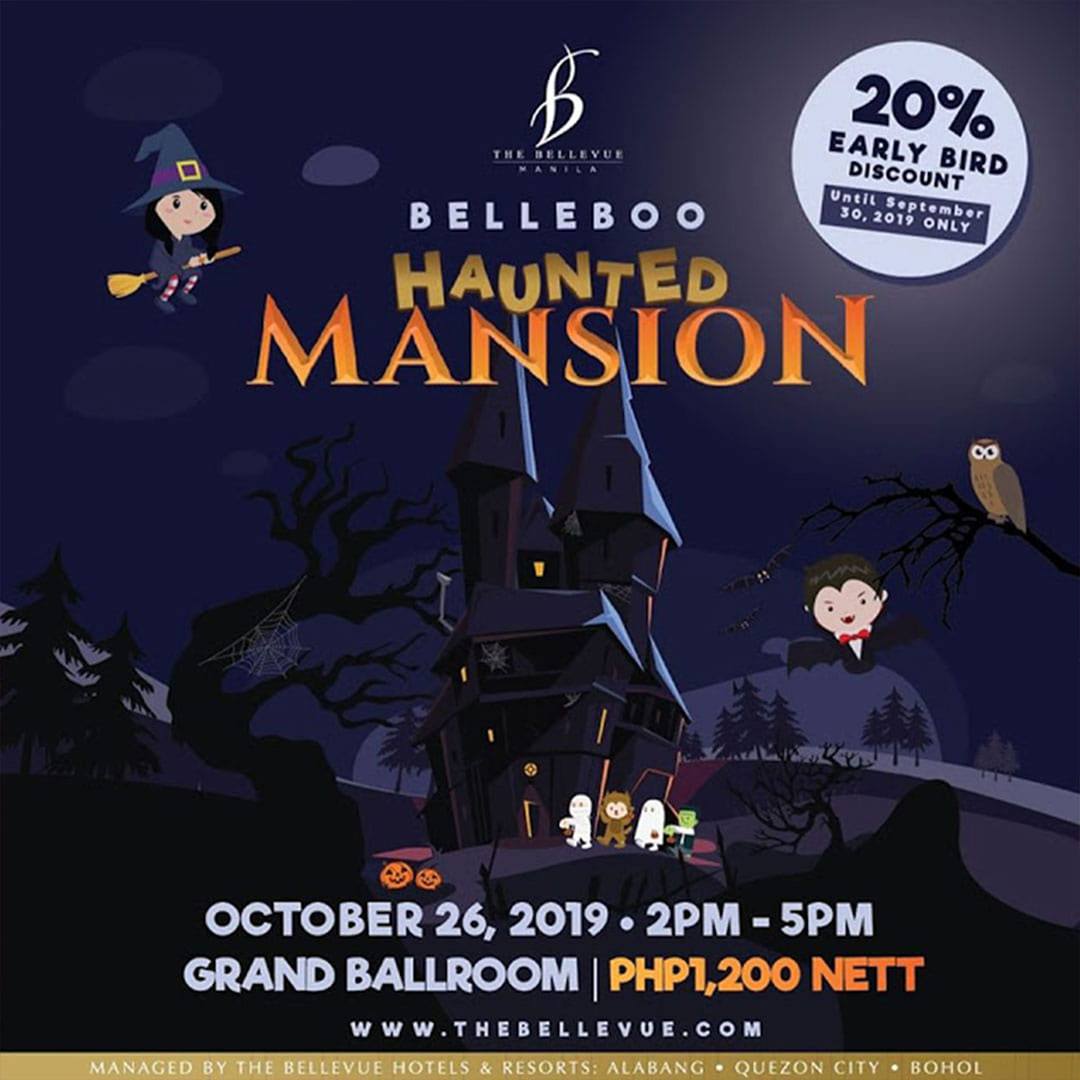 On October 26, 2019, from 2 PM to 5 PM, the Bellevue Hotel Manila invites the whole family on their Belleboo Haunted Mansion Halloween celebration at the Grand Ballroom.
Ticket starts at P1,200 NETT with snack buffet, games, entertainment, loot bags and many more included! You can also avail of their discounted tickets at Cafe D' Aisle located on the 2nd floor, Main Wing of The Bellevue Manila.
Kids two years old and below are free of charge. BSD and BKC members can also avail of the 15% discount. The 20% Senior Citizen and PWD discount is also applicable.
What are you waiting for? Book your tickets now and have a fun and exciting Halloween 2019.
Visit Bellevue Hotel's official website for more info.
3. Active Fun: Spooktacular Halloween Costume Party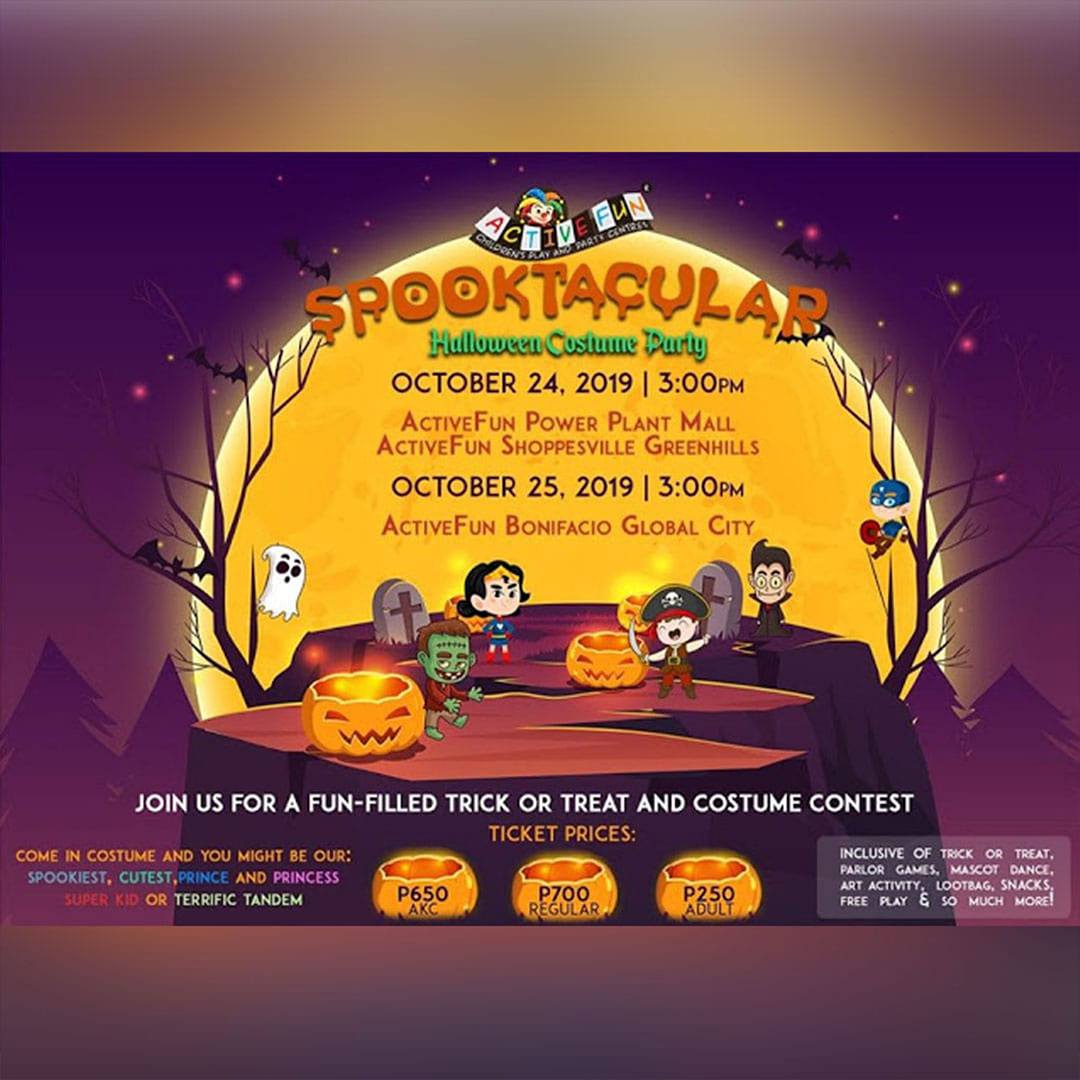 Ready for a Spooktacular Halloween celebration? Head over to Active Fun BGC, Powerplant Mall, or Shoppesville Greenhills branches to enjoy trick-or-treating, parlor games, mascot dance, art activities, raffles and many more! Loot bags, snacks, free play, and raffles are also included.
Come in your best costume and you might be the spookiest, cutest, prince and princess, super kid or terrific tandem winner. The contest is open for kids one to 12 years old.
For more information, you may visit Active Fun's official Facebook page or call 869-9509/869-0800 (Active Fun BGC), 809-1990 (Active Fun Powerplant Rockwell), 638-7755 (Active Fun Shoppesville Greenhills).
Event dates:
October 24, 2019 (Powerplant Rockwell and Shoppesville Greenhills) October 25, 2019 (BGC)
Ticket prices:
Regular: P700 ActiveKids Club Member: P650 Adult Companion: P250
4. Crimson Hotel: Pirates and Mermaid Halloween Party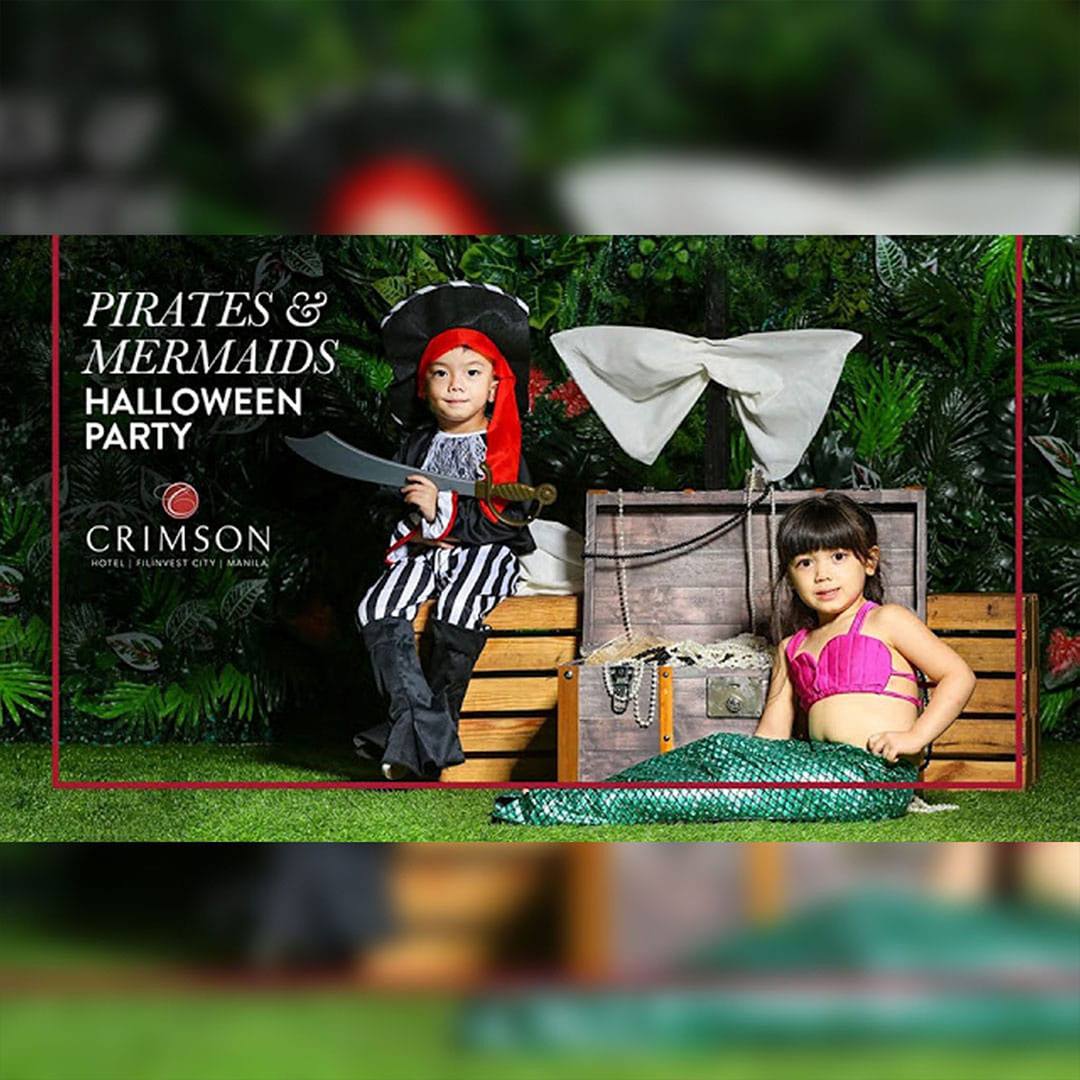 For only P1,150 nett, you can experience an exciting Halloween celebration at the Crimson Hotel's Pirates and Mermaid Party.
The party will be held at the hotel's Ballroom on October 21, 2019, featuring a heavy snack buffet, free-flowing drinks, interactive shows, costume contest, trick or treat, photo booth, fun games and activities, prizes, giveaways, and many more.
Event starts at 2 PM. Children two years old and below are free of charge.
For registration and inquiries, you may visit Crimson Hotel's official Facebook page or you may call them at +632 8863 2222.
5. F1 Hotel Manila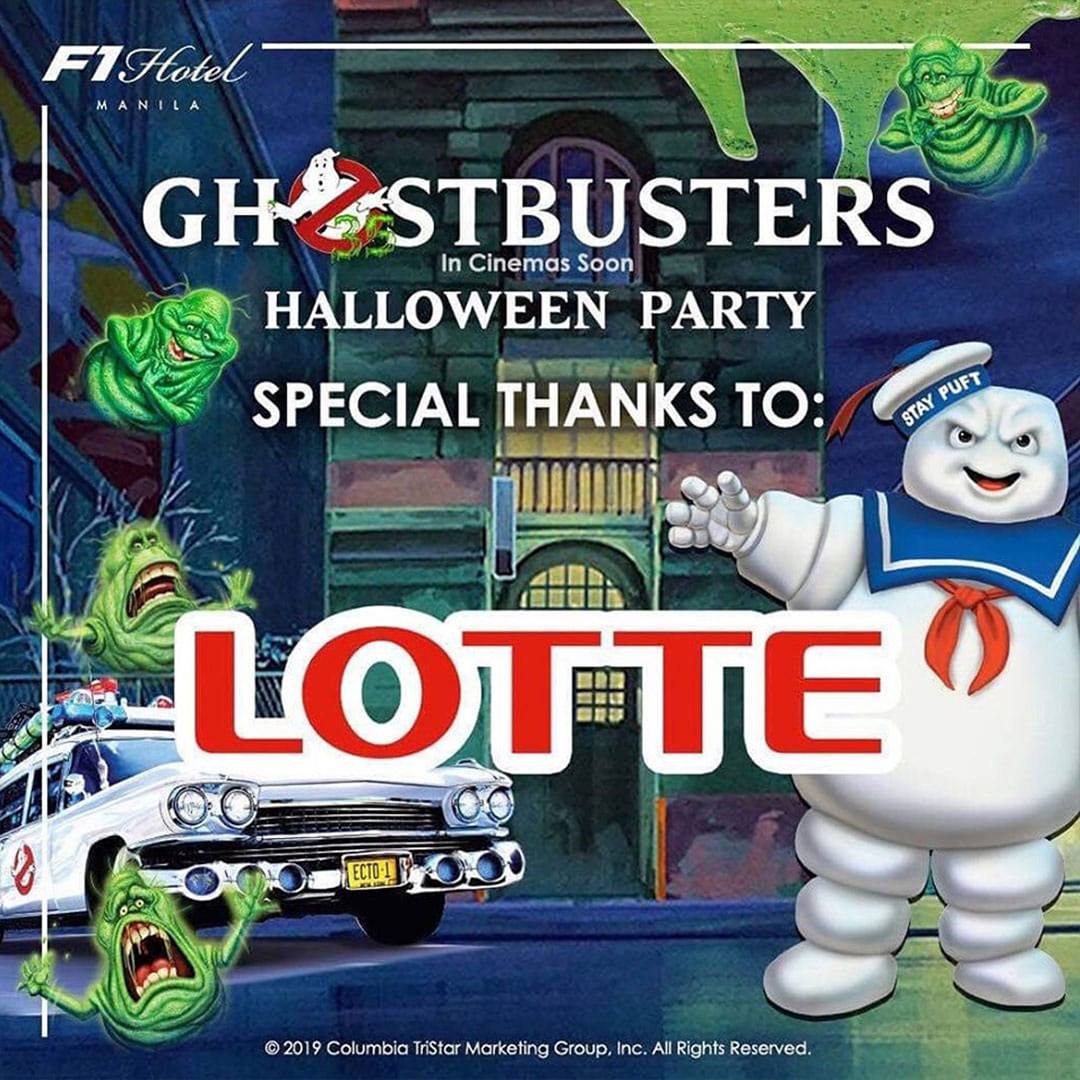 Encounter otherworldly activities as F1 Hotel Manila invites children of all ages and those who are kids at heart to save the world and become a ghostbuster this Halloween.
On October 26, 2019, from 10 AM to 2 PM, F1 Hotel in partnership with Columbia Philippines is ready to bust some ghosts out as they celebrate trick or treating with a twist. Come dressed as your favorite Ghostbuster character at the hotel's Infinity Ballroom and get a chance to win prizes in honor of Ghostbusters' 35th Anniversary celebration.
Celebrate the Halloween season full of activities and fun at "The Home of Happy Experiences" for only P1,800 nett per person.
To give you an exceptional Halloween Staycation, F1 Hotel Manila also offers a wickedly awesome overnight stay in a City Suite Room inclusive of a free breakfast buffet for two persons and 20% discount on Ghostbusters Halloween Party. Get this exclusive package for only P5,800 nett per night from October 29 to November 4, 2019.
For inquiries, you may visit F1 Hotel's official Facebook page or call their trunk line at 8907-7888.
(Read: New Credit Card Promos To Fill Your October With Sweet Treats)
6. Midas Hotel and Casino's Encantasia: Halloween Kids Party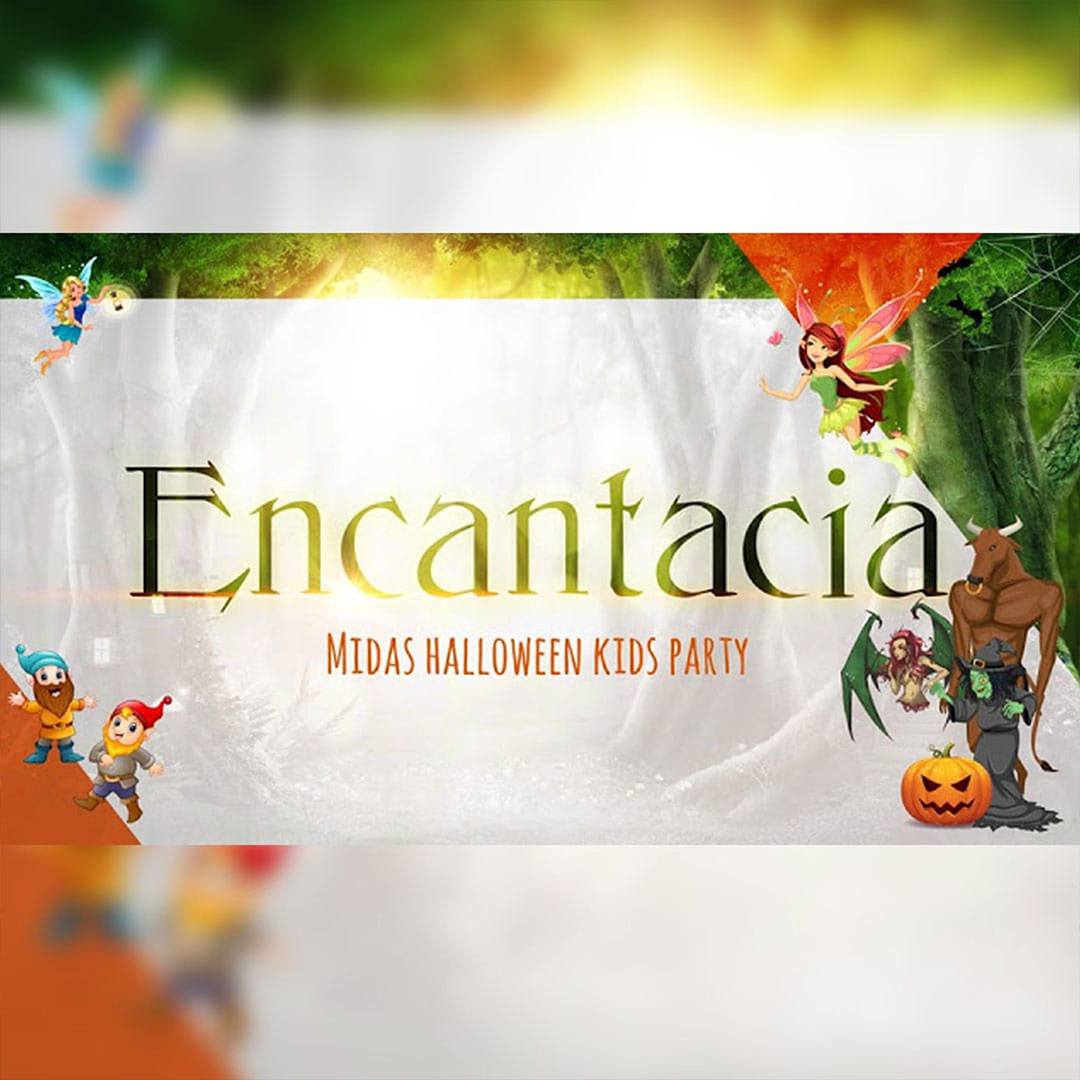 Midas Hotel brings you the ENCANTASIA: Halloween Kids Party. Calling all the fascinating fantasy creatures near and far as we celebrate Halloween featuring fairies, shapeshifters, ghouls, and mythical beasts of Philippine folklore!
For only P550 nett, enter an enchanting realm full of wonders on October 27, 2019, Sunday, at the Midas Tent from 1 PM to 3 PM.
Delight in this Midas Halloween event package that includes:
Ticket entrance for one kid and one guardian
Acrobat Show
Magician
Games
Photo Booth
Light Snacks (for kids only)
Loot Bags
Come in your most spellbinding engkantada outfit, the cutest dwende or dwarf wear, or the scariest tikbalang or werehorse costume and get a chance to win a free lunch or dinner buffet at Midas Café!
Before or after the party, you may head over to Midas Café or Yanagi to avail of the special discounted buffet rates for Encantacia attendees. Dine in for buffet lunch or dinner for only P1,000 nett for adults and P800 nett for kids.
For ticket reservations, you may visit their official website or call them at 902-0100 local 8154,8199, or 8198.
7. Diamond Hotel: Shake, Rattle, and Roll Halloween Event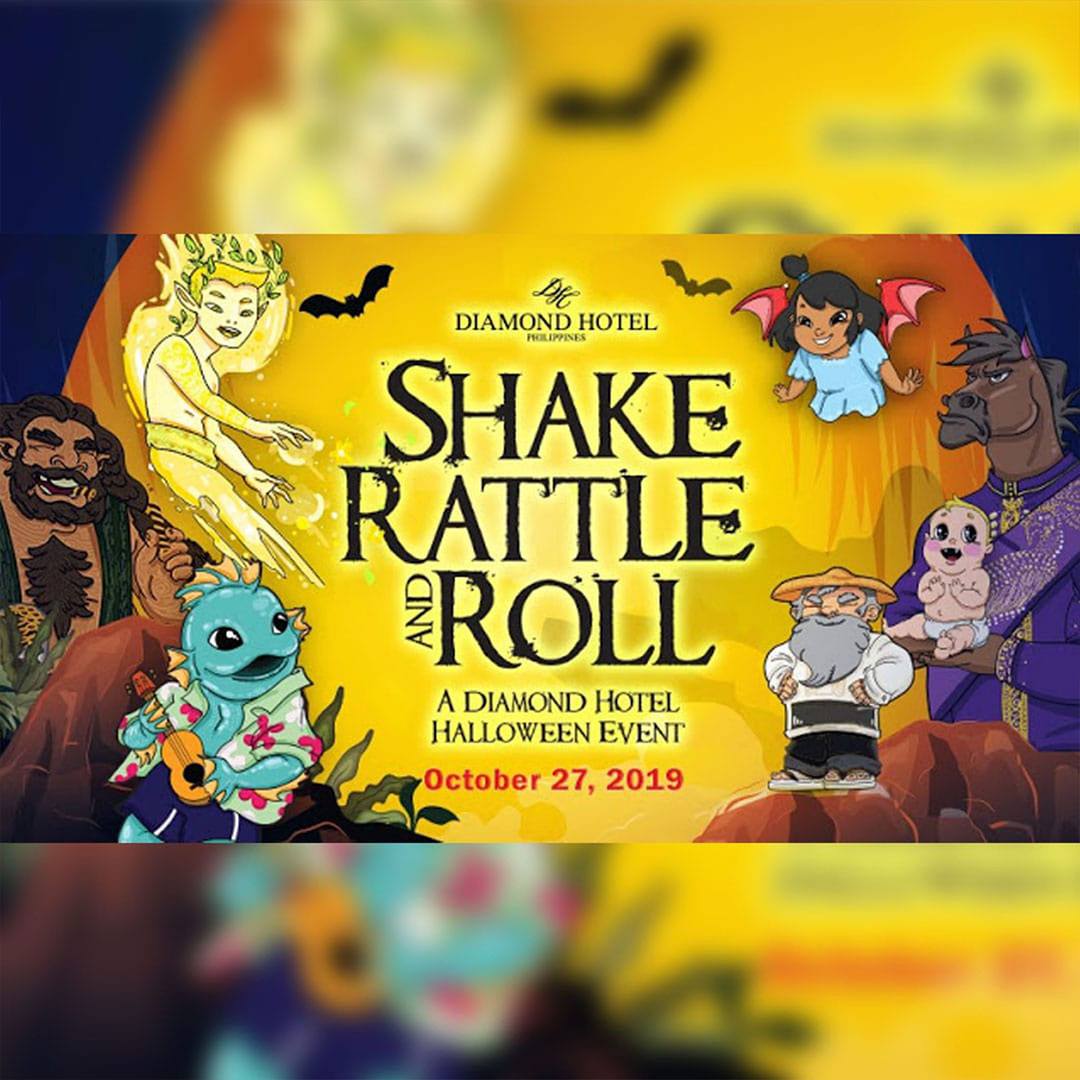 Join in the Halloween fun with your friends featuring Filipino folklore creatures at Shake, Rattle, and Roll: A Diamond Hotel Halloween Event on October 27, 2019, from 10 AM to 2 PM at the Diamond Ballroom and Corniche.
Have a cackling-good time in this one-of-a-kind kids' party with tickets priced at P1,000 nett per person, inclusive of a take-home snack box of treats (no tricks!) and full access to the awesome activities and games bonanza. What's more terrifyingly terrific is that you get a chance to win Roundtrip Airline Tickets for two to Singapore via Cebu Pacific at the Grand Raffle!
Make it a Spooktacular Stay for the whole family! A special Halloween room package is available for bookings until October 27, 2019, inclusive of one free ticket (per room, per stay basis) to the Halloween Event.
For as low as P6,000 nett per night in a Deluxe Room, chill your bones with buffet breakfast for two at Corniche, complimentary Wi-Fi access, 20% off massage and laundry services, access to the Health Club & Spa facilities and swimming pool, and weekend shuttle service to Intramuros and SM Mall of Asia.
The Spooktacular Stay is also available at P5,500 nett per night until November 1, 2019, without a free Halloween Event ticket. Use the promo code HALLOW when you book your stay at their official website.
Room promos are valid for local residents and foreign guests with ACR IDs only. Other conditions apply.
Visit Diamond Hotel's official website or reach them at (632) 528-3000 for bookings and inquiries.
8. Ramada Manila: HALO-HALOween Fiesta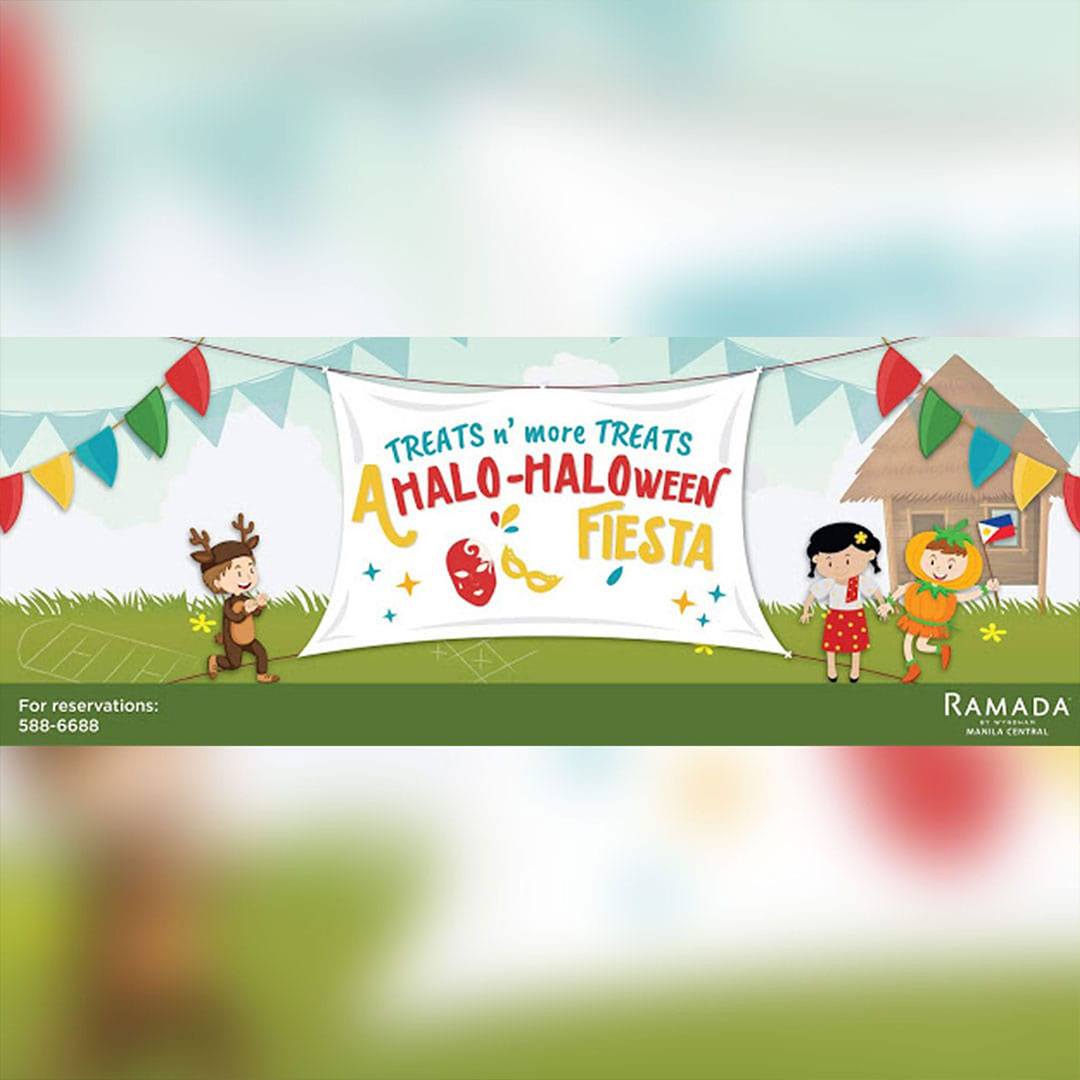 For just P1,300 for one adult and one kid, you can get exclusive access to Ramada Manila's HALO-HALOween Fiesta on October 26, 2019 inclusive of loot bags and lunch buffet.
From 10 AM to 2 PM, enjoy fun Pinoy games, sumptuous lunch buffet, a halo-halo buffet, magic show, and many more! Come in your baro't saya or any Halloween costume for the best in costume, can be as a family and individuals, can win grand prizes.
An additional fee of P800 per kid and P600 per adult is observed. Kids two years and below are free of charge. Senior Citizen and PWD discounts are only applicable to the additional rate. Twelve years old and below are considered as kids.
What are you waiting for? Visit Ramada Manila's official Facebook page for more info. You may also call their trunk line at 588-6688/0998-8462420.
9. Seda Hotel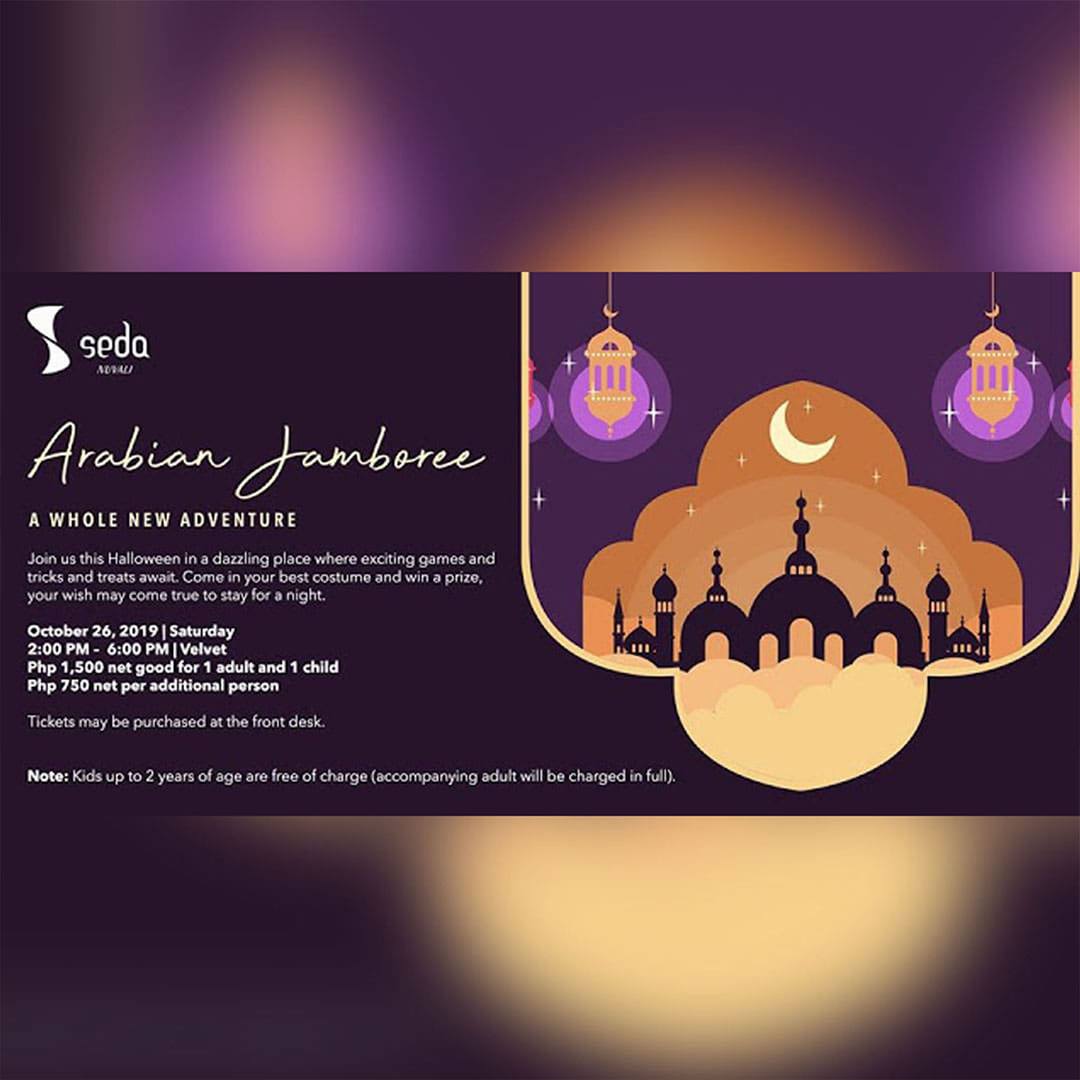 Nuvali: Arabian Jamboree
On October 26, 2019, from 2 PM to 6 PM at the Seda Hotel Nuvali's Velvet Function Room, you can experience a whole new world of adventure at their Arabian Jamboree party.
For only P1,500 nett good for one adult and one child, and P750 nett per additional person, you can enjoy fun games, entertainment, loot bags, a snack buffet, and many more.
Kids two years old and below are free of charge but accompanying adults shall pay in full. You may visit Seda Hotel Nuvali's official Facebook page for more info or you may call their trunk line at (049) 255 8888.
BGC: Heroes and Villains of the Galaxy
Parents and kids are invited to suit up in their favorite space-themed character, from space princesses and warriors to droids, legendary gods, and wizards, and celebrate the trick-or-treat season with party master Marvin of Jive MNL and his trove plus some out-of-this-world games and treats.
Fun inflatables, face painting, and an array of munchies and delectable add to this fantastic Halloween experience. Also, prizes await the best in costume winner.
Tickets to Seda BGC's Halloween extravaganza on October 26, 2019, are at P1,300 per person. For more details, you may call 8945-8888.
10. Mind Museum's Science Sleepover: Monsters in Pajamas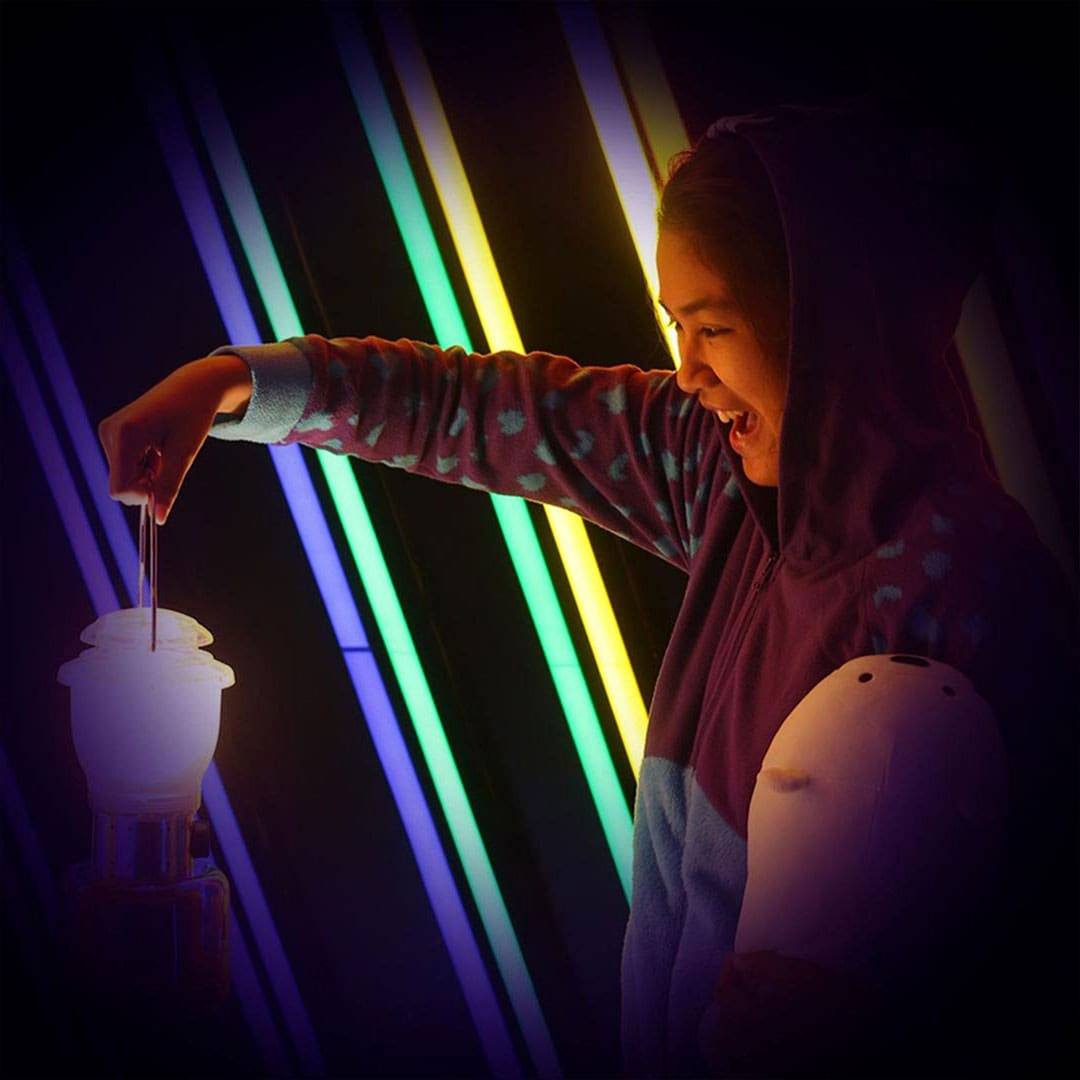 Better get your spooky onesies ready! The Mind Museum's Halloween-exclusive Science Sleepover: Monsters in Pajamas is ready to roll on October 26 to 27, 2019.
This overnight experience starts at 5 PM (October 26), where guests can take part in activities that truly exude Halloween vibes.
Activities include dinner or Spooky Supper, makerspace workshop Light-Monster Making, immersive game Monsterriffic Mission, and separate movie watching sessions for kids and adults.
Once the clock ticks at 8 AM on October 27, it will signal the end of the Monsters in Pajamas sleepover so be sure to make the most of the limited night!
Tickets are priced at P3,000m, inclusive of packed dinner and light breakfast, educational programs and activities, after-hours access to both The Mind Museum and Dino Play Traveling Exhibition, use of the museum's tent and airbed, as well as flat-rate overnight parking.
Visit The Mind Museum's official website for more info. You may also reach them at 02-7909-6463.
11. Rockwell Airways: Taking Flight This Halloween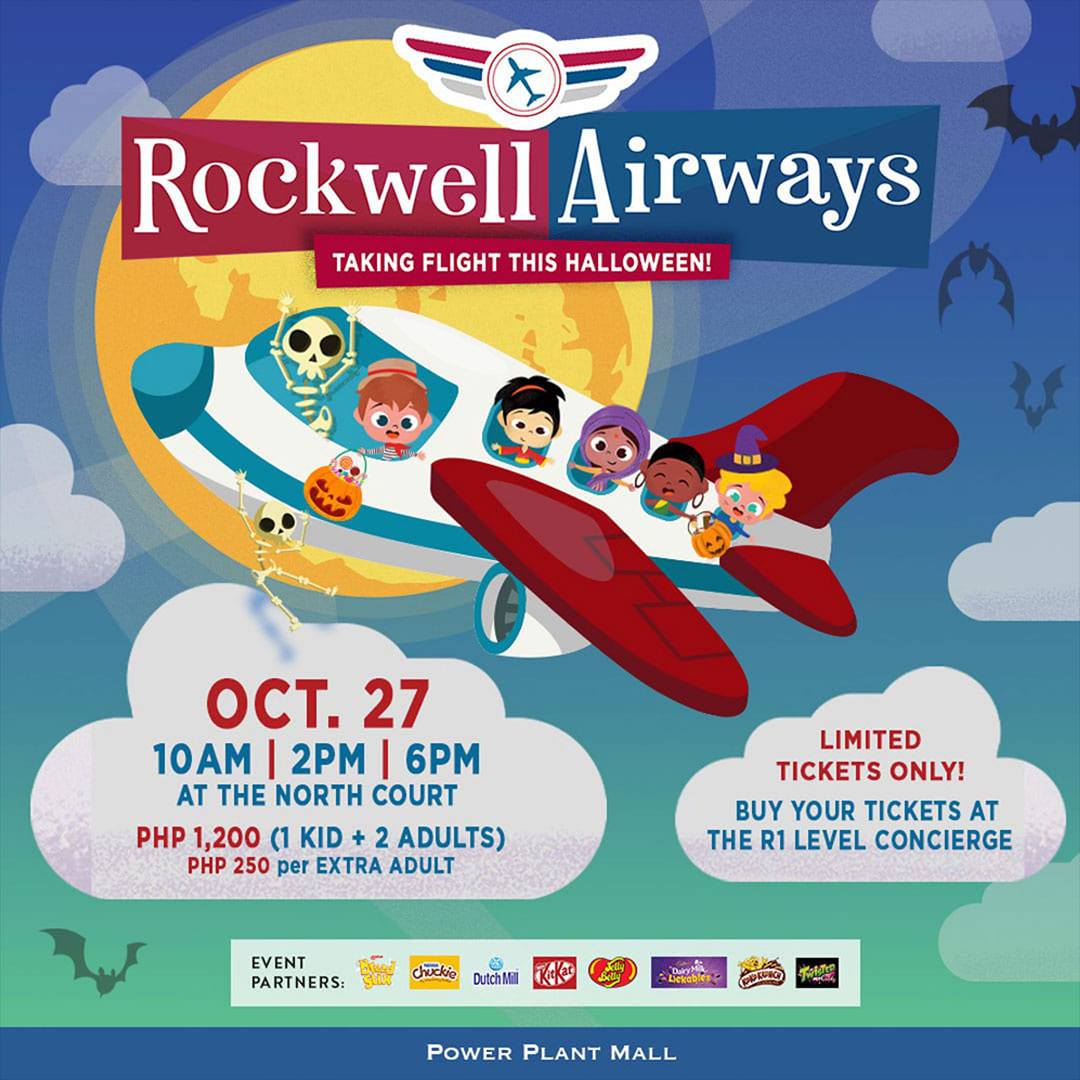 Prepare for take-off as Rockwell Airways takes you on a trip around the world this Halloween on October 26, 2019, 10 AM and 2 PM, at Rockwell Powerplant Mall and Santolan Town Plaza.
Check items off your travel bucket list as we explore different countries such as the Philippines, Japan, India, Paris, South Africa, and London. The friendly cabin crew of Rockwell Airways will be on-site to serve in-flight fun and excitement at each destination.
Before boarding, head over to the baggage counter to claim your suitcase full of treats. Make your way around the world and take stopovers at their stores for a mall-wide trick-or-treat activity. Participate in an interactive workshop on board Rockwell Airways. After the trip, passengers are requested to stay in their seats for a thrilling balloon dance number from Tectonix!
Ticket prices start at P1,000 for one kid and two adults. An additional P250 will be charged for every extra adult.
For bookings and inquiries, you may call +632-898-1702.
12. Ayala Museum: Mystery Mansion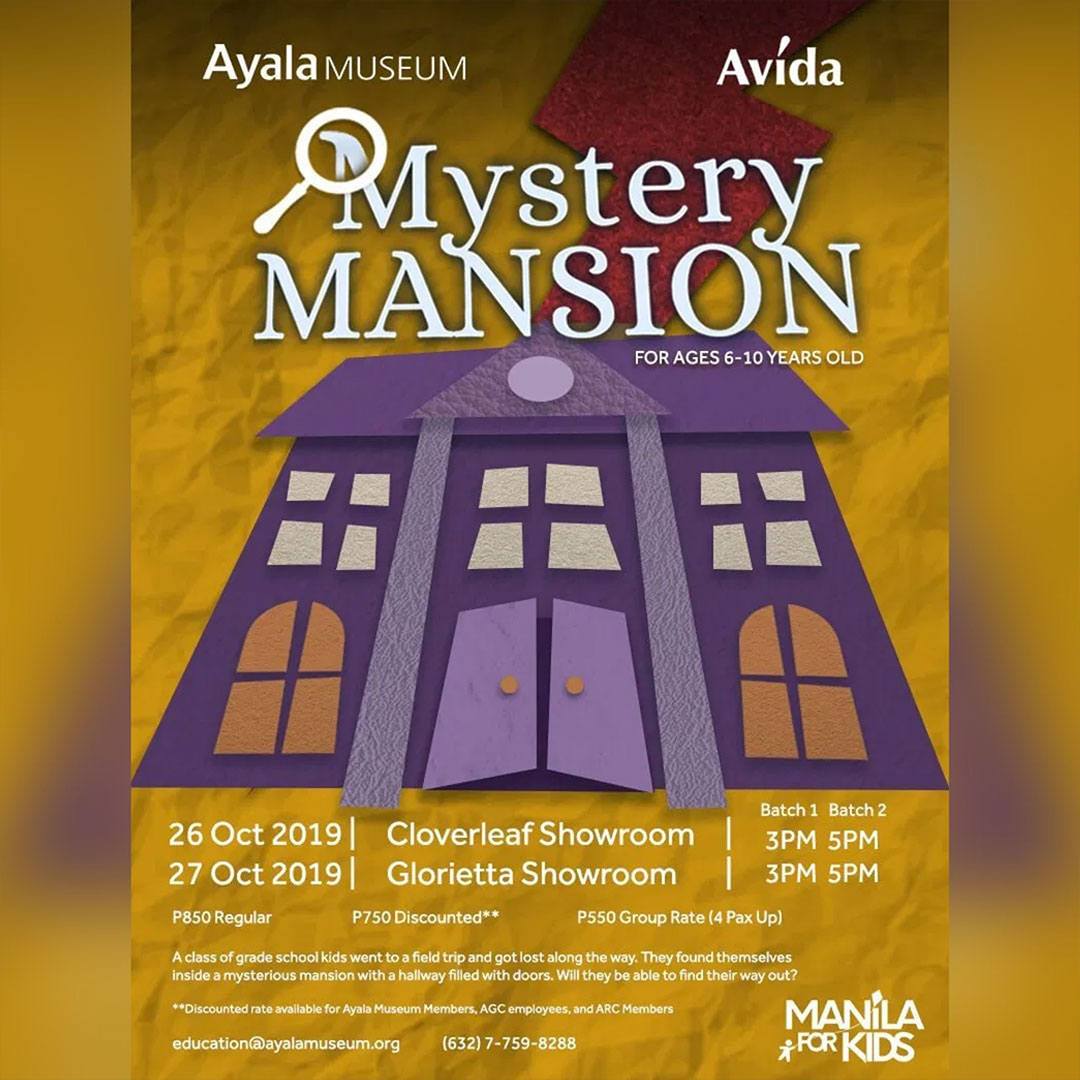 The Ayala Museum might be closed for renovations but that doesn't mean the museum isn't celebrating Halloween!
For the past five years, Ayala Museum has hosted its now classic Midnight Museum but this year, it's trying something new. With Ayala Museum On-The-Go, the museum is taking its Halloween experience to partner venues to create exciting events for kids.
For those who want a bit of a spooky adventure, Ayala Museum presents Mystery Mansion. The story of lost kids, a class field trip gone wrong, and a mysterious mansion with infinite doors. How do you find your way out?
Mystery Mansion is co-presented by Avida and will have two dates with two batches each. October 26, 2019, at the Cloverleaf Showroom and October 27, 2019, at the Glorietta Showroom.
The event is open for kids six to 10 years old. Rates are at P850 for non-members, P750 for Ayala Museum Members, AGC employees, and ARC members, and P550 for groups of four persons and up.
13. Discovery Suites Manila: Spooktacular at Discovery Suites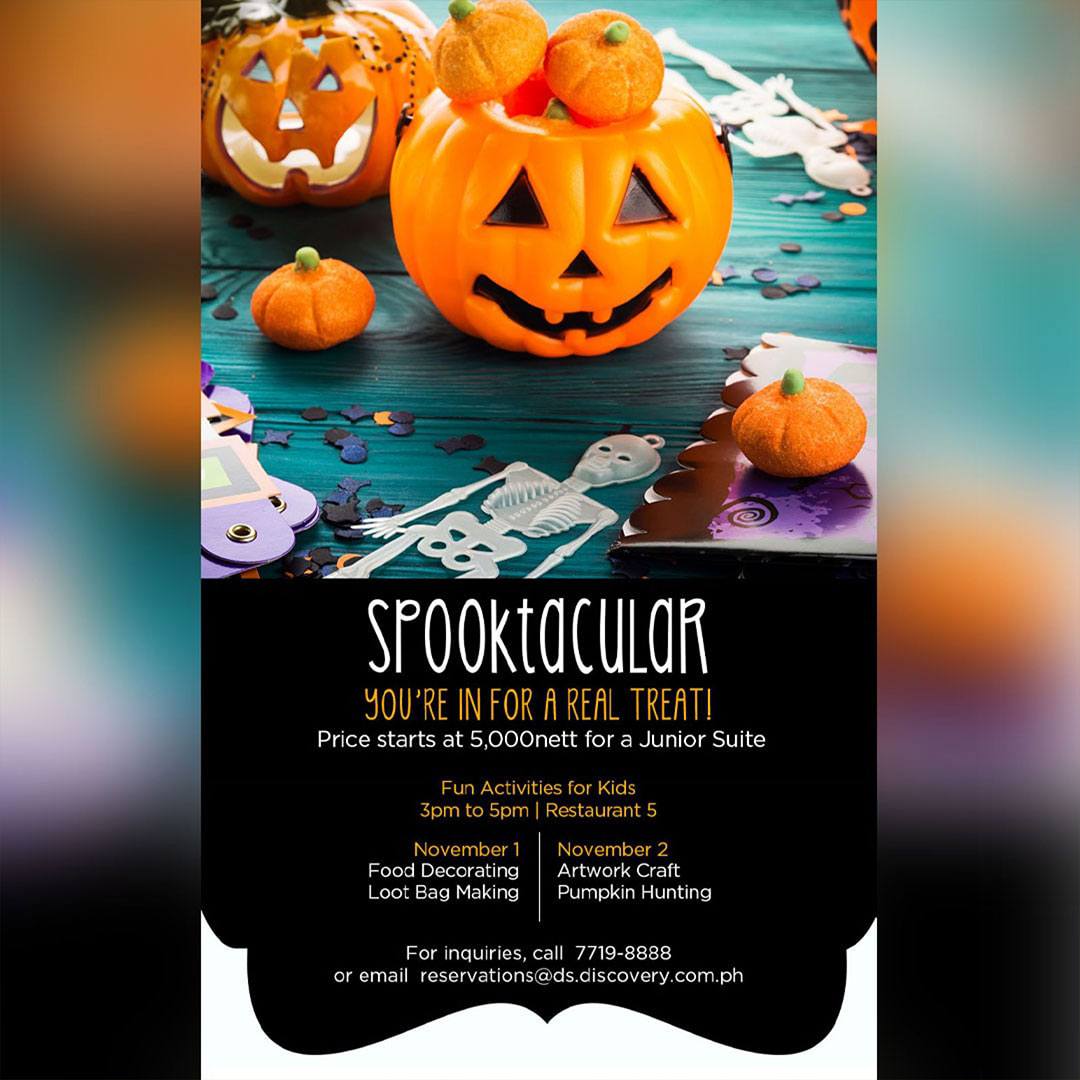 Have a real treat this Halloween as Discovery Suites will be hosting its own Spooktacular Halloween Staycation this coming November 1 and 2, 2019.
Spooktacular is set to offer two afternoons of fun-filled kiddie activities. Food Decorating and Lootbag Making activities are set on November 1 followed by Artwork Crafts and Pumpkin Hunting on November 2. Aside from these, a photo booth plus candies and other exciting treats await all participants.
Special Spooktacular rates start at P5,000 nett for Junior Suite Deluxe, P5,300 nett for Junior Suite Premier, and P5,500 nett for a One-Bedroom Suite.
For bookings and inquiries, you may contact them at +632 719-8888.
14. Shangri-La Plaza: Outer Space Adventure
Treat the kids to some out-of-this-world activities with Shangri-La Plaza's Outer Space Adventure Halloween Party!
There's always a great reason to bring the kids and the entire family to Shang. But October is extra special as Shang dresses up the East Atrium and Grand Atrium in cosmic wonder for its Outer Space Adventure, a one of a kind Halloween party on October 19 and 20.
Visit Shangri-la's official website for more info.
15. Fun Ranch: Boo! Time
Prepare your kiddie costumes and get ready to spook it out, as Fun Ranch brings back the Boo! Time Halloween Party!
With Boo! Time, kids can enjoy watching magical entertainment, collecting a basket of treats, playing games and strutting on the floor in their best costumes. If luck is on their side, they might even win a special prize from one of Fun Ranch's sponsors.
Ticket prices start at P550 for kids and P275 for adults. Each kiddie ticket includes Unlimited Play at their indoor playground, loot bags, snacks, and access to all side activities including Trick or Treat. Adult tickets include snacks and access to all side activities.
Have a Halloween fun time at Fun Ranch this October! Tickets are now available at any Fun Ranch branch on a first-come, first-served basis. Hurry, limited slots available.
16. Uptown Bonifacio: Kooky Spooky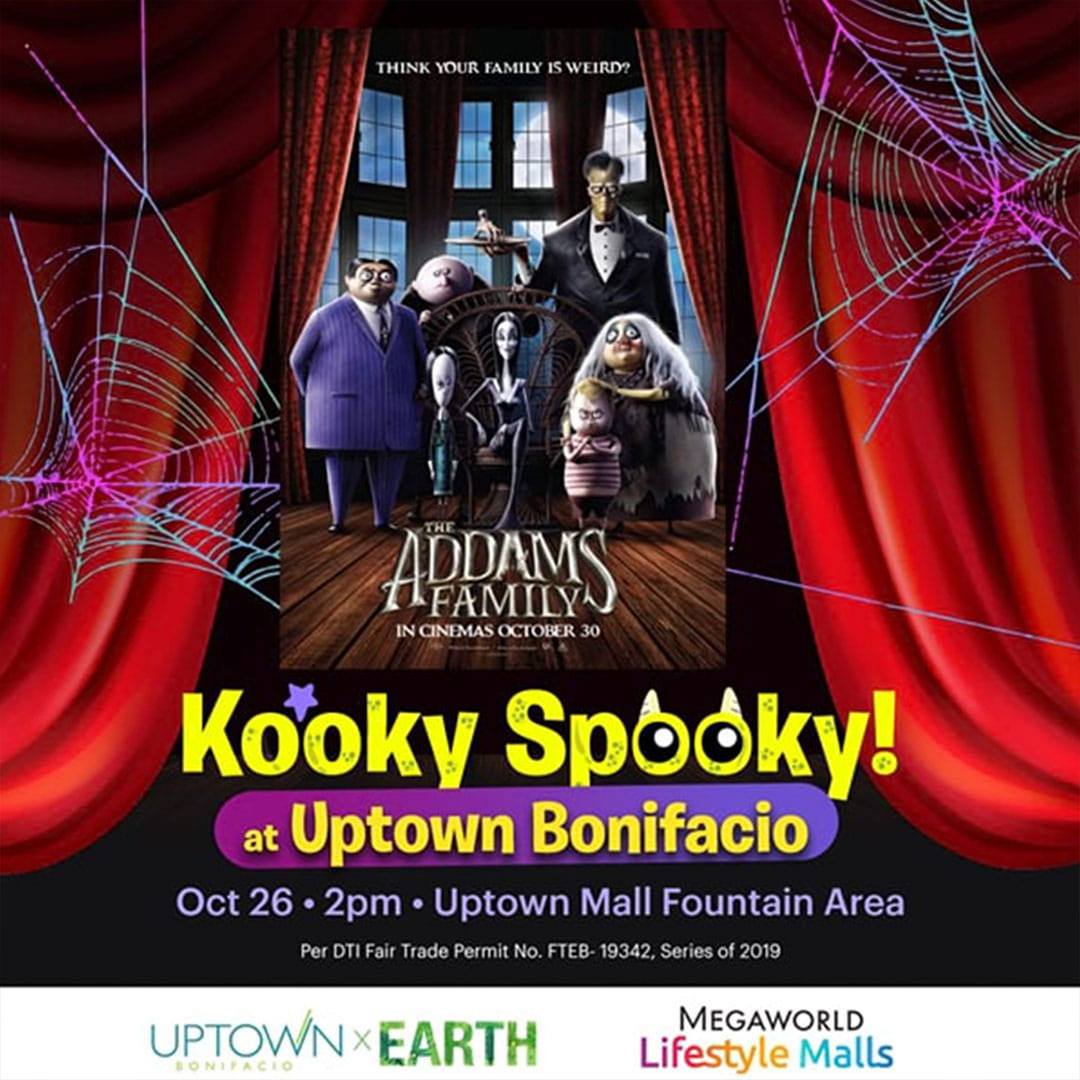 Join The Addams Family at Kooky Spooky at Uptown Bonifacio for a series of artistic and exciting activities like Pugsley's Face Art, Wednesday's Crossbow Class, Lurch's Art Camp, and Trick or Treat-thing.
You can also enjoy fun games and shows like Grandma's Party Games, Uncle Fester's Mad Science Show and Morticia's Magic Show. Get creative with your Addams Family-inspired costume at the Cousin It Costume Contest and win big prizes plus put on your wacky face at the Spook Squad family portrait photo booth.
Visit Uptown Mall BGC's official website for bookings and inquiries.
17. Eastwood Mall's Petrified 2019: A Zombie Halloween Bash at Eastwood City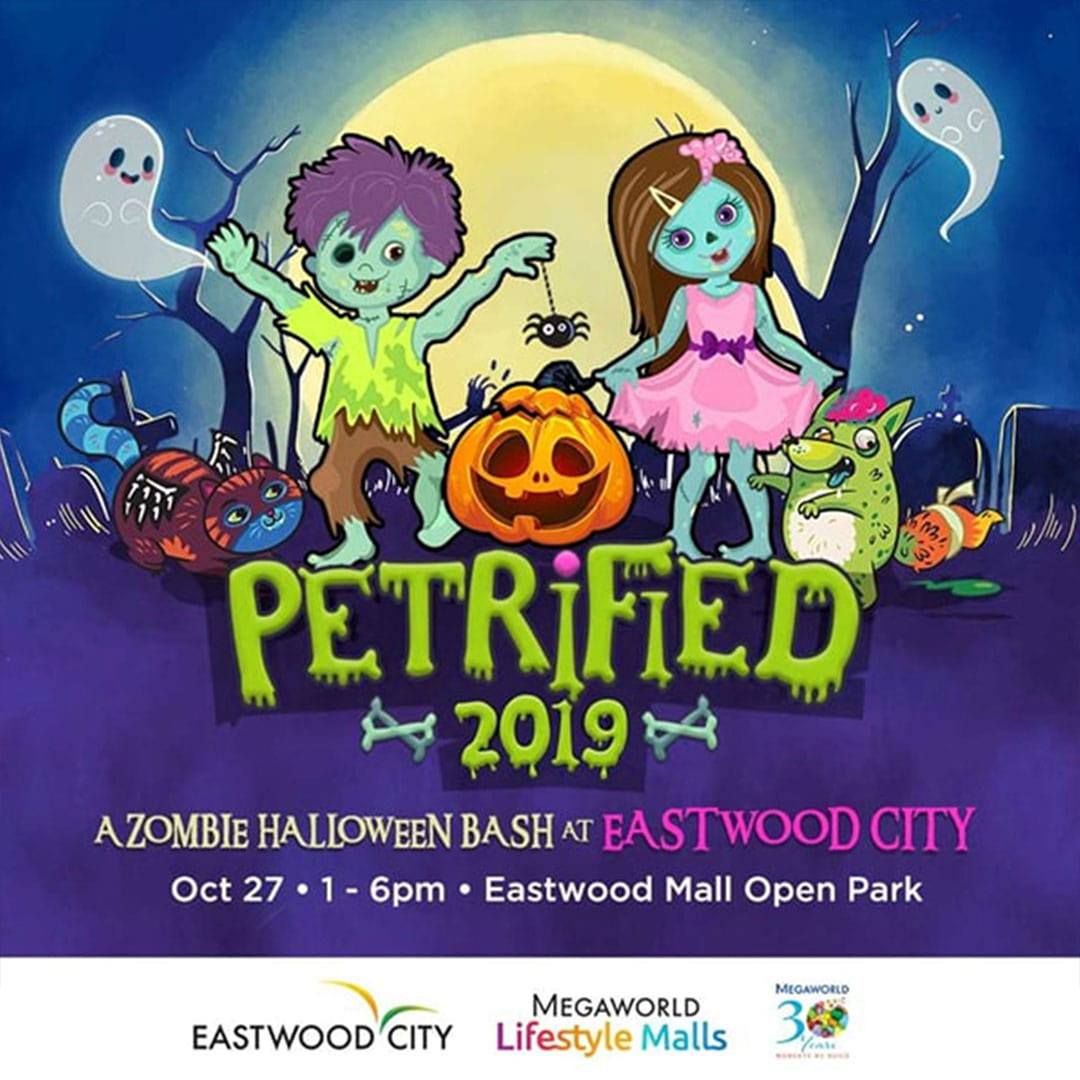 Have an adventure at Petrified 2019: A Zombie Halloween Bash at Eastwood City on October 27, 2019, and enjoy a series of activities for kids and fur-babies alike.
Come in your drop-dead gory costumes and get a chance to win horrific prizes during the Kids & Pet. Costume Contest plus join the Halloween horde and hunt for sweet treats during the Trick or Treat Parade. Plus, hoard on the sweet treats and spooky surprises with Gross Goodies.
Perfect for the adrenaline junkies, crawl for your lives in a thrilling Zombie Crawl race. Or score a bullseye on zombie brains to win the archery contest at Brain Hunt. Catch the cutest Pet Magic show during Petracadabra. Let your pets enjoy an outbreak of Halloween madness with Puptivities like pet talks, pet agility courses, grooming stations, and many more. Strike a pose in Spooka-booth for spooktastic photos.
Check out Eastwood Mall's official website for more info.
18. Venice Grand Canal's Spook Town: Pororo and Friends Spooky Halloween Adventure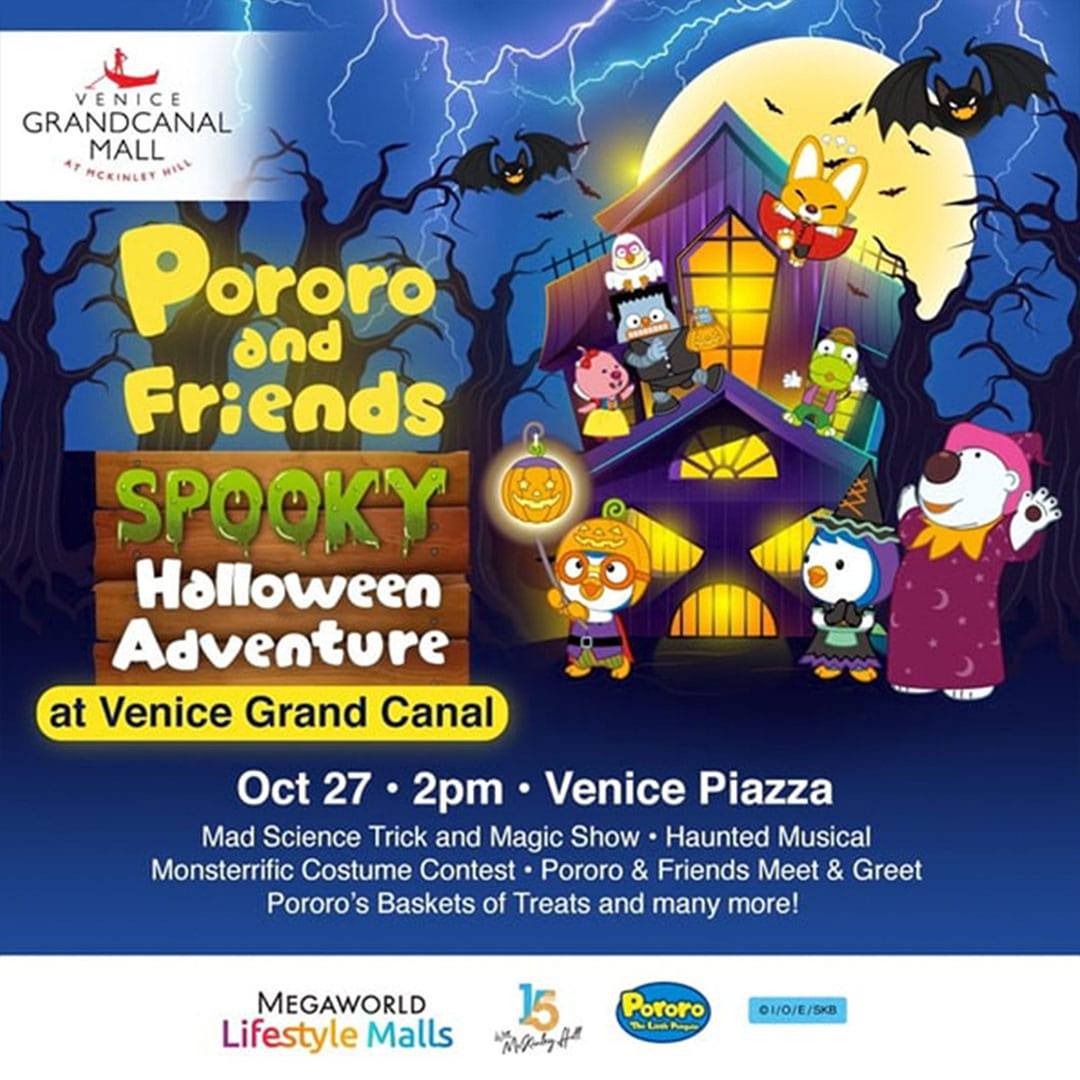 Join Pororo and his pals on a haunted quest at Venice Grand Canal this Halloween season. Start off by discovering a secret formula from the coolest laboratory scientists of Mad Science Trick and Magic Show followed by Haunted Musical where you can sing-along with Pororo & Friends.
Come as your favorite Pororo & Friends character and win exciting prizes during Monsterrific Costume Contest plus get to bond with your favorite adorable gang with Pororo & Friends Meet & Greet. And lastly, fill your Pororo's Baskets of Treats with exciting goodies when you come in your cutest monster costume.
Visit Venice Grand Canal's official Facebook Page for more info about Pororo and Friends Spooky Halloween Adventure.
19. Forbes Town's Spook Town: A Halloween Carnival Experience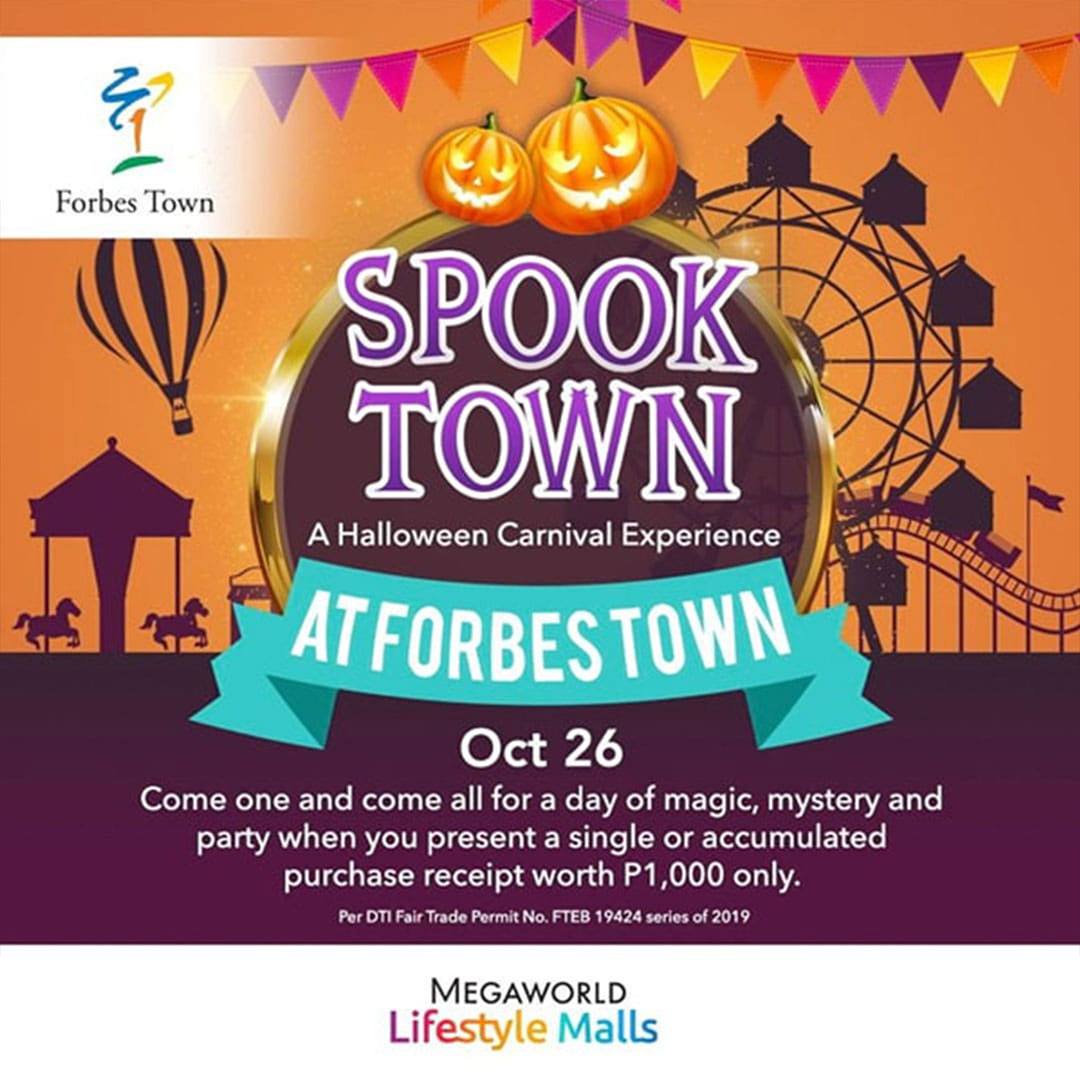 Come one and come all for a day of magic and mystery around Forbes Town.
For the little spooksters, let them be amused with jaw-dropping shows, fun flairs and trick-or-treat activities with Kids Fun Park on October 26, from 1 PM to 6 PM at Burgos Park & Forbes Town Road. And for kids at heart, wear your costume, bar hop, and party the night away with Wicked Party Alley from 9 PM onwards.
Visit Forbes Town official Facebook Page for more info about Spook Town: A Halloween Carnival Experience.
20. New World Manila Bay: Monster Camp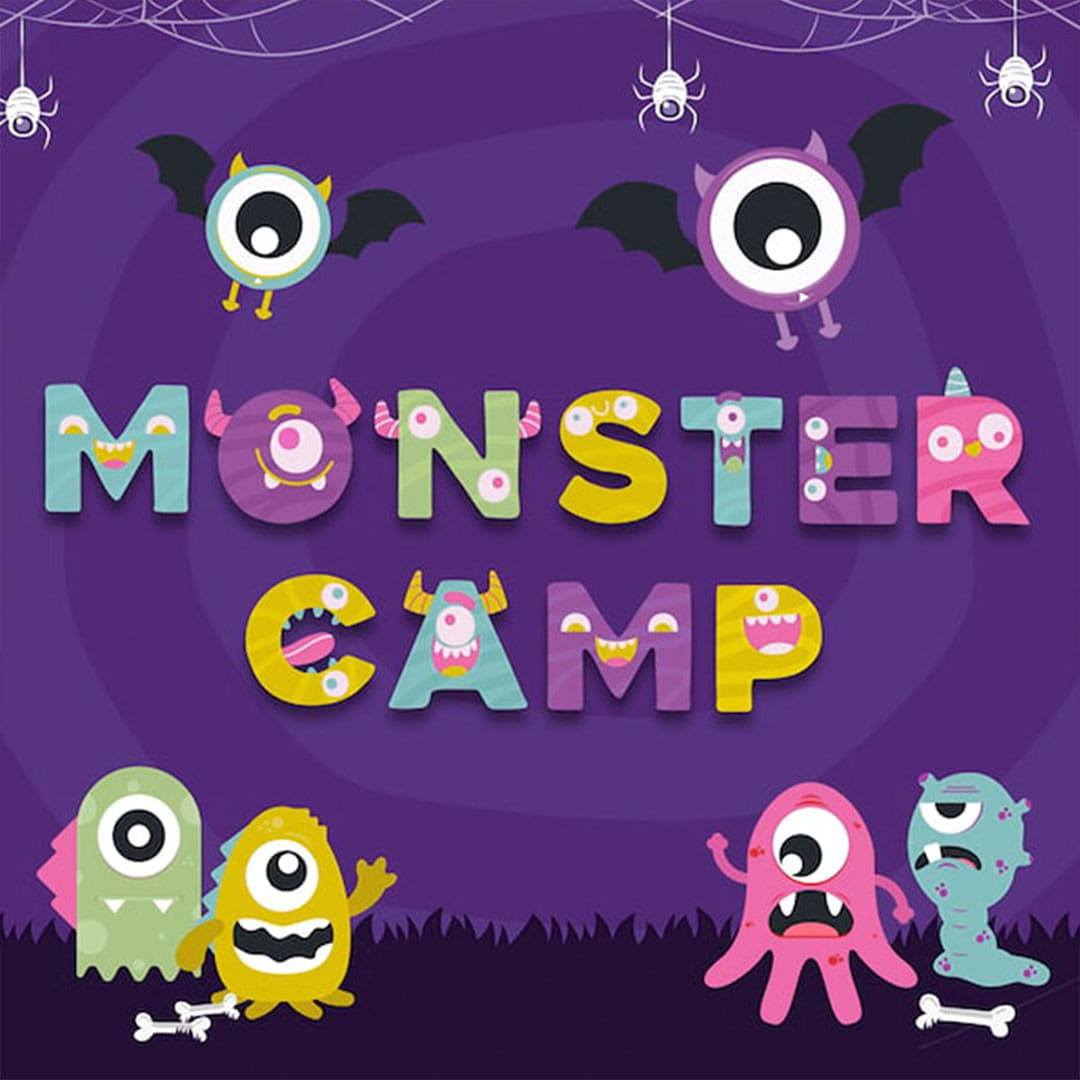 New World Manila Bay Hotel is giving you more ways to get into the Halloween fun.
On the 30th and 31th of October 2019, get ready for an exciting monster-rific adventure at Market Café with its Monster Camp: Halloween Fun Fest.
Enter the hair-raising world of monstrous creatures in different forms and shapes and indulge in a spooktacular feast with the family and close friends. Taste the hauntingly delicious flavors of Halloween with a delightful dinner buffet featuring a spread of international cuisines, signature dishes, and decadent desserts.
The inviting atmosphere and the creepy surrounding at Market Café make it the perfect hide-out for Halloween. Wear your best smile at all times because you might meet the monster squad for a group photo worth posting.
Come in your most monstrous costume and enjoy spooky Halloween eats and sugary treats!
The Dinner Buffet at Market Cafe is priced at P2,600 nett per person. Kids 12 years old and below are charged half the price while kids five years old and below are free of charge.