Halloween Parties 2019: A Spooky Fun Guide For Grown-ups
12 min read
It's time to take out your best costumes because the scare season is officially here! Expect a whole lot of spooky and exciting Halloween parties and events coming your way this end of October 2019.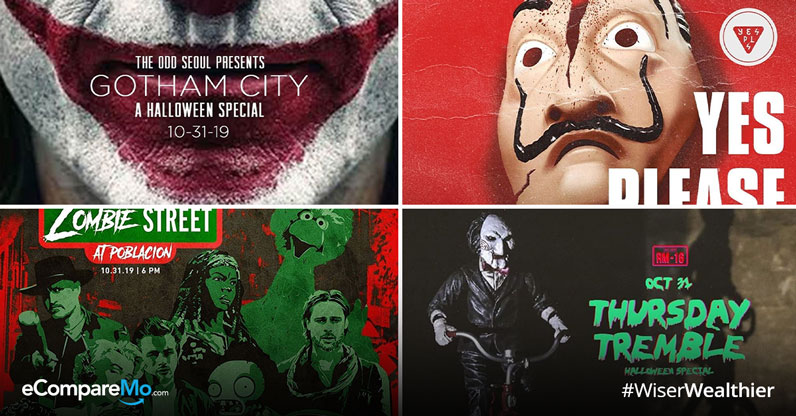 A zombie run, escape rooms, a scavenger hunt, a Pinoy horror movie marathon, and the biggest music acts are just a few things to look forward to. Get ready to enjoy these hip and happening Halloween events in Metro Manila.
1. Vu Sky Bar and Lounge: Black Party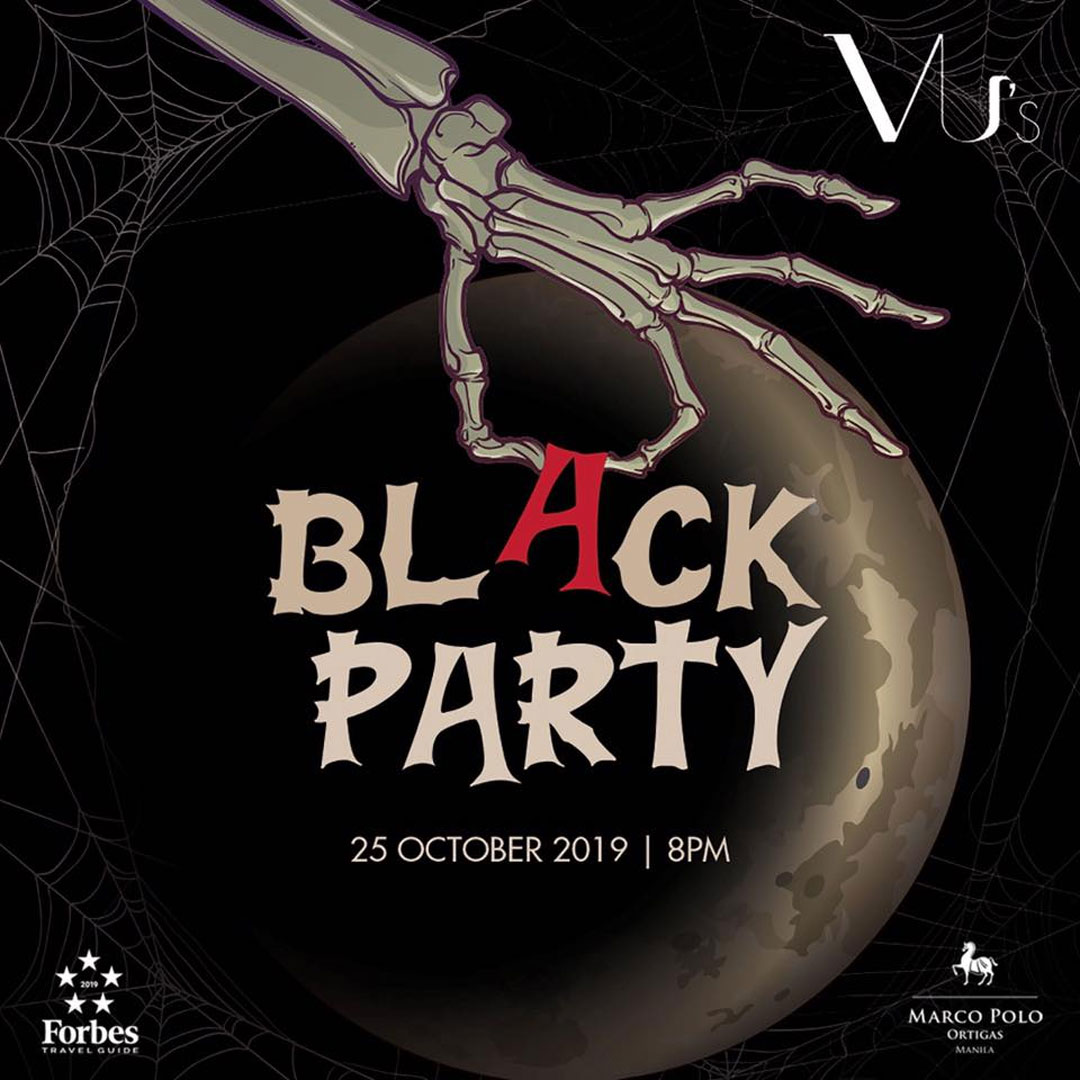 Come with friends to play spooky dress up, and party the weekend away as Vu's Sky Bar and Lounge hosts its annual Halloween bash. The Black Party will begin at 8 PM on October 25, 2019 (Friday).
Dressing up this season is made more exciting as the Sky Bar is set to award the best-dressed partygoers with special prizes. The entrance fee per person starts at P499.
For bookings and reservations, you may call 02 7720 7720.
2. C Lounge: Thriller Night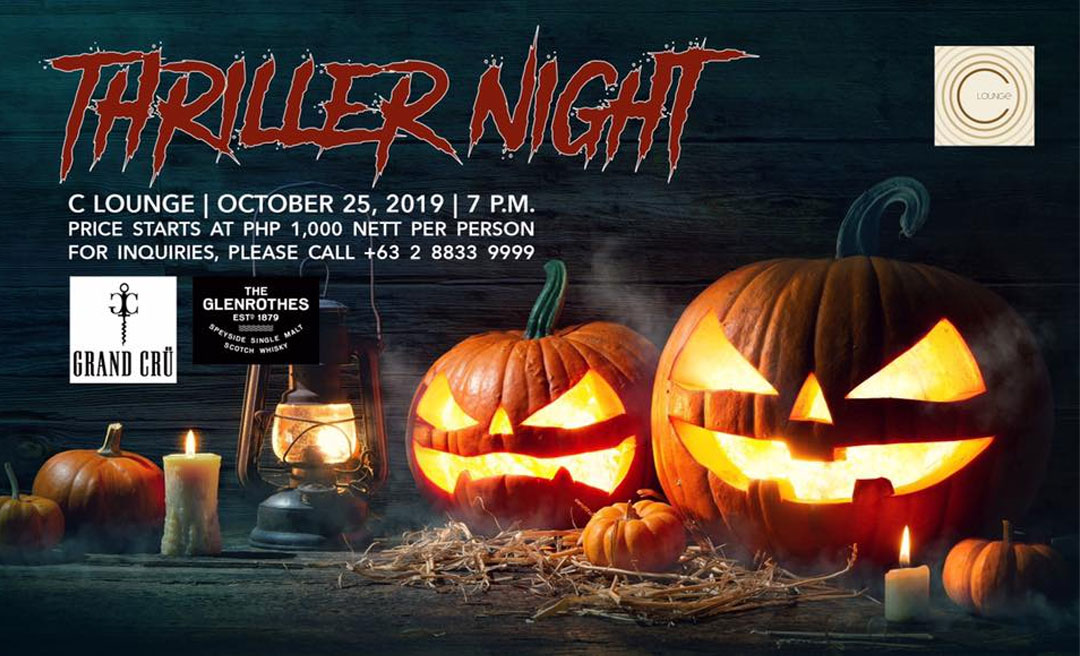 Get a headstart on the Halloween celebrations with Thriller Night at C Lounge at Conrad Manila. Come in your scariest costumes and enjoy premium Glenrothes Halloween cocktails paired with well-curated appetizers and live music.
The best and most creative costume wins an overnight stay at Conrad Manila, so get busy and plan on what you'll wear!
Tickets start at P1,000 nett per person. For inquiries, please call +63 2 8683 3990.
3. House Manila: Deadlights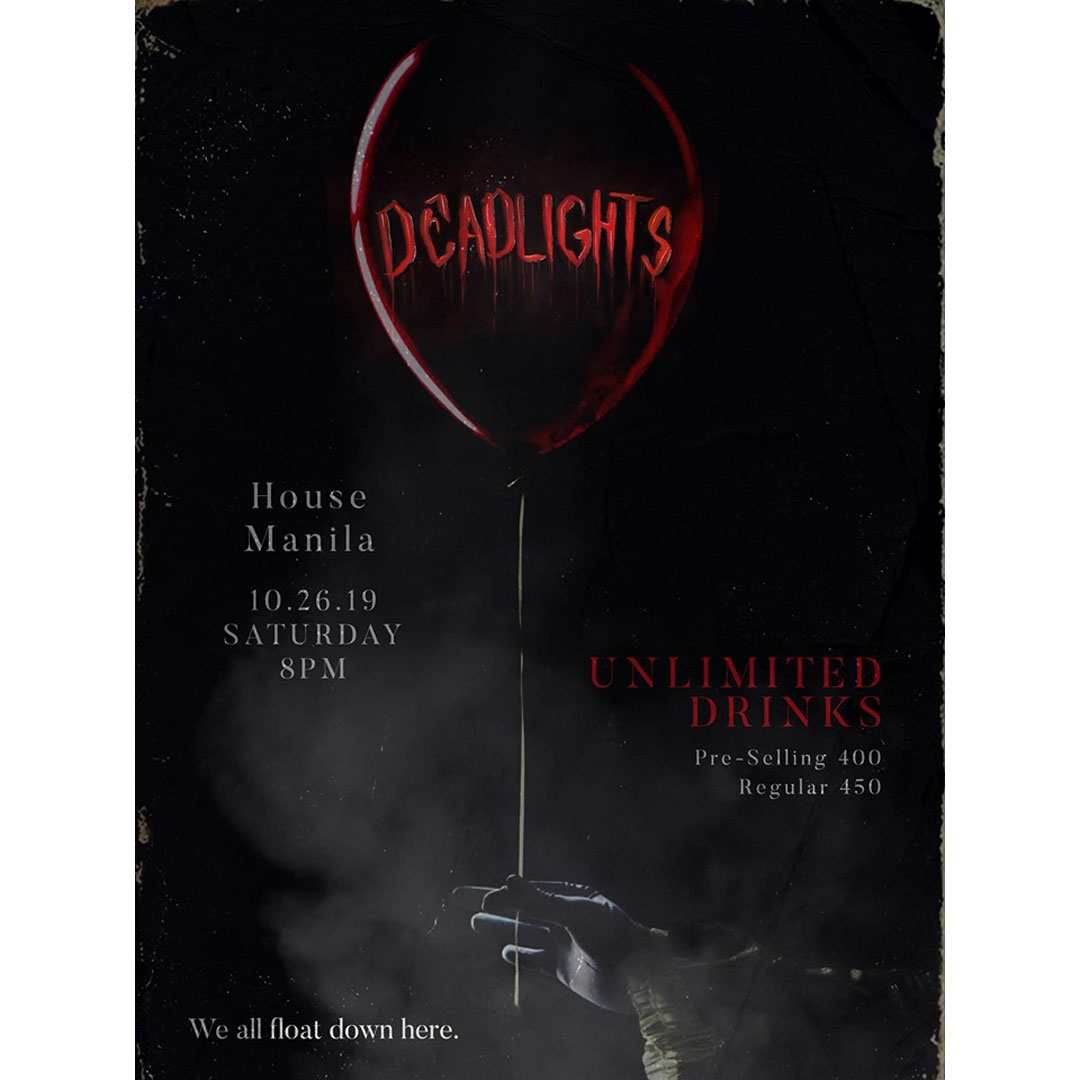 Are you ready to face your fears? From the creators of Freak Show, Asylum, Carnage, Child's Play, and Light's Out SDVAR present Deadlights.
Party with them on October 26, 2019 (Saturday) for a night full of boos and booze! Show up in your best costume to get unlimited drinks throughout the night! Tickets are at P450 per head.
4. Thursday Tremble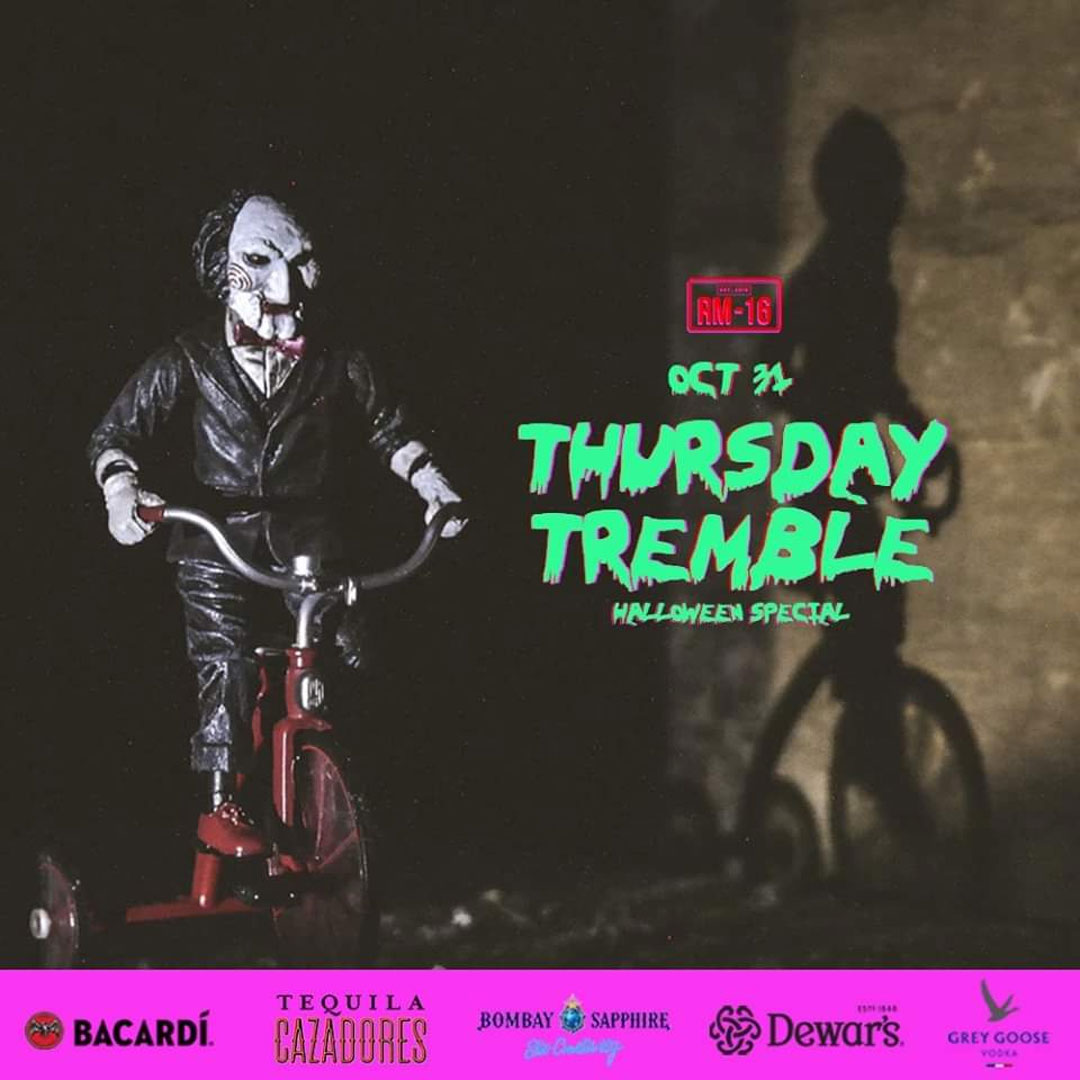 Get ready to tremble as the club RM-16 opens its doors to ghouls and mortals alike on October 31, 2019.
Ghouls and Weirdos get 20% off on selected bottles, while mortals get 10% off on selected bottles. The deals don't end there. Everyone gets 1+1 deals on mojitos, 2+1 on Cazadores shots, and the scariest costume gets a prize! For table reservations, you may call +63917 812 2243.
5. Cove, Okada Manila: Poseidon Halloween Festival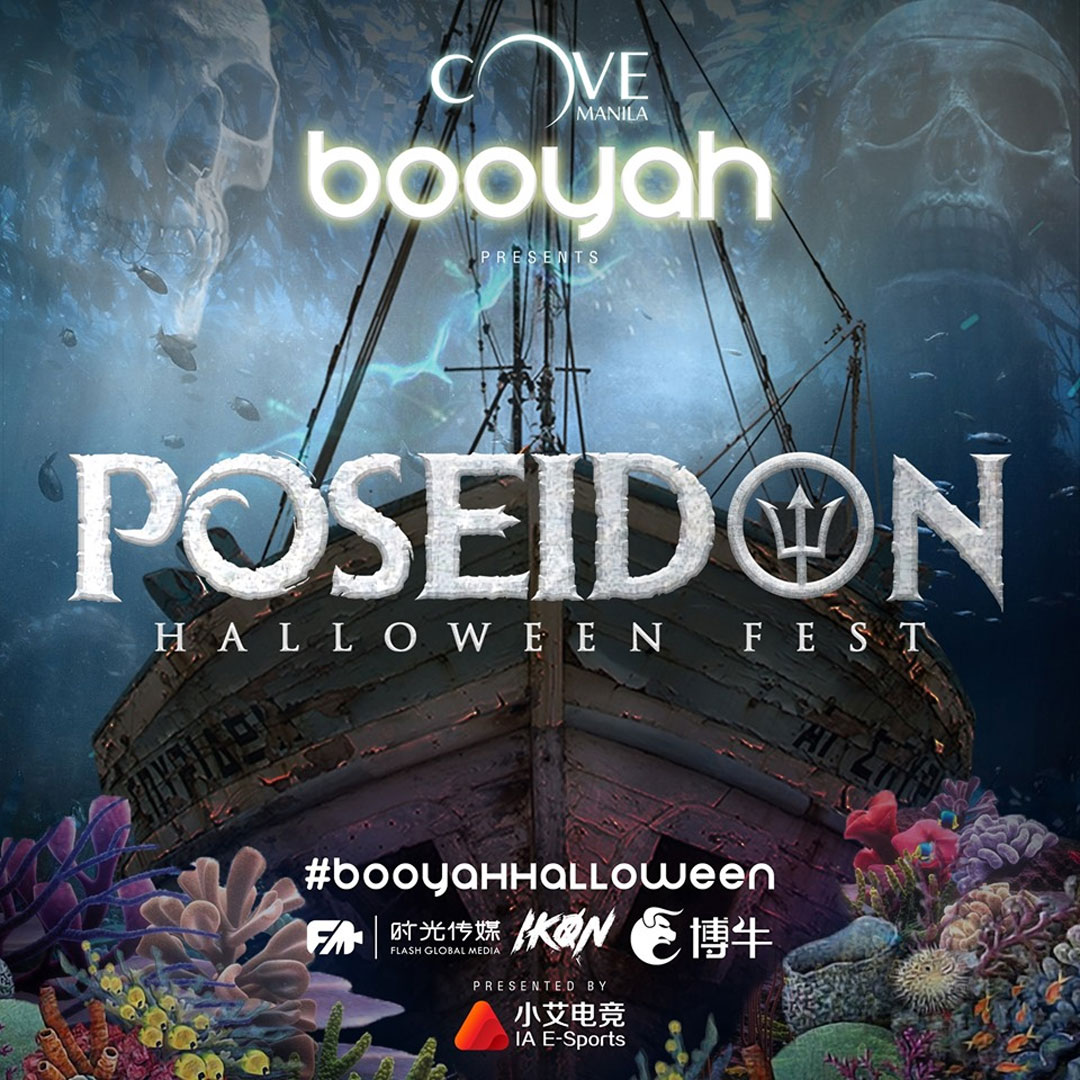 On October 31, 2019, a phenomenal line up is set to bring an extraordinary night at the Cove, Okada Manila.
Get blown away and surprised by the treats brought by DJ VINAI, DJ SURA official, DJ Ron Poe, DJ Migs Santillan, and DJ Gavin Skewes.
Be ready to party 'til midnight and awaken the night away. Book your tickets at SM tickets' official event website.
6. Haunted Manila Festival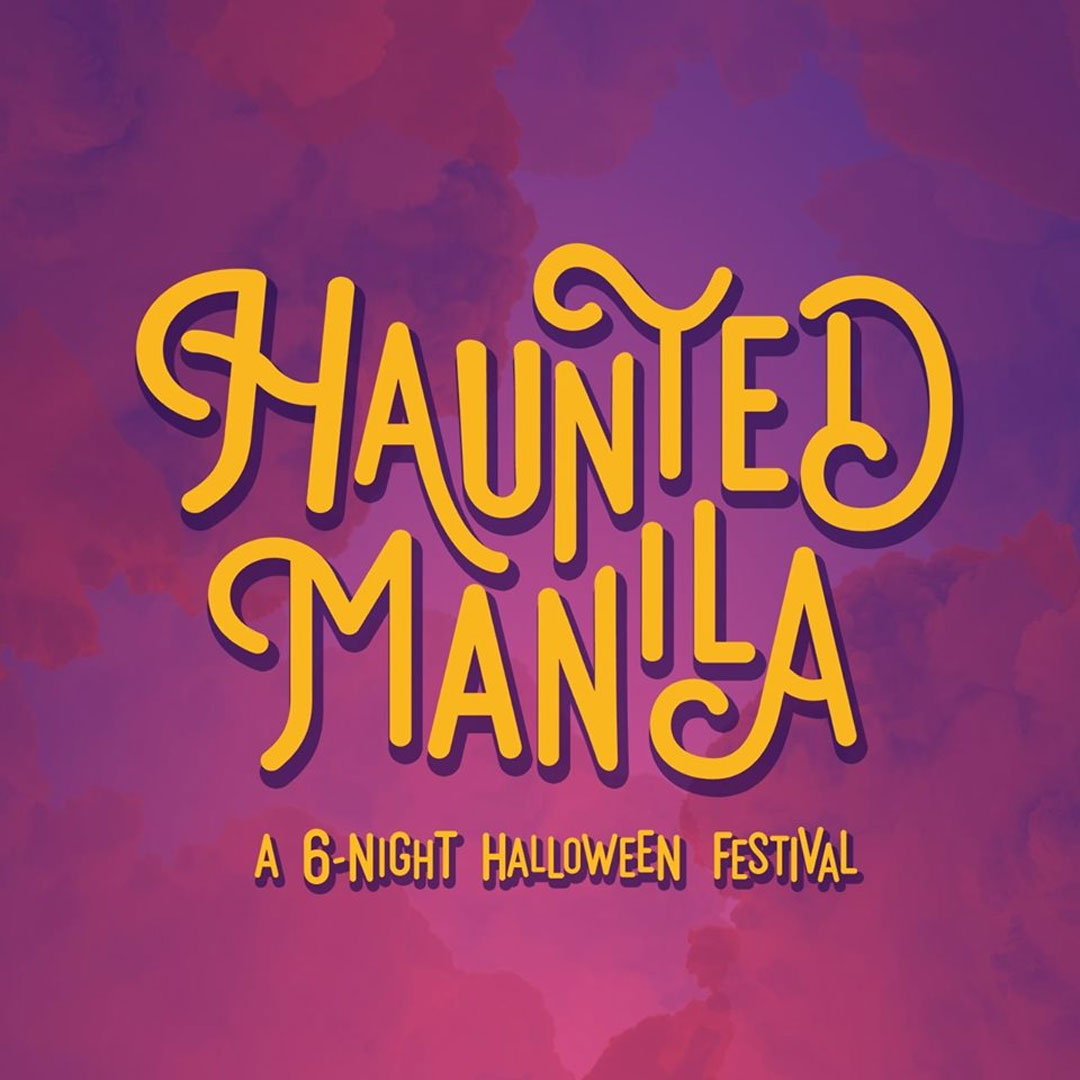 Gather as many friends as you can because the first and biggest Halloween festival in the Philippines will dominate the Filinvest City Events Grounds, Alabang for six nights straight.
Running from October 26 to 31, Haunted Manila Festival is the perfect spooky hangout for friends as they present a series of exciting activities that proudly showcases the Filipino culture.
These include Santelmo Halloween Music Party, Pelikulagim, Outbreak Manila, Breakout Philippines, and more.
Admission prices vary per attraction. Visit the event's official page and Facebook account for inquiries and reservations.
7. One Night in Intramuros: A Trese Night Tour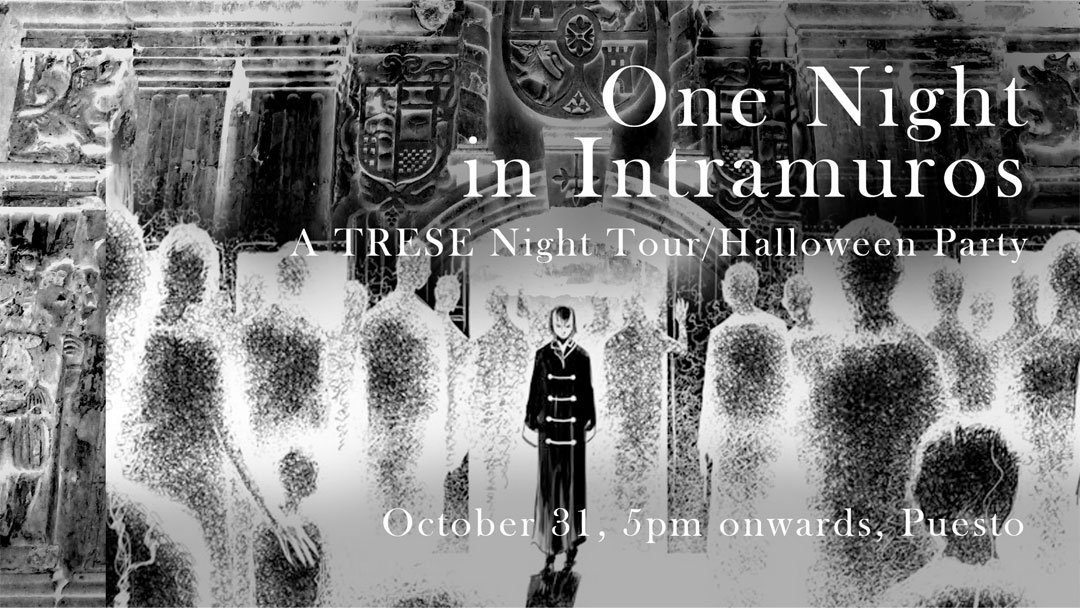 Fans of Trese, a graphic novel created by writer Budjette Tan and artist Kajo Baldisimo about a detective handling cases of the supernatural, will have their own fun this Halloween. Puesto, WanderManila, and Trese present One Night in Intramuros, a Trese Night Tour Halloween Party, exclusive to the fans of Trese.
Only 50 slots for the tour are available. The ghost hunting tour around Intramuros starts at 5PM, and then guests will head to Puesto for some pica-pica and drinks. All Trese titles (Books 1-7) will be on sale as well.
Come in costume as Trese or any Filipino mythological being can go on the tour for free. Tickets start at P500 inclusive of the tour plus food and drinks.
8. Z Hostel: Zombie Street at Poblacion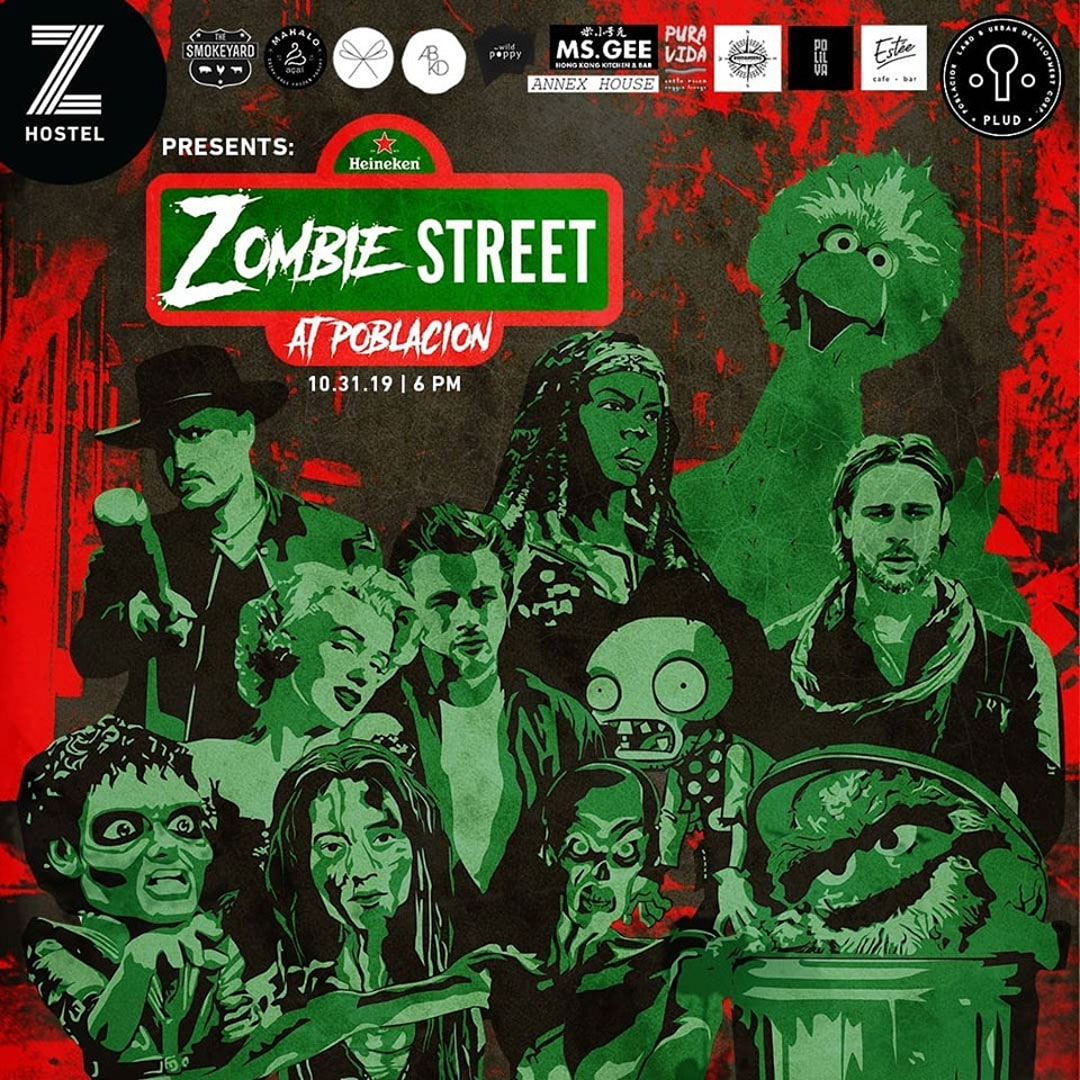 A zombie apocalypse is coming 'round town but good thing your homebase Z Hostel and other major venues on Z Street are a safe zone! So, make sure to stay over the weekend for a Halloween Party that'll get you running, drinking, and dancing around on Thursday, October 31, 2019!
Zombies are scared of creative costumes so better start putting together your zombie outfit for the night! Expect a lot of dancing, exciting DJs, artists, food, drinks, and a Halloween Costume Contest. Winners will be announced at around 11 PM at The Ruins.
9. Bigfish CREAM Halloween Festival: Circuit Makati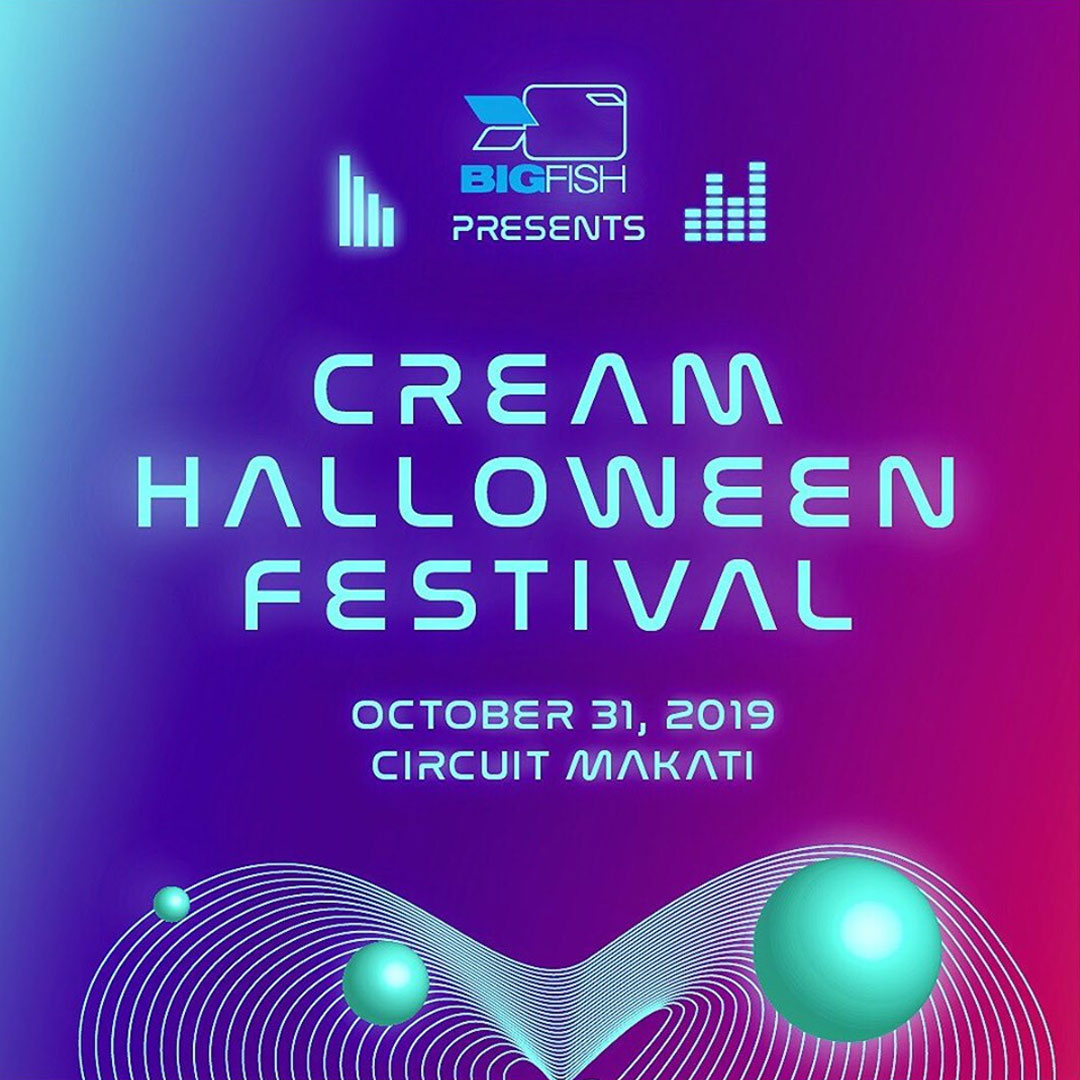 Bigfish is making a comeback. For their 20th anniversary, they're setting up their iconic Bigfish CREAM Halloween Festival, the biggest and longest-running dance costume party in the country at Circuit Makati.
Featuring Ashley Wallbridge, Marlo, Giuseppe Ottaviani, and MC Lavoce on the main stages, you'll be dancing until sunrise.
The festival has got your needs covered with amenities like main and satellite bars, VIP tables, loading stations and ATM machines, food booths, shisha/vape lounge, green/zen lounge, charging stations, beauty nooks, and art exhibitions.
You can buy tickets at the official event page and top-up before the event to avoid long lines. It is a cashless event, and the organizers provided loading stations at the venue. Winners of best costume will walk away with a cash prize and a feature on their social media platforms.
Regular tickets are priced at P2,000 and VIP tickets starts at P5000. You may contact +63 908 965 5522 or +63 915 027 7774 for VIP table bookings.
Doors open at 7 PM. Come dressed to impress but wear comfortable footwear. It is a dance party after all.
10. Yes Please Heist: A Halloween Bash (October 31, 2019) and Scream: A '90s Halloween Party (October 30, 2019)
Yes Please Bar at Uptown Bonifacio, Taguig, is throwing not one but two theme parties this Halloween.
Yes Please Heist: A Halloween Bash
Bella ciao! Bella ciao! Bella ciao ciao ciao! Get ready for the biggest Halloween Heist this year! A night of thrills and excitement await you!Come and visit Yes Please, BGC on October 31, 2019 and sing and dance your hearts out 'til midnight. Happy heisting!
Scream: A 90's Halloween Party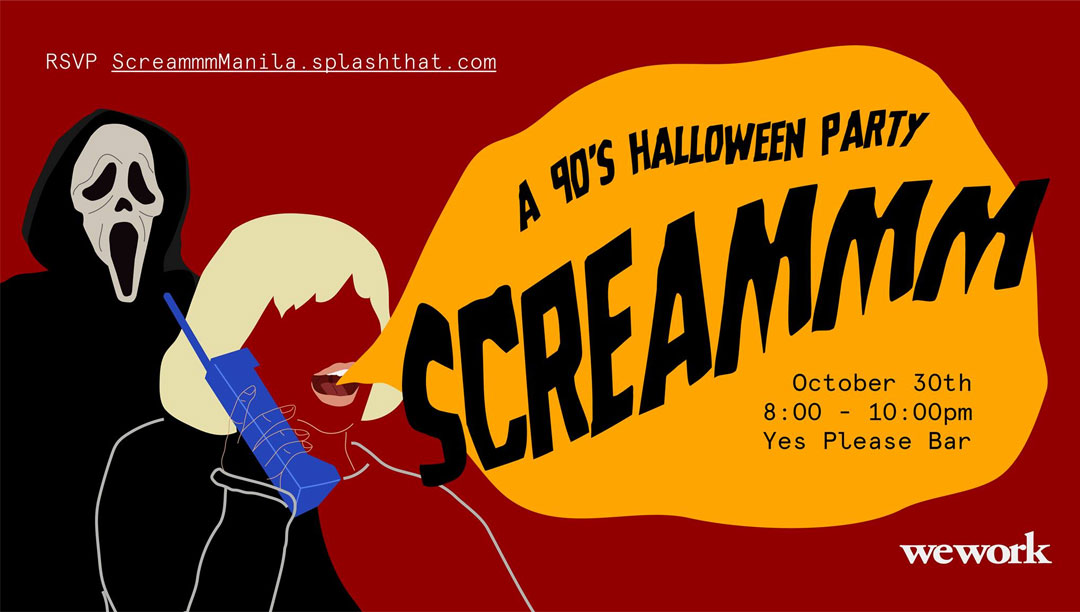 Dress as your favorite Halloween icon from the 90s and groove to your feel-good old school beats as Yes Please Bar and WeWork throw you back to the peak decade of horror flicks. Join the party on October 30, 2019, from 8 PM to 10 PM RSVP with your friends at the official event page.
11. Handlebar and Grill: Adults' Halloween Party
This party is not for kids. Get a babysitter and head out with other adults in costume to Handlebar to let your hair down. Get dressed up and win prizes for best-dressed male, female, and couple and scariest costumes. Drink spooky drinks and have scary snacks all night.
Ticket prices start at P200. Proceeds of the event will go to Mad Dogs Charities Philippines.
12. Outbreak Manila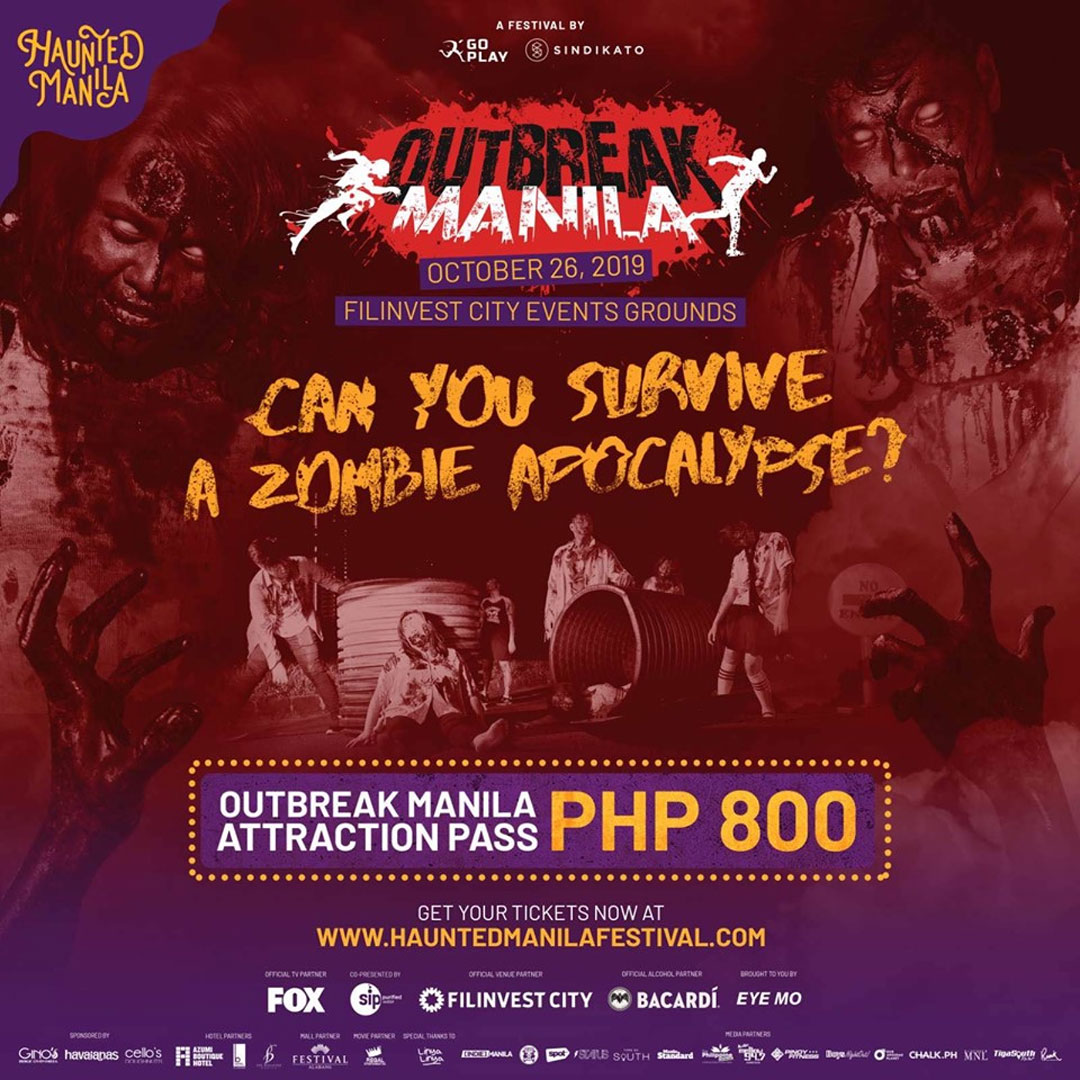 One of the most anticipated activities of the Haunted Manila Festival is the major comeback of the country's biggest zombie run, Outbreak Manila.
Zombies are back to once again chase runners for an adrenaline-pumping and epic zombie-themed fun run on October 26. After the run, participants can enjoy the after-party at the Zombie DJ Party.
Tickets are P800 per head. Check out the event's official page and Facebook account for more info and for reservations.
13. The Island: Dia de los Muertos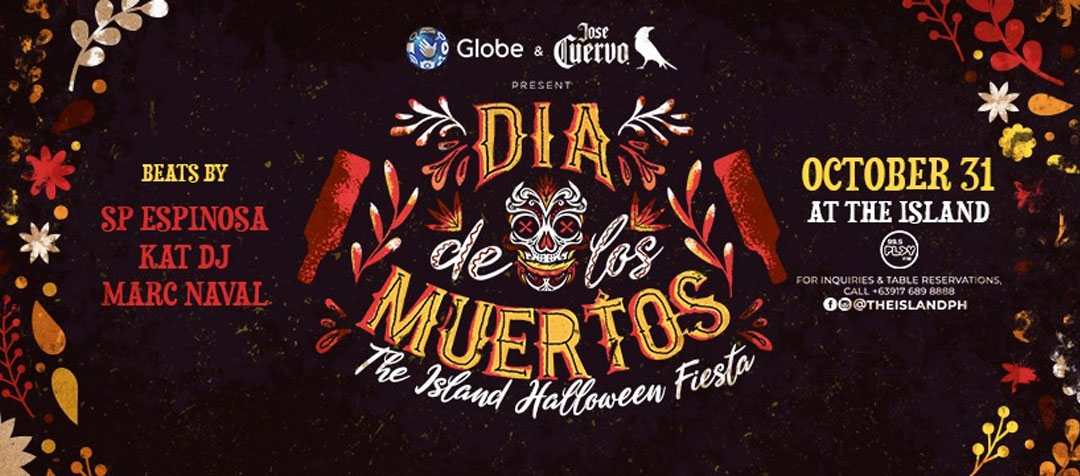 Get dressed, get painted, and get ready to dive into the Day of the Dead on October 31, 2019, at The Island bar at BGC.
Get ready to greet the undead and celebrate Dia De Los Muertos with all the party animals present at the event.
14. Nokal: Disco Inferno ft. Lovebirds Live!
Halloween Night heats up at Disco Inferno at Nokal in Poblacion, presented by Jameson Irish Whiskey and San Mig Lights.
Dance the night away as the Lovebirds take you on a trip back to the 70s and 80s in a gleaming futuristic spaceship. The Lovebirds' sound is like a blast from the past with house steroids packing serious production muscle.
What's even better is the free admission. All you need to do is RSVP on their official event page. Let the party begin!
15. The Rise of Xylo: A Halloween Ball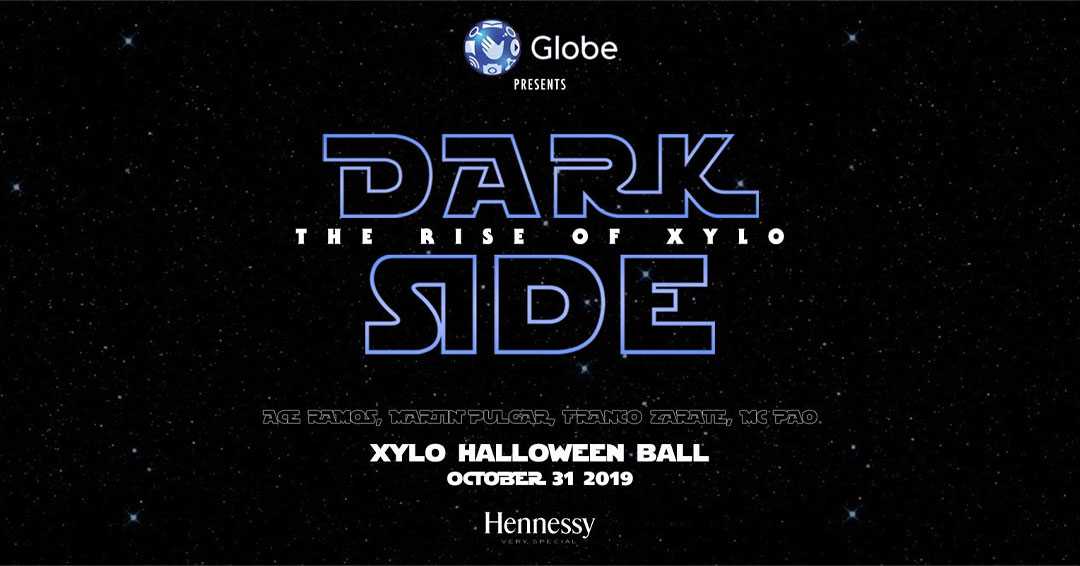 Awaken The Force inside you as Xylo holds its Halloween Ball to the beats of DJs Ace Ramos, Martin Pulgar, Franco Zarate, and MC Pao.
Be part of Xylo's own Galactic empire on October 31, 2019, from 10 PM onwards at Xylo at The Palace, Uptown Bonifacio, Taguig. Book your seats now or you will regret not joining the dark side.
For inquiries and reservations, you may contact +63917 680 8888.
(Read: Treat-Filled Halloween 2019 Parties For Kids And The Whole Family)
16. The Peak: Halloween Night
If street parties or big clubs isn't your thing, don't fret. Head over to The Peak and party in style for Halloween. Dress to impress and come in your best costume for a chance to win a one-night stay at Grand Hyatt Manila.
Cover charge of P500 is waived for in-house and costumed guests. For reservations and inquiries, you may call +632 8838 1234 or email thepeak.manila.grand@hyatt.com.
17. Breakout: Scavenger Haunt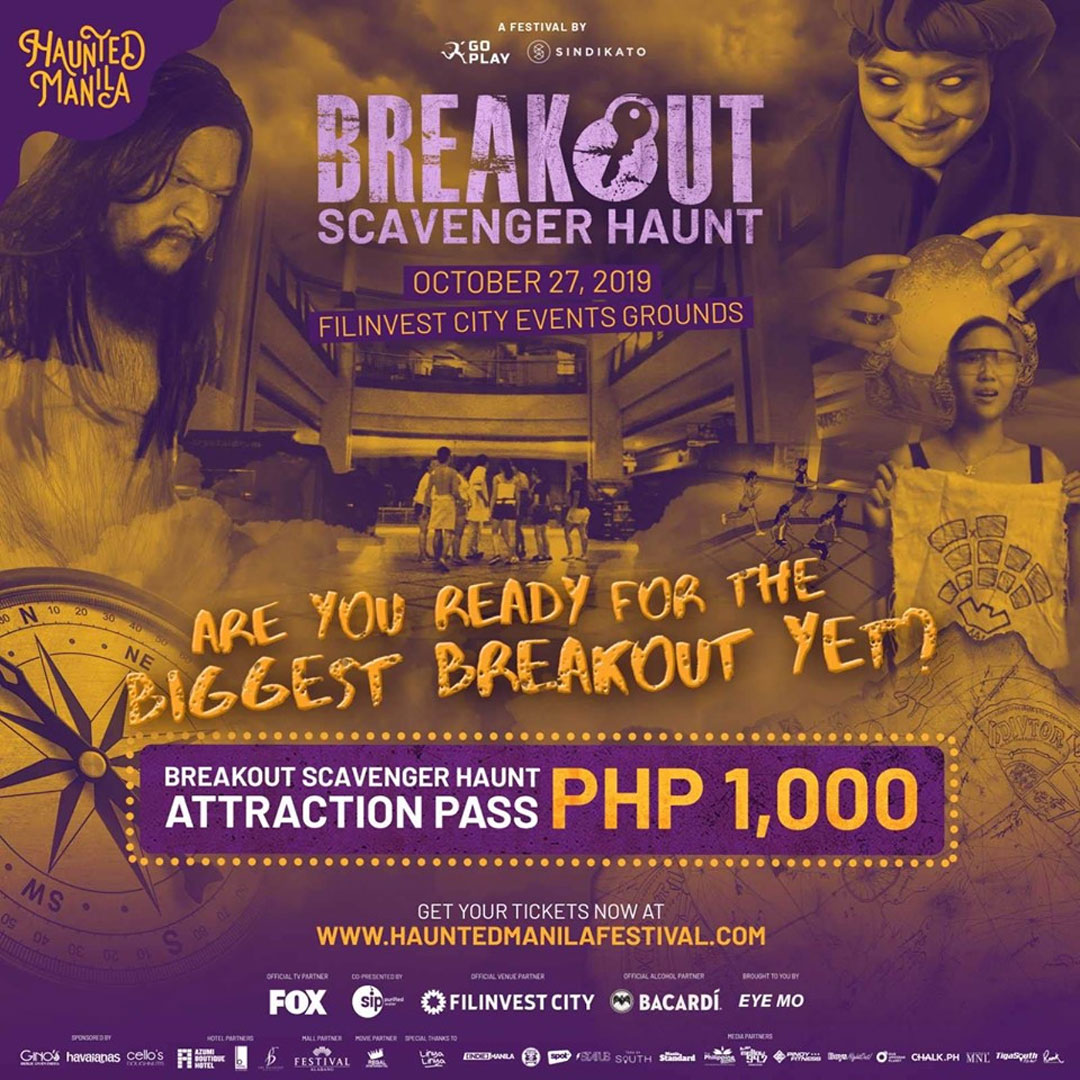 This Halloween season, Breakout Philippines is turning Festival Mall Alabang into a massive Breakout experience with their Breakout Scavenger Haunt on October 27, 2019.
Bring your friends and test your detective skills altogether as this thrilling activity will have you compete with other teams in solving skill-based tasks and mind-numbing puzzles—all with the help of different mythological creatures throughout your journey.
Admission is P1,000 per person. Visit the event's official pageand Facebook account for inquiries and reservations.
18. Madame Wongs's House of Revelry: The Revel Halloween Ball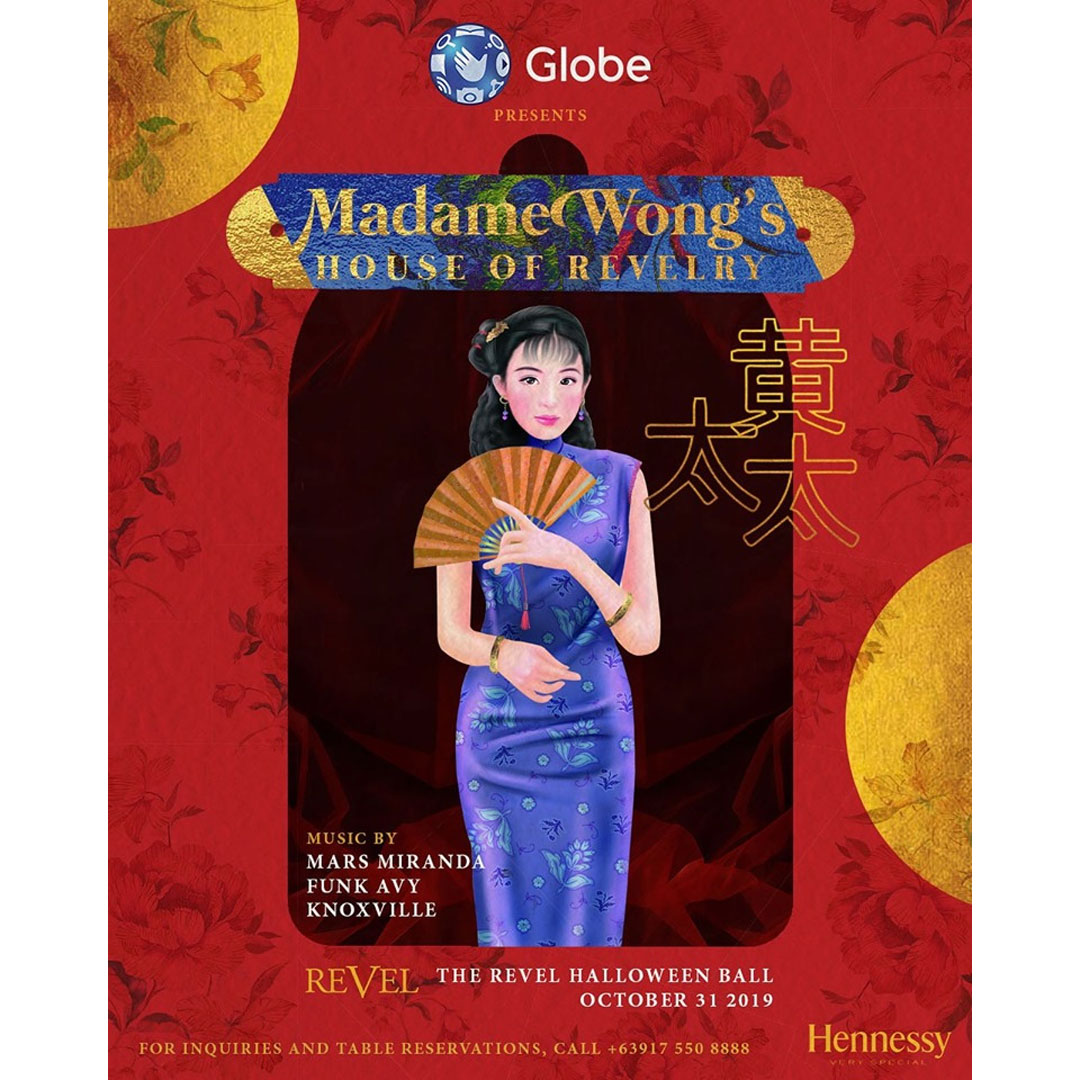 Revel at The Palace desires your presence at Madame Wong's House of Revelry: The Revel Halloween Ball, where you're free to discover your inner pleasure and mischief. Unleash your desires and sway to the music of Mars Miranda, Euric, and Knoxville.
Come in your sultry costume on October 31, 2019, at Revel at The Palace, Uptown Bonifacio, Taguig. The madness starts at 10 PM. You may contact +63917 550 8888 for reservations and inquiries.
19. Wild Flour Restaurant: Halloween Party 2019 at 8 Rockwell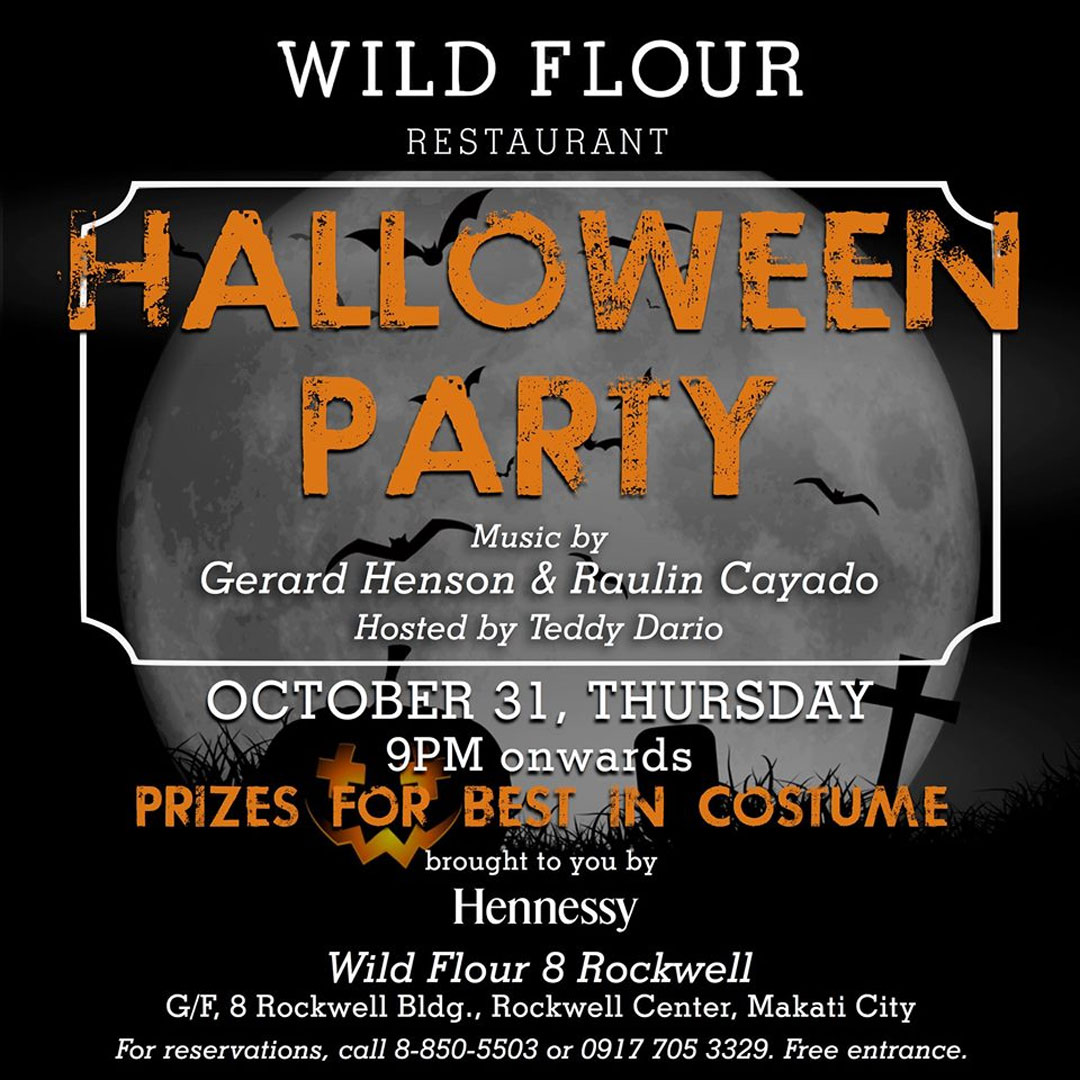 Get down on the dance floor in your costumes at The Wild Flour Halloween Party 2019 at 8 Rockwell!
Retro Night regular DJs Gerard Henson and Raulin Cayado will play your favorites from across the decades with a spooky twist from 9 PM onwards.
Enjoy happy hour on beers and cocktails all night and great prizes for the best-in-costume to be announced at 11 PM, so dress to impress! Take note that this event is free of charge.
For inquiries or reservations, call +632 8850 5503 or +63 917 705 3329.
20. BAD's Murderverse: The Baddest Halloween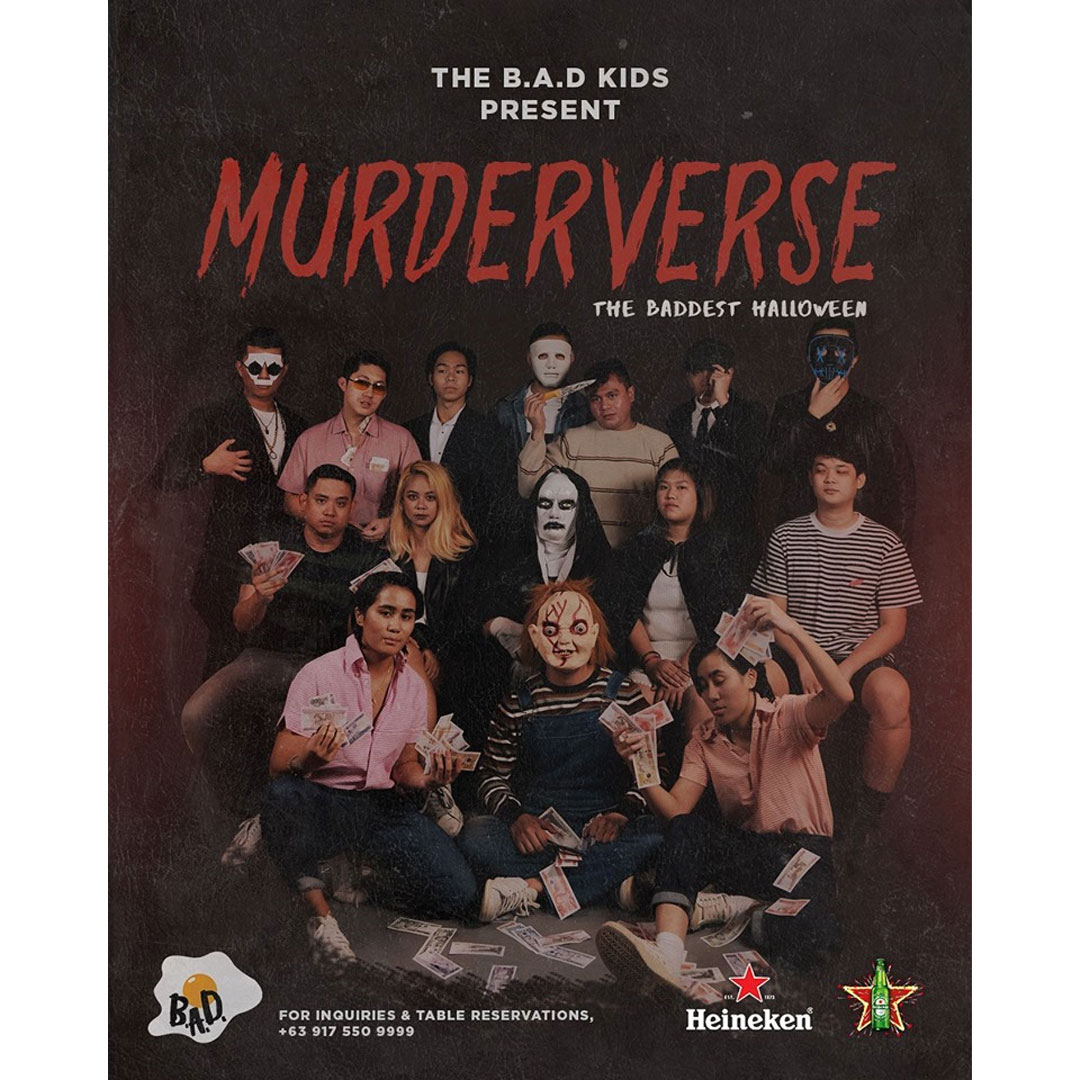 Are you bad enough to see your favorite breakfast bar transform into your worst horror movie nightmare? BAD Late Night Breakfast Bar's Murderverse on October 31, 2019, will bring back the dark, freaky, and evil core of Halloween parties.
Party with the undead, clowns, dolls, and mummies from 6 PM and beyond at BAD Late Night Breakfast Bar, The Palace Complex, Uptown Bonifacio, Taguig. Just call +63917 550 9999 for inquiries and reservations.
21. The Odd Seoul: Halloween Special, Gotham City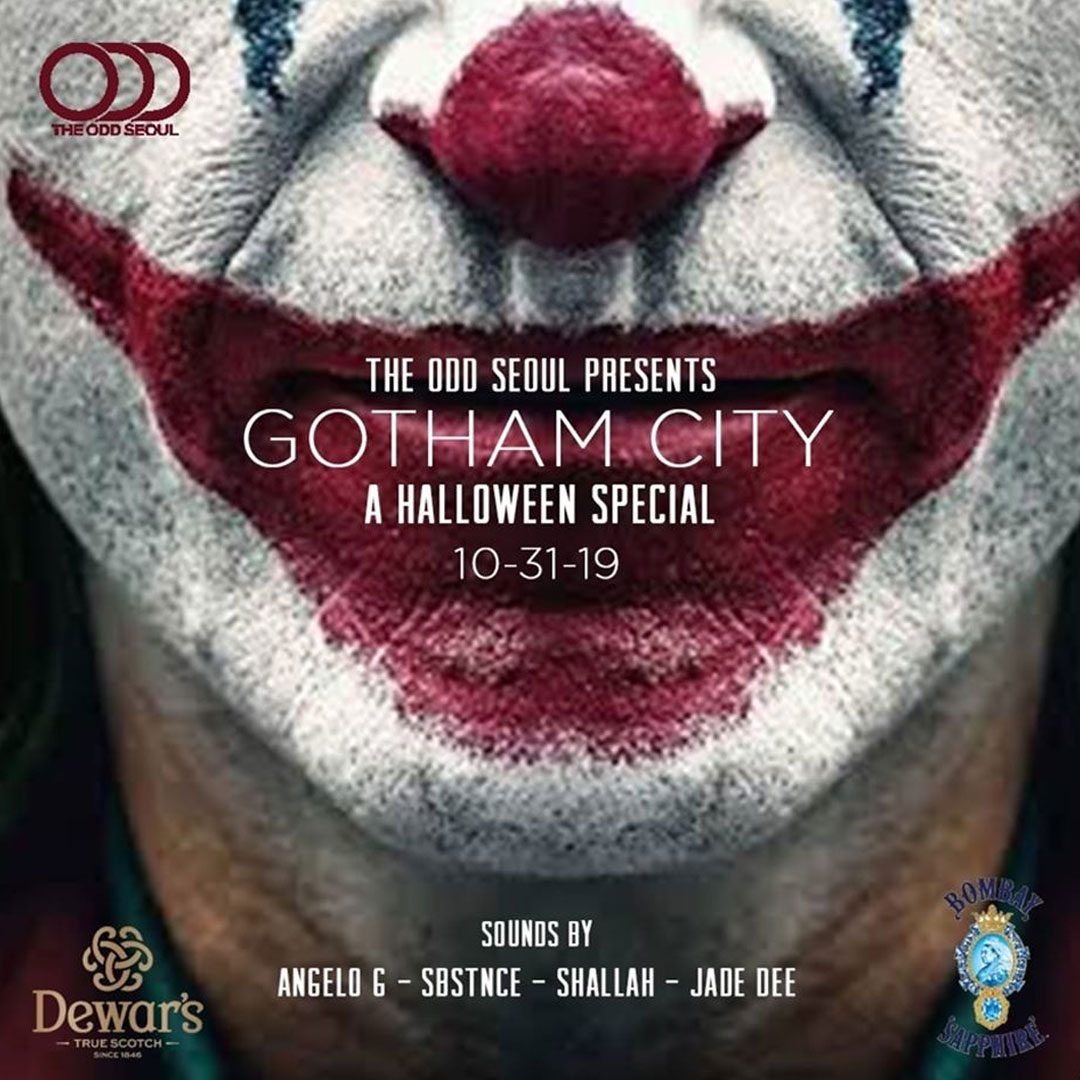 The Odd Seoul calls on the odd ones, the bad, the crazy ones, and loyal regulars to explore the dark, eerie Gotham City. The secret venue will transform from the Korean night joint to the home of DC's finest villains and heroes.
Come in decked out in whatever character from your favorite Batman iteration and enjoy the night with fellow Gothamites as you sip cocktails inspired by your favorite villains and heroes.
The event is free of charge so sing and dance your heart out and enjoy your Halloween with a twist.
(Read: Top Credit Card Promos For November 2018)
22. Mystery Manila: Intramuros Tour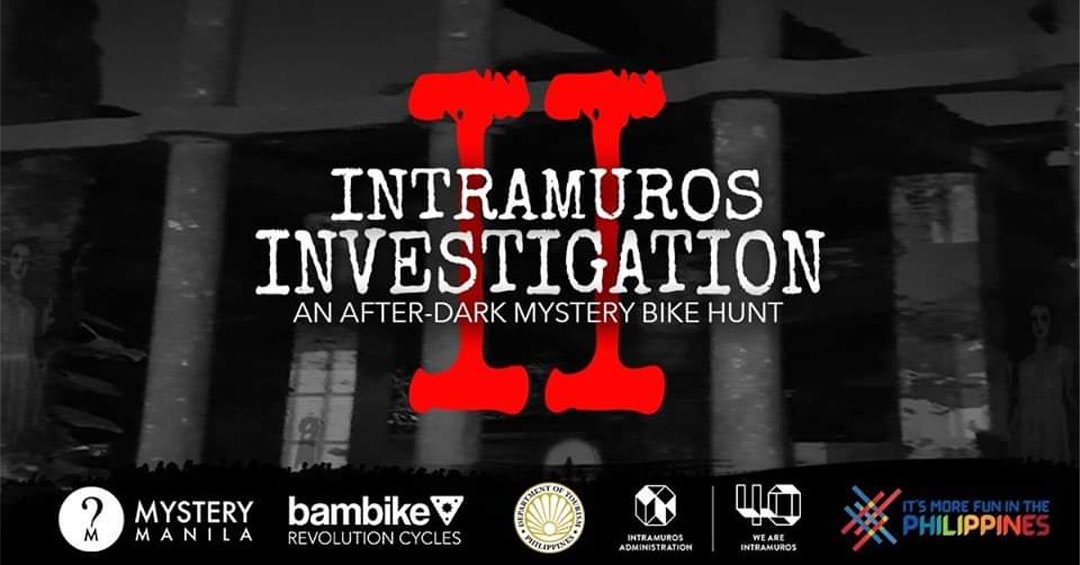 Mystery Manila, together with Bambike Ecotours and Intramuros Administration, presents a more terrifying tour in the Walled City of Manila in Intramuros Investigation 2: An After-dark Mystery Bike Hunt.
Get ready to investigate and solve the strange and spooky occurrences inside Intramuros as paranormal investigators by scouring through the dark areas of the city. The mystery hunt will run on October 25, 26, 30, and 31.
Tickets are P799 per head. For inquiries and reservations, check out the event's official page and Facebook account.
23. Holiday Inn: Behind Closed Doors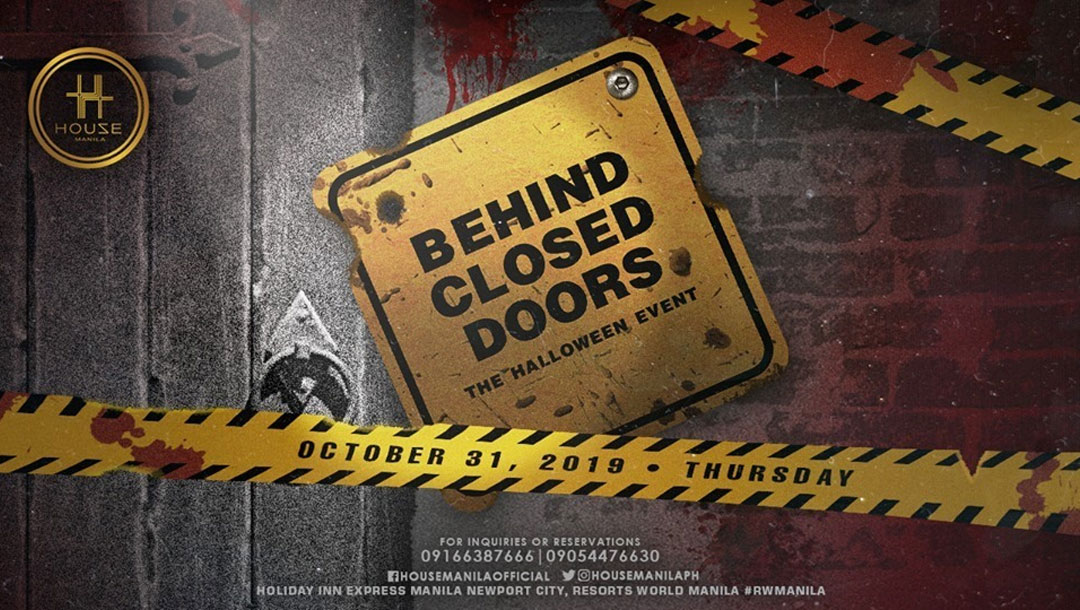 If you prefer the good ol' Halloween spook without the fancy shmancy details, head over to House Manila's Behind Closed Doors in your bloodiest and creepiest costume and get the scare of your life.
Witching hour at the Holiday Inn Express Manila Newport City, Resorts World Manila, Pasay starts at 10 PM on October 31, 2019.
Made up your mind yet? Remember that the only kind of fear the Halloween allows is FOMO on the hippest events in the metro. Now, dress to kill to gain more treats and less tricks on the dance floor. For reservations, you may contact +63916 638 7666 or +63905 447 6630.
24. Royal Night Club: The Royal Graveyard Halloween Party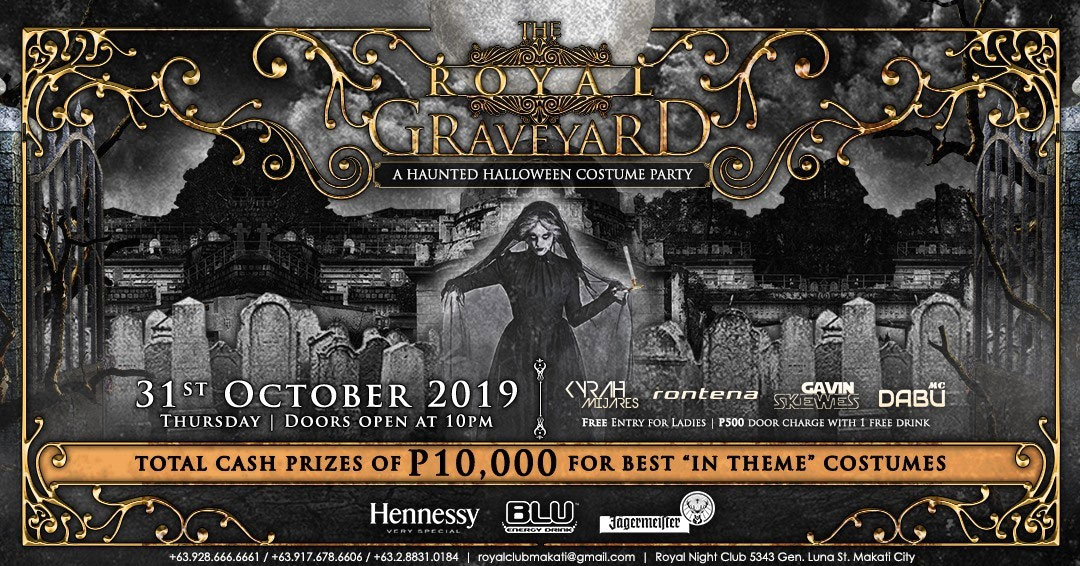 The Royal Graveyard will be open for a special Halloween party. The dead will come back to life to celebrate All Hallows' Eve with zombies, ghosts, and horrific creatures in a haunting costume party that will leave you with nightmares and good memories.
DJs for the night with Kyrah Mijares, Ron Tena, and Gavin Skewes, with MC Dabu on hosting duties, will keep you entertained for the night.
The theme for the party is scary, spooky and ghoulish. Total cash prizes of P10,000 will be awarded to the best in costume.
Door charge is P500 and inclusive of one free drink. Ladies can enter for free. For reservations and inquiries, contact +63 928 666 6661, +63 917 678 6606, +63 2 8831 0184 or email royalclubmakati@gmail.com
25. CINKO: BohoVinta PH Party 2.0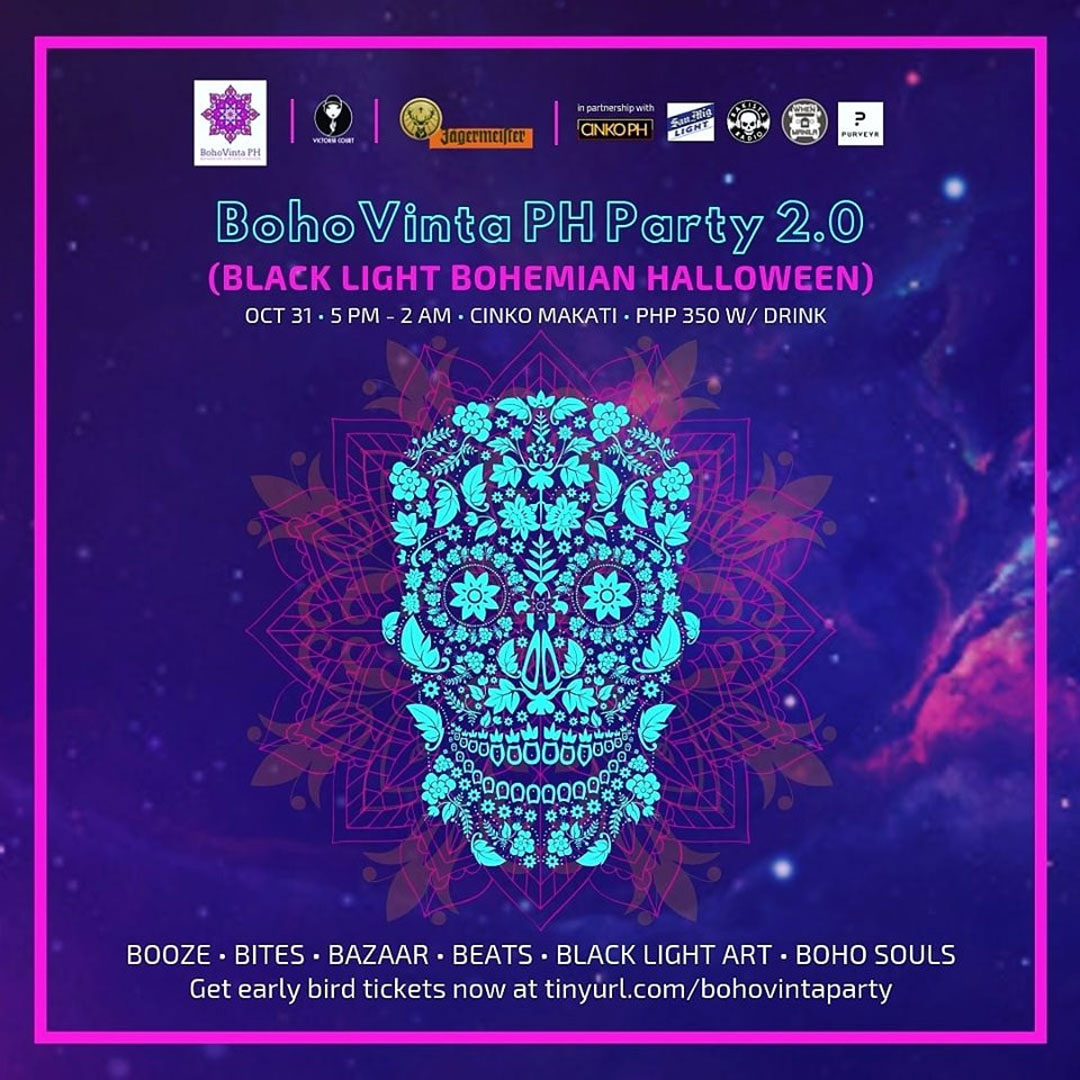 Spend Halloween on a rooftop bar and bring out your inner hippie at this bohemian-psychedelic party in Cinko.
The party offers so many attractions and activities for you and your friends to enjoy. Blacklight art, live acts, open jams, projection mapping, mandala art animation, hand-painted masks, psy-tech dance music, and many more!
Secure your tickets at the event's official page and save up to 20%. For inquiries, email info@bohovinta.ph.
26. Scout: House of Horrors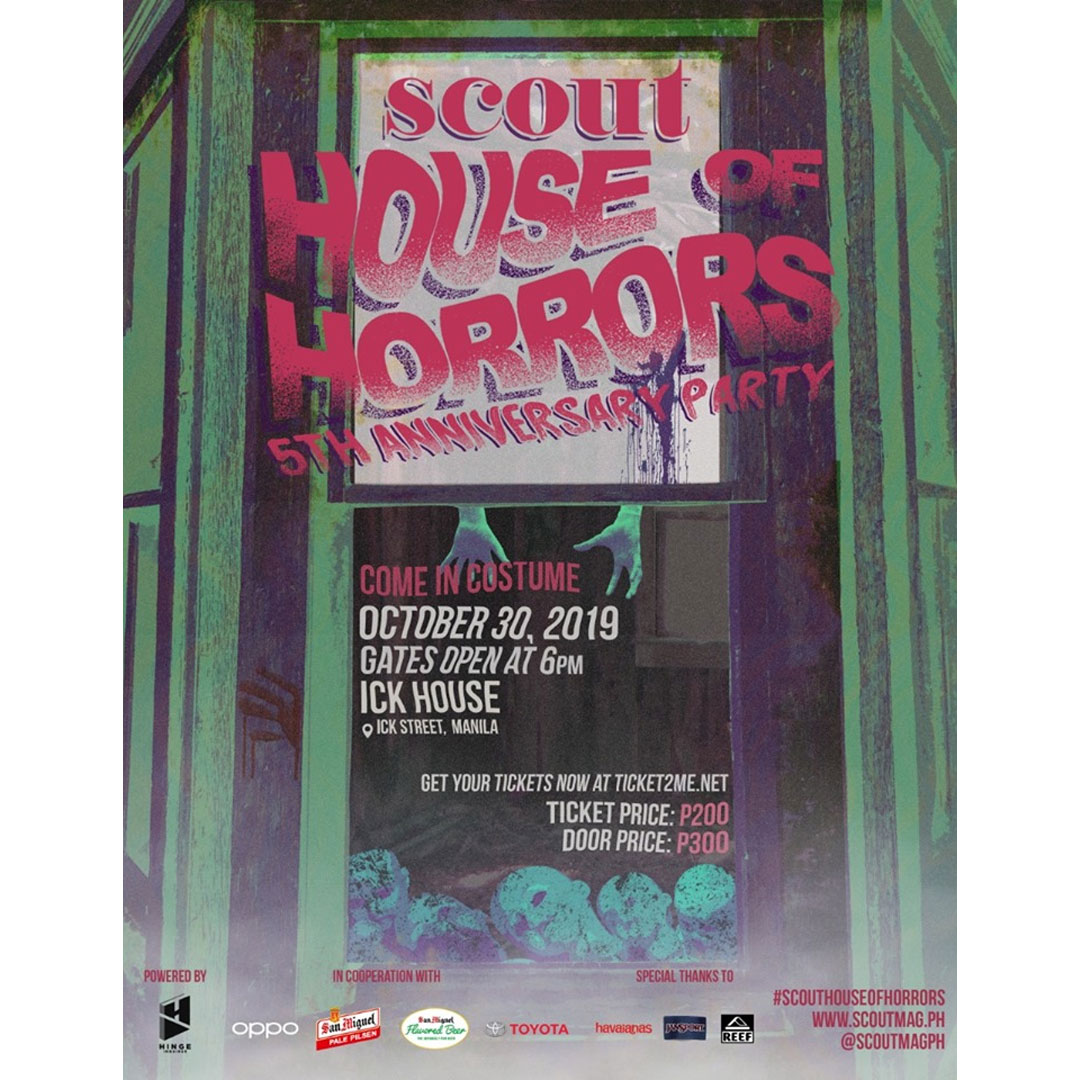 Scout Magazine is hosting a spine-chilling Halloween party of the year Scout's House of Horrors, in celebration of their 5th anniversary!
A round of games and prizes, free-flowing drinks, and a lineup of performances will happen on October 30. 2019 at the Ick Heritage House. Don't forget to don your best Halloween costumes that night.
Admission price is P200, door price is P300. Check out Scout's official websitefor more info.
27. Bahay Trese's OUIJA: Ang Mensahe ng Kaluluwa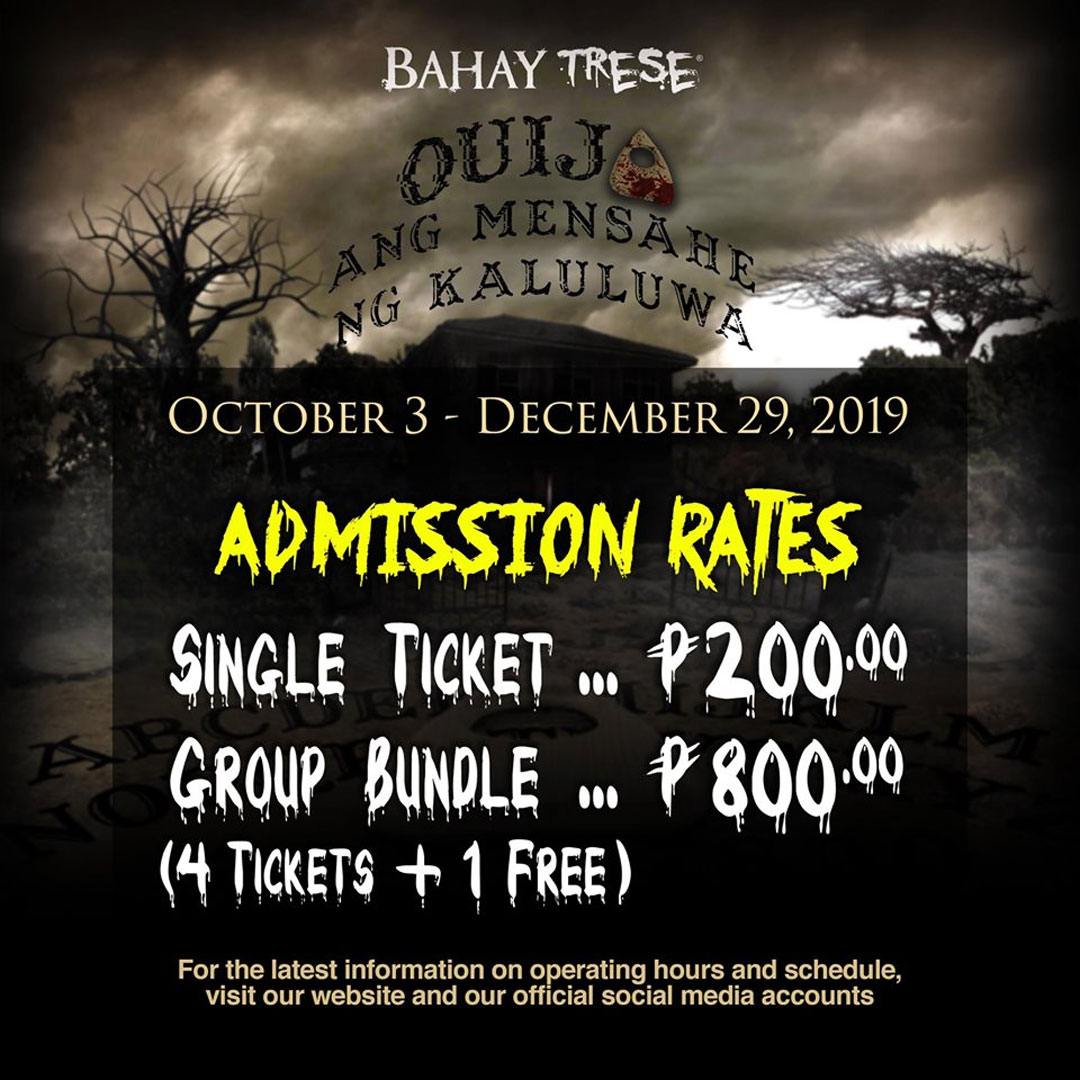 Are you up for an immersive horror house experience? Now on its 5th season the Bahay Trese horror house, inspired by real events during the Japanese era, has opened its doors this year welcoming those brave souls who are up for some close encounters with terrifying characters and a challenge to escape a haunted home.
Bahay Trese is located on the 4/F of Bldg. 3 at the Sta. Lucia Mall, Marcos Highway cor. Felix Ave., Cainta, Rizal. Admission is at P200 per head and P800 for groups of five. The event will run on selected dates until December 31, 2019.
28. Ayala Malls: Asian Horror Film Festival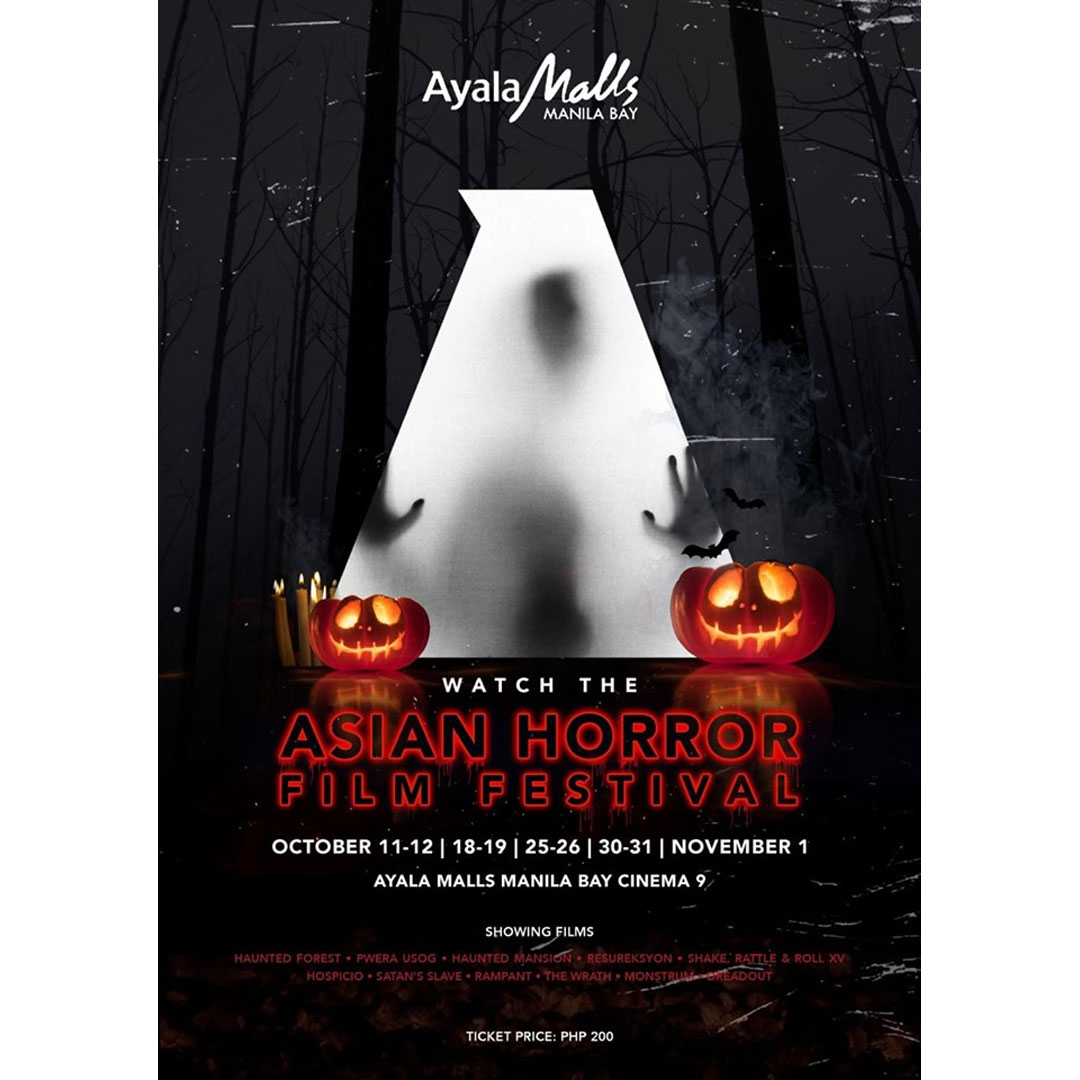 Are you an OG horror flick fan? Head your way to the nearest Ayala Mall near you and check out their Asian Horror Film Festival which features 11 Filipino, Indonesian, and Korean horror films line up.
Ticket price is at P200 and the event will run on all Fridays and Saturdays until November 1, 2019.