INFOGRAPHIC: How Much A Funeral Costs In The Philippines
6 min read
Even the dead can keep the living awake — due to the financial horrors the grieving families must face. In fact, the funeral costs in the Philippines can almost kill them as well. That's because a decent burial is already deemed a luxury.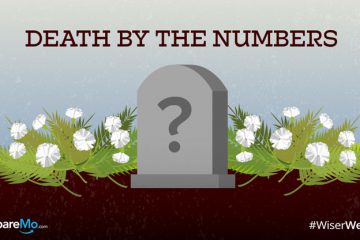 According to the Economist Intelligence Unit report, commissioned by Singapore-based Lien Foundation-in 2015, the Philippines is one of the worst places to die. The study showed that we rank 78th out of 80 countries basing from the quality of end-of-life care in the country.
Stages in traditional funeral process
Aside medicals bills (if the person was ill before death), fines/repair fees (if the person was involved with accidents or property damages), etc., the expenses never stop as the Filipinos follow a traditional funeral process:
Choosing of Funeral Package – This includes processing of death certificate, embalming, coffin, flowers, and other services from the chosen funeral parlor. Others would opt for cremation.
Wake period – It takes seven days or two weeks where relatives and friends visit the deceased. Expenses include the food and beverages for the guests.
Requiem mass – The deceased is brought to the church for readings and people from the deceased's life gather to bid a last goodbye.
Burial – The interment or burying the dead. Unless buried on public cemetery or placed in an urn, the plot is a major item on the list of expenses. Other families also choose to serve a banquet after the burial and/or after 40 days (babang luksa).
The following processes only reflects the Catholic funeral tradition, as the Philippines is predominantly Catholic. Practices from the indigenous culture and other communities have different procedures.
The recent Undas may have given you time to remember your loved ones and contemplate on life and death—whether you are ready or not for the inevitable demise. The infographic below shows the cost of dying in the country.
Breakdown of average funeral expenses
As of 2016, this is how much a burial, cremation, and other death-related expenses cost:
1. Registration of Death
This is the process of getting a death certificate from the Philippine Statistics Authority (PSA). Doctor's fee and other bills prior to the demise of the person are not included:
| Certificates | Price |
| --- | --- |
| Burial permit at public cemetery | P150 |
| Burial permit at private cemetery | P500 |
| Transfer of Cadaver | P200 |
| Documentary Stamp Tax for every receipt | P15 |
2. Mortuary care
Aside from the embalming, this also includes the setup for viewing of the deceased. The setup arrangement refers to the lamps, flowers, catafalques, and hearse (burial).
| Parlor Type | Price |
| --- | --- |
| Small funeral parlor | P8,000 – P10,000 |
| Mid-range funeral parlor | P15,000 – P250,000 |
| High-end parlors | P30,000 – P500,000 |
3. Food
Funerals call for a gathering of family and friends, and so it obliges you to be hospitable and provide food for all the guests. This includes biscuits, breads, coffee, refreshments, and sometimes, decent meals.
The expenses are based on:
Length of wake
Number of anticipated guests
What types of food to be served
The average spending for food reaches between P3,000 – P20,000.
4. Coffins
Depending on the materials used for its construction, the costs vary. Here are the average prices of coffin in the Philippines.
| Type | Price |
| --- | --- |
| Wooden | P3,000 |
| Metal | P16,000 – P35,000 |
| Stainless | P75,000 |
| Bronze | P85,000 |
5. Cremation
There are different types of cremation according to the age of the body or the portion of exhumed bones to be cremated. It differs as per the package offered by the funeral service providers.
| Type | Price |
| --- | --- |
| Regular cremation | P10,000 – P20,000 |
| Powder fine | P150,000 |
6. Urns
The price varies according to the materials used or the intricacy of the designs.
| Type | Price |
| --- | --- |
| Marble | P2,500 – P12,000 |
| Metal | P50,000 – P80,000 |
7. Columbarium
Since urns are not traditionally advised to be kept at homes, bereft families have to acquire a space in a columbarium. Price ranges from P20,000 – P150,000.
8. Clothing
The deceased is dressed in an elegant gown/shirt before being placed in the coffin. The grieving family might opt to buy one if none can be used from his/her existing wardrobe. It can cost P500 – P5,000.
Sometimes, white clothes are also bought for the whole family to be worn at the burial day.
9. Memorial Lot
The earthen space for the remains is also a huge financial decision, especially for families who chose to have their deceased buried on a private plot.
| Type | Price |
| --- | --- |
| Apartment tombs | P1,000 |
| Private lots | P65,000 – P100,000 |
| Mausoleum | more or less P1,000,000 |
| Garden Lot | P2,000,000 |
| Estate Lot | P18,000,000 |
Here are a few of the popular business brands that offer memorial plots:
Eternal Gardens
Forest Lake
Golden Haven
Loyola Memorial Park
Manila Memorial Park
The Heritage Park
10. Burial service
This covers prayer services, security, transportation, and/or live music. It can cost P5,000 – P50,000.
With all these expenses entailed, some raise funds through the passing the hats to relatives and other loved ones of the deceased or abuloy for financial aid.
In some rural areas and urban poor communities, people set up tables to host saklaan or card betting as another way to gather money aside from solicitation.
Best Funeral packages in the Philippines
Here are the package rates of some known funeral service providers:
Funeral Service Homes
Package Rates
Inclusion
Eternal Gardens
P50,000 – P80,000

Mortuary care
Transfer of body
Wake and viewing
Burial service

Golden Haven
P79,000 – P477,400 (Lawn Lots)
P522,000 – P7,228,200 (Big Inventories)
*As of 2018
Memorial Plot (of various locations)
Loyola Memorial
P15,900 – P159,000
For ages 41 to 55:

insurance coverage
cash difference benefit
memorial chapel
mortuary care
longevity of plan
transfer of cadaver
unrendered service

St. Peter
P36,800 – P105,000 (Traditional)
P66,000 – P99,000 (Cremation)
P100,00 – P300,000 (Money back*)
*20% of the price will be returned to the Planholder each year starting at 16th year to the 20th year as long as the Planholder is alive.
Life plan:

Chapel
Casket and/or urns
Mortuary care
Burial service

Funeral Link
P30,000 – P450,000

Transfer of remains
Embalming
Chapel
Registration of Death
Cremation fee
Urn with engraving
Hearse going to crematory

Arlington PH
P232,200 – P2,399,200
Full memorial service with gauge sheets or stainless steel for coffins
The Heritage Memorial Park
P224,000 – P20,160,000
Memorial plot (lawn/garden /estate)
If your living requires unbearable high cost to survive, your final resting requires hefty amount too—and the expenses never end.
After the interment, there is a tradition of nine-days after-prayer, as well as 40 days after-prayer in which family and relatives gather and hold a party of some sort.
The first death anniversary, or babang-luksa, is another reason to gather and shed some cash.
The tradition of gathering at All Saints' Day and All Souls' Day in the month of November is another time to spend on candles, flower, transportation, food preparation, tent set-up, as well as tomb and mausoleum cleaning and repainting.
Getting a memorial plan is an essential that most Filipinos often disregard. You don't want to leave your loved ones with a financial burden to provide you a decent burial. It might seem morbid to think about death ahead of time but ultimately, it always pays to be prepared.
How to be financially prepared for the expense of funeral services
Aside from your savings, build an emergency fund that can help cover any unforeseen mishaps, including loss of a family member.
Get life insurance. It spares your family the financial liabilities when the worst comes.
Get HMO or any medical insurance for your family in case they need immediate hospital care and to answer other health needs.
Applying for a memorial plan will help ease some of the burden from your grieving family.
Have concrete financial plans. Keep records of all your financial transactions and review them to adjust your spending habits.
If the deceased is a member of government insurance system such as SSS/GSIS, PhilHealth, or OWWA, process the application in claiming Death or Funeral grants.
NOTE: Except for the death certificate, the prices of items presented are only estimate and may vary according to the service providers and other factors.