Which Industry Has Made The Most Number Of Filipino Billionaires?
4 min read

As global markets tip the scales, billionaires around the world come and go.
According to Forbes, 221 of the world's wealthiest were bumped off its 2016 Richest list, while 198 new entries from diverse industries have risen to the ranks.
Forbes' most recent tally of dollar billionaires sees 11 Filipino tycoons making the cut. And while they're no strangers to the prestigious list, hardly anyone of them turned their millions into billions overnight either.
The wealthiest Pinoy businessmen and their families accumulated their wealth through stakes encompassing various sectors, from retail to real estate, banking and finance, distribution, and energy. The chart below shows the top four contributing industries heavily favored by Forbes billionaires: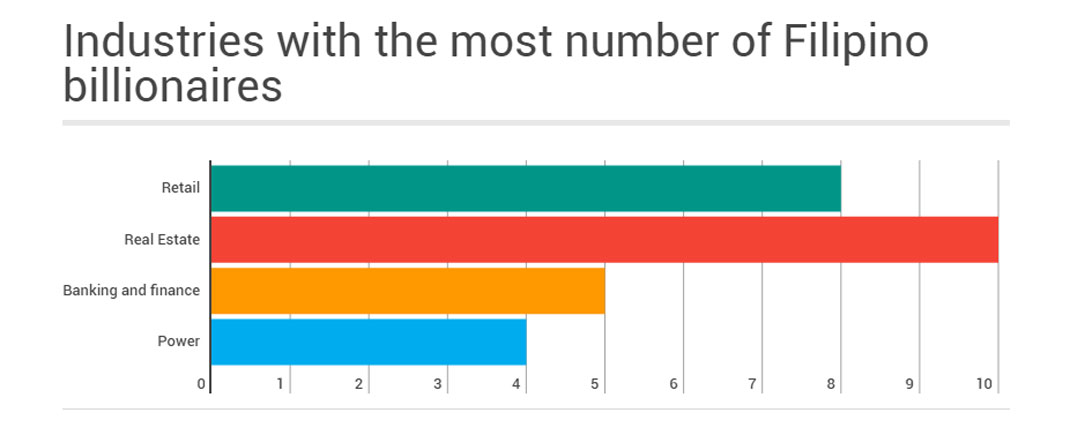 If you're planning to start an enterprise yourself, it might be a good idea to pattern your line of business after these Pinoy businessmen's most lucrative ventures. Below are the Philippines' richest billionaires of 2016, ranked accordingly, and the business segments they've made a fortune from.
Henry Sy Sr.
Rank: 71
Net worth: $12.9 billion
Major sources of wealth: Retail, real estate, banking
It's no coincidence that the richest man in the Philippines owns the largest conglomerate in the country, SM Investments Corp. The company has interests in real estate development (SMDC), retail (SM Malls), as well as banking (BDO). Sy also has a stake in the National Grid Corporation.
John Gokongwei Jr.
Rank: 270
Net worth: $5 billion
Major sources of wealth: Retail, real estate, banking and finance, energy
From his humble beginnings of producing cornstarch, Gokongwei grew his empire with interests in food and beverages (Universal Robina Corporation), airline (Cebu Pacific), telecoms (PLDT), property development and hotels (Robinsons Land, UIC), banking (Robinsons Bank), energy (Meralco), and petrochemical (JG Petrochemical). He also owns a stake in Robinson Retail Holdings, with franchises for international brands such as Toys R Us, Topshop, True Value, and Daiso.
Lucio Tan
Rank: 380
Net worth: $4 billion
Major sources of wealth: Property development, airline, banking, beverages, tobacco
Tan's LT Group has stakes in Asia Brewery, Philip Morris-Fortune Tobacco, and Philippine National Bank. In 1995, he became chairman and CEO of Philippine Airlines, the oldest airline in Asia. The LT Group regained full control of the company in 2015 after it was taken over by Ramon Ang's San Miguel Corporation's in 2012.
George Ty
Rank: 421
Net worth: $3.7B
Major sources of wealth: Retail, banking and finance, insurance, automotive
Metrobank, the bank Ty founded in the '60s after numerous failed attempts at securing a loan, is now the second largest banking firm in the Philippines, next to Sy's BDO. Ty's GT Capital Holdings also has stakes in energy (Global Business Power Corporation in the Visayas), automobile distribution (Toyota), life (Philippine AXA) and non-life insurance (Charter Ping An), and real estate (Federal Land).
David Consunji
Rank: 569
Net worth: $3 billion
Major source of wealth: Real estate. utilities, mining, infrastructure
Consunji's DMCI Holdings enlists construction as its core business, but the company also has interests in utilities (Maynilad and DMCI Power Corporation in the Visayas), mining (SMPC and DMCI Mining Corporation), and infrastructure (Private Infra Dev Corporation-TPLEX).
Andrew Tan
Rank: 569
Net worth: $3 billion
Major sources of wealth: Real estate, fast food, beverage, tourism and gaming
Behind real estate and community development giant Megaworld (Eastwood City, Newport City, McKinley Hill, Forbes Town Center) is Dr. Tan's holding company, Alliance Global. The group also has interests in quick service restaurant (McDonalds/Golden Arches Corporation), food and beverage (Emperador), and tourism and gaming (Travellers International Hotel Group, developer of Resorts World Manila).
Tony Tan Caktiong
Rank: 569
Net worth: $3 billion
Major sources of wealth: Fast food, real estate
He's the most successful Filipino restaurateur to date, and all his wealth is built on Jollibee, the fastest-growing Asian fast-food chain in the world. Tan Caktiong's Honeystars Holdings Corp., is also into property development in the Visayas region through DoubleDragon Properties Corp., a joint venture with Injap Sia's Injap Investments Corp.
Enrique Razon Jr.
Rank: 722
Net worth: $2.4 billion
Major sources of wealth: Ports, hospitality, tourism and gaming
Enrique Razon operates the largest port in the country through International Container Terminal Services (ICTS). He also chairs Bloomberry Resorts Corp., the operator and developer of Solaire Resort & Casino.
Lucio and Susan Co
Rank: 1,121
Net worth: $1.6 billion
Major sources of wealth: Retail, distribution, real estate, oil and minerals
The husband-and-wife team successfully grew one supermarket into a chain of hundreds of neighborhood groceries and hypermarkets, making Puregold the second largest retailer, next to SM. Despite this, the couple is known to earn modest salaries, making them among the "poorest" billionaires in the country. The Cos' Cosco Capital Inc., holds a stake in retail (S&R, Liquigaz, Office Warehouse), imported liquor and beverage distribution (Red Bull, Chivas, Absolut, Jack Daniels, Smirnoff, and Patron), real estate (Fairview Terraces in QC; Harbor Point in Clark; 999 Shopping Mall in Binondo), and oil and minerals (Alcorn Petroleum and Minerals).
Robert Coyiuto Jr.
Rank: 1,121
Net worth: $1.6 billion
Major sources of wealth: Insurance, energy, automotive
Coyiuto Jr. spearheads Prudential Guarantee & Assurance and has a 30% stake in National Grid Corporation of the Philippines. The magnate also chairs PGA Cars, Philppine distributor of luxury cars Bentley, Audi, Porsche, and Lamborghini. –Diana Lyn Balbalosa