BDO
BDO is the largest bank in the Philippines in terms of consolidated resources, consumer loans, deposits, assets, and number of branches and ATMs nationwide. It is a member of the SM Group, one of the country's biggest conglomerates.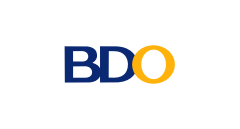 BDO Corporate Center
7899 Makati Avenue
Makati City 0726, Philippines
Description Of Company
As a full-service universal bank, BDO has established successful relationships with clients through its high standards and value-added products and services. It has more than 1,200 operating branches and over 4,000 ATMs nationwide as of June 2018.
BDO has grown both organically and through selective acquisitions, and continues to expand with its team of esteemed managers and bank officers.