Valentine's Day 2018: 11 Budget Romantic Date Ideas
6 min read
Even though Valentine's Day 2018 falls on a Wednesday, that's not a reason for couples to stop making plans to celebrate.
The fact that it's a day short from payday may be a letdown, but worry not, because we're here to help you with some creative ways to spend a romantic Valentine's date on a budget.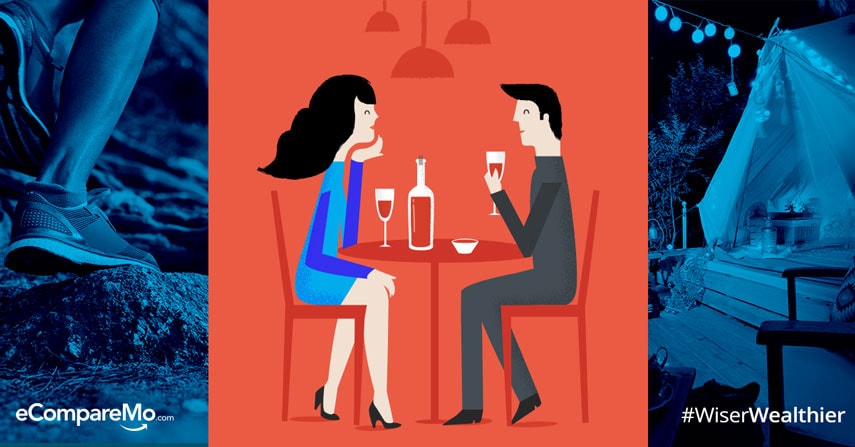 Maybe you can wait until payday, or maybe not, but these budget romantic date ideas will make you realize that you can still have a great date no matter the budget, you'll only need to be creative. Here are some Valentine's Day events, promos, and ideas on how to best spend the day with your better half.
1. Food trip
If you're just going for the traditional dinner date on Valentine's day, you can make it extra special by going to different places to search for the best food in town.
Make sure you set that reservation ahead and go all out on Valentine's day in dining at your favorite restaurants and eat your happy hearts out.
Depending on where you're planning to dine, a P2000 budget for both of you should be reasonable enough.
Metrodeal Valentine's Day Deals: 
P888 for a Valentine's Steak House set dinner at the Ace Hotel Sky Garden
P395 Ace Hotel`s Sky High Bar instead of P500
P1399 set candlelit dinner for two at Berjaya Hotel, Makati
P2400 four-course dinner with serenade at The Lake Hotel Tagaytay
P3899 Yacht cruise with dinner along Manila Bay
P499 Buffet 101 at Mall of Asia, Glorietta, Robinson's Magnolia, and Cebu
Hotel Valentine's Day Deals:
Avail of Makati Diamond Residences' offer of P1600 per person, Valentine's Day buffet at Makati Diamond Residences
A Valentine's Day Lunch and Dinner at P1900 net per person at Flavors Restaurant, Holiday Inn and Suites, Makati
La Vie en Rose at Novotel Manila Valentine's dinner buffet, at P2500 net per person, while being serenaded by live performers, and a special Valentine's Day gift from the Executive Pastry Chef of Novotel Manila Araneta Center
I'M Hotel Makati's promo of buffet and one-hour full body massage for only P1800 net per person
Golden Phoenix Hotel Manila promo staycation at their suite, with candlelit dinner for two with a bottle of wine at Gold Spices Restaurant. You may also go for their massage, available 24/7 for a relaxing and enjoyable Valentine's day staycation.
2. Hiking
Couples who love the outdoors are always ready for a lot of excitement in their relationship, whether there's a cause for celebration or not. If you both need a reason to go hiking again, one Valentine's intimate date idea would be to take on one of the lesser climbed trails such as Mount Kibuñgan in Benguet, Mount Kupapey, in Mountain Province, or Nagsasa Cove, in Zambales.
3. Picnic by the beach with wine/booze
Find a quiet spot you can place a beach blanket with your special someone and crack open a couple of cold ones. Even if it's just matched with chips, what's important is you do it together. Bring some speakers, lay back, and enjoy spending quality time under the stars. There's really nothing like the sound of the waves crashing, stargazing, and some good conversation with your favorite person.
If, say, you're going to do this in a place like San Juan, La Union, you won't be spending more than P3500 each, including an overnight stay and roundtrip bus fare.
4. Glamping
Glamorous camping is getting more popular nowadays, so what better way to spend Valentine's day with your partner than in a nature setting with a cozy version of camping. Some places you can go for Glamping are Crystal Beach in Zambales, or at San Rafael River Adventure in Bulacan.
The Glamping budget starts at P2000 for an overnight stay.
5. Go beer tasting at a local brewery
For the couple who loves alcohol, take a break from all the usual drinking sessions at the same old bars, go craft beer tasting instead. Try some of these places that have the widest selection of locally-made beer in the metro.
The Brewery at The Palace, BGC
Tap Station- Padre Faure Ermita, Forbes Town BGC, Circuit Makati, or at Twin Lakes in Tagaytay
BeerHouse Kapitolyo Brewing Co.
Fred's Revolucion in Binondo, Manila
Have fun and go easy on the drinks!
6. Vinyl record hunting
If you're both into music, go vinyl record hunting and add more records to your collection. If you've no idea where to go, there's Treskul Records in Mandaluyong, Satchmi in Ortigas, and Vinyl Dump Thrift Store in Cubao Expo.
7. Museum tour
The National Museum of the Philippines is free for everyone, including foreign visitors, which is good news for anyone who also feels like there's just not enough time to explore the place. And since Valentine's Day is on a Wednesday, maybe you can take a day off and spend some quiet time getting lost in all of the history and art with your loved one.
8. Roofdeck bar 
Lounge, dine, and enjoy the view of Makati from the 32nd floor of the City Garden Hotel in Makati Avenue. The name of their roof deck bar is Firefly. And granted that you find a seat there during Valentine's day, you will surely enjoy a quiet moment and chill drinking with your significant other. If you're not going to drink so much, you can spend around P1500 for a nice and filling dinner for two.
There's also Bay Leaf, a roofdeck bar in Intramuros that's still pretty lowkey. You can spend around P700 – P800 per person in this quiet and lesser known place for Valentine's Day.
9. A staycation
If one day just wouldn't cut it for you both, there's lots of affordable hotels and Airbnbs you can book for a nice getaway staycation. You can order breakfast in bed the next day, and just enjoy lazing about in your sleep wears. You'll not only get to avoid Valentine's day traffic, you also get to spend an extended lazy quiet time with your loved one.
10. A spa day
Book a spa package as early as now if you want the ultimate relaxing session for Valentine's day. As the streets fill up with a lot of people and traffic gets worse by the hour on February 14th, you and your partner will be indulging in massages and ultimate relaxing treatments.
And if you'd rather stay at home but still want that spa experience, there's the Spa-on-demand app Zennya where you can have massage therapists come to your place and give you that much needed rest and relaxation.
11. A round or two of karaoke
Because who says Valentine's Day is only for couples, singles are in on the fun too! There's always karaoke. After all, music loves you, music has and always will be with you no matter what, so invite all your single friends and be merry on this day. You'll always find great ways to celebrate the love you give to yourselves and to each other, no matter what day it is.