Best Budget Destinations Near Metro Manila
6 min read
Dreaming of traveling more this year? While dreaming of and saving up for that exotic trip abroad is a valid life goal, it is not the only way to travel. Why not also plan a few trips to some budget-friendly destinations that are near Metro Manila?
Who says you need to be spending a lot of money to have fun? You only need to be creative. Starting with only a 1,000-peso travel budget, you can visit these destinations any time of the year.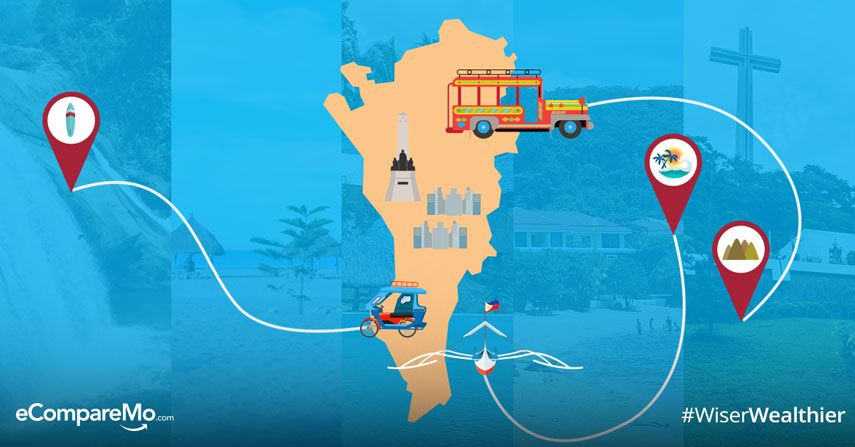 Mount Samat, Bataan
History and nature meet in Bataan, where you can go on a day trip with only a 1,000-peso travel budget.
See Mt. Samat and visit the Dambana ng Kagitingan, the historical Shrine and its museum, built in memory of those who fought and died during World War II.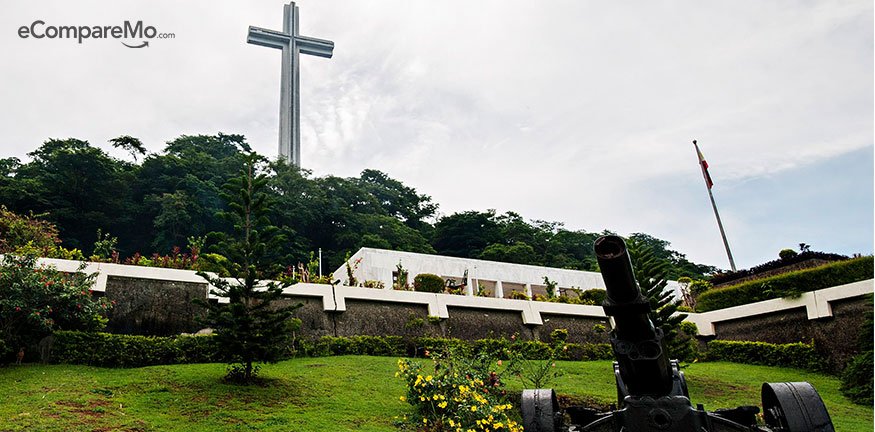 A sample itinerary to Mount Samat would look like this:
| | |
| --- | --- |
| Details | Price |
| Five Star bus from Cubao to Balanga, Bataan | P186 |
| From Balanga, Take a tricycle to Mount Samat | P100 |
| Entrance to Mount Samat, including the Museum at Dambana ng Kagitingan | P100 |
There's also the Heritage Tour of Las Casas Filipinas de Acuzar, which you can take in one whole day. Go back in time and see the areas restored Spanish-Filipino heritage mansions. There are guided tours, starting at 9:30 AM, which you can take to learn more about the origin and history of these houses.
Las Casas is also a great place for a food trip as it has three restaurants that serve a variety of delicious Filipino and international food. After the tour and a good meal, you can also head out and lounge by the beach.
The admission fee at Las Casas is around P1,500 per person, but it includes the guided tour and some refreshments. You may also opt for a whole day tour which costs P2000 from Monday to Thursday, and P2500 during Friday to Sunday. This gives visitors the experience of a walking tour combined with a river cruise and a kalesa ride. They also get lunch and access to the Hotel de Oriente.
Batangas Beaches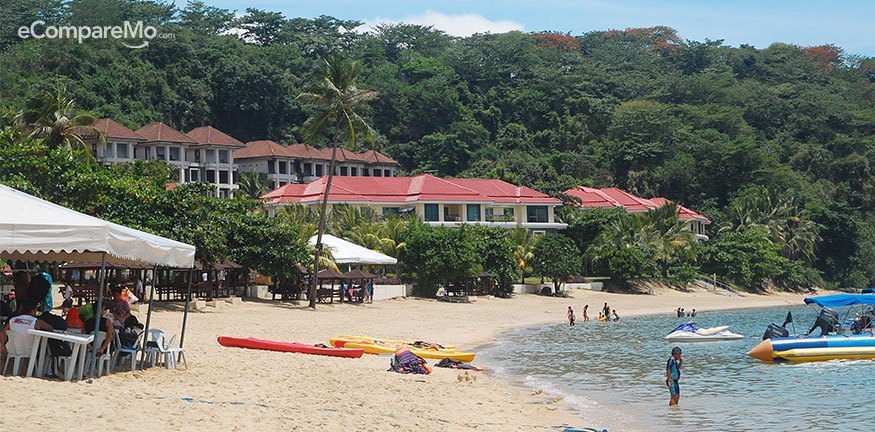 Batangas is only about an hour away from Manila and it's full of affordable travel spots. For a budget range of P1000 to P3000, you can stay at affordable beach resorts and enjoy a lot of fun activities.
Sombrero Island in Tingloy, Batangas, is not just a great snorkeling spot but it's also a hiking spot.
For beginner hikers, there are also the gentle slopes of Mount Gulugod Baboy to climb. You'll have a 360-degree view of the surrounding landscape, and, once you're done taking it all in, you can set up camp at a nearby beach.
For a better idea of what Batangas beach resorts have to offer, we've compiled a list of the best places you can go to in Batangas.
Crystal Beach in Zambales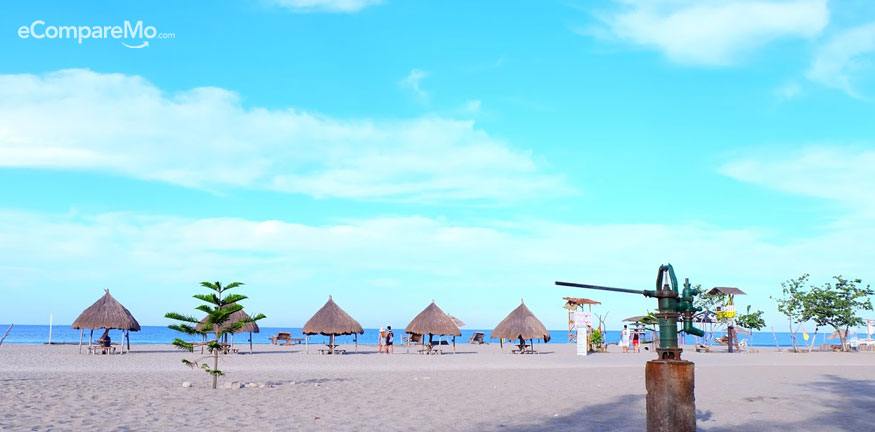 This beach resort is located about four miles away from Metro Manila and is a great place to chill, relax, and enjoy the stunning coastline and beautiful waters of the province of Zambales.
Here are a sample itinerary and basic budget for a stay at Crystal Beach:
| | |
| --- | --- |
| Details | Price |
| Regular Victory Liner trips to Iba, Zambales | P290 |
| From San Narciso Church, take the tricycle to Crystal beach – 10 – 15 minutes travel time | P20 |
| Camping | P850 per night |
Here's a budget-friendly travel tip, you can save more money by bringing your own food. Crystal Beach has a designated grilling area where guests can prepare and cook their own food. There is, however, a corkage fee for drinks at P50 per bottle.
While the camping fee for Crystal Beach is P850 a night, they also have another option for those don't feel like roughing it. You can opt to go Glamping – short for Glamorous Camping, for a fee of P2500 for two people.
You can also choose to stay for just the day and rent a kubo by the beach for P1000. They also have other kubo's and cabins available for overnight stays. You can book these at the Crystal Beach website.
Crystal Beach activities and costs:
Surfing – costs P400 per hour, inclusive of board and instructor's fee
Island hopping – see Capones Island and Anawangin Cove. Ask the Crystal Beach receptionist to get the latest price
Waterfalls hike – Ask the Crystal Beach receptionists to for more details
Volleyball, Basketball, Table Tennis, Billiards, at P100 per hour, or per game
Kayaking – P250 per hour
Bonfire by the beach
La Union
If you're into surfing, a budget of P2500 overnight stay in San Juan, La Union should be enough. You can stay at a hostel or a private room for around P500 to P600. There's a lot of affordable places to stay while you're in La Union.
Activities are not limited to surfing, however, especially when you're with your friends. The itinerary for a typical trip to San Juan will look like this:
Details
Price
Bus to Sebay, San Juan, via Vigan
Partas Bus, P436, Domininion Bus, P398
Go down in front of Sebay Surf Resort, or wherever you choose to stay in San Juan

The Circle Hostel, P600 per night, dorm room

Balay ni Elizabeth, P500 per night, private room with aircon

Surfing lessons
P400 per hour, inclusive of board and surf trainer
Meal
Meals cost around P100 to P200, on beachfront restaurants and cafes
You can also take a hike to Tangadan Falls in San Gabriel. The cost for a tour guide is P500, not including the tricycle fare to San Gabriel. You would save more money if you go in a group.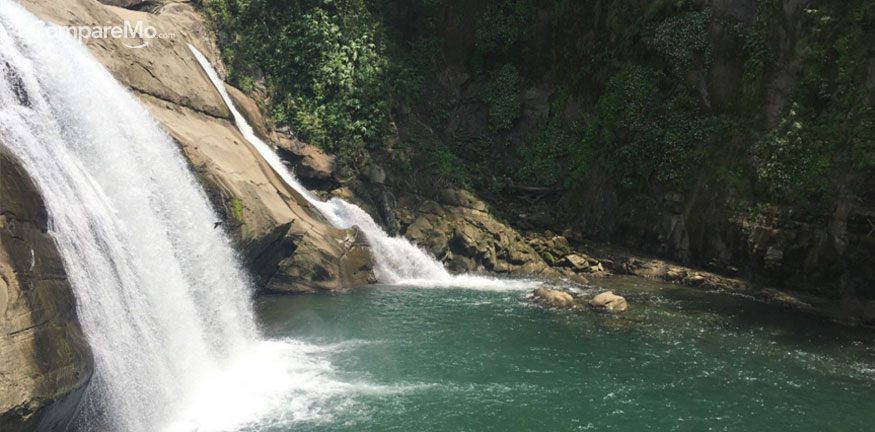 Villa Filomena Natural Spring Resort in Cavite
Indang, Cavite is only two hours away from Metro Manila. Here's where you can find the serene and peaceful Villa Filomena Natural Spring Resort. If you need a quick getaway from the city, you can easily explore this place without breaking your budget.
Here's a sample itinerary for an affordable and hassle-free nature trip:
| | |
| --- | --- |
| Details | Price |
| Take a bus to Indang or Trece Martires from Southwest Integrated Provincial Transport System (IPTS) Terminal, or a Jasper Jean Bus from EDSA-Shaw to Dasmariñas, Cavite | P56 for Jasper Jean Bus |
| Jeep to Indang, Cavite | Estimated at P30 |
| Take a tricycle to Villa Filomena | P30 |
| Daytime entrance, from 7:00 AM – 5:00 PM | P150 Adults, and P100 for children 3 – 8 years old |
| Overnight entrance from 7:00 PM – 5:00 AM | P210 Adults, and P150 for children 3 – 8 years old |
| Gazebos | Rates start at P700, for 9 persons |
| Kubo with Room | Rates start at P2500, for 4 persons |
The total estimated fare is at P200. There are also airconditioned rooms, tree houses, and bigger kubos that you can stay in depending on the number of people you're going with.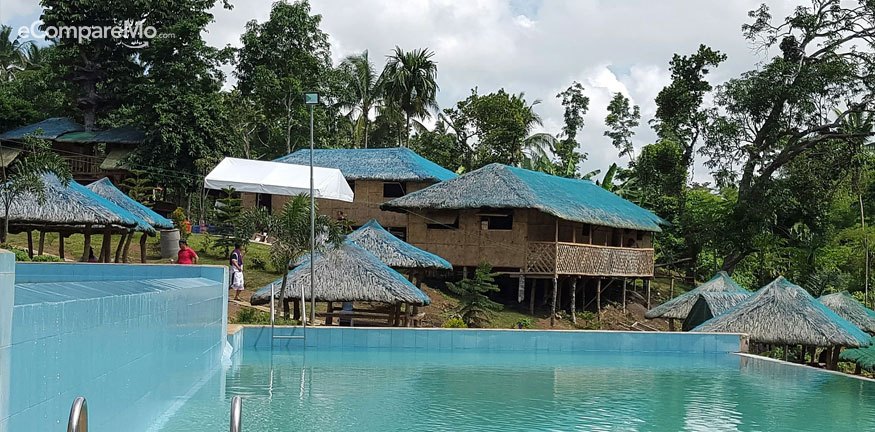 You and your companions can swim in natural spring water, either in the resorts two infinity pools or in the lake.
Here are some other activities you can indulge in:
Paddle Boat – P100 for 30 minutes
Zipline – P200 per person
Trampoline – P50 for 25 minutes
Videoke – P800 rental fee
Do you have other places in mind to go to this summer? Share them in the comments below!