The 10 Best Luxury Hotels In Manila
4 min read
People with good taste are always on the lookout for the best luxury experiences that money can buy. And Manila can offer all they want; if one knows where to look.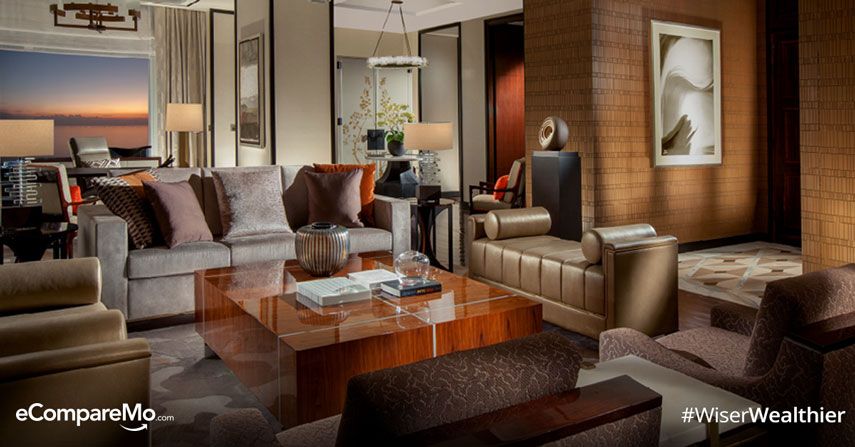 Here are the 10 best five-star hotels in Metro Manila, in no particular order. They're not only known for their spacious and classy interiors, but also for world-class services and the world-renowned warmth and hospitality that can be found only in the Philippines.
1. Sofitel Philippine Plaza Manila
Formerly known as the Philippine Plaza, it was built during the Marcos administration to host foreign delegates. Though its name may have changed, it remains one of the most luxurious 5-star hotels in Metro Manila because of its central location to Manila Bay, classy interiors, and world-class services.
Their Imperial Residence Suite is famed as the most expensive hotel room in Manila, priced at P300,000 per night. It is a modern and upgraded version of former First Lady Imelda Marcos' Presidential Suite, which she designed herself.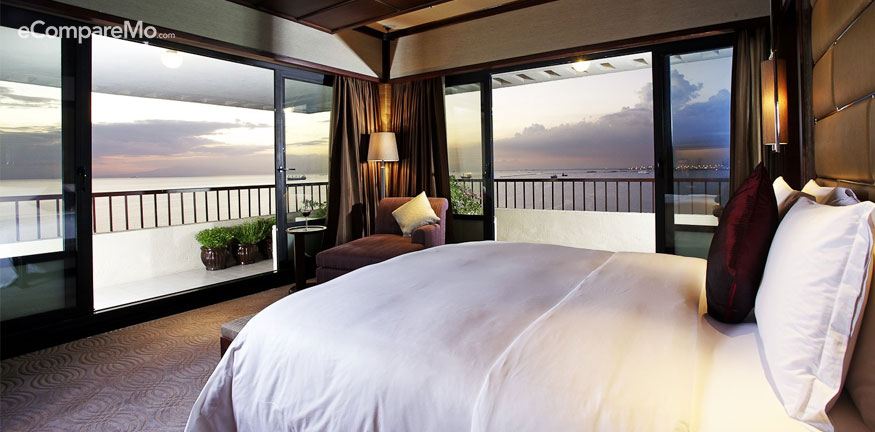 Sofitel room rates start at P8598 per night, inclusive of a free buffet breakfast for two at their famous flagship restaurant, Spiral.
2. Manila Marriott
Located in a prime location in front of the airport in Pasay, the Manila Marriott offers superb accommodation with their spacious rooms and all the five-star amenities you need. There is a nearby golf course and Resorts World is also just right next to the hotel.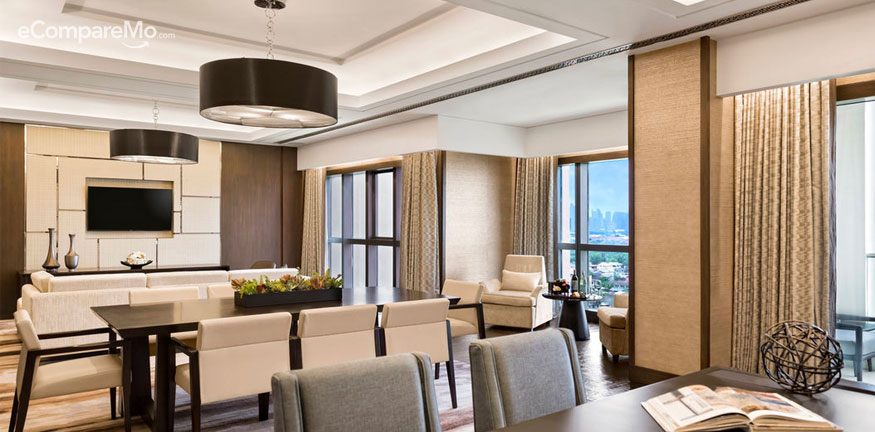 Room rates start at P12,500 with free breakfast for two.
3. The Peninsula Manila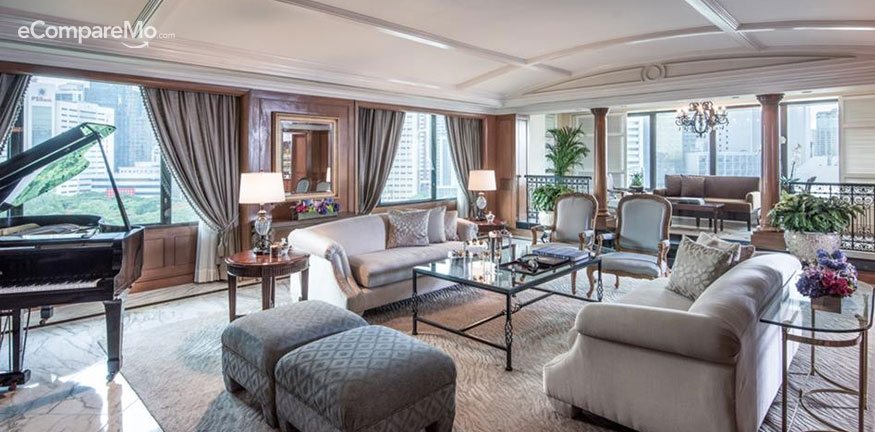 Right in the middle of the Central Business District in Makati lies The Peninsula Manila. Its beautiful waterfall façade is a fitting introduction to the class and sophistication that guests can experience inside the hotel. It's one of the long-standing luxury hotels in Metro Manila and established its name by providing stellar food, and other five-star amenities and services.
Rates start at P6,000 per night for their Premier Suite and go up to P120,000 for their Peninsula Suites.
4. Maxims Hotel – Resorts World Manila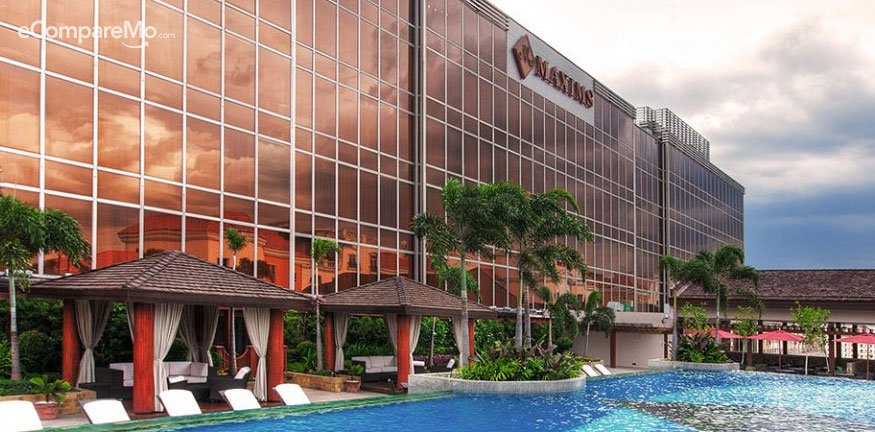 Everything about Maxims Hotel is first class. From room service that goes the extra mile, to world-class food and amenities, everything just spells five-star.
While it may be in Resorts World, its facilities are not limited to casino-goers but are open to anyone who wants to experience luxury at its finest. Their rooms start at P17,000 per night, subject to changes and availability.
5. Shangri-La Hotels Manila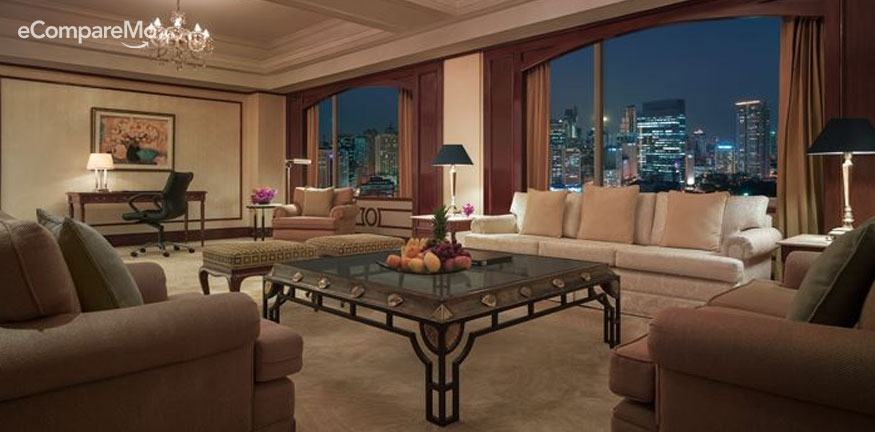 One of the most popular hotels in Manila is the chain of Shangri-La hotels located at prime locations throughout the city –  in EDSA-Shaw, Ayala Avenue Makati, and The Fort. The Shangri-La Hotels are synonymous with luxury and world-class standards, having established their name in the Philippines for many years now. Though located in the busy areas, stepping inside the hotels transports you to another place entirely, living up to their narrative of providing a "luxurious sanctuary" in the middle of the busy metro.
A Makati Shangri-La Horizon Deluxe Room starts at P13,800, which comes with exclusive access to the club lounge, with night buffet and free breakfast for two.
6. Crown Towers Manila
City of Dreams hosts three luxurious hotels, and one of these — Crown Towers, is the newest luxury hotel in Manila. Its two towers, the Tower Suites and Resorts Tower, provide guests with 254 rooms to choose from with fantastic views and attentive staff ready to provide a truly five-star hotel experience.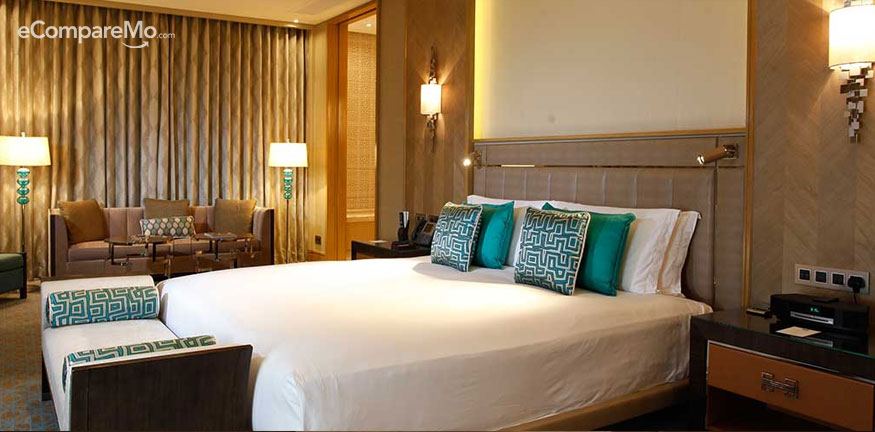 Their Deluxe King room starts at P19,000 with breakfast.
7. Hyatt – City of Dreams Manila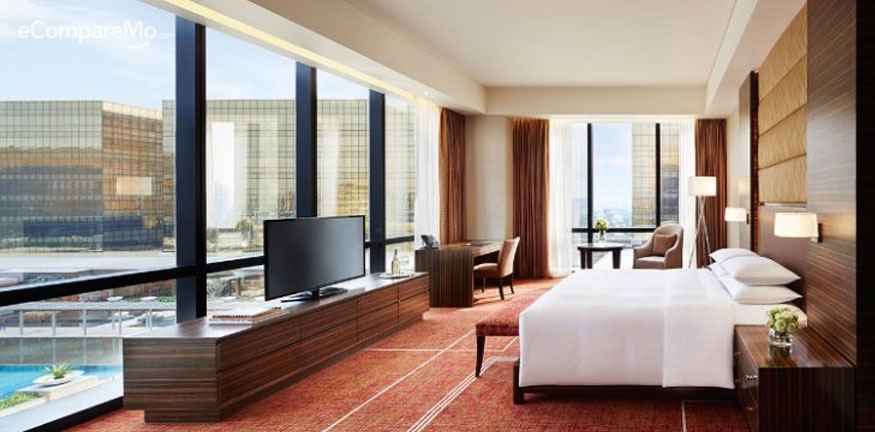 The Hyatt hotel chain is known for its world-class services and luxury accommodations. In Manila, Hyatt is located in the City of Dreams, an integrated resort and casino. It is also conveniently located five minutes away from the airport and ten minutes from Mall of Asia.
Rates start at P10,000 inclusive of free breakfast for two.
8. Okada Manila
Okada may be new to the game, but they've already raised quite a stir, being the largest resort casino in the Philippines. Boasting of 993 luxurious suites and villas, Okada provides the best in entertainment experiences with its shopping and dining strips, and an in-door beach club you can lounge in. They are currently adding more facilities to provide a one-stop entertainment complex for everyone to indulge in.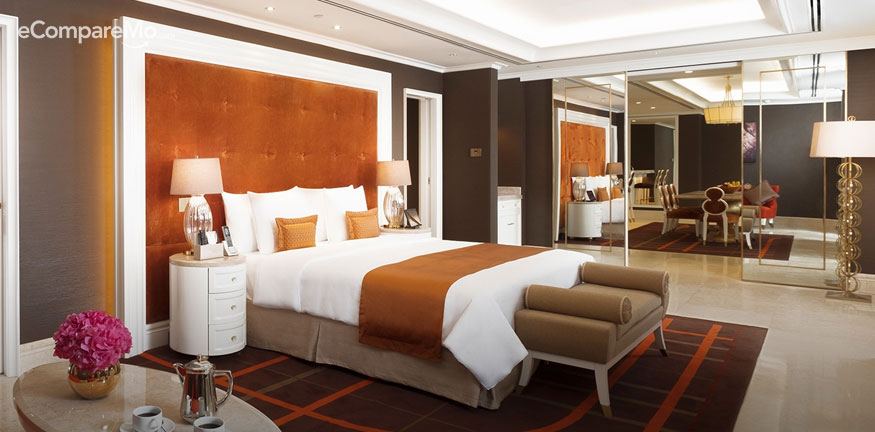 The Okada 200-square meter Executive Suite has all the amenities of a five-star hotel, including a jet tub. Rates start P29,000 to P35,500, while the Junior Suite rates start at P17,500 – P21,000.
9. Solaire Resort and Casino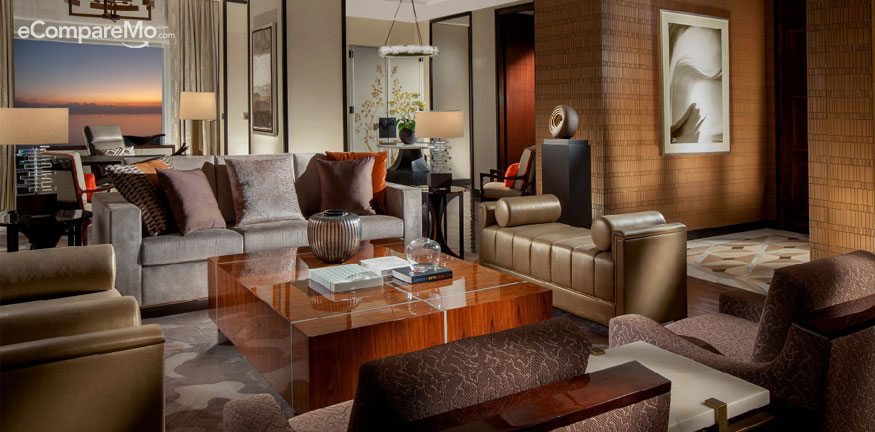 One of the most popular and largest integrated casinos in the Philippines, Solaire has 800 modern guestrooms and spacious suites. They also have their own strip of high-end restaurants. It's only five minutes away from SM Mall of Asia, and near the airports.
Room rates start at P10,000 to P15,000, subject to availability.
10. Manila Hotel
Ideally located near many of Manila's historic landmarks, the Manila Hotel has stood for many years as a representation of Philippine culture and history. Said to rival the Malacañang Palace, it awes visitors with its classic and classy interior that holds the hotel's history within its walls.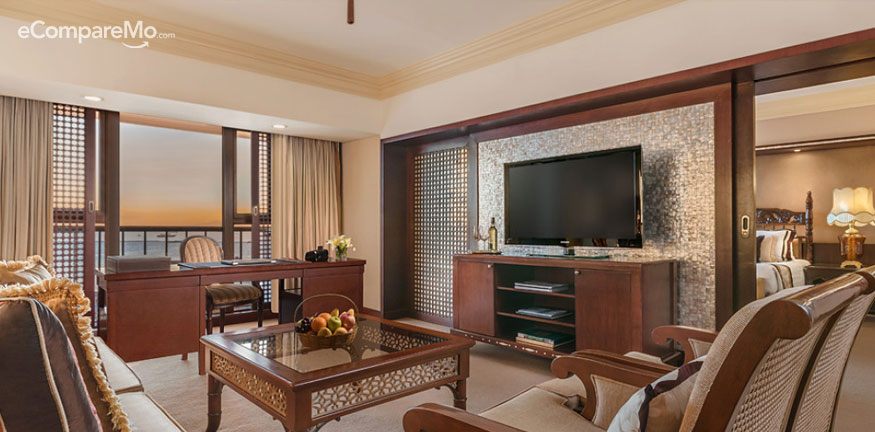 Rizal Park, Intramuros, and the National Museum of the Philippines are only a few minutes away from the hotel.  The Superior Deluxe rooms start at P9500, and their Grand Deluxe Rooms start at P8500.