Number Coding Scheme: Your 2020 Guide To The Unified Vehicle Volume Reduction Program (UVVRP)
8 min read
(UPDATE: If you're looking for a guide to the 2020 MMDA Modified Number Coding Guide during the general community quarantine, click here.)
Here's a fact: Even for seasoned drivers, Metro Manila's number coding scheme, or the Unified Vehicle Volume Reduction Program (UVVRP), has been a source of confusion.
Although it initially started to decongest Edsa in the '90s, it has expanded ever since to the point where it has become extremely convoluted.
The UVVRP comes with different names, but you have to understand each city's rule to avoid getting flagged by traffic enforcers.
If you need to either plan your routes during your vehicle's coding day or you just want to avoid getting flagged for violating the rules, we've prepared this comprehensive guide to number coding in different municipalities of the metro. After all, the last thing you want to happen is paying a fine for not knowing.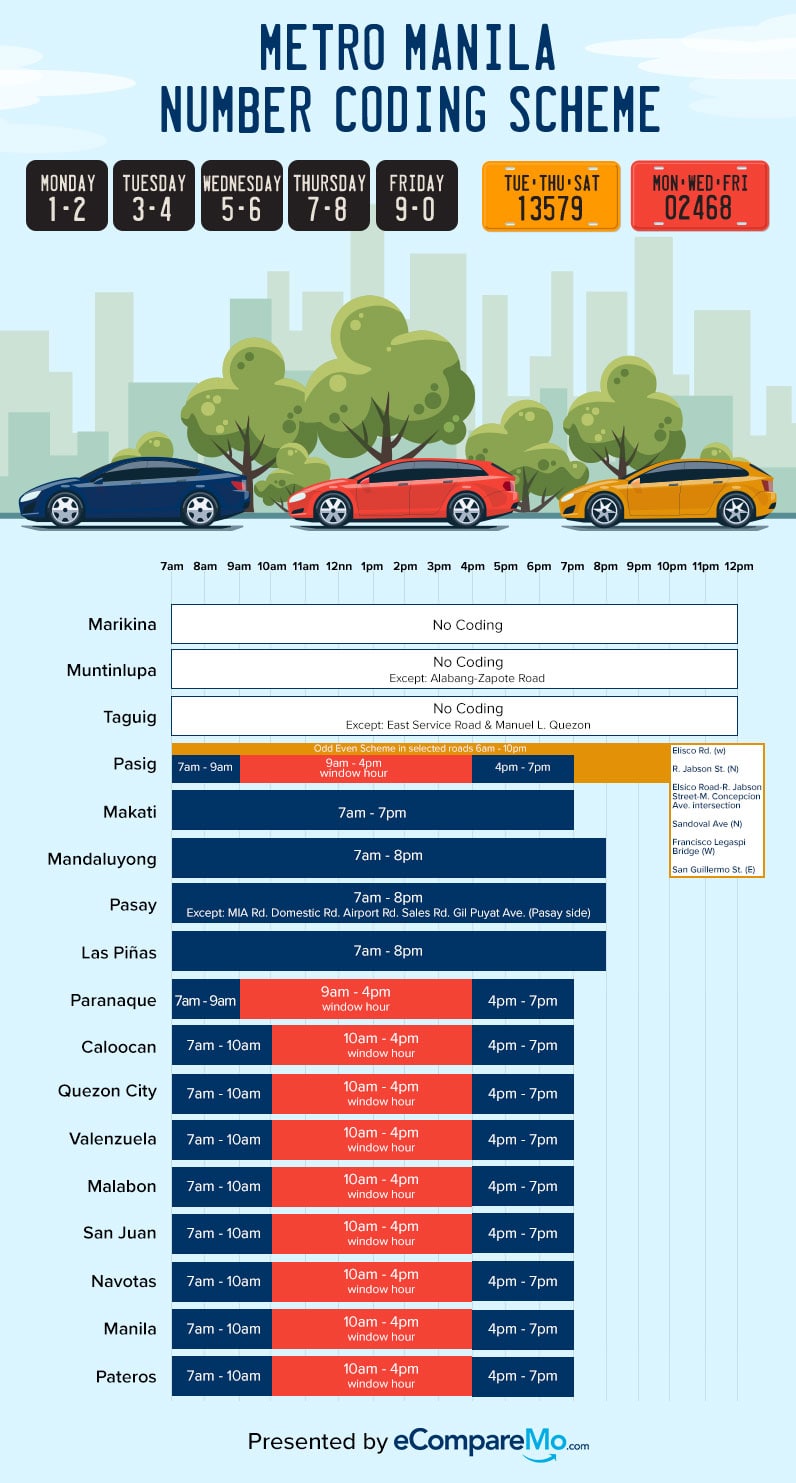 Number coding defined
Originally implemented in 1995, the Metro Manila Development Authority (MMDA) Memorandum Regulation No. 95-001 was designed to reduce the number of vehicles on Edsa. After one year of clamor from motorists as well as contention from then mayors of Metro Manila cities, the current basis of the UVVRP was born.
In a nutshell, the most recent version of the vehicle reduction program is as follows, with the specificities of some provisions discussed in depth below:
Vehicles are banned from Metro Manila roads based on the end of their plate numbers or conduction stickers, if the plates haven't been released yet:

Monday: Plates ending in 1 and 2
Tuesday: Plates ending in 3 and 4
Wednesday: Plates ending in 5 and 6
Thursday: Plates ending in 7 and 8
Friday: Plates ending in 9 and 0

As of 2019, the restriction applies from 7 a.m. to 8 p.m.
Window hours don't apply on major roads such as Edsa, the Circumferential Roads, and Roxas Boulevard
Public utility buses, both city and provincial, are not covered by window hours
Motorcycles are exempted to the rule
Sounds easy, right? However, you have to know by now that certain cities have their own rules regarding the UVVRP. Read along if you want to know more about them.
(Read: Know Your Rights On The Road: What Traffic Enforcers Can And Cannot Do)
Roads with no window hours
Before we get into the particulars of the metro-wide traffic decongestion scheme, you have to understand first which major roads in the capital do not respect the window hours. With the MMDA officials manning the big roads in Metro Manila, there's no chance for you at all to squirm your way out of them:
Radial Roads:

R-1 Road (Bonifacio Drive to Roxas Boulevard)

R-2 Road (Taft Avenue in Manila to Diego Cera Avenue in Las Piñas)

R-3 Road (stretch of Osmeña Highway from the corner of Quirino Avenue to Nichols Interchange)

R-4 Road (Pasig Line Street, Kalayaan Avenue, Elizco Road)

R-5 Road (V. Mapa Street, P. Sanchez Street, Shaw Boulevard, Pasig Boulevard, Ortigas Avenue Extension)

R-6 Road (Legarda Street, Magsaysay Boulevard, Aurora Boulevard, Marcos Highway)

R-7 Road (Lerma Avenue, España Boulevard, Elliptical Road, Commonwealth Avenue, Quirino Highway)

R-8 Road (Quezon Boulevard, Alfonso Mendoza Street, Dimasalang Street, Bonifacio Avenue up to EDSA-Balintawak Interchange)

R-9 Road (Rizal Avenue, MacArthur Highway to Valenzuela-Meycauayan Bridge)

R-10 Road (from Anda Circle to C-4 Road in Navotas)

Circumferential Roads:

C-1 Road (Recto Avenue, Pedro Casal Street, Ayala Boulevard, Finance Drive, Padre Burgos Avenue)

C-2 Road (Capulong Street, Tayuman Street, Lacson Avenue, Quirino Avenue)

C-3 Road (C-3 Road Navotas, 5th Avenue, Sergeant E. Rivera Avenue, Gregorio Araneta Avenue, [upcoming] Metro Manila Skybridge, South Avenue, Ayala Avenue Extension, Gil Puyat Avenue)

C-4 Road (C-4 Road in Malabon, Paterio Aquino Avenue, Samson Road, EDSA)

C-5 Road (Mindanao Avenue Congressional Avenue, Luzon Avenue, Tandang Sora Avenue, Katipunan Avenue, Bonny Serrano Avenue, E. Rodriguez Jr. Carlos P. Garcia Avenue)

C-6 Road (from Napindan, Pasig to Lower Bicutan, Taguig)

Other major roads:
Although there are no window hours on the major thoroughfares mentioned, you can cut through these roads by using secondary roads in certain cities. However, you have to know if a city you're about to go through has window hours or not.
Not implemented
Not all cities have embraced the UVVRP. There are some territories that do not implement the number coding scheme at all. If you're from these places, then you're in luck:
Keep in mind that even if the aforementioned cities have chosen to not observe the rule, there still are provisions that supersede their authority.
Since the ban on major roads is more powerful than city-wide implementations, you have to remember the following exceptions to the no-number-coding rule on certain road portions within their respective territories:
Marikina: Marcos Highway
Muntinlupa: Alabang-Zapote Road
Taguig: C-5 Road (Carlos P. Garcia Avenue), C-6 Road, East Service Road, M.L. Quezon Street
(Read: UPDATE: Expect Heavier Traffic On Commonwealth Avenue Amid Closure Of Tandang Sora Flyover)
With window hours
Although some cities cannot implement a no-coding zone within their territories, they offer motorists affected by the day's number coding scheme some window hours to go through their cities without fear of infractions.
Part of the reason they set the said periods is that they're the lean traffic hours where most motorists have already gone to their respective destinations.
Cities with a window period between 10 a.m. and 3 p.m.:
Caloocan
Malabon
Manila
Navotas
Pateros
Quezon City
San Juan
Cities with a window period between 9 a.m. and 4 p.m.:
Although Pasig offers some period of leniency to motorists affected by the day's number coding scheme, it has its own odd-even vehicle scheme on top of the metro-wide one.
Confused? We've got you covered on the next part.
(Read: Provincial Buses To Be Banned On Edsa Starting April)
Pasig City's odd-even number scheme
There's no doubt that Pasig City's traffic is horrendous, especially with a bulk of vehicles from Rizal funneled through the area.
Since the city already has bad traffic enough as it is, the city government implemented an odd-even scheme that runs from 6 a.m. to 10 p.m. during the following days:
Plates ending in 0, 2, 4, 6, 8: Banned from certain roads every Monday, Wednesday, and Friday
Plates ending in 1, 3, 5, 7, 9: Banned from certain roads every Tuesday, Thursday, and Saturday
No city-wide coding on Sundays
To make things more convoluted, this is only applicable on certain roads, namely:
Elisco Road westbound
R. Jabson Street northbound
Elsico Road-R. Jabson Street-M. Concepcion Avenue intersection
Sandoval Avenue northbound
Francisco Legaspi Bridge westbound
San Guillermo Street eastbound
If you're coming from parts of Rizal and you want to cut through traffic via Pasig City's network of streets, be sure to know this by heart or prepare to pay a fine of P500.
No window hours
Some cities are pretty generous with the UVVRP, either by not implementing it at all or offering a window time for motorists to use their cars. However, not everyone wants to play nice with drivers. Although you might find it frustrating, it is pretty understandable why they don't have window periods at all.
The cities without window hours—meaning, the scheme is implemented there from 7 a.m. to 8 p.m.—are the following:
Las Piñas
Mandaluyong
Pasay (except for MIA Road, Domestic Road, Sales Road, and parts of Buendia within the city's jurisdiction)
Meanwhile, Makati is somehow more generous with the window. Its coding period is from 7 a.m. to 7 p.m. only, giving people an early reprieve compared to others.
(Read: With The Road Board Abolished, Congress Now Gets To Decide Where To Use MVUC Funds)
Possible exceptions?
In 2011, the MMDA released a memorandum that defined which vehicles are automatically excluded from the UVVRP. If you're one of the people covered by the automatic exemptions, then you're in luck (although we highly doubt it):
Emergency vehicles like ambulance, police cars, and firetrucks
Cargo trucks exceeding 4,500 kilograms (they're subject to the MMDA's truck ban ordinance instead)
Vehicles commandeered by the government for emergency purposes
Vehicles ferrying a person that require immediate medical attention
Diplomatic vehicles (blue plate)
MMDA-accredited tow trucks
Government vehicles
Meanwhile, drivers and operators of the following vehicles can apply for an exemption from the UVVRP:
School buses and company shuttle for employees
Unmarked vehicles of media practitioners
Emergency car doctors
Persons with disabilities
Light commercial trucks carrying perishable goods
Department of Tourism-accredited vehicles
(Read: What To Do If You Get In An Accident With An Emergency Vehicle)
Good intentions, bad execution?
By the time you reach this portion, you probably know by now the biggest flaw of the UVVRP: if it is actually "unified," why do Metro Manila governments have no singular number coding scheme? To understand this, you need to look at how power is structured in the National Capital Region.
Unlike in other parts of the country, the grouping of Metro Manila governments is more akin to administrative regions rather than a province. In the former, the governance of each component is left to their respective leaders while in the latter, there is a unifying government entity that promulgates rules that will affect all its constituting bodies.
For all metro-wide issues and projects, everything is being handled by the group of mayors called the Metro Manila Council. The policy-making entity is composed of the 17 mayors of NCR and the president is the MMDA Chairman.
Other members who have say in the issues include the presidents of Metro Manila Vice Mayors League and the Metro Manila Councilors League.
There are two reasons the Metro Manila Council cannot enact a singular number coding scheme for its members. First, the Local Government Code says that "highly urbanized cities and independent component cities shall be independent of the province."
This way, each Metro Manila city has the right to implement their own traffic rules, except for major thoroughfares shared by cities, which is debated through the council.
Second, Metro Manila members do not directly answer to either the Metro Manila Council or the MMDA Chairman. Since the chairman is just a presiding officer in the council, he is not considered to be higher than the rest of the members. In fact, no metro-wide rule by the MMDA can be implemented without the Metro Manila Council's green light.
The UVVRP may be considered burdensome by some people, especially those who drive their vehicles to get to work. When you feel the pain of not being able to take out your car during your "coding" day, just rationalize it by thinking you're doing your part to ease the traffic, no matter how bad our vehicular flow is.
Sources: Lawphil, Autoindustriya, MMDA