These Billers Offer Installment Programs For Bills Payment
5 min read
When the government imposed the enhanced community quarantine (ECQ) to help curb the spread of COVID-19, consumers were frantically trying to figure out their financial footing to pay for the essentials. Utility providers like Meralco, as well as banks, gave consumers a grace period for bills payment.
Now that companies are springing back to life, service providers need to recoup their lost revenue from almost two months of almost zero collections. That includes utilities we haven't paid for in the past two months.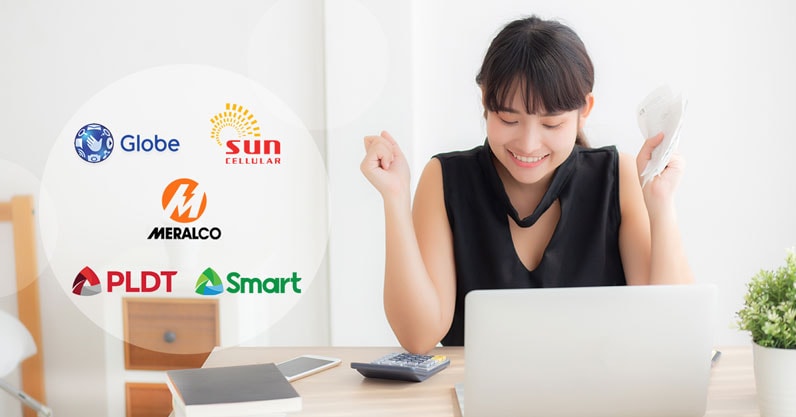 In the true spirit of bayanihan, some billers are more than happy to offer a more flexible way for Filipinos to settle their accounts. Here are some utility providers that allow bills payment through installment programs, as of May 21, 2020.
Billers offering installment on bills payment
Meralco
Last week, people on social media were fired up after receiving their latest billing statement from the electricity provider. If you still don't quite get it, we have an explainer article regarding your exorbitantly priced Meralco May bill.
Since Meralco understands that electricity consumption during the summer season is at an all-time high, not to mention the financial uncertainty brought by COVID-19 to affected Filipinos, they came up with a staggered bills payment system to lighten their financial load.
How does it work? Upon the orders of the Energy Regulatory Commission, they will allow a four-month installment plan of your current amount due. The staggered payment system will equally divide your May due based on your February 2020 consumption: six equal repayments for accounts with 200 kWh and below consumption and four-month term for households with 201 kWh and above.
(Read: Pay Your Bills On Time With These Credit Card Payment Methods)
This means that your June bill will include your electricity consumption for that period as well as the first tranche of your payment. After either September or November, your Meralco bill will normalize to only your consumption for the month's coverage period.
The utility provider will automatically include your past due to your upcoming bills, so there's no need to submit a request or a promissory note to any of their offices.
Globe
With most businesses conducted online nowadays, it will be crippling if your line suddenly get disconnected due to unpaid balance. Fortunately, Globe makes it easier for you to pay your dues during this period of uncertainty.
With Globe's installment program, your current due will be segment for up to six months if you enroll your account now, without worrying about any penalty or disconnection.
To enjoy the telco's staggered payment scheme, simply go to the Globe Installment Program page and fill out the form. When you get to the website, you need to fill out certain details such as your name, type of account with the provider, and preferred payment terms.
Once registered, your current Globe bill will now be divided into easy equal installments based on the terms you provided, with the first payment starting next month.
However, make sure you register to the program before June 15 or you'll miss the chance to lighten up your Globe bills payment.
Smart / PLDT / Sun
Without letting its biggest competitor beat them to the punch, the MVP-led telco is also giving their customers the opportunity to pay bills through an installment. This applies to all Smart, Sun, and PLDT subscribers.
Starting May 1, all unpaid bills of their postpaid customers up until April 30 have been automatically enrolled in a six-month installment program. Under this, PLDT and Smart customers' unpaid balances during the early months of the lockdown will be payable up until October 2020. No penalties, no interest—just making their previous consumption more affordable.
Unlike Globe where you have the power to dictate your terms of payment, accounts with PLDT/Smart bills payment due are automatically enrolled in the six-month period. You can either just pay according to the amount billed to you during the installment period or settle your balance early.
Frequently asked questions about bills payment
My accounts are enrolled in auto-debit. Will they also be eligible?
Yes. Accounts paid through auto-debit services will also be eligible for these PLDT/Smart, Globe, and Meralco installment programs. For auto-debit payment channels that require you to specify your monthly payment, make sure you factor in the additional amount from the installment scheme so you can pay the correct amount.
How can I pay my bills?
With the threat of COVID-19 still out there, it is not advisable to pay your dues via over-the-counter bills payment services. Instead, you may want to use online channels like mobile wallet apps, online banking platforms, and the service provider's bill collection service.
For instance, Globe subscribers can use online payment through the Globe website or via their GlobeOne app. Meanwhile, Smart subscribers can pay via the website (registration required) or their My Smart mobile app. For Meralco subscribers, you may download the Meralco Mobile app on your smartphone.
(Read: How To Get Your Car Insurance e-Policy During The MECQ And GCQ)
Can I pay in excess or make early repayments?
Yes. However, billers have a different scheme when it comes to early or excess repayment:
For Meralco, you can pay your bills in full or in advance and it will reflect on your next bill.
For Globe, overpayment will reflect on your current bill and not on the installment amount based on your unpaid balance.
For Smart/PLDT, all bills payment in excess of your current and the installment amount will be charged to your amount due from the installment program.
What happens if I'm not able to settle my bill?
Just like any other service provider, one of the risks of not paying your bills is service disconnection. With the community quarantine in play, reconnecting your services upon payment might take longer than expected. So you might want to pay your balance on time and in full.
Why don't other billers offer the same program to their customers?
All the companies mentioned, except for Meralco, are not mandated to offer their customers any form of deferred payment program during times of calamity. In the case of Meralco, the company must follow the marching orders from the ERC. As for other companies, they can only enact their respective installment programs solely upon their discretion.
However, a proposed law wants to change that, with staggered payment for utilities becoming automatic during times of calamities.
Bills payment during a calamity
In the wake of COVID-19, Senator Francis Tolentino filed Senate Bill No. 1473, effectively making it mandatory for utility providers to issue a moratorium on payment of bills during calamitous events and subsequently make the unpaid charges available for an installment program.
Dubbed as the "Three-Gives Law," it will cover residential electric, water, telephone, and internet bills to be payable in three months after the state of calamity.
Aside from this, Tolentino also wants to prohibit billers from disconnecting services due to non-payment of bills due to a disastrous event.