How To Travel From Cubao To Makati In Five Minutes: Break The Speed Limit…Or Create A Wormhole
4 min read
President Rodrigo Duterte declared in a speech that a five-minute travel from Cubao to Makati via is possible.
According to presidential spokesperson Salvador Panelo, the President has something up his sleeve.
We calculate the possibilities.
Is President Duterte's promise of five-minute travel from Cubao to Makati possible? We crunched the numbers to figure out—despite the fact that math hates us.
The President is just as fed up with the horrendous Metro Manila traffic as the rest of us. He was so infuriated that he once tried to ask the Congress to grant him emergency powers to fix the traffic once and for all. That didn't happen and traffic is still a mess.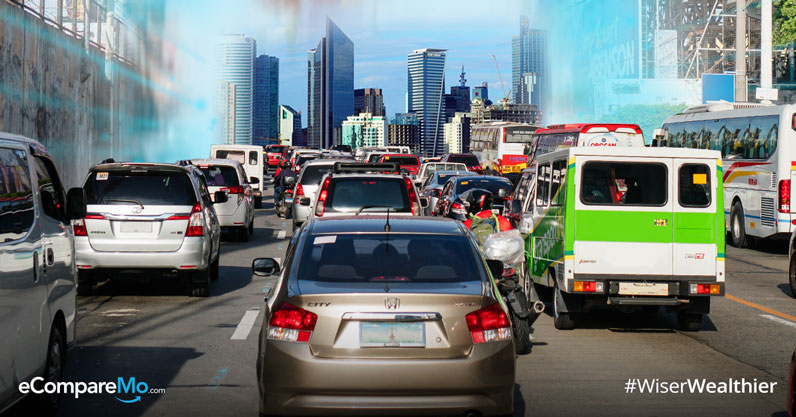 This time, Duterte has dropped another promise that stunned critics and supporters alike: He will make travel time from Cubao to Makati just around five minutes.
Five minutes na lang
"You don't have to worry about traffic. Cubao and Makati will be about five minutes na lang," declared Duterte in a talk with local religious leader Apollo Quibuloy.
To double down on his promise, he said that the solution to our traffic woes will be available by December, which is the worst season for traffic as the holiday rush creates the dreaded Carmageddon.
While he made an emphatic promise, he did not give any details on how he will release Metro Manila from its world-famous gridlock. According to Presidential Spokesperson Salvador Panelo, Duterte has "something on his sleeve."
"Congress knows what is the problem so it should know what to do to respond to the situation. After all, they are there, just like the President, to serve the Filipino people. And that includes putting the riding public in a convenient situation," Panelo said.
With the details of his grand plan yet to be revealed, everyone is asking the most important question: Is it physically possible to get from Cubao to Makati in five minutes? We tried to do the math and speculated as to how the government will pull this off.
(Read: Flashback: The Iconic, Lost Establishments Of Cubao Past)
Math effect
First, let's establish a few things. To make easier to solve the problem, we need to establish that the two points will be the following:
Cubao: MRT 3-Araneta Center-Cubao Station
Makati: MRT 3-Guadalupe Station
Why those starting and ending points? First, they're both located on Edsa, which means that there will be very little maneuvering needed. Second, it's much more convenient to compute to that location. Third, we're trying to make things a little easier for the government.
Based on Google Maps, the distance between the Cubao and Guadalupe stations of the MRT 3 is 6.5 kilometers. In a theoretical setting where there is virtually no traffic and a vehicle is cruising at 60 kilometers per hour—the maximum allowable speed on Edsa, by the way—it will take the driver 6.5 minutes to get to Guadalupe.
To clock in under five minutes, a driver must push his engine up to around 80 kilometers per hour, or around 20 kilometers above speed limit.
However, we're only talking about Guadalupe here and not yet the Makati Central Business District area, which is at the corner of Edsa and Ayala Avenue. Stretching at around 9.3 kilometers, the required speed for a seamless drive from Cubao to Ayala Avenue must be at least 111.6 kilometers per hour.
Keep in mind that the numbers came from a theoretical point of view. This means that it doesn't factor real road conditions such as vehicular traffic, road condition, and other real-life parameters that can slow the vehicle down. These also don't account for the changes when someone is driving via the inner lanes and outer lines, with the latter affected by the numerous stoplights on Edsa.
How can this be possible? We can only assume much, but for a vehicle reach that speed on Edsa even during peak hours, we think that all these must be met:
Decongest Edsa by however means possible
Remove speed limit
Make Filipino drivers observe the traffic laws
Create a "fastlane" for this
(Read: On LTO Violations: How To Get Your License Suspended For Life)
Alternative means—aside from changing the speed limit
So it looks like, under current circumstances, the only way to travel the route from Cubao to Makati is a tough proposition. Not only will it require solving the traffic problem, but it will also require a change in speed limits.
If there is currently no legal way to successfully achieve the 5-minute challenge, there are other, more inventive ways we can cut the driving time from Makati to Cubao and vice versa.
Some of the ideas we think that may match Duterte's ideas on his sleeve are the following:
Create a wormhole that makes travel between two points almost instantaneous
Change the definition of "five minutes" to however long it takes to get there
Physically move Cubao closer to Makati
Make time stop a la Zack from Saved by the Bell
Turn every car into the DeLorean time travel machine
Use the Infinity Gauntlet to zap half the population out of existence
There is a huge chance that President Duterte may be hyperbolic in his statement, given his track record on promises since he was campaigning for the highest seat in the land. At the end of the day, all we can do is wait for the results. Until then, we're all stuck in the same old Metro Manila traffic.