The Richest Men And Women In The Philippines You've Probably Never Heard Of
4 min read
For the ninth straight year, Henry Sy leads the list of the Philippines' wealthiest, followed by familiar names and Richest List regulars. In case you missed it, here are Forbes' Top 10 richest people in the Philippines in 2016 and their net worth:
| | |
| --- | --- |
| 1. Henry Sy | $13.7 billion |
| 2. John Gokongwei Jr. | $6.8 billion |
| 3. Aboitiz family | $5 billion |
| 4. Lucio Tan | $4.9 billion |
| 5. George Ty | P4.6 billion |
| 6. Tony Tan Caktiong | $4.3 billion |
| 7. Jaime Zobel de Ayala and family | $4.1 billion |
| 8. Enrique Razon Jr. | $3.5 billion |
| 9. David Consunji | $3.1 billion |
| 10. Andrew Tan | $3 billion |
When we say "regulars," we mean these names populating the Richest List for the past three years. As you can see, the top 10 rankings haven't seen much action since 2013, with the same billionaire tycoons sliding up and down just a few notches:
| | | | |
| --- | --- | --- | --- |
| Name | 2015 rank | 2014 rank | 2013 rank |
| Henry Sy | 1 | 1 | 1 |
| John Gokongwei Jr. | 2 | 5 | 5 |
| Andrew Tan | 3 | 4 | 3 |
| Lucio Tan | 4 | 2 | 2 |
| Enrique Razon Jr. | 5 | 3 | 4 |
| George Ty | 6 | 7 | 9 |
| Aboitiz family | 7 | 8 | 7 |
| Jaime Zobel de Ayala | 8 | 9 | 6 |
| David Consunji | 9 | 6 | 8 |
| Tony Tan Caktiong | 10 | 10 | 11 |
In fact, these names are widely popular, they're just as easily recognizable as the brands under their billion-peso conglomerates. We all hear about their inspiring life stories every once in a while, too.
However, not everyone on Forbes Asia's list of Top 50 Richest in the Philippines may ring a bell, despite the huge popularity of their businesses. Get to know some of these multimillionaires who made it to the 2016 wealthiest list via the infographic below: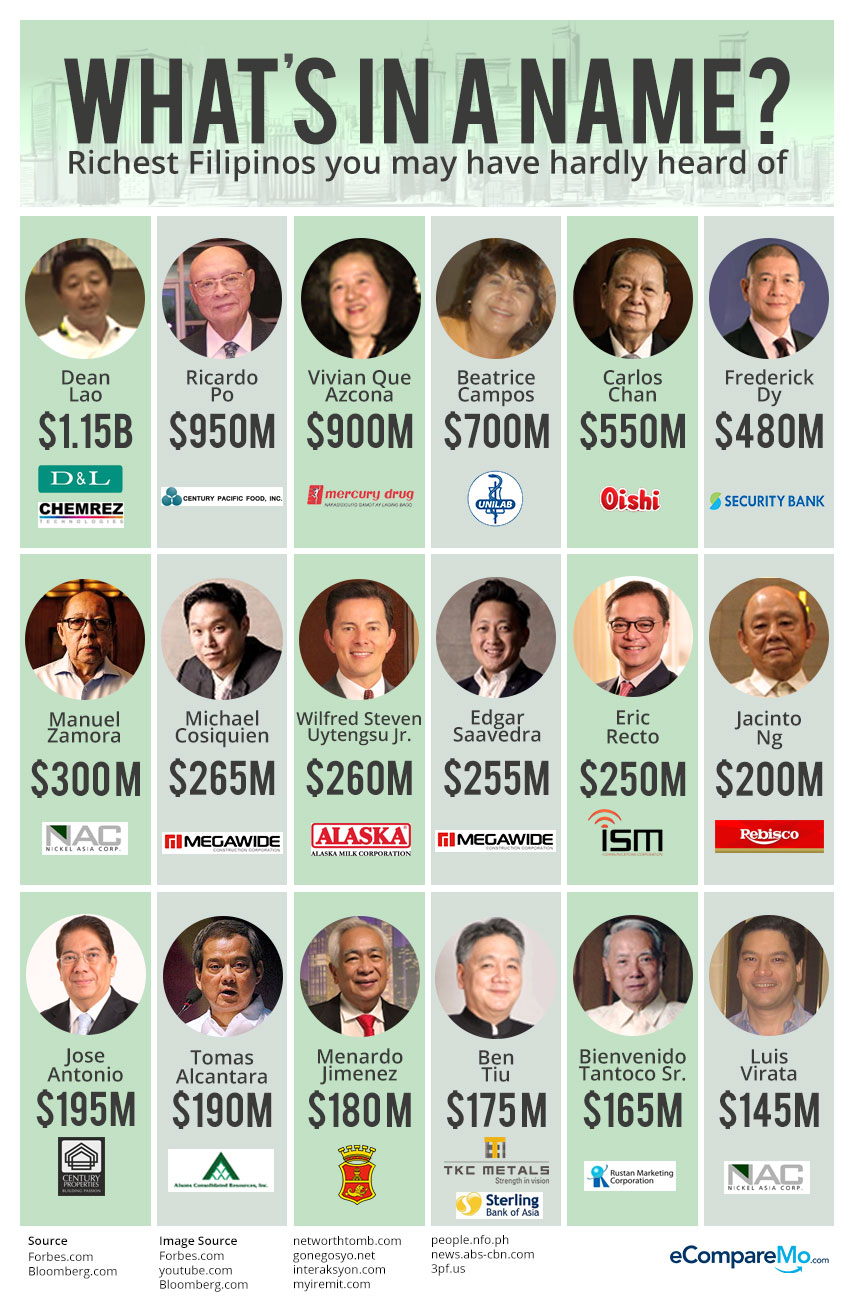 Dean Lao
Net worth: $1.15 billion
Rank: 19
Lao is the man behind D&L Industries and Chemrez Technologies Incorporated, top producers of plastics and chemicals in the country. The company recently announced that Lao is stepping down from his director position, but will remain the chairman emeritus.
Ricardo Po and family
Net worth: $950 million
Rank: 22
Po and his family run Century Pacific Foods, manufacturers of Century Tuna. Ricardo's son, Christopher, is currently the chairman and CEO of the corporation.
Vivian Que Azcona
Net worth: $900 million
Rank: 24
Daughter of Mariano Que, the man who grew Mercury Drug from a pushcart to a billion-peso drugstore chain. The president of Mercury Drug made it to Forbes' 2014 list of Asia's 50 most powerful businesswomen.
Beatrice Campos
Net worth: $700 million
Rank: 27
Together with her late husband, Jose Campos, she founded United Laboratories. Unilab is one of the largest pharmaceutical makers in the country to date.
Carlos Chan
Net worth: $550 million
Rank: 28
The founder of the popular snack brand Oishi is a low-profile Filipino tycoon. He and his son worked hand in hand to grow the company and set up as a foreign investor in China.
Frederick Dy
Net worth: $480 million
Rank: 29
He chairs Security Bank, the country's sixth largest bank by assets as of August 2016. Security Bank recently sold a 20% equity stake to Bank of Tokyo-Mistubishi in April 2016.
Michael Cosiquien
Net worth: $265 million
Rank: 35
Edgar Saavedra
Net worth: $255 million
Rank: 37
The two young millionaires teamed up to establish Megawide Construction, a company involved in construction and development of infrastructures as well as sustainable energy such as biomass, solar, and hydro resources.
Wilfred Steven Uytengsu Jr.
Net worth: $260 million
Rank: 36
Currently the CEO of Alaska Milk Corporation, which was founded by his father. A professional swimmer and triathlete himself, he also owns PBA team Alaska Aces.
Jacinto Ng
Net worth: $200 million
Rank: 39
His company, Republic Biscuit Corp. (Rebisco), started from a small local bakery in San Juan. Now he also holds a stake in Asia United Bank (AUB), and was in fact the country's top individual taxpayer in 2014.
Jose Antonio
Net worth: $195 million
Rank: 40
He is the chairman and CEO of the famous Century Properties, builder of Azure Residences (co-designed Paris Hilton), Trump Tower, and Milano Residences by Versace.
Bienvenido Tantoco Sr.
Net worth: $165 million
Rank: 46
He and his wife, the late Gliceria Tantoco, founded the leading firm in upscale merchandising, Rustan's Group. The third generation of Tantocos was reported to be actively hands-on with the management of Rustan Coffee Co.
Read: Which Industry Has Made The Most Number of Filipino Billionaires
Eric Recto
Net worth: $250 million
Rank: 38
He is currently the chair of Bedfordbury Development and holds a stake in Petron Corporation and ISM Communications. He was also an undersecretary of the Department of Finance from 2002 to 2005.
Tomas Alcantara
Net worth: $190 million
Rank: 41
The country's former trade undersecretary is the president of the publicly listed Alson Consolidated, one of the giants in the energy sector. He and the Alcantara family also have interests in mining and property development.
Menardo Jimenez
Net worth: $180 million
Rank: 43
Former president of GMA Network Inc. and a major shareholder of the company. He is also a board member of the largest food and beverage company, San Miguel Corp. and San Miguel Pure Foods Corp.
Ben Tiu
Net worth: $175 million
Rank: 44
Son of steel tycoon John Tiu Ka Cho who took over TKC Steel Corporation in 1987. He is the chairman of Sterling Bank of Asia and uncle of the basketball player Chris Tiu.
Manuel Zamora
Net worth: $300 million
Rank: 34
Luis Virata
Net worth: $145 million
Rank: 50
Zamora is the chairman and founder of Nickel Asia Corporation, the biggest producer of lateritic nickel ore. Alongside his entrepreneurial ventures, he was also a member of the House of Representatives. Virata, on the other hand, holds a stake in Nickel Asia.
Found this story useful? Share it with your friends.