12 Online Grocery Services In The Philippines
6 min read
Looking for online grocery delivery during the enhanced community quarantine? With a few taps of a button, these online groceries deliver all the essential stuff straight to your doorstep.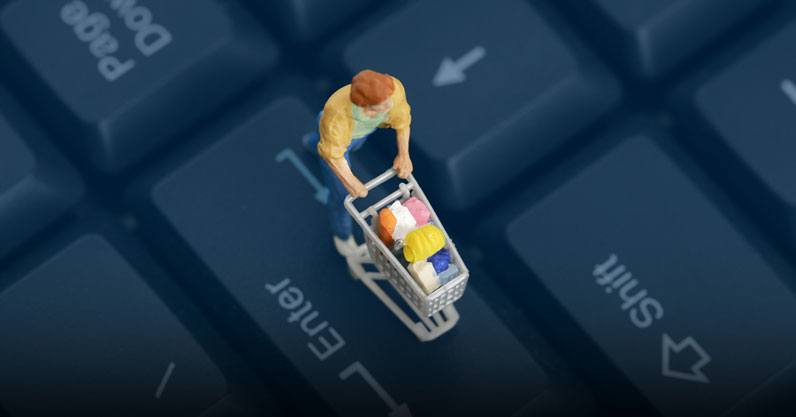 All you've got to do is download these groceries' apps on your smartphone, or open the website in your browser, and click "add to cart." Some of these virtual supermarkets also accept online payments and do contactless deliveries.
Stay safe at home and practice social distancing with these 12 online grocery delivery apps and websites in and around Metro Manila.
1. Farms to Families
Instagram: @farms_to_families_ph
Offering all-natural meat and vegetable items, Farms to Families is proud to say that all their products are sourced from local backyard farms.
Their online grocery store offers meat products ranging from P300 to P400. These include pre-packed ground pork and beef, pata, pork chops, ribs, and tenderloin. You may also buy whole chicken for around P320 per kilo; free-range chicken eggs at P385 per tray; and duck meat at P360 a kilo.
The online palengke also sells a wide variety of organic fruits and vegetables. You may choose from ampalaya, broccoli, carrots, cucumbers, eggplant, patola, sayote, and salad greens on their virtual shelves.
Farm to Families delivers anywhere within Metro Manila via Lalamove, with transportation fees shouldered by the customer.
2. PhilGrocer
www.philgrocers.com
PhilGrocer serves up a variety of food and non-food items, with a whole host of payment methods that include credit card, Paypal, GCash, 7-11, Cebuana, among others. They normally deliver nationwide but are currently catering only to Metro Manila, Rizal, Laguna, and Cavite areas due to the community quarantine.
3. WalterMart Online Grocery Delivery
www.waltermartdelivery.com.ph
What could be better than having your groceries delivered straight to your doorstep at the same price as you would get at the store? Yep, that's the promise of WalterMart, one of the pioneers of online grocery delivery in the Philippines.
If you place your orders before 3PM, you can receive your groceries on the same day. They offer various modes of payments for you to choose from: credit and debit card payments or cash or swipe on delivery.
4. Real Food
www.realfoodph.com
Real Food is a deli and online grocery website that offers organic meat, rice, vegetable, and other healthy ingredients for baking, cooking, and eating needs.
Various items from well-known brands like 7 Grains, Farmyard Pantry, Jack's Produce, Kaffea Coffee, Pinkie's Farm, and Spectrum Gallery can be found on both their physical and online stores.
Just order a minimum single-receipt purchase worth P1,000 to have your items delivered for free if you order within Alabang, BGC, Makati, and Pasig. You can pay them via bank deposit or through cash on delivery.
Shop at their official online website or order via call at (02) 8722-0131/0917-678-0158 or through email at realfoodph@gmail.com.
(Read: List Of Drugstores With Delivery Services)
5. MetroMart
www.metromart.com
Being an online grocery site partnered with various brands, MetroMart is proud to connect you with a wide number of brands and stores—all in one website.
Aside from supermarket items, they also offer alcoholic beverages, bakery and dessert, beauty and wellness, medicines, and pet care products at no markup prices delivered straight to your homes.
If you're a first-time customer, they're offering free delivery on your preferred date and time schedule. Some brands included in their online delivery service are Benefit Cosmetics, Dogs and the City, DVF Dairy Farm, Family Mart, Generika Drugstore, Messy Bessy, Ralph's Wines and Spirits, The Blue Kitchen, and many more.
6. Fishermonger's Daily Catch
www.fishermongersdailycatch.com
Delivering guaranteed fresh seafood caught within 24 hours after you've placed your orders, Fishermonger's Daily Catch is your one-stop shop for online seafood delivery.
They offer both fresh and frozen seafood delivered on the same day for only P100 if you made it to their 2PM cutoff. Delivery fees are waived if you meet their minimum purchase required, which varies per area. Pay conveniently for your orders with cash on delivery or via bank deposit.
If you're craving for seafood and you want yours delivered cleaned, fresh, gutted, and packed in a vacuum-sealed bag, order now through their website or call 0956 1321093.
7. City Bagger
www.citybagger.com
Having a hard time deciding what dish to cook? Get your ingredients from City Bagger and let them do the thinking.
Aside from guaranteed fresh greens and premium meats, City Bagger offers its customers easy-to-cook recipes with ingredients all set and placed at your grocery bags.
They have a healthy selection of prep meals that are gluten-free, non-GMO, and organic.
8. Marketa.ph
www.marketa.ph
If you're into artisanal and gourmet food items such as bottled tuyo and truffle chocolates, Marketa.ph can be your next go-to online grocery place.
They offer healthy items from Coco Natura, Superfood Grocer, Take Roots, and other local micro, small, and medium entrepreneurs.
Conveniently, Marketa also sells non-food items such as automotive tools and cosmetic products. That way, you can do your shopping in just one site.
9. Push Kart PH
www.pushkart.ph (Operations currently on hold)
Pushkart is an online and app-based grocery delivery service "developed by a group of Filipino millennials," as their website states. They offer a wide range of items, from fresh produce to medicines, household items, and pet food supplies. However, their operations are currently on hold until further notice due to delivery restrictions brought about by the ECQ.
10. Kitayama Meatshop
www.kitayamawagyu.com
Are you currently craving wagyu beef cuts? Say no more. Satisfy them with just a click away with Kitayama Meatshop.
Kitayama offers premium meat cuts such as belly, chuck roll, oxtail, and rib eye, both freshly butchered and frozen.
Other than that, you can also score other frozen items and choose from their sausages and smoked meat variants.
You can have your orders delivered straight to your doorstep if you live in certain areas in Makati with a minimum purchase required—or you can book your orders via Lalamove if you live in other parts of the metro.
11. The Green Grocer
www.thegreengrocer.com
Health-conscious or merely following a strict diet? No need to fret. Just go online and visit The Green Grocer's official website.
As one of the online groceries for the health-conscious, The Green Grocer brings you gluten-free and organic products.
They also offer delivery services if you live within Metro Manila and Laguna area. Alternately, you can drop by and pick up your orders at their HQ in Sucat, Muntinlupa.
12. Lazmart
https://www.lazada.com.ph/shop/lazmart-onlineph/
Even though Lazada suspended clothing and electronics deliveries, they now provide essentials like basic groceries and toiletries through Lazmart.
With more than 18,000 products on their online store, you can stock your pantries without the need to leave your home. Shop household items like cleaning supplies, instant food, canned goods, and personal care products.
Because of the extreme ECQ measures, some areas may experience delay delivery and some areas may not be serviceable. Check their site for the complete list. Accepted payment methods are credit and debit card, Gcash, Lazada wallet, and cash on delivery. 
Know more online grocery delivery services? Share your tips with us on our Facebook page.
(This article was written on March 11, 2020, and updated on May 6, 2020)
Other sources: The Asian Parent