7 Best Mobile Payment Apps In The Philippines For Cashless Transactions
7 min read
If you are like me, who absolutely abhors bringing a huge amount of cash every time I go out, then mobile wallet apps are for you.
What is a mobile wallet app, you ask? Simply put, mobile wallet apps are applications installed on your phone that store credit. You can use these apps to pay your bills, conduct service transactions (like booking transportation with Grab), and more.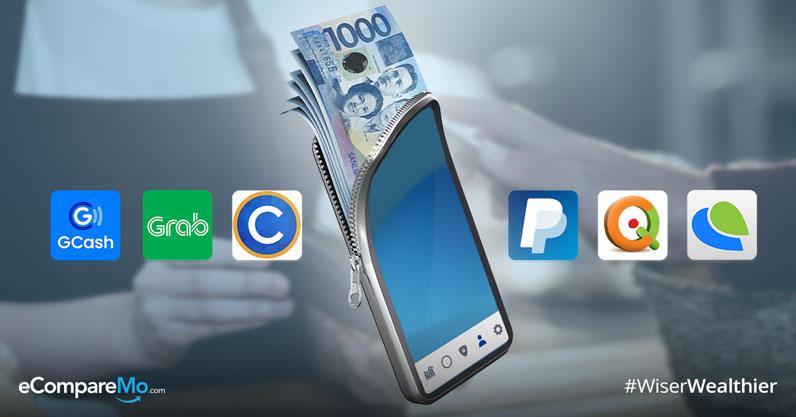 Don't get me wrong, I still do carry a bit of cash with me when I'm out. But I make sure that it is just enough for a day's worth. This is my way to control myself from overspending on things I don't really need.
I'm sure that I'm not the only one who thinks this way and that is why going cashless is the new trend here in the Philippines. A lot of companies are creating apps that will make our lives easier and hopefully, hassle-free!
So what are the best Mobile Wallet Apps in the Philippines? Read on and I will tell you about seven of the most useful mobile wallet apps!
1. GCash
GCash is currently the leading e-wallet app in the Philippines. This has got to be one of the best mobile wallet apps to date due to its simplicity and ease of availability around the country.
It is basically a money service app that is regulated by Bangko Sentral ng Pilipinas (BSP). You can use GCash to pay your bills, make QR payments, book movies, transfer or receive money, and shop at more than 15,000 partnered outlets all around the Philippines.
How does GCash work?
You just have to point your phone's camera at the Quick Response (QR) code, scan it, and pay. Easy-peasy.
Registering for GCash
There are three ways of registering—register using the GCash App, FB messenger or through the *143# Menu on your phone.
GCash App

Open your App Store or Google Play Store then download the GCash App
You will be asked to enter your mobile number
Wait for the six-digit authentication code that will be sent to your number
Enter the code then press Submit
Fill in the required information: Name, address, birth date, etc
Create your own Mobile Personal Identification Number (MPIN). Note: This is a four-digit code that you will use to authenticate all of your transactions under GCash. Change it regularly!

FB Messenger

Type in gcashofficial on your messenger app
Press "Get Started"
Select "Start an Account"
You will be asked for your Mobile Number, input then press "Continue"
You will receive a confirmation message on your messenger once your account is ready

143# Menu

Go to your phone's keypad then dial *143#
Look for GCash then press "Register"
Fill in the required information
Type in your four-digit GCash PIN
A confirmation message will be sent to your number once your account is ready
(Read: Your Ultimate Guide To The GCash App And Its Services)
2. GrabPay
For those who are always on the go, GrabPay is the perfect e-wallet app for you.
This mobile wallet is launched by Grab in partnership with Mastercard. GrabPay is a virtual prepaid card that covers shared modes of transportation, GrabFood delivery, fund transfers, groceries, and offline to online (O2O) platform!
How to activate GrabPay Wallet
Go to your Grab App
Click GrabPay Wallet
Select "Set up GrabPay Wallet"
You will be asked to enter your personal information
Now your wallet is ready to top up
Linking your Credit or Debit Card
Open your GrabPay wallet then select "Balance"
Click the wallet icon
There will be payment options, select "Credit / Debit Card"
Enter your card details
Tap on "Save" then you are done
Ways to cash in
Via Store

Open your Grab App
Select "Cash in"
Click your desired amount
Choose your preferred cash in store
Press "Confirm" then proceed to your selected store to make your cash payment

Via Grab Drivers

While you are in transit, click "Cash in with driver"
Enter your desired cash amount
Give the payment to the drivers
You will receive a confirmation status once done

Via Cards

Select "Cash in"
You will see an option that says "Cards and Wallets" then click on that
Choose the amount you want and your preferred payment method. Once you have selected it click "Confirm"
Fill in your card details
You will receive a confirmation status once done

Request for GrabPay Credits

Select "Request"
Allow your friend to scan your QR code then you are done
(Read: 5 Great Virtual Wallets And Online Currencies For Cashless Transactions)
3. PayMaya
Aside from shopping and paying bills, if you are into buying games or tickets to see your favorite band live, then PayMaya is for you!
You can also use PayMaya to book flights, send remittances and stream music.
How to Register to PayMaya
Download the PayMaya app at the App Store or Google Play Store
Create an account
Add money to your account and that's it
You can also request a physical PayMaya card wherein you can withdraw or swipe at any of your favorite stores. This card can be used either locally or abroad as long as they accept credit or debit cards.
You can easily monitor your transaction's history through the app and it even has an EMV chip for added security.
If you have any questions, you can call PayMaya's hotline toll-free 1800-1084-57788.
(Read: First Time Using The PayMaya App? Here's A Guide For You)
4. Coins.PH
Coins.PH is the first and only cryptocurrency app that allows you to buy and sell cryptocurrencies like bitcoin, bitcoin cash (BCH), ethereum (ETH) and Ripple (XRP).
This mobile e-wallet app can be used to buy mobile load for local and international numbers, pay bills or even pay for your fancy date last night (as long as it is part of their 100,000 partnered merchants). They also offer other services like shopping online, air-time and remittances.
How to register to Coins.PH
You can register through your mobile or through their website
Mobile

Download Coins.PH at the App Store or Google Play Store
Click "Sign Up"
You will be asked to enter your email address and mobile number
Press "Create Account"
You will be sent a verification code either on your mobile number or email
Verify your account and then you are done!

Website

Go to Coins.PH website
Select "Create an Account"
Enter your email address or mobile number
Press "Create Account"
You will be sent a verification code either on your mobile number or email
Verify your account and then you are done!
You can add funds to your wallet either from 7 Eleven, Bayad Center, Palawan Pawnshop and 22,000 locations nationwide!
5. BanKO
BanKO was established in 2009 through a partnership between the Bank of the Philippine Islands (BPI), Ayala Corp., and Globe Telecom. It is now a whole-owned subsidiary of BPI. This mobile wallet has been dubbed as "the first and only mobile-based savings bank in the Philippines."
You can shop all you want, buy mobile load, pay bills, local and international remittances using your phone and it allows you to send money to fellow BanKO account holders.
How to register to BanKO
Go to the nearest BanKO partner outlet
Bring either a Globe or TM SIM card
Bring a valid ID and a photocopy of the ID. Valid IDs are the following:

Driver's License
SSS
Pag-IBIG
School ID
Birth certificate

Fill out the application form
Submit the form together with the requirements
(Read: The Best Online Payment Providers For Small And Big Businesses)
6. 7-Eleven CLiQQ Rewards
Did you know that 7-Eleven has its own app that allows you to buy mobile load, get access to the internet just by using your points, and pay bills?
You can even use the 7-Eleven Cliqq app to buy items from 7-Eleven just by allowing them to scan your apps barcode!
How to register to CLiQQ Rewards
Buy a card at a 7-Eleven store near you
Download Cliqq Mobile App at the App Store or Google Play Store
Activate your card through their website or by SMS

Website: https://redeem.7-eleven.com.ph/userAccount/activate
SMS: text REG // to 09189090711 and then wait for the verification message
How to load your CLiQQ Rewards Account
Download Cliqq Mobile App at the App Store or Google Play Store
Click "Wallet"
Load your e-wallet at the nearest 7-Eleven store
Go to CLiQQShop.com to check out all the things you can buy!
(Read: Make Easy Money With These 4 Little-Known Smartphone Apps)
7. PayPal
PayPal has got to be the most commonly known e-wallet account locally and internationally. It's widely used across the world and you can easily use it to pay for souvenirs or clothes you bought abroad.
Some of the downsides you need to consider if you are signing up for a PayPal account is that it lacks a lot of localized features. You won't be able to use it to pay for your bills or even buy mobile load, which could be a deal-breaker if you are not really stepping on international waters often.
How to register on PayPal
Download the PayPal app at the App Store or Google Play Store
Set up your account
Start funding it with your credit/debit card or bank account