How To Set Up Automatic Bills Payment On Your Debit/Credit Card
7 min read
Paying for bills past their due date can be such a hassle, especially for those who have to schedule their budgets and payment dates on a monthly basis. Seems like everything gets harder whenever a bill is left unpaid past its due date: You have to pay at a certain place, you may expect additional charges, and produce additional documents or the service might get discontinued.
Don't you wish there's a better way to settle your bills? Where you only have to pay for one bill that covers every outstanding monthly payment?
You can actually do this now via automatic bills payment.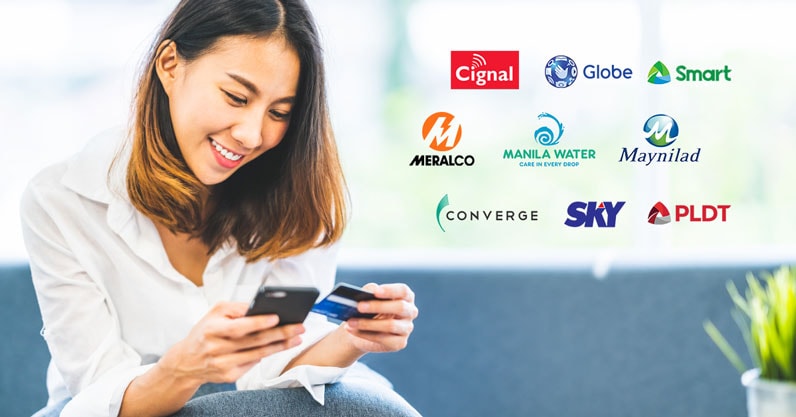 What's an automatic bills payment?
An automatic bill payment or autopay is a payment option set-up between a customer and a vendor/service provider. On a predetermined date every month, the customer gives a vendor/service provider permission to debit their savings/checking account or charge their debit/credit card to settle the bill on time.
This is the most convenient payment option in the long run. However, setting it up can take more steps vs. just paying bills straight up over-the-counter.
If you're trying to figure out how to pay your bills via autopay to make your life easier, let us guide you how to set up auto pay for the most common bills paid every month. We'll divide it by categories (i.e. Utilities, Telecommunications, Internet etc.) to make navigation easier for you. Let's start.
How to set up auto payment on your utility providers
Meralco bills payment
There are a couple of ways to set up auto payment arrangement (APA) for your Meralco bill:
Auto debit: Debit the bill amount from your bank account
Auto credit: Auto charge bill amount on your credit card
You can start enrolling APA by setting up an account in Meralco Online.
Once you've registered an account, log in to Meralco Online. In the dashboard of Meralco Online, look for Auto Payment Enrollment. Then follow the steps below: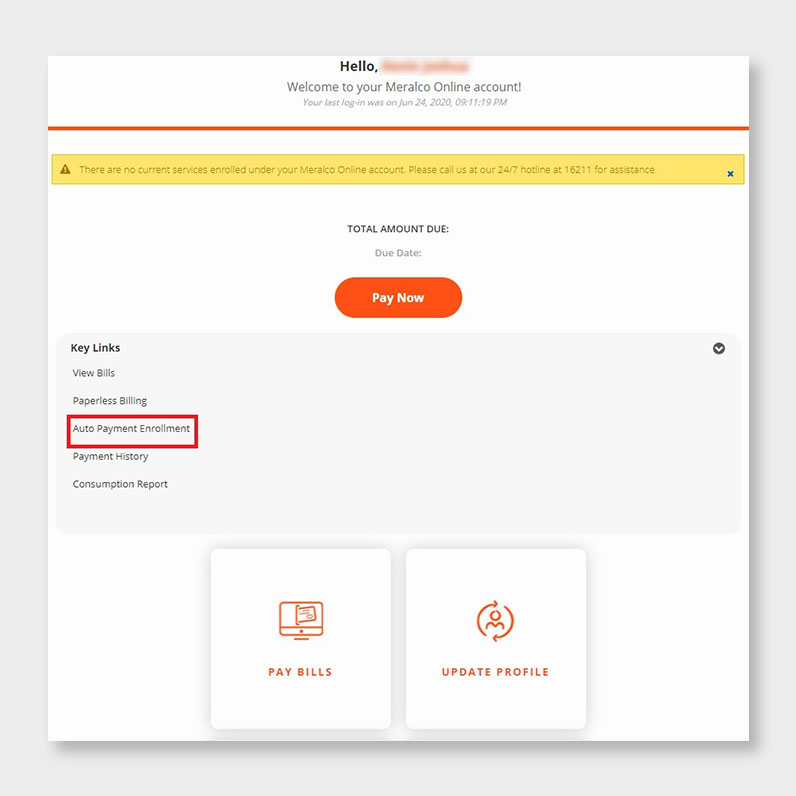 Select your preferred Meralco bills payment scheme: Auto Credit or Auto Debit.
Download the APA enrollment form of your selected APA scheme.
Print and accomplish downloaded APA enrollment form.
Scan and upload APA enrollment form together with a valid government ID then click "Submit."
Alternatively, you can also apply for APA directly through your banks or at any Meralco Business Center.
Manila Water
You can arrange an automatic bills payment with Manila Water using your credit card via online banking. They're only supporting BDO credit cards and RCBC Bankard at the moment. Here's how you can enroll auto charge for your Manila Water bill:
BDO
Go to BDO Online Banking
Log in using your registered user ID and password
Select "My Quick Links"
Select "Credit Cards Bills Payment"
Select "Auto Charge Arrangement" Step 6: Completely fill in the form and click "Submit"
RCBC Bankard
Download the RCBC app
Log in using your registered user ID and password
Click on the three lines on the upper left corner
Select "Bills Payment"
Select "Manage Billers"
Click on the "+" on the upper right corner
Choose "Manila Water" as a Biller
Fill in Biller Nickname and Account Number
Click "Enroll" on the bottom
Maynilad
Maynilad requires approval of Automatic Debit Arrangement (ADA) on your debit/credit card. To apply, you need to fill out the ADA enrollment form and submit them in person at any Maynilad office.
Here are the credit cards that support Maynilad bills auto pay:
BDO credit card
Citibank
Metrobank
UnionBank
Tip: While there are extra steps required for auto pay using your debit/credit card, you can actually schedule monthly bills payment from your savings/checking account via online or phone banking. Contact the customer service hotline of your bank to know more about this or download your bank's app and see if they have a schedule bills payment function.
e-Wallets such as G-cash and Paymaya also have this feature. Just make sure your preferred e-Wallet has enough balance when you schedule bills payment at a date of your choosing. Your e-Wallet will automatically charge the bill amount from your wallet balance.
How to set up automatic bills payment on your cable, internet, and telecom
PLDT Home/DSL/Fiber Auto-Debit Program
You can pay your bills on time and hassle-free through PLDT's automatic bills payment feature, also known as the Auto-Debit Program. Just visit your credit card's bank issuer:
Globe
Globe also supports an auto pay scheme that will automatically charge your preferred credit card, giving you the assurance of prompt bill payments. Customers of Globe postpaid or Globe At Home accounts may enroll in Auto Pay if they so choose. Just enroll your credit card thru the bank that issued your card.
Smart/Sun
There are a couple of ways to enjoy convenient automatic card payments on your debit/credit card with Smart/Sun Cellular accounts.
Via the store/branch
Prepare the following requirements: valid ID, your VISA or MasterCard debit/credit card
Visit the nearest Smart/Sun Cellular Store
Ask for an Automatic Debit Agreement (ADA) enrollment form or Letter of Undertaking. Fill that out and submit together with the other requirements
Your request will be processed within seven business days upon receipt of complete documents.
Enrolling via My Smart:
Log in to your My Smart account
Select your Smart Postpaid account
Select Bills & Payments
Select your desired ADA transaction under Account Services
Fill up the required fields on the form
Print and sign the ADA online form
Scan the following documents: signed ADA online form and front and back copies of any valid ID
Upload the scanned ADA online form and the front and back copies of any valid ID
Submit the application
Note: In the event that the credit card billing charges submitted by Smart to the credit card issuer are rejected or declined for whatsoever reason, you will need to settle the outstanding balances directly to Smart at any Smart Store or in any of the accredited payment facilities nationwide.
SkyCable/SkyBroadband Auto Debit Arrangement
Sky alsos require an ADA application to be filled out before you can enroll your debit/credit card for auto pay. Contact your bank or inquire through their website, Facebook page (@MySKYCable), or Twitter account (@SKYserves).
List of accredited banks for autopay:
Metrobank
EastWest
Unionbank
Citi
BDO
RCBC
(Read: Which Internet Provider Gives The Most Bang For Your Buck?)
Converge
Automatic bills payment can be set up via auto debit facility enrollment. They accept all credit cards under VISA, Mastercard, JCB, and American Express. Please visit their business offices at:
NCR
Reliance IT Building, 99 E. Rodriguez Jr. Ave, Brgy. Ugong, Pasig City
North Luzon
Dona Toribia, Aspiras Provincial Road, Agoo, La Union
RVT Commercial Bldg. Devenecia Hi -Way, Lucao, Dagupan, Pangasinan
47JP Rizal Avenue, San Carlos, Pangasinan
Purok 3 Brgy Nancayasan, Mac Arthur Hi Way, Urdaneta, Pangasinan
Central Luzon
Sevilla Building, McArthur Highway, Dolores, San Fernando, Pampanga
N5664 Comclark Bldg. Pres. M.A. Roxas Highway, Clark, Pampanga
New Street Building, McArthur Highway, Balibago, Angeles City
Jenra Mall 3rd Floor, Sto. Rosario, Angeles, Pampanga
2F SK Building, Barangay Camachiles, Mabalacat, Pampanga
NBF Building, Sto. Tomas, San Luis, Pampanga
MAAD Building, San Juan, Sta Ana, Pampanga
Zapata Building, Mc Arthur Hi-way, Sto Tomas, Pampanga
Angeles-Porac-Dinalupihan Rd., Cangatba, Porac, Pampanga
Ommetta Building, Stall#4, Calle Washington, Parian, Mexico, Pampanga
Block 23, Lot 3, NHA Pandacaqui, Mexico, Pampanga
Brgy San Vicente, Apalit, Pampanga
San Jose Mesulo, Arayat, Pampanga
Sta Cruz, Zaragoza, Nueva Ecija
Valencia Building, Cabambangan, Bacolor, Pampanga
St. Andrew's Square, Buas , Candaba, Pampanga
2nd Floor ,Room 16 , APY Bldg, Santa Cruz, Macabebe, Pampanga
Rizal Ave, East Tapinac Olongapo City, Zambales
Consuelo Sur, San Marcelino, Zambales
1255 Rizal Ave. West Tapinac, Olongapo, Zambales
Ground Floor Jerame Plaza F.m Domingo Street, Paniqui Tarlac
Sibal Bldg, Brgy. Anupul, Bamban, Tarlac
Rizal Street, Camiling Tarlac
Sto Domingo 1st., Capas Tarlac
Casa Amelita Bldg Poblacion, Tarlac City, Tarlac
708 L. Cortez St., San Jose, Concepcion, Tarlac
100 Poblacion 3, Gerona, Tarlac
Sunrise Village Maliwalo, Tarlac City, Tarlac
Santa Rosa – Tarlac Rd, Sta Cruz, Zaragoza, Nueva Ecija
357 National road , Townsite, Limay, Bataan
National road, brgy. Balon anito, Mariveles, Bataan
Bernabe Village brgy. Binaritan, Morong, Bataan
Centro 1, Orani Bataan
South Luzon
BCN Building, Jasmin St., Jamaica Subdivision, Brgy. Caloocan, Balayan, Batangas
2nd floor Zillion Building General Luna St., Brgy. Sabang, Lipa, Batangas
Magno buidling, Gov Drive, Brgy. San Agustin, Trece Martires, Cavite
BLDV Bldg. Blk 2 Lot 1 Louise Ville III, Lalaan II , Silang, Cavite
Clarita Bldg. Dr. J Salud Highway , Noveleta, Cavite
Julita Bldg 1 Brgy 1 Crossing, Calamba, Laguna
CCP Building along Old National Highway, Landayan,, San Pedro, Laguna
Carvajal Commercial Bldg 2, along Old National Highway, Balibago, Santa Rosa, Laguna
Evangelista St, Brgy 7, Lucena, Quezon
Purok 10, Governor Panotes Avenue, Brgy. VIII, Daet, Camarines Norte
Nazarene Bldg., Magsaysay Ave., corner Taal St., Balatas, Naga City, Camarines Sur
Cignal
To set up automatic bills payment on Cignal, follow these steps:
Download the credit card enrollment form here.
Completely fill-out the credit card enrolment form.
Email the accomplished credit card enrolment form to care@cignal.tv including the following supporting documents:

Proof of Identification of the Cardholder
Front copy of the credit card being enrolled
Authorization Letter (if Cardholder is different from Cignal subscriber)
For corporate accounts: instead of an Authorization Letter, send Board Resolution/Secretary's Certificate evidencing authority.

Indicate "CREDIT CARD ENROLMENT" as the email subject
Expect email acknowledgment from Cignal TV Customer Service within 48 hours.
For more information on their auto debit payment, you may contact Cignal Care:
Hotline: (02) 8-888-82-22
Email: care@cignal.tv
Facebook (@cignaltv)
Twitter (@cignaltv)
Webchat (http://care.cignal.tv/cignaltv/check.php)