How To Apply For Pag-IBIG Loyalty Card 2020
4 min read
Many businesses have found that loyalty cards are a good way to retain customers and reward them for continuous use of their services. An
Customers, on the other hand, love the discounts, savings, and benefits they can get from a loyalty card. And since you found your way here, you probably know that there is such a thing as a Pag-IBIG Loyalty Card.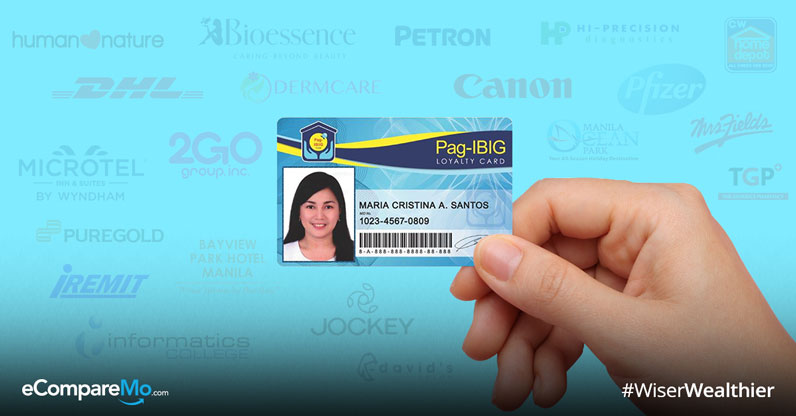 Taking a cue from the business sector, the Pag-IBIG Fund also offers one to its members. They came up with this program to show their appreciation of Pag-IBIG members by offering additional perks that go beyond housing loans.
"We want to maximize the value of Pag-IBIG membership through the Pag-IBIG Loyalty Card," explained Florencio Galang, Jr., Officer-in-Charge of the Office of the Vice President for Public Relations and Information Services Group of the Pag-IBIG Fund.
"The project is our way of showing loyalty to our 16.4 million members, as it makes Pag-IBIG more relevant in the lives of Pag-IBIG members through benefits that they can enjoy more frequently. What we did was to tie up with private sector entities that can offer discounts and privileges to our Pag-IBIG members," he added.
According to Jejomar Binay, former chairman of the Pag-IBIG Fund board of trustees, membership grew from 8.8 million in 2010 to 14.8 million in 2014 and 8,000 more are signing up every day to get one—which means that many are now taking advantage of this benefit of having a loyalty card.
What is the Pag-IBIG Loyalty Card?
The Pag-IBIG Loyalty Card is an additional benefit Pag-IBIG members can apply for wherein they can enjoy discounts on purchases with several affiliated establishments.
The card may be used for groceries, gas, restaurants, health care clinics, schools, beauty clinics/salons, hardware stores, courier services, etc. Pag-IBIG has teamed up with 213 establishments so you will be able to utilize and maximize the usage of this card.
How to get your Pag-IBIG Loyalty Card
Make sure you are a member of Pag-IBIG since you will be needing your Pag-IBIG MID (Membership ID). You would also need to bring other valid IDs and pay a registration fee of P100.
Here are the steps to follow in order to get your own Pag-IBIG Loyalty Card:
Just download the application form, print it out and fill it out.
Once completed, submit the form to your nearest Pag-IBIG branch and pay the registration fee of P100
You will be instructed to go to the enrollment kiosk where you will have your photo taken.
A Pag-IBIG officer will validate all your information and you will be asked to sign necessary documents.
The processing of your card takes only an hour or 45 days (depending on your location or which area you applied for the card). You have the option to pick it up at the branch or deliver it at your home address or work address free of charge.
Read: A Complete Guide To Pag-IBIG Online Services
Benefits of having a Pag-IBIG Loyalty Card
First of all, this is considered a secondary valid ID (with your UMID being the primary for formal transactions such as bank applications, financing institutions, or requirements for other government agencies and establishments).
You will also get discounts from 213 establishments:
5% discounts on all Human Nature products and a special rate on the membership fee
10% discount on all JOCKEY items
5% discount at McDonald's for a minimum food purchase of P200
10% discounts on Mrs. Field's on all regular-priced products
10% discount at Mr. Quickie for a minimum amount of P300
10% discount at Microtel for room accommodations
10% discount on David's Salon services
Earn 1 peso point in PureGold for a minimum purchase of P400
25% on remittance service fees of IRemit
Up to 50% discount on BioEssence selected services.
10-50% off on Dermcare services
Get 10-20% discount on DHL services
5% discount on Generics pharmacy
10% discount on tuition fee at Informatics
Up to 80% discount at Manila Ocean Park on all attractions
A discount of up to 30% at Bayview Park hotel
20% discount from 2Go
Get 20% discount on laboratory procedures and dental procedures except for dentures and procedures with dental specialists
Get 30% discount on tuition fees at UP Diliman for the following courses:

Bachelor of Science in Information Technology
Bachelor of Science in Business Administration
Bachelor of Elementary Education
Bachelor of Science Education
10 discount on 11kg Petron Gasul. You may also earn points if you purchase other Petron fuel products.
50% off on Pfizer products prescribed by your doctor. Just show the doctor's prescription along with your Pag-IBIG Loyalty card.
Get 15% off on Enchanted Kingdom tickets
10% off from PhilLife for the Dengue RX Plan Program.
Get a special dish from Gerry's Grill for a minimum bill of P1,000
Get a free computerized eye examination and a 20% discount on Karisma, Ixion, Dior Superflex, and kids frame from Universal Eye Check Optical.
5% discount from Air21
5% discount from Hi-Precision on all services based on price list and packages.
5% discount from Canon.
5% discount from CW Home Depot for a minimum purchase of P30,000
10% discount on Rusty Lopez for a minimum purchase of P1,000 and 20% for a minimum purchase of P2,000
(This article was written on July 16, 2019, and updated on January 7, 2020.)