OWWA Benefits Every OFW Needs To Know 2020
5 min read
With the billions of remittances they send every year, it's no wonder that Overseas Filipino Workers (OFWs) are often referred to as the pillars of our country's economy. Because of their contribution, the government rewarded them with different government programs, such as OWWA benefits.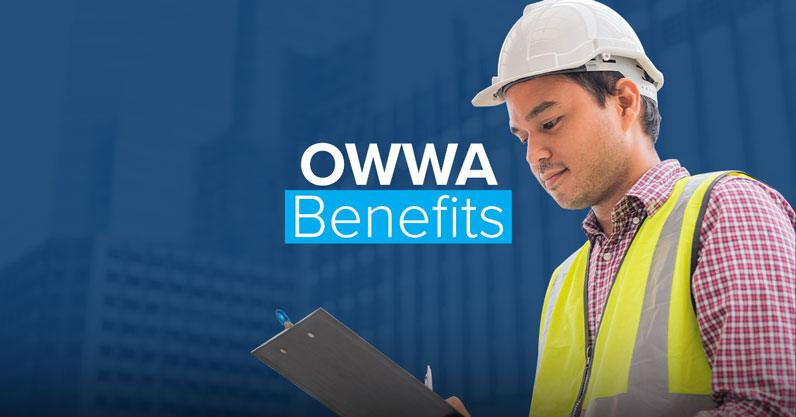 OWWA is a government agency that works with the Department of Labor and Employment (DOLE) to protect the interests, well-being, and comfort of OFWs.
OWWA provides a wide variety of benefits, such as education, health, insurance, and livelihood programs to all OFWs. These benefits are granted to all Filipino migrant workers, regardless of if they are land-based or sea-based.
Here's a list of OWWA members benefits that an OFW can enjoy.
1. OWWA financial assistance
1.1 OWWA Loan
Apart from applying for a loan through private lending companies and financial institutions, overseas workers can also get financial assistance from OWWA through an OWWA loan.
The OWWA loan is a personal loan that provides financial help for OFWs whether it is for a vacation, business opportunities, or emergency expenses.
To be eligible for the loan, an OFW must have a valid contract and be a bona fide member of OWWA.
1.2 OFW Enterprise Development and Loan Program (OFW-EDLP)
OFW-EDLP is a business loan program of OWWA provided to all OFWs who wish to start a business. This OWWA livelihood program caters to both retired OFWs and those who are still working abroad. Apart from financial assistance, OFWs can also avail of orientation on finance and business management.
2. OWWA social benefits
Under this are disability and dismemberment benefits and death benefits. These assistances are provided to OFWs within the duration of their contract, provided that they have the required documents.
2.1 Disability and Dismemberment Benefits
Disability and dismemberment benefits refer to the cash benefit that an OFW can get if he/she gets injured due to an accident while working abroad. This cash benefit is up to P100,000.
Requirements:
Medical certificate issued by a local physician
Foreign medical certificate
Accident report (for sea-based OFWs)
2.2 Death Benefit
Death benefit refers to the cash benefit given to the family of an active OFW in case of the latter's demise. The family is entitled to a P100,000 cash benefit if the cause of death is natural and P200,000 if death is due to an accident. Furthermore, additional assistance of P20,000 will be received by the beneficiaries allotted for the final expenses.
Requirements:
Original death certificate
Accident report (if death is due to an accident)
Burial permit
Two valid IDs of the claimant
Copy of Certificate of No Marriage (CENOMAR), if the OFW is single
Copy of Marriage Certificate, if the claimant is the spouse
Copy of Birth Certificate, if the claimant is the parents
Copy of Birth Certificate of the child, if the claimant is the child
3. Seminar and Training for OFW
3.1 Country Specific Pre-Departure Education Program (PDOS)
The Pre-departure Education Program or PDOS is a one-day seminar provided to OFWs to help them adapt to the culture and work environment of the country they will be working in.
1.2 Comprehensive Pre-Departure Education Program (CPDEP)
CPDEP is a program conducted for Household Service Workers (HSWs). The training is either a four or six-day orientation that involves learning the language of their host country, culture, and stress management sessions, among others.
1.3 Seafarer's Upgrading Program (SUP)
Seafarer's Upgrading Program or SUP is an OWWA training for a seafarer to enhance their skills and develop the expertise to meet the requirements of global marine standards and technological advancements.
An OFW can select a training course accredited by the Marine Industry Authority (MARINA) or the Technical Education and Skills Development Authority (TESDA). Financial assistance worth P7,500 will also be provided for the OFWs in their chosen course.
4. OWWA benefits for beneficiaries
Apart from OWWA benefits for OFWs, there are benefits for OFW dependents as well. Here are some OWWA scholarship programs that OFWs' beneficiaries can get.
4.1 Education for Development Scholarship Program (EDSP)
This scholarship program is provided to all qualified dependents or beneficiaries of an active OWWA member who wishes to enroll in a four or five-year bachelor's degree in any college or university. This benefit comes in the form of financial assistance. The amount provided will be a maximum of P60,000 per school year.
4.2 Skills for Employment Scholarship Program (SESP)
This training assistance is provided to all qualified beneficiaries of an active OWWA member who want to pursue a technical or vocational course in any institution accredited by TESDA. The OWWA will grant financial assistance worth P14,500 to eligible dependents.
1.3 OFW Dependent Scholarship Program (OFWDSP)
OFWDSP is a scholarship program provided to all qualified beneficiaries of an active OWWA member whose salary is $400 or below. Through this scholarship, dependents can pursue any 4 or 5-year bachelor's degree in a state college or university and can get financial assistance of P20,000 per year.
1.4 Congressional Migrant Workers Scholarship Program (CMWSP)
This scholarship is given to deserving beneficiaries of an active OWWA member who wishes to take courses in the Science and Technology fields. The financial assistance will be P60,000 per year. Deserving OFWs can avail of the program as well.
1.5 Information Technology (IT) Training Program
OWWA also offer IT Training Program for OFWs and their qualified dependents. This training program aims to help them to upgrade their IT skills and aid them in bridging the communication gap.
5. Welfare Assistance Program
OWWA provides welfare assistance services, such as on-site support and in-country assistance. This may include airport assistance, psycho-social counseling, transportation allowance to their allowance, and stress debriefing, among others.
6. Repatriation Assistance Program
The Repatriation Assistance Program is one of the OWWA benefits for returning OFW, who seeks support when returning to the Philippines in cases of emergency or distress situations in their host country. This benefit may include domestic transport, temporary shelter, and social counseling.
OWWA Rebate Program refers to the benefit that enables OFWs to get a rebate by being active in paying his/her OWWA contribution. The amount that an OFW can get will be based on the number of contributions they made. They can check and claim their OWWA rebate here: https://rebate.owwa.gov.ph/.
8. OWWA benefits for ex-OFW
Apart from the welfare of the various Filipino workers abroad, there are also available OWWA benefits for retired OFW.
8.1 OWWA Reintegration Program
The Reintegration Program is created for OFWs who have ended their contracts abroad and do not want to go back. This benefit provides livelihood opportunities to Filipinos who want to start a venture or expand their business in the country.
8.2 Balik-Pinas! Balik-Hanapbuhay! Program
This livelihood program by OWWA aids returning OFWs to start their own business ventures. It is non-cash assistance that provides entrepreneurial training, starter kits, and techno-skills education, among others.
(This article was written on June 5, 2018, and updated on January 6, 2020)