Hit Your 2020 Goals With The eCompareMo Money Saving Challenge! Here's How
6 min read
At the end of the day, money-saving challenges should neither be a chore nor feel like a punishment. It should allow you to learn a new skill and become more mindful of your finances.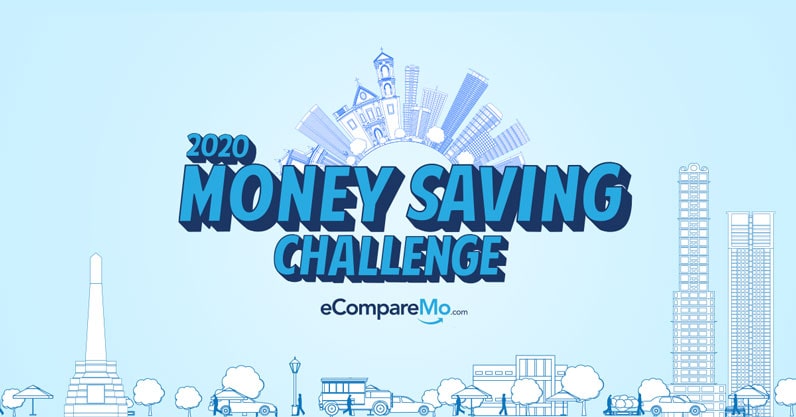 Goal-setting, in general, should challenging yet engaging. However, a lot of them quickly fall under two things: Easy but with little payoff; or complex and hard to follow.
In addition, they do not take into consideration people's individual salaries, as if the breakdown of savings every week is a one-size-fits-all solution for everyone.
Putting away a similar amount will not create an active participation in saving, not to mention the paltry total come yearend. While you may be able to save a certain amount regularly, this makes the task more like chore and you will not learn the right skills such as personal finance and saving.
Since most challenge templates come with a predefined amount to save, the experience can be different for other people with varying salaries.
A saving program that tells you to save more than P2,000 per week by the end of the year might be a tall order for low-income earners. With a high amount that needs to be put aside, the people excluded from it by default are the ones who need it the most.
(Read: These People Saved A Total Of P133,850 Through Money-Saving Challenges)
Introducing the eCompareMo Money Saving Challenge
We decided to formulate our own way to save money, learn how to make it work with your salary, and keep track of it so you won't break your habit no matter how hard it gets.
In addition, we also took into consideration the average Filipino's spending habits, allowing anyone to save money without experiencing frugality fatigue. Simply put, this occurs when a person becomes too tired of being committed to frugality and ends up splurging or worse, reversing every money-saving habit learned over time.
One of the main reasons why we get tired of being smart with our money is because we feel the pressure with no end in sight. When saving becomes a dreaded activity, we undermine our progress and go back to splurging—and this is what we tried to resolve with the eCompareMo Money Saving Challenge.
(Read: 8 Things Balikbayan OFWs Should Do To Save Money This Christmas)
Why choose the eCompareMo Money Saving Challenge?
There already are dozens, if not hundreds, of money saving challenges out there. To your average consumer, this is just another template to follow—and highly likely forget as the year ends. However, here are the reasons why you should use our very own money saving strategy for next year:
It can yield better gains than saving the same amount every day. There are challenges that merely require you to put aside the same amount every day. Unfortunately, the total savings by the end of the year are dismal. Our money saving challenge will allow you to save better than that—without breaking your will.
It adjusts itself based on your monthly salary. The problem with exponentially increasing money saving challenges is that the second half of their program becomes too difficult for your average person. This might turn off people who might find the preset challenges too daunting. Our challenge will compute your daily savings based on the salary you will input and you will not be forced to put aside more than you can.
It takes into account your petsa de peligro. We understand what it's like to struggle a few days before payday; after all, we at eCompareMo.com are just people like you. To make sure that you'll be on point with your savings, we devised a computation that you will still be able to put aside money even if your wallet is already running on fumes. Don't worry, we've got you covered!
It makes you mindful of your finances. Money-saving should not be a mindless chore. When you save the same amount every day, it becomes a drag to do it. Our program makes you more aware of your finances by making you save different amounts every day. This way, you can see how a simple act of saving compare against your expenses.
It reinforces streamlined money-saving habits. There were a lot of considerations taken when we formulated our eCompareMo Money Saving Challenge: a person's salary, spending habits, frugality fatigue. While getting a sizable return is nice bonus, what we want to impart to you by the end of the challenge is to learn the good habit of saving money. No amount of money can teach you that skill.
How does the eCompareMo Money Saving Challenge work?
After meticulous considerations, we have created a saving pattern that considers spending habits, salary, and salary portion you want to put aside. Interested in taking a peek under the hood of the eCompareMo Money Saving Challenge? Here's how it works:
The amount you will put aside every day is based on your salary and the percentage you want to put aside.
Our calculator will compute the appropriate amount you need to save every day, which is based on the period between your current payday and the next.
After payday, the amount to be saved is at its highest, then it will continue to diminish as each day passes. This gives your budget some reprieve and makes frugality fatigue less likely.
The daily amount you need to save resets once you reach another payday. This goes on for 12 months (or 24 pay cycles).
(Read: If You Really Want To Save Money, Avoid Making These Monthly Excuses)
How to start the eCompareMo Money Saving Challenge
Now that you've decided that you want to learn how to actively save money, it's time to start your journey with the eCompareMo Money Saving Challenge. If you're ready, just follow these easy steps:
Sign up for the eCompareMo Money Saving Challenge here.
Once opened, fill out the details such as your name and your salary.
After you enter your salary, our calculator will compute the amount you must save every day.
Check the box beside the amount to indicate that you've completed it.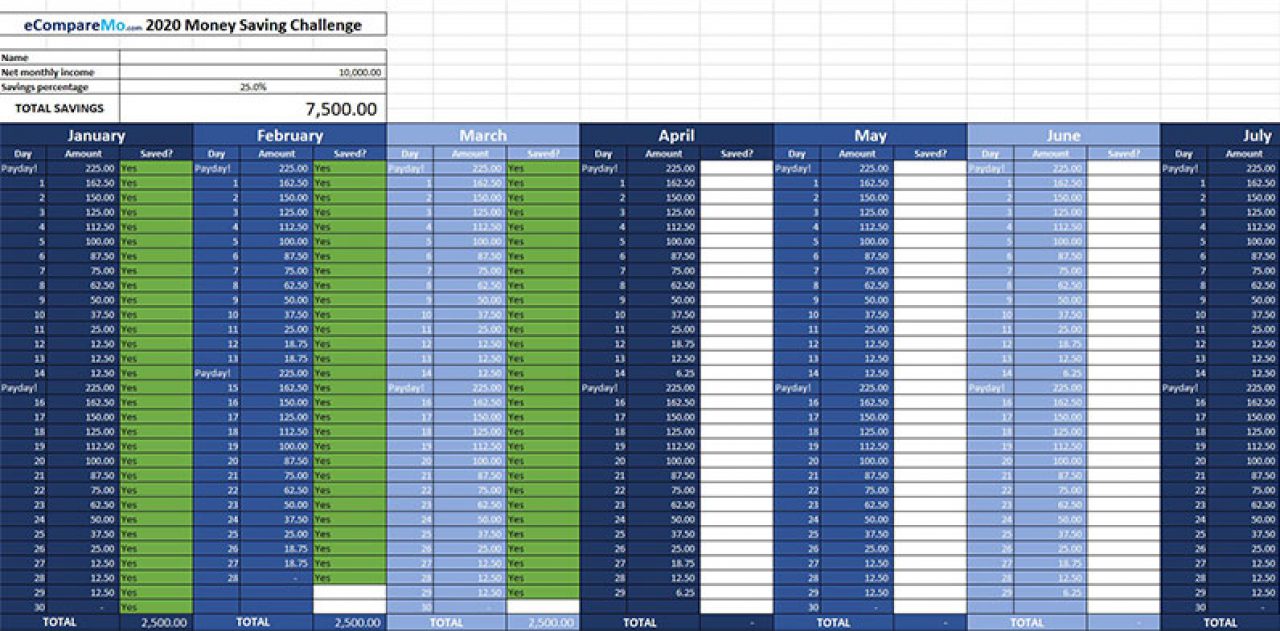 How can I make my money-saving challenge more successful?
Highly likely, you've tried numerous ways to make saving work for you. However, having a tracker isn't enough. You need all the help you can get to make your challenge successful. Here are some tips to make you stay faithful to your year-long saving task:
Find an accountability buddy. Look for another person who will complete the same challenge with you and create a support system with the person or group. By letting them know about your goal, chances are they will encourage you to succeed in your task and so on. Whether it's a friend, family member, internet strangers, or significant other, what matters is you create a system of accountability between you and other parties.
Set an alarm. To make sure that you will remember your everyday objective, create an alarm that will remind you to save. Make sure that it is within the times that you are awake, as the challenge doesn't discriminate between weekdays and weekends. After all, you must develop the habit of saving, so weekends are also included.
Track your expenses. Although our savings plan can serve as a guide, you can augment this with a spending tracker so you are in total control of your money flow. This way, you will have a great overview of your finances, not just your savings.