Pay Your Bills On Time With These Credit Card Payment Methods
6 min read
As a cardholder, it is your responsibility to know the many credit card payment methods—be it online, through a mobile app, or through a third-party payment centers. This enables you to establish a good record as it shows commitment to settling your debts on time, not to mention, keeps you from incurring penalty fees.
Banks in the Philippines offer a wide array of options to settle your credit card bill, after all. So let us enumerate the various channels you can settle the amount due on your bill and help you figure out which one works best for you.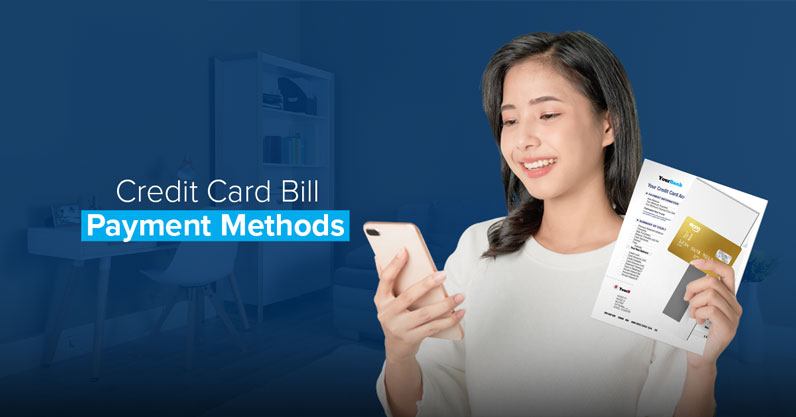 Credit card payment methods for Philippine-issued cards
1. Online banking
With online banking, you can pay your bill anytime and anywhere, as long as you have a reliable internet connection.
With this uber convenient credit card payment method, all you have to do is log in to your bank's e-banking site using your laptop or desktop, click on "Bills Payment" then select the account where the payment will be deducted from. Select the credit card issuer/biller then key in your account number and amount due. And finally, click "Confirm" to proceed with the payment.
2. Mobile banking
Mobile banking is different from online banking because it makes use of an app installed in mobile devices, making it even more convenient.
For credit card payment, just download your bank's mobile app from the Google Play Store or Apple App Store and follow the same procedures you do with online banking.
(Read: 7 Best Mobile Payment Apps In The Philippines For Cashless Transactions)
3. Mobile wallet apps
GCash and Coins.ph allow credit card payments through their mobile services. They work with BDO, BPI, Metrobank, HSBC, and other banks.
Below are credit card payments accepted by Coins.ph:
Banco De Oro (BDO) 
Bank of the Philippine Islands (BPI) 
Citi
EastWest Bank
Equicom
Hongkong and Shanghai Banking Corporation (HSBC)
Philippine National Bank (PNB)
Philippine Savings Bank (PSBank)
Rizal Commercial Banking Corporation (RCBC) Bankard
Security Bank (Diners Club and Mastercard)
Standard Chartered (Visa and Mastercard) 
UnionBank (Visa and Mastercard) 
To avail of this service, register to Coins.ph through your computer or mobile device. Load this mobile wallet at any 7-Eleven, Bayad Center, Cebuana Lhullier, M Lhuillier ePay, Palawan Express Pera Padala, TouchPay, and UnionBank.
Using your mobile device, open Coins.ph and log in. Tap "Pay Bills" then choose "Credit Card." Select your credit card provider and key in the amount due then slide to confirm.
Below are credit card payments accepted by GCash:
Banco De Oro (BDO)
Citibank
Metrobank
RCBC (Visa, Bankard Mastercard and Japan Credit Bureau (JCB))
After registering with GCash, load your mobile wallet at any Globe store, Bayad Center, Expresspay, SM Business Center, Robinsons Center, Cebuana Lhullier, 7-Eleven CliQQ machines, etc.
Log in to your GCash account using your mobile device then tap "Pay Bills." Select your biller then key in the amount due.
Note that payments through mobile wallets are posted after three business days.
(Read: 4 Clever Tips On How To Pay Off Credit Card Debt Fast)
4. Credit card payment via Auto-Debit Arrangement (ADA)
If you have no time to visit banks or payment centers, ADA is a highly recommended payment method as it directly transfers funds from your active debit account to your bill every due date.
To apply for ADA, coordinate with your servicing bank through a phone call or a personal visit. Make sure that your debit account has enough funds two days before the due date to enjoy this service.
5. Phone banking
Phone banking is advisable for account holders who don't have an internet connection and are too busy to settle over the counter.
Paying through this option requires a touch-tone phone wherein you will call the bank then follow the instructions given in a pre-recorded message.
The following banks offer phone banking payment. Simply call the numbers to apply.
BDO: (02) 8631 8000
BPI: (02) 889 10000
Security Bank: (02) 8887 9188
Metrobank: 1 800 1 888 5800
6. Electronic payment machines
ECPay and TouchPay provide touchscreen machines found in gas stations, malls, and convenience stores nationwide. They are accessible 24/7 and cater to different needs like flight booking, money remittances, and of course, credit card payment.
TouchPay accepts payments for AUB, BPI, and Metrobank credot cards while ECPay caters to AUB, BPI, Metrobank, Robinsons Bank, and Security Bank cards. 
Using a TouchPay terminal, choose your card provider then key in the account number. Insert the amount due under the touchscreen. Note that the machine has a transaction limit of ₱10,000.
If your payment is higher, you need to make multiple transactions. Tap "Pay" then wait for the receipt.
Note that the machine has a transaction limit of ₱10,000. If your payment is higher, you need to make multiple transactions. Tap "Pay" then wait for the receipt.
To pay using ECPay, choose "Bills Payment" on the CLIQQ machine then tap "Collection Services." Select your credit card provider then key in the account name, account number, and the amount due then tap "Next." Get the payment slip and pay at the cashier. Keep your receipt for reference.
(Read: The Best Online Payment Providers For Small And Big Businesses)
7. Automated teller machines (ATMs)
A one-time enrollment must be done to enjoy this service. You can settle your credit card's amount due through the ATM of your card provider and its affiliated partners.
To pay, key in your Personal Identification Number (PIN), select "Bills Payment" then "Credit Cards." Pick your servicing bank then key in your account number. Select between "Savings Account" or "Current Account". Key in your amount due and then confirm. Keep your transaction fee for reference.
Note that settling via your issuing bank's ATM will be posted on the same day or next banking day. On the other hand, payment though other ATMs is okay, but it will be reflected within three banking days.
8. Bills payment centers
Below is a list of bills payment centers and the credit card bills that can be settled there.
SM Bills Payment AUB, BPI, Citibank, EastWest Bank, HSBC, Metrobank, PNB, RCBC, Security Bank and UnionBank credit cards.
Robinsons Business Center BPI, Citibank, Equicom, Metrobank, and RCBC.
Bayad Centers BPI, Equicomm, Metrobank, RCBC, and Unionbank.
True Money AUB, BPI, and Metrobank.
ECPay Partner Outlets AUB, BPI, Metrobank and Robinsons Bank.
Cebuana Lhullier BPI and Metrobank.
To pay, provide your billing statement or duly fill a transaction form. Keep the receipt or transaction slip for reference.
9. Over the counter
The most common way of settling a credit card bill is paying over the counter. The payment is posted on the same day given it is settled in the issuing branch. Check payments are allowed but they will be posted within three days.
(Read: Bank Advisories For The COVID-19 Enhanced Community Quarantine Period)
To pay, visit your servicing bank, duly fill the payment slip then get a queue number. Proceed to the teller once your number is called.
On regular days, banks are open from 9AM to 4PM, Monday to Friday, but some extend till 6PM and are open on Saturdays.