Civil Service Exam Guide: How To Take And Pass The Test This 2020
11 min read
If you want to work and serve in our government, the most important requirement you need to accomplish is passing the civil service examination (CSE).
A survey conducted by Jobstreet in 2018 showed that many Filipinos are enthusiastic about applying to top government agencies such as the Social Security System (SSS), Bureau of Internal Revenue (BIR), and the Department of Public Works and Highways (DPWH).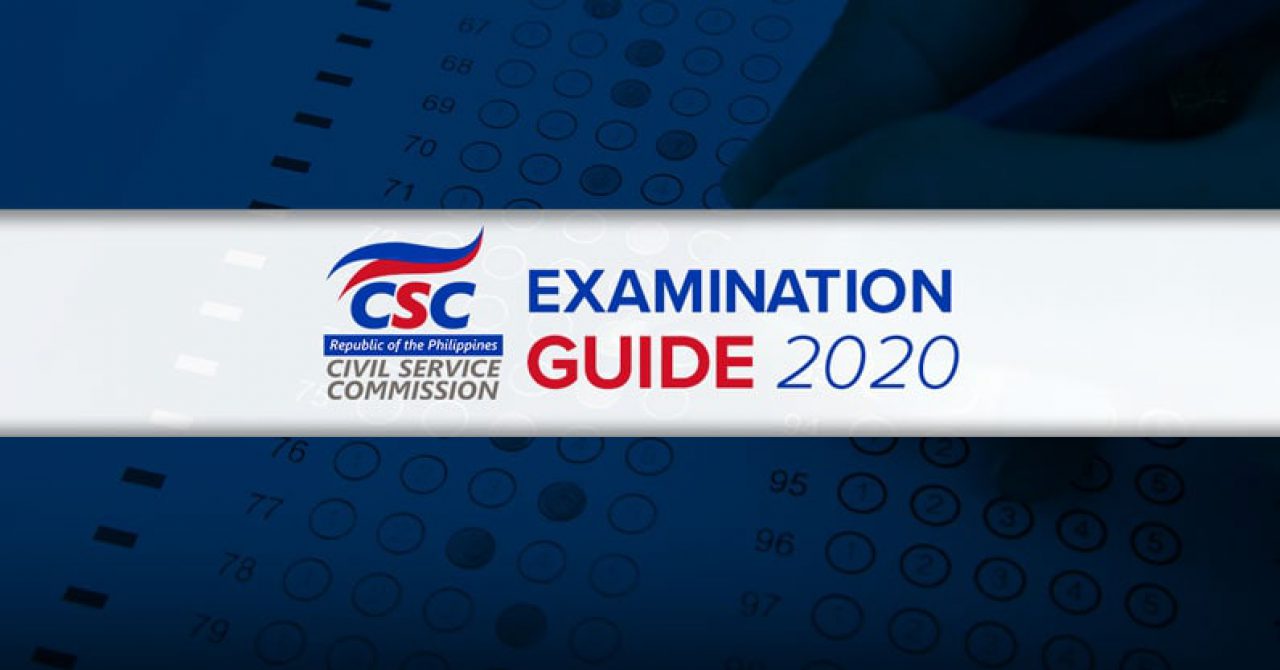 Some of the reasons why job hopefuls gun for a government job include stability, career growth, and multiple employee benefits.
Does the chance to make a career out of government service sound interesting to you? Well, first you need to take and pass the Civil Service Exam. Read on to find out how.
What is the civil service examination?
It is a qualifying examination headed by the Civil Service Commission (CSC) that gauges your capacity to work for our government.
What are they types of civil service exams?
1. Professional
Considered the hardest type of the exams given by the CSC, people who will take this test must answer 170 items in three hours and ten minutes.
Passing a professional civil service exam means you can be employed in managerial, technical, executive, and division chief level positions. This is the reason for the stringent testing process.
2. Sub-professionals
This test, consisting of 165 items, comes with an allocated time of two hours and 40 minutes
Passing this type of exam make you eligible to apply for clerical or first-level government job vacancies.
(Read: Personal Loans For Government Employees In The Philippines: A Comprehensive Guide)
Two modes of civil service examination testing
There are two ways that you can take both types of civil service exams.
1. Paper and pencil test or ball-pen based
This type is ideal for examinees who prefer the traditional way of taking a test.
The questions are given to you on a sheaf papers and you are required to shade a circle that corresponds to what you believe is the correct answer.
2. Computerized examination
This is available to tech-savvy applicants who prefer using a computer. Note that exam results will be released faster as a systemized checking will be used.
(Read: GSIS Benefits, Loans, And Online Services: A Newbie's Guide)
Who can take the civil service examination?
Must be a Filipino citizen
Must be 18 years old and above
Must not have taken the CSE within the last three months
For dual citizen Filipinos, they must submit a certification of retention/reacquisition of Philippine citizenship
Must not have been sentenced to crimes associated with illegal drugs, moral corruption, deceit, and the likes. However, those with unresolved administrative or criminal lawsuits can take the exam and can be granted eligibility if they passed but once they are deemed guilty, it will be invalid.
Civil service exam schedule for 2020
There is a scheduled exam on March 15, 2020. Applications must be submitted from December 16, 2019, to January 15, 2020.
The second leg for application is from May 11, 2020, to June 10, 2020, for an examination date on August 9, 2020.
Civil service exam requirements
1. Carefully filled CSE application form which is available at any CSC Regional Field Office OR for download here.
Note that the "signature over printed name of applicant" and "right thumbmark" portion should be filled in front of a CSC processor.
2. Four pieces of passport-sized colored photos taken in white background
As the department is strict when it comes to requirements, make sure that your face is bare and without any accessories. Your face needs to take up 80% of the space.
Also, a handwritten name tag with your signature must be placed approximately one inch under your chin.
Note that if you chose the computerized exam, you are exempted from submitting this requirement as it will be taken at your assigned testing location during your schedule.
3. Valid identification (ID) cards
You need to present the original and a photocopy of a valid ID card. Aside from your personal information, they must bear the signature of the department's representative.
These are the valid IDs you can present if you want to take the civil service examination
Philippine passport
Driver's license
Postal ID
Voter's ID
Professional Regulation Commission (PRC) ID
SSS ID
Government Service Insurance System (GSIS) ID
Unified Multi-Purpose ID (UMID)
Philippine Health Insurance Corporation (PhilHealth) ID
Postal ID
Barangay ID
Police clearance
NBI clearance
Company ID
School ID
Birth certificate issued by the Philippine Statistics Authority or the local civil registry
Dual citizen applicants must present the original and submit a clear photocopy of their retention/reacquisition of Philippine citizenship certificate officially released by the Bureau of Immigration
4. Examination Fee
This is P500 for the paper and pencil test and P680 for the computerized type.
(Read: LANDBANK iAccess Enrollment And Services: A Quick Guide)
Civil service exam application process
For the paper and pencil test or ball pen-based exam
1. Submit your duly filled application at your preferred CSC regional office or field office. To check the which office nearest to your location, click here.
On the day of your visit, we highly suggest wearing smart casual attire excluding sleeveless blouses and sandals for women and short pants for men.
Additionally, these offices operate on a first-come, first-served basis so make sure to arrive early.
2. Sign your application and affix your thumbprint in front of a CSC servicing officer.
3. Submit your application form for evaluation. The CSC servicing officer will return the form once you're qualified.
4. Go to the cashier and pay the P500 examination fee.
5. Present the official receipt together with your application form to the CSC servicing officer. Get the examination receipt slip and a list of reminders for the examination proper.
Computerized Examination
1. Go to the CSC-COMEX website and click the "Sign Up Now" button.
2. A "your connection is not private" page will appear. Simply click "Advanced" then click on the "Proceed to www.comex.csc.gov.ph (unsafe)".
3. Fill in your details then click "NEXT".
4. Take time to read the terms and conditions. Once you're done, tick "I agree to these terms and conditions".
5. On the "examination schedules and newsletters" type in the captcha code on the box provided for verification then click "submit".
6. Check the email address that you provided and open the mail from CSC to activate your COMEX account.
7. After logging in, click "reserve a slot now!" to see the available examination schedules.
8. Use the filter option to show a specific examination type, date, and location that suits your schedule. Click "reserve a slot" to finalize your choice.
9. Check your email then print the ''slot reservation." You must bring this print out on your scheduled date.
Days before your scheduled test, you can verify your exam location by visiting the online notice of school assignment (ONSA) site. Fill out the needed details then have them printed. Don't forget to bring it on your scheduled date.
Additionally, you will also receive a text message from the CSC confirming your examination site.
If the above-mentioned website is offline and you didn't receive a text message, click here for further information.
(Read: In Case Of Emergency: Where To Get Calamity Loans And How To Apply For Them)
What to expect on the day of your examination
If paper and pencil test or ballpen-based exam
1. Bring the following:
Application and official CSC receipt
Your printed copy of notice of school assignment
ID cards (photocopied and original)
Black ballpen/s only
2. Do not bring mobile phones, tablets, smartwatches, calculators, and other items that could distract you and your fellow examinees. They are not allowed in the examination area.
3. Answer the questions by making sure to completely shade the circle. If you decide to change your answer, put an "X" over your previous choice then shade the new one. Note that you are only allowed to change one per item.
4. Once you're done, review all your answers. From time to time, the CSC proctor gathers the finished answer sheets and questionnaire booklets so you don't need to stand up.
5. Wait for the CSC proctor's instruction on when to leave the room.
Computerized examination
1. Arrive an hour before to get acquainted with the examination site. Ask for a queue number from an authorized CSC personnel or the guard on duty.
2. For verification, present your requirements at the processing area.
3. Pay for the P680 examination fee at the cashier and submit the official receipt to the CSC servicing personnel.
4. Proceed to the waiting room.
5. A brief orientation will be conducted by the CSC proctor. Sign the examinee attendance sheet together with the picture seating plan.
6. Time for the examination. Take your time and carefully review your answers.
(Read: A Professional's Guide to PRC Online Registration and Application)
When are the civil service exam results released?
For the paper and pencil test or ballpen-based exam
The CSC will post the official list of passers on their website 41 days after the exam.
The rating will also be accessible on the online civil service examination result generation system (OCSERGS) 15 days after the list of passers has been released. To access OCSERGS, click here.
Additionally, a certification of eligibility will be provided to passers 30 days after the list is posted online. To get the certification, personally visit your respective CSC regional office together with your application receipt and one valid ID for verification.
For the computerized examination
The CSC will release the list of passers one week after the examination. For your certificate of eligibility, a personal visit to the CSC is needed.
For those who failed
For those who failed at either type, log in your name, date of birth, examinee number, examination type, and date at the CSC's website to get a copy of your report of rating.
FAQs
What is the passing score?
The civil service exam passing score is 80 percent.
What topics are covered by the civil service exam?
1. General information
The Philippine constitution
Environment management and protection
Code of conduct and ethical standards for public officials and employees
Peace and human rights concepts
2. Numerical skills
Basic operations
Worded problems
Number series and sequencing
3. Verbal skills
Grammar and correct usage
Vocabulary
Proper paragraph organization
Reading comprehension
4. Clerical skills (for sub-professional level only)
Filling/clerical operations/alphabetizing
Spelling
5. Analytical skills
Proper word association
Identifying assumptions and conclusion
Logic
Interpretation of data
(Read: NBI Clearance Online: Your Guide To Quick Application And Renewal)
How to review for the civil service examination
1. After familiarizing yourself with the scope of the test, gather review materials and maximize your day by reading three to four hours a day. We highly suggest you start reviewing a month before to avoid cramming.
2. Since 80 percent of the examination's scope is numerical, analytical, and verbal, focus on these areas and practice by downloading free questionnaires online.
3. Practice sleeping and waking up early. Researchers found out that our brains are most active in the morning, so take advantage of it by studying during the early hours. Besides, sleeping early enables your brain to relax and recharge longer, making it fit to absorb important information that you need.
4. Improve your memory retention and concentration by snacking on nuts, dark chocolates, and pumpkins seeds. Drinking coffee, turmeric and green tea also helps by enhancing your concentration needed for memorizing detailed information.
Does the civil service exam eligibility expire?
No, it doesn't have an expiration date.
Who are exempted from the civil service exam?
1. Bar and board exam passers
Under Republic Act 1080, bar exam passers under the Supreme Court and licensure board passers can work for the government without taking the examination.
2. Barangay health workers
In accordance to the Republic Act No. 7883 or the "Barangay Health Workers Benefits and Incentives Act of 1995," those actively employed for more than five years and with an educational background of at least two years in college are excluded.
3. Barangay nutrition scholars
Commonly known as volunteer community workers who execute wellness programs in an area. Presidential Decree No. 1569 states that they are excepted provided that they have productively served for two years.
4. Barangay officials
According to Republic Act No. 7160 or the Local Government Code of 1991, the following may render their service to the local government without going through the civil service examination:
Barangay captains
Members of the Sangguniang Barangay
Sangguniang Kabataan chairman
Barangay treasurers
Barangay secretaries
5. Electronic data processing specialists
As per CSC Resolution No. 90-083, individuals who passed the training courses with proficiency tests conducted by the Information and Computer Technology Office will be awarded the CSC eligibility.
6. Those who graduated with honors
In compliance with the Presidential Decree No. 97, students who ranked summa cum laude, magna cum laude, and cum laude on their graduation can directly work for the government given they came from schools recognized by the Commission on Higher Education (CHED).
7. Those who graduated with honors in foreign schools
In reference to CSC Resolution No. 1302714, graduates with Latin honors from international schools certified by the Department of Foreign Affairs (DFA) are automatically given eligibility.
(Read: A Complete Guide On How To Register As A Voter In The Philippines)
8. Members of the Sanggunian
As per CSC Resolution No. 1300486 under Republic Act No. 10156, vice mayors, vice Governors, and members of Sangguniang Bayan, Panglungsod, and Panglalawigan are officially granted legibility once they are seated in the stated positions.
9. Technological and scientific specialists
According to Presidential Decree No. 997, the abovementioned practitioners equipped with masters or doctorate degrees with three years of extensive experience are given this benefit.
10. Individuals with immeasurable skills
Under the CSC Memorandum Circular No. 11, highly trained individuals such as heavy equipment operators, carpenters, plumbers, laboratory technicians, automotive mechanics, and other skilled positions that cannot be measured by written assessments will be granted with this eligibility.
11. Veterans
As a special privilege and under the veteran preference rating eligibility, they and their immediate families will be given ten points if they failed the assessment given their rating is not below 70.