Bike Buyers Guide For A Post-Quarantine Philippines
9 min read
Biking as a means of mobility will become a common practice, especially with public transportation severely limited by the quarantine. How will your average Filipino navigate through countless options and find the ride that suits his needs best? We're here to answer your questions on what a good bike price is in the Philippines, where to find good shops, and all things two wheels.
With Metro Manila and other areas under the modified enhanced community quarantine (MECQ), restrictions are still in place for ordinary Filipinos who do not need to go outside. For those who cannot afford to drive a car to work, a bike is the perfect means to move. So here we present you with a bike buyers' guide for the new normal in the Philippines.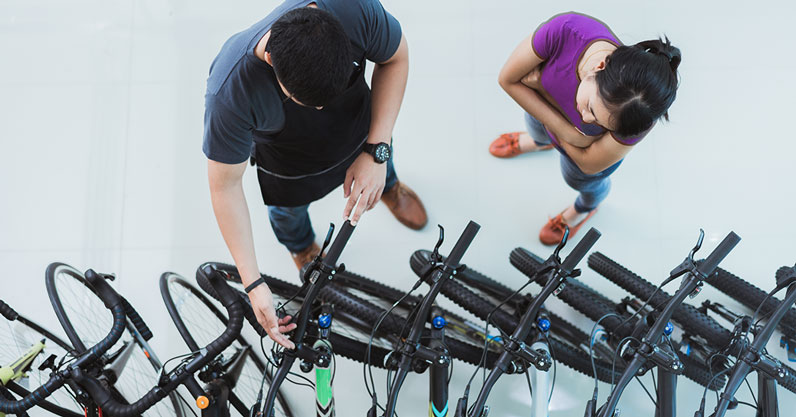 Top reasons to bike in the new normal
Bikes in the Philippines amid COVID-19 have served tons of practical uses especially for commuters who want to practice social distancing. Before you check out bike prices in stores near you, know the benefits of riding one:
Whether it's ECQ, MECQ, or GCQ, biking allows you to cover more distance at a much shorter time.
Commuting will be more inconvenient once they start to operate again under limited capacity, so biking will allow you to give space to those who cannot afford to get a bike.
Biking allows you to practice social distancing which is not possible with public transportation.
It's a healthy way to go from one place to another, with the only downside is sweat and more clothes in your laundry basket.
There's no carbon footprint when you bike, which means it's the eco-friendliest way to go from one place to another.
Policymakers are encouraging more infrastructure and support for biking as a means of transportation. Some of them include Pasig City traffic chief Anton Siy, MMDA chief traffic enforcer Edison "Bong" Nebrija, and Senators Francis Tolentino and Pia Cayetano.
(Read: QUIZ: How Much Do You Really Know About COVID-19?)
Questions to ask yourself before buying a bicycle
The price of a bike can cost serious money—and riding conditions to and from your place of origin should help you decide if biking is really for you. You might want to ask yourself the following questions first:
Where will I ride the bike?
Before you go all philosphical with this, you need to consider the terrain, elevation, and distance between your home and workplace. This means figuring out if you will go through hilly roads, bridges, road works, and other conditions that can should be part of your considerations.
What bike parts should I care about?
To get to know the anatomy of your bike, here are some parts you must research beforehand: frame, wheels, suspension, drivetrain, brakes, and contact parts (handlebars, seats and seat posts, pedals, and stems). Ask your local bike store about them.
What is my budget for a bike?
Depending on your preferred type of bike, you can easily get a ride for as low as ₱5,000 with all stock parts or you can go double or even more and get a better unit.
Should I get a brand-new bike or a used one?
The decision to this question highly depends on a lot of factors, such as your budget, the condition of the used bike, and others. Don't let the price sway you into buying it immediately.
Types of bikes available in the Philippines and their price range
You need to figure out the perfect type of bike and their price range before you compare prices and specs. If you're not too familiar with the kinds of bikes out there, here's a quick guide on how to select the ride that with suit your lifestyle and needs:
Mountain bike
Price starts at: Around ₱10,000
Probably the most common type you've ever heard, they're bikes designed for rugged and uneven terrain like off-road trails, gravel, and other extreme conditions no other bike type could handle. Because of that, they have a chunkier build and bigger frame to handle all the stress.
Road bike
Price starts at: Around ₱3,200 (and can go as high as ₱200,000+ for brands like Colnago)
Highly optimized for street use, road bikes favor lightweight design and efficiency so you can go as fast as you can on the road. They usually come in light frames, drop handlebars, and skinny tires so you can build up speed as quickly as possible—as long as your lungs and heart can take it.
Commuter bike
Price starts at: Around ₱6,000
Unlike the previous two bikes mentioned, the commuter bike doesn't have a specialty use. Instead, their versatility allows you to traverse everyday road conditions without fear of ruining your ride. They have frames that are heavier than your usual road bike but not as rugged as your mountain bike, although you can take them for a little bit of both. Just don't expect it to outperform either.
Folding bike
Price starts at: Around ₱3,200
Perfect for city living where bike racks are a rarity, the folding bike solves the storage issues that are common with your average ride. With a folding bike, you can still enjoy commute and take it with you to public transportation—and just cover the remaining distance with a short ride. However, portability means that some performance issues will be sacrificed.
Electric bike
Price starts at: Around ₱3,200
Equipped with a battery and a silent motor, electric bikes allow you to cover twice the distance with half the speed. The motor will assist you with your distance traversed, thus not requiring you to put too much effort in your pedaling. However, one big drawback of this is that the electric components add weight to your unit.
You might be wondering about other types like cruisers and BMX, but they're not exactly ideal for office rides. Meanwhile, "Japanese bikes" sold at surplus shops are just commuter bikes with either cruiser handlebars for a more comfortable upright cycling.
Bike prices in the Philippines explained
To be honest, there is no singular way to determine whether the price of a bike is expensive or not.
There are many factors that affect price tag on a bicycle. One of the biggest considerations is the size of the seller.
For your giant emporiums like the ones you can find in Quiapo, expect them to have lower prices than community bike sellers because they serve as both a distributor to smaller ones and a place where consumers can get parts and units for a steal.
Accessibility also plays a big factor for sellers to determine the price. The further they are from wholesalers and warehouses, the more expensive their units are. Of course, remote sellers have to adjust their prices based on logistics and other factors to make a living.
Take Trinx Dolphin 2.0, for instance—a 20-inch folding bike that's a common choice among city bikers. In cities like Makati and Manila, you can get that model for as low as ₱7,500. However, a quick search on Facebook shows that the same model fares for ₱10,000 and below in areas outside of the Metro Manila.
(Read: DOTr Guidelines For Commuters During The Quarantine)
Finding a good bike shop in the Philippines
Bicycle stores are almost everywhere; every barangay or town definitely has at least one store where you can get your goods. Where should you get yours at a good price then?
While there are cheaper bikes from big retailers such as the ones in Quiapo or Cartimar, it's better to get your first ride from a local store. Aside from easy and convenience, you can also expand your networks through these community stores and learn more from others.
For now, we'll cover online platforms where you can buy your bike as part of the precaution against COVID-19. If you have a local seller in your barangay or town, better to ask your neighborhood shop to help you get the perfect set for you.
Bike shops
Colnago Bike Manila
www.colnagomanila.com
Established in 2014, they distribute Italian bikes and components. They don't come cheap, though, as Colnago bike prices range from ₱220,000 upwards.
Bike Tech Manila
www.biketechmanila.com/
Delivers anywhere in Metro Manila and nearby areas
Decathlon Philippines
www.decathlon.ph
Decathlon delivers bikes and accessories anywhere in the Philippines
LJ Bikes
www.ljbikes.com
Delivers anywhere in the Philippines
BikeTradesPH
www.biketradesph.com
Online marketplaces for bikes and bike parts
Wheel Works Kapitolyo
www.wheelworks.ph
Delivers anywhere in the Philippines
Carousell
Facebook Marketplace
Bike-buying tips for beginners
Getting MECQ-ready with a bike is more than just a transaction. You need to do your due diligence when researching, scouting for bike stores, and talking to sellers about your preference. To make your bike purchase easier, here are some time-tested tips to make your purchase more seamless.
First, do your research
Aside from bike price and figuring out what type of bike suits your needs best, you also need to learn about other things like parts, brands, materials, and others. Skills that you need to learn include maintenance, basic troubleshooting, aftersales care, and other mechanical skills involved like gear shifting, braking, and others.
Pick your shop
When it comes to your local bike shop, make sure that they're friendly to first timers and not too eager to upsell you with various parts and accessories you don't need for the first time. A good bike mechanic will know what you need based on your description, ride style, distance, and other factors and recommend you several bikes with different prices. If you feel like they're being pushy with an expensive model, walk away. There are others worthy of your money.
Test a few units before you make a purchase
A reputable bike shop will allow you to give a few models a spin before you decide. Aside from finding the one that allows you to get the most comfortable ride, you can also fine-tune several things like seat post height, handlebar length, and others so you won't be as awkward when you start using it. Keep in mind that you'll be using this for hours so they have to be as comfortable as possible.
Be part of a bikers' community
Finally, make sure that your local bike shop has a community built around it. That means they have a handful of regular customers who are also there to assist newbies into easing their way to biking. A good community is important, especially if you need some nuggets of advice from seasoned riders. Also, some of them can also help with plugs for parts and accessories you can't get from your common shop.
That means they have a handful of regular customers who are also there to assist newbies into easing their way to biking. A good community is important, especially if you need some nuggets of advice from seasoned riders. Also, some of them can also be plugs for parts and accessories you can't get from your common shop.
Now that you're ready to get your first bike and face the MECQ, it's time to make that purchase. Practice social distancing, get some exercise, and save the environment.