19 Best Sinigang Restaurants In Manila 2019
8 min read
All the best sinigang restaurants in Manila are listed down here to warm you up this rainy season.
A hot, steamy, and savory soup is irresistible on this meditative and cuddly weather. Get ready as we present you the traditional and modern takes of our favorite Filipino dish.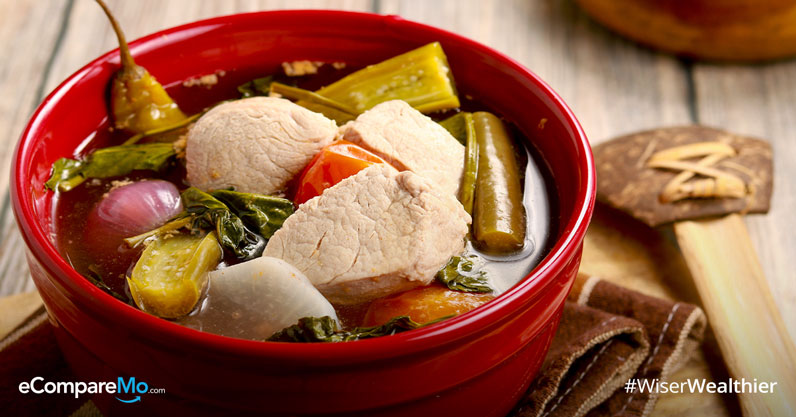 Where to find the tastiest sinigang
In Metro Manila, the number of restaurants may be overwhelming aside from the wide variety of this quintessentially Filipino dish. There's too much to try that we don't know if it will break or make you. To save you time and wasting your money, this article will give you a list of the quality places to have the tastiest version of it.
First, let's take a quick look at sinigang dishes from popular restaurants around the Metro:
| Base | Variety | Where to go |
| --- | --- | --- |
| Pork | Kimchinigang (pork with kimchi) | Locavore |
| | Kurobuta (Japanese black pig) | Mamou |
| | Sinangag (fried rice with boiled pork belly) | Kanin Club |
| | Baboy in Guava and Pineapple | Mesa |
| | Bagnet (deep fried, crispy pork belly) | Bagnetude 5.1 |
| | Lechon with Strawberry | Empacho |
| | Paella with Grilled Pork Belly | Neil's Kitchen |
| | With Ube (purple yam) | Abe |
| | Kadyos, Baboy, Langka (purple bean + langka) | Aracama |
| Beef | Sizzling | Locavore |
| | Ultimate Asimbull (classic beef) | Bullchef |
| | Fresh Corned Beef with Chorizo | Café Juanita |
| | Beef Sukiyaki (sukiyaki + risotto) | The Lost Bread |
| | Corned Beef | Sentro 1771 |
| | Short Rib and Watermelon | Manam |
| Seafood | Lamang Dagat (salmon, shrimp, squid) | Wooden Spoon |
| | Hipon with Sampalok (tamarind + mango) | Corazon |
| | Salmon sa Miso | Romulo Café |
| | Bangus ti Bayabas (milkfish and guava) | Victorino's |
| | with Santol (shrimp in cotton fruit) | Bench Café |
Does that whet your appetite? What variant do you think will hit the spot? Let's take a closer look at where and for how much you can sate your sinigang craving.
1. Bullchef
Address: 4 East Capitol Drive Kapitolyo, Pasig Contact number: 0916 338 3898
Sinigang dish: Ultimate Asimbull
Price: P614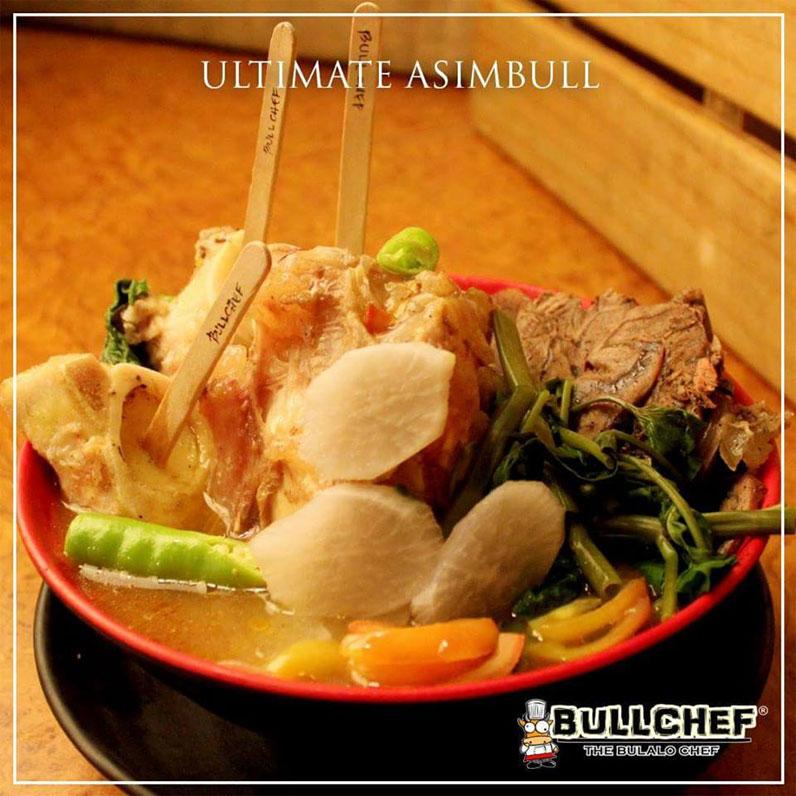 This is a traditional offering that comes with tender beef shanks (bulalo) and surprise-filled marrow bones soured with tamarind. The soup is tangy and rich thickened by melted fat. It's a real guilty pleasure.
2. Cafe Juanita
Address: 19 West Capitol Drive, Kapitolyo, Pasig Contact number: (02) 632-0357
Sinigang dish: Fresh Corned Beef Sinigang with Chorizo
Price: P581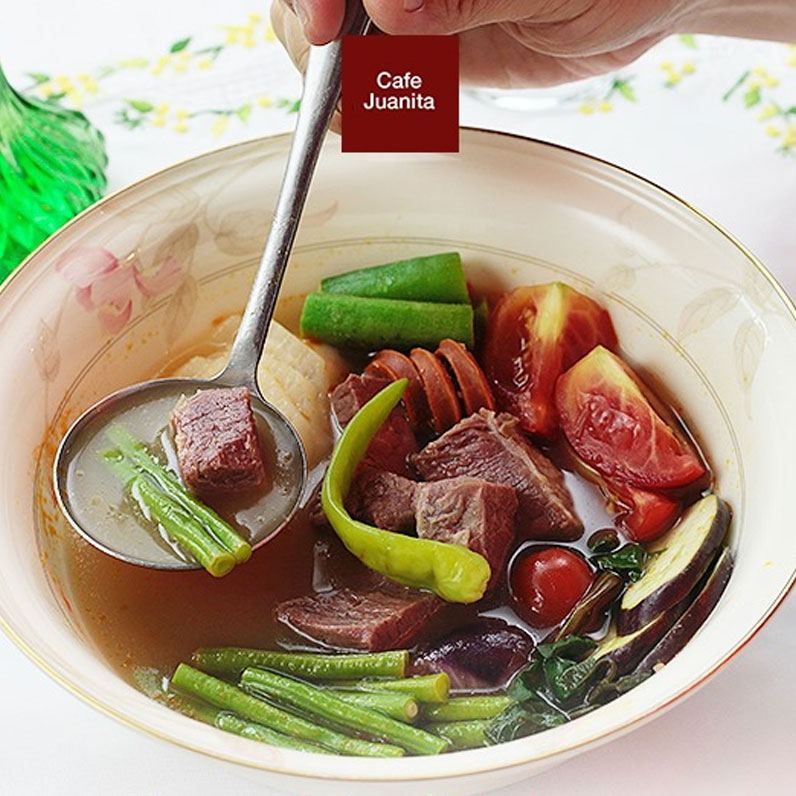 If you want to have a bowl of the dish that seemingly cooked by your mom at home, this is for you. No fancy garnishes, just the homey and familiar taste we all loved since we're kids. The corned beef with chorizo is a little twist you should try.
(Read: Top 20 Ramen Places In Manila: Savory Goodness From Noodles To Broth)
3. Aracama
Address: The Fort Strip, 5th Avenue Corner 26th Street, Taguig City Contact number: (02) 519-6815
Sinigang dish: Kadyos, Baboy, Langka
Price: P420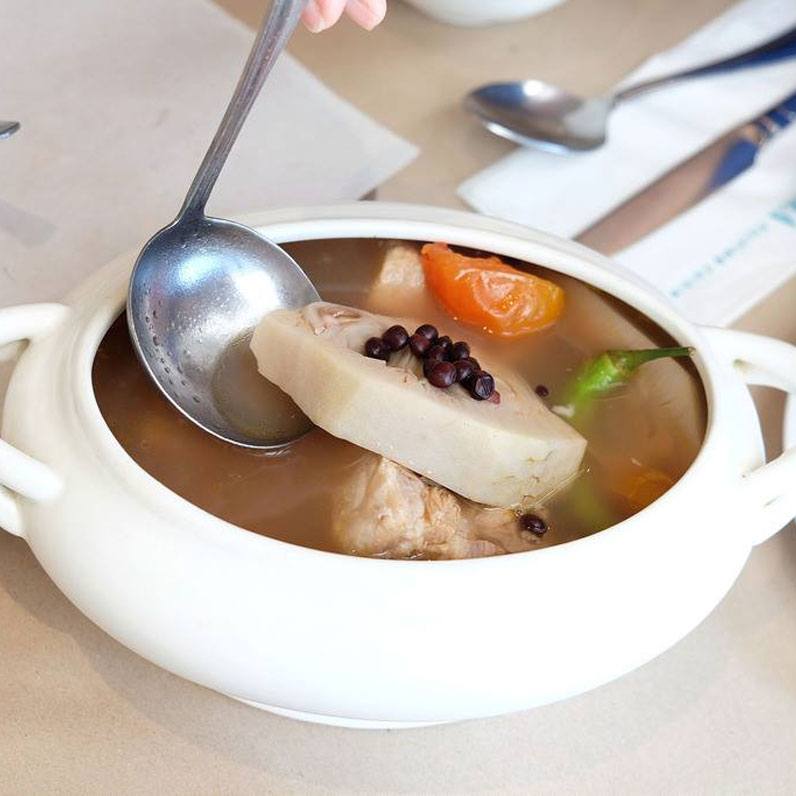 This Ilonggo version of your favorite dish is something to discover. Kadyos refers to the purple beans while Langka or batwan refers to the thickening agent replacing taro.
4. Locavore
Address: 10 Brixton St, Pasig, 1603 Metro Manila or Three Central, Valero, Makati, Metro Manila Contact number: (02) 632 9600 (Pasig), (02) 879 2667 (Makati)
Sinigang dish: Kimchinigang Price: P495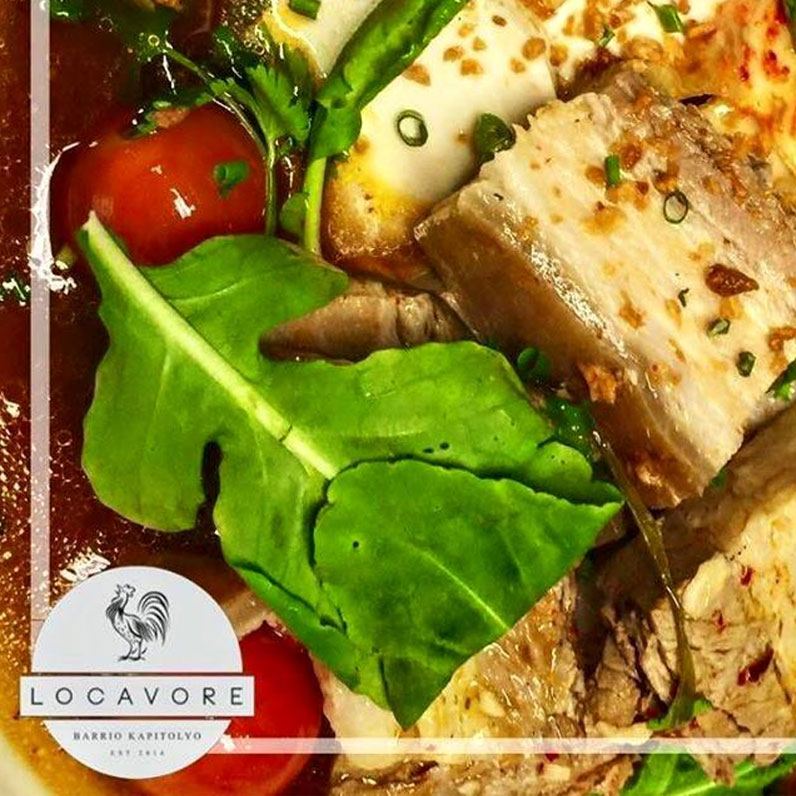 Pork belly in a bowl of sour soup with spicy kimchi may sound weird to you, but even if you're not into K-pop this hybrid dish might just be the new food adventure you're looking forward to.
Sinigang dish: Sizzling Sinigang Price: P550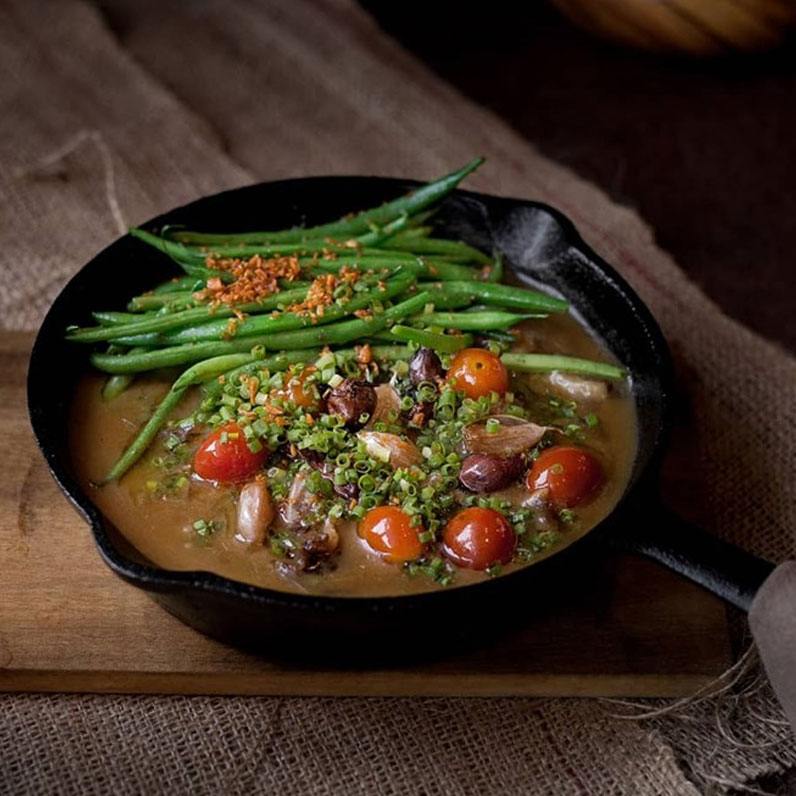 Although missing the soup, its gravy is infused with tamarind tartness we've grown to love. Its tender beef ribs seem to melt in your mouth with every bite. It's truly addictive especially with calamansi (Philippine lime) and chili—perfect pulutan!
(Read: 2019 Buffet List: Top 18 Affordable Eat-All-You-Can Restaurants In Metro Manila)
5. Mamou
Address: Rockwell, Ortigas, and Fort Bonifacio Contact number: 0917 8062668
Sinigang dish: Kurobuta Sinigang Price: P475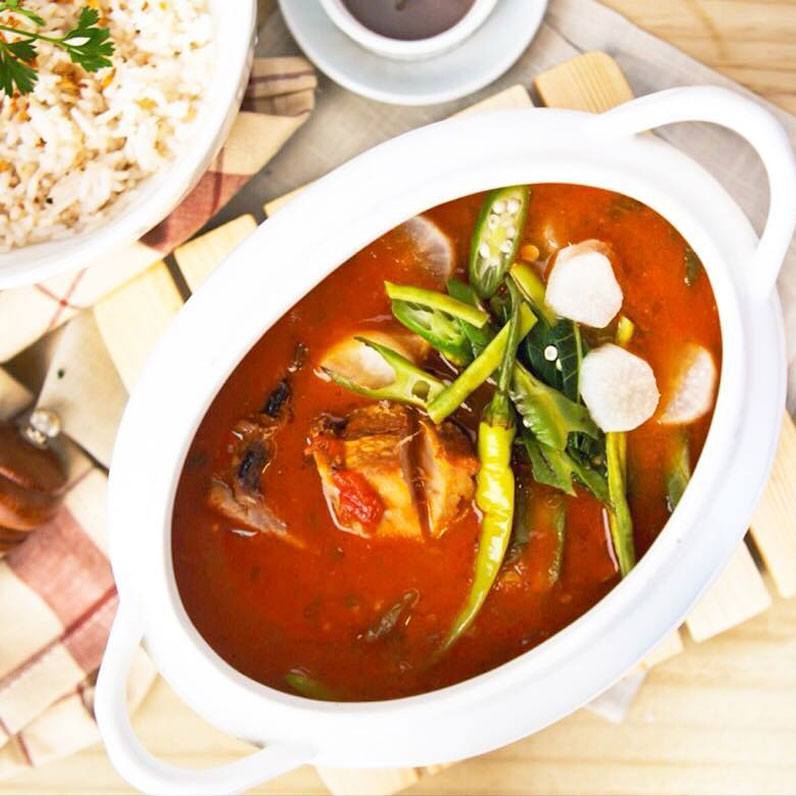 What if this Filipino dish was made Japanese? Mamou tries to answer that question, serving you that familiar thick soup soured by tamarind and tomatoes (which gave it the red color) with kurobuta or Japanese black pig meat. It also comes with bagoong.
6. Kanin Club
Address: UP AyalaLand TechnoHub Contact number: +63 2 332 5978
Sinigang dish: Sinangag na Sinigang Price: P235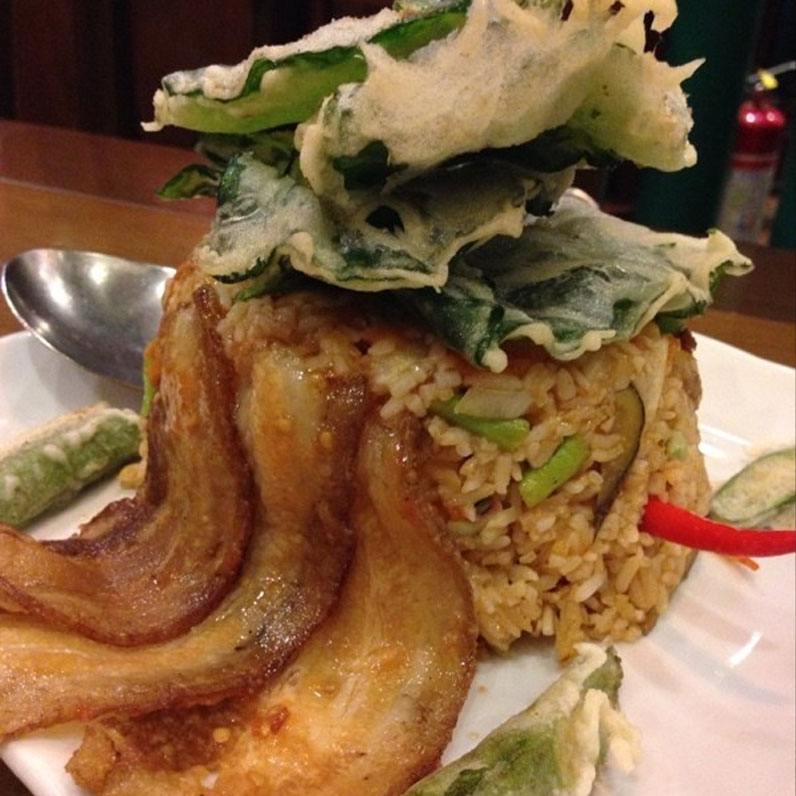 We are used to this Filipino dish with its soup we're guilty of slurping, but Kanin Club had the novel idea to transfer the taste into the rice itself! The meat and vegetables? It's a pair of boiled pork belly and tempura greens topped on the fried rice.
7. The Lost Bread
Address: 201 Katipunan Avenue Ext. Proj. 4 Quezon City (building behind House of Bulalugaw) Contact number: 282-6726
Sinigang dish: Sinigang Beef Sukiyaki Price: P280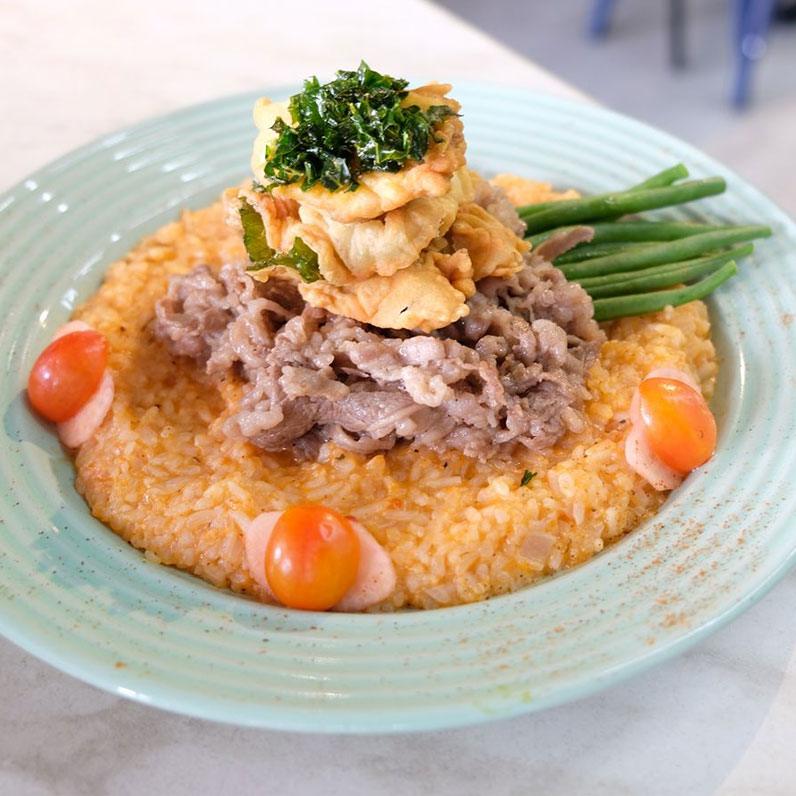 The eclectic pair of beef sukiyaki (Japanese) and risotto rice (Italian) as a unique sinigang (Filipino) dish will truly delight your taste buds! Fried kangkong is an added treat.
(Read: Best Milk Tea Shops In Manila: Here Are The Bestsellers)
8. Wooden Spoon
Address: P1 Power Plant Mall Cor Estrella St 1210, Rockwell Dr, Makati, Metro Manila Contact number: (02) 403 3585
Sinigang dish: Sinigang Lamang Dagat Price: P375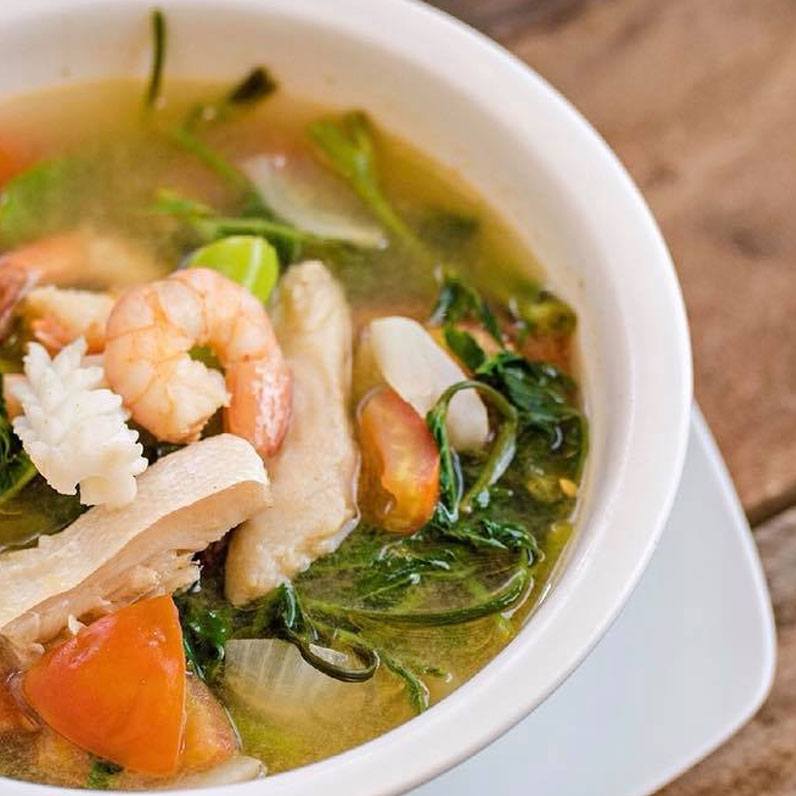 Seafood and sinigang? Take all my money! The soup soured by fragrant herbs and heated by green finger chilies is filled with salmon, shrimp, and squid. The bowl is perfect for the cold season especially that it's also filled with a lot of kangkong.
9. Mesa
Address: 264 Tomas Morato Corner Scout Fernandez, Diliman, Quezon City Contact number: (02) 441 5197
Sinigang dish: Sinigang na Baboy in Guava and Pineapple Price: P385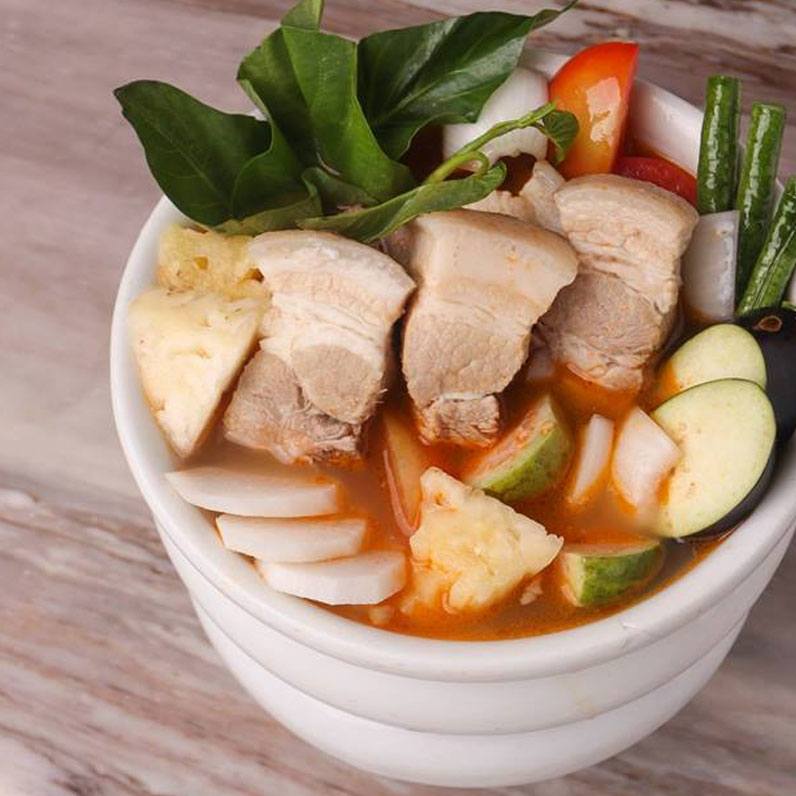 This could've been an ordinary version with pork base, except it was unconventionally soured by guava and pineapple. The soup has a creamy, tropically vibrant flavor.
10. Bagnetude 5.1
Address: North Hive Food Park, Don Faustino St., near cor Holy Spirit Drive, Quezon City Contact number: 0949 314 2295
Sinigang dish: Sinigang na Bagnet Price: P699 (includes other meals)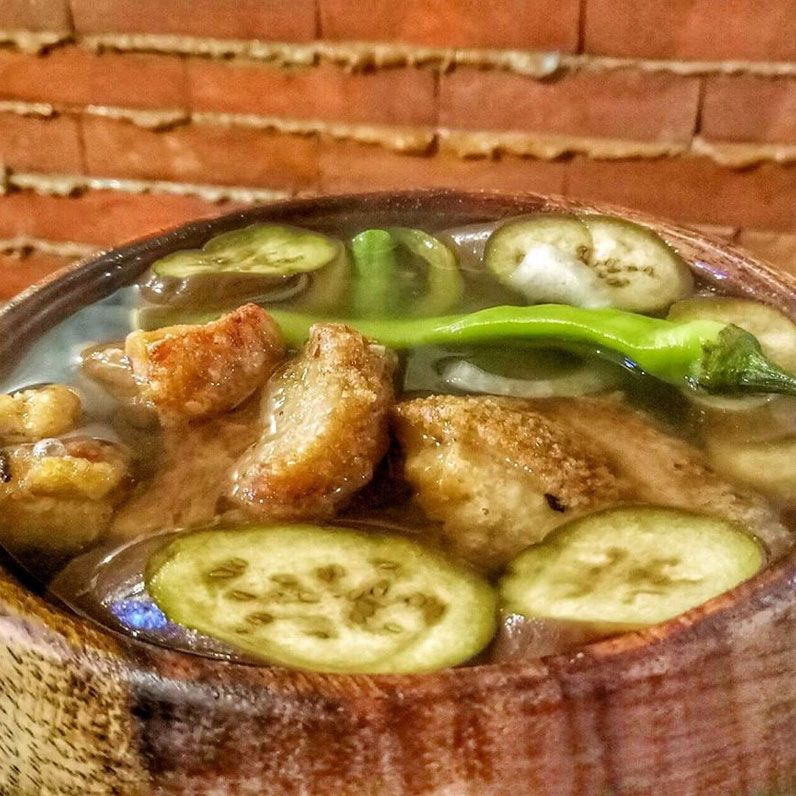 The base of the dish is bagnet, instead of the soft, boiled pork commonly served. A bagnet is pork belly boiled and fried deep to utter crispiness. The bowl is considered a soup of chicharron— nice!
11. Sentro 1771
Address: Sentro Capitol Commons, Pasig City Contact number: (02) 757 4259
Sinigang dish: Sinigang na Corned Beef Price: P595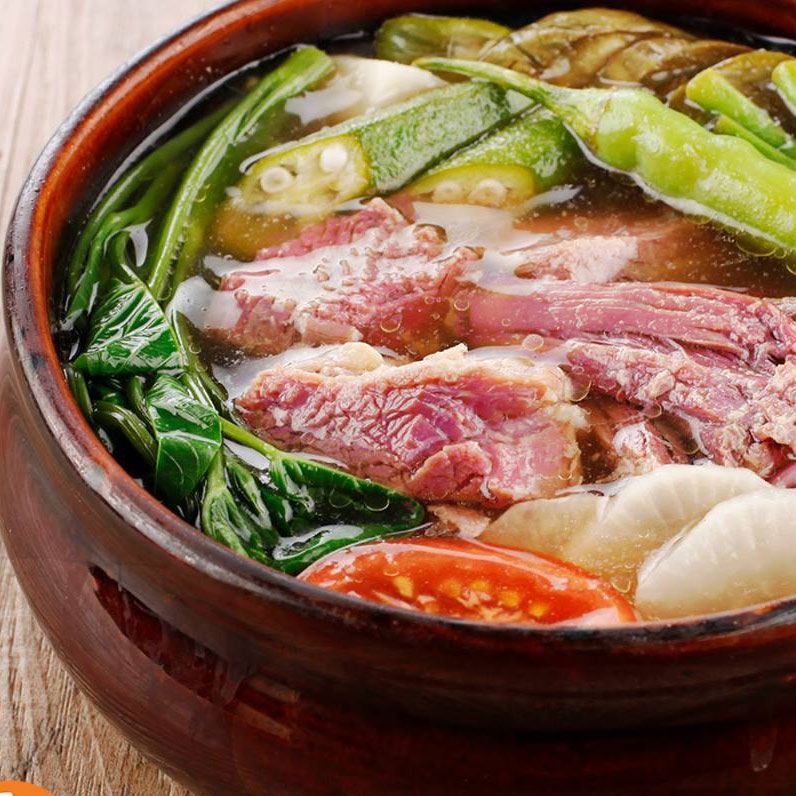 Sour and salty blends in this bowl of boneless beef cuts and short ribs that might just become your favorite sinigang variation.
12. Corazon
Address: 4/F East Wing, Shangri-La Plaza East Wing, Mandaluyong City Contact number: 687-1955
Sinigang dish: Sinigang na Hipon with Sampalok Price: P430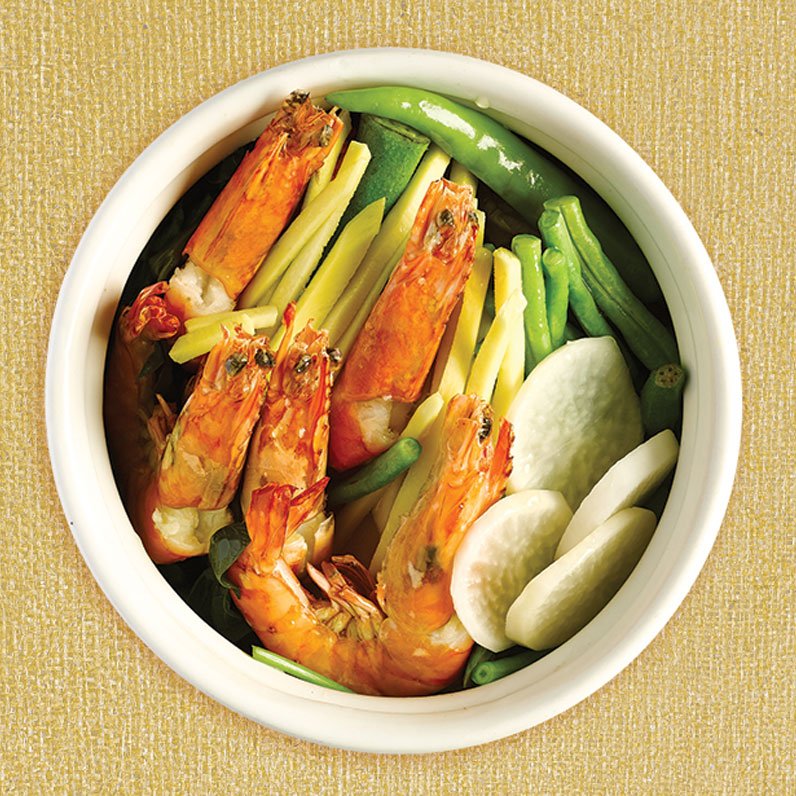 Shrimps are great source of delight and with Corazon's creation, you can enjoy these shrimps already de-veined. If you think tamarind is already tangy enough, you haven't tasted this dish, which also uses an unripe mango as a souring agent with lemon-like taste.
(Read: Vegetarian-Friendly Restaurants To Try In Metro Manila)
13. Empacho
Address: 2/F Unit 201 #170 Tomas Morato Avenue Corner Don Roces Barangay Sacred Heart QC Contact number: 0917 467 1816
Sinigang dish: Sinigang na Lechon with Strawberry Price: P490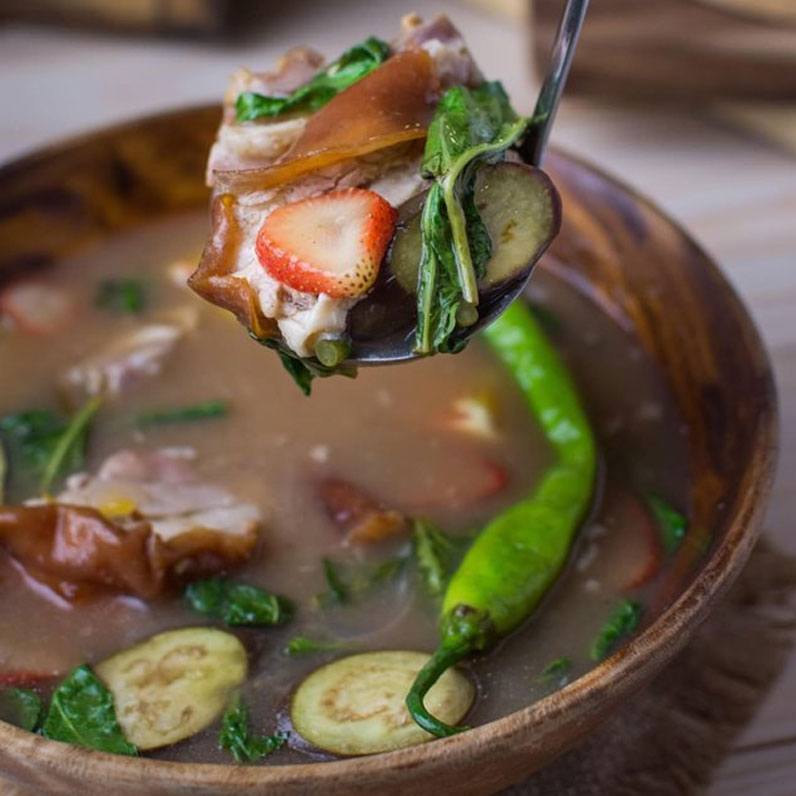 When it comes to novelty, this rendition of Empacho tops it all by using strawberry as the souring agent of the soup. The lechon belly is also smoked which gave a flavorful taste of a recipe that is seemingly borrowed from the Cordilleras.
14. Romulo Café
Address: 32 Scout Tuason Corner Drive Quezon City Contact number: 332-7273 / 332-7275
Sinigang dish: Sinigang na Salmon sa Miso Price: P418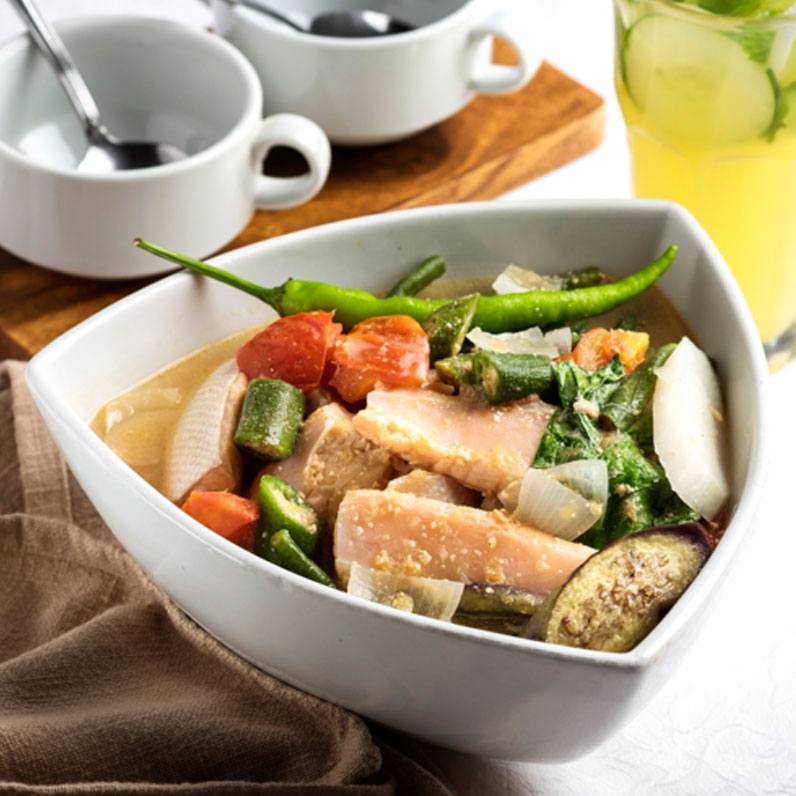 The salmon belly is already delicious but enhanced at greater level by the mustard greens and the fermented soybeans (that gives the fifth taste known as umami).
(Read: Shake Shack Manila: A Look At The Menu, Prices, And Branches)
15. Manam
Address: Level 1, Greenbelt 2, Ayala Center, Greenbelt, Makati City Contact number: (02) 511 8401
Sinigang Dish: Sinigang na Beef Short Rib and Watermelon Price: P720 (Large)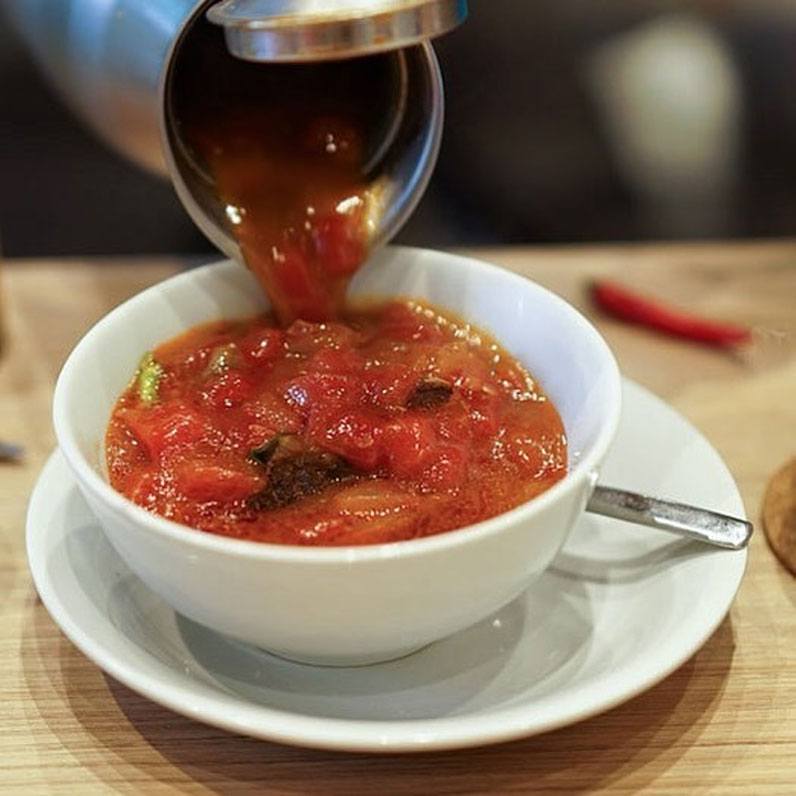 Another variant of the favorite Filipino dish is an original recipe of this restaurant—beef short ribs on a soup with watermelon. Although the main souring agent is still tamarind, the slices of watermelon add a subtle sweetness to the bowl.
16. Victorino's
Address: 11th Jamboree, Diliman, Quezon City, Metro Manila Contact number: 0917 833 4148
Sinigang dish: Sinigang nga Bangus ti Bayabas Price: P390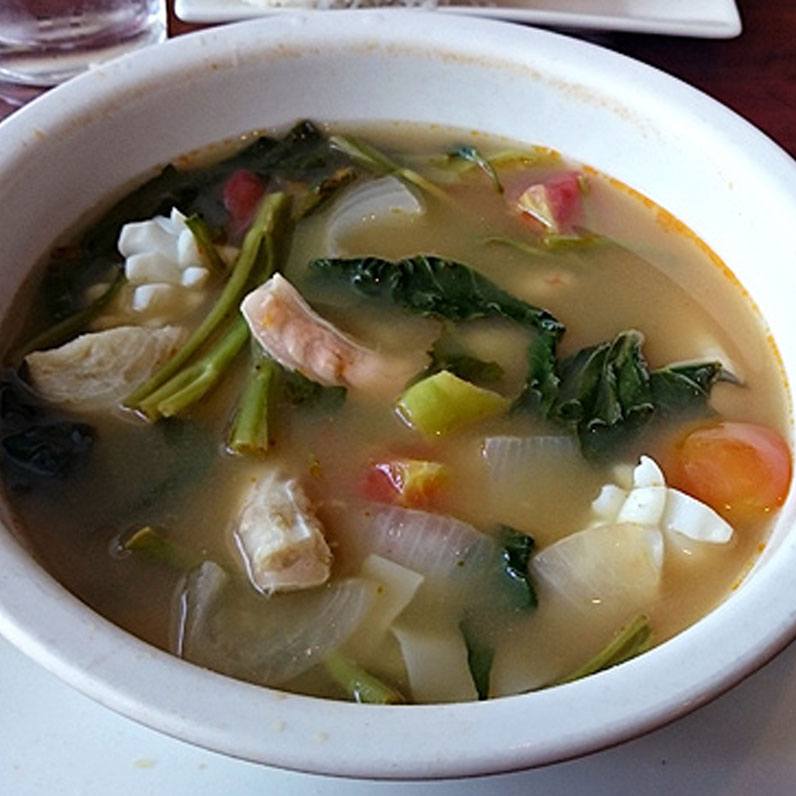 Aside from inihaw, bangus (milkfish) can also be your next favorite as the base of this Filipino staple dish. The fatty bangus belly complements the tartness of the soup produced by guava, which is so good to sip when it's hot and steamy.
(Read: 8 Best Noodle Places To Visit On A P250 Budget)
17. Neil's Kitchen
Address: Lot C 701 and 704 Westgate Filinvest City Alabang Muntinlupa City Contact number: (02) 710 8962
Sinigang dish: Sinigang Paella with Grilled Pork Belly Price: P395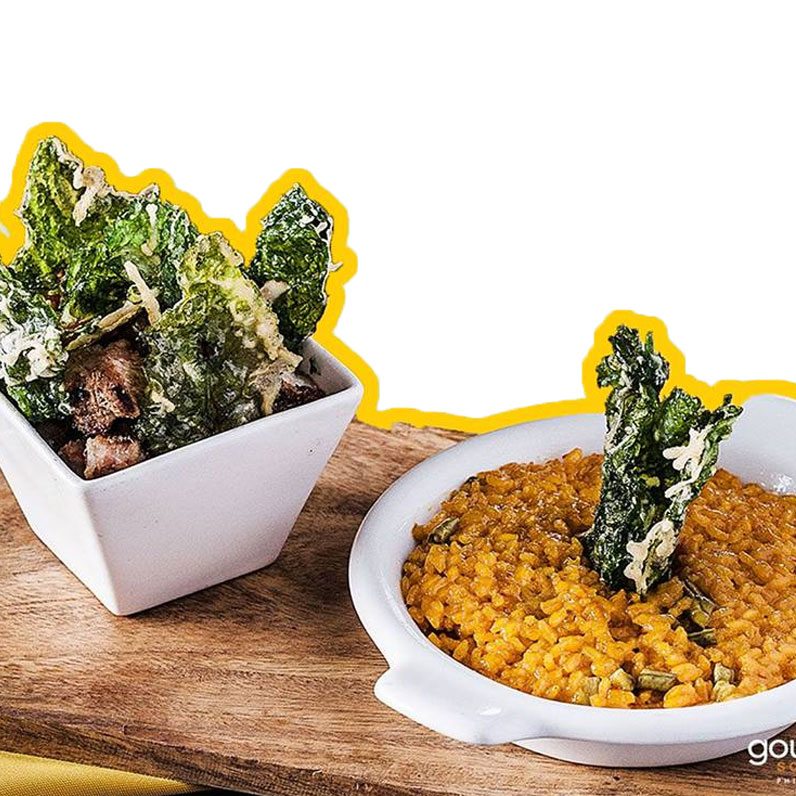 How whimsical this dish is! The pork belly is boiled and deep-fried, kangkong also deep-fried, and the yellow rice cooked in the tangy soup. Putting these in one plate makes a dish you never knew you love!
18. Bench Cafe
Address: 2/F, BENCH Boutique BGC Flagship Store, BGC Contact number: 0917 702 1133
Sinigang dish: Sinigang sa Santol Price: P395 (shrimp)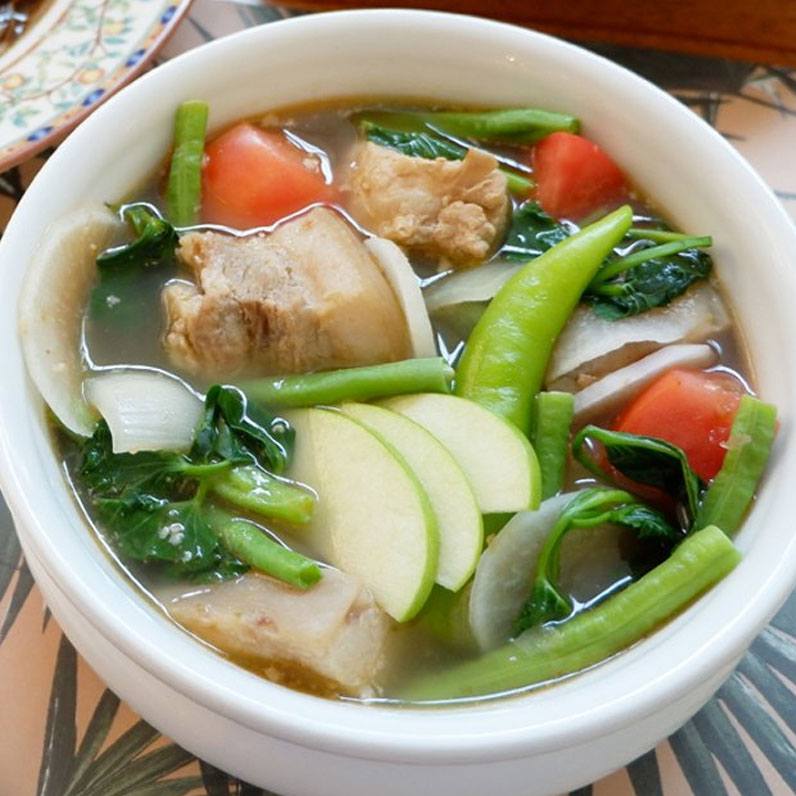 In three variants of base, this dish uses santol or cotton fruit as the souring agent for the soup. It's new but never disappointing order you can make.
(Read: Top Samgyupsal In Metro Manila For Budgets Of P500 And Below)
19. Abe
Address: G/F Serendra, Retail Area, Bonifacio Global City, Taguig City Contact number: (02) 856-0526
Sinigang dish: Sinigang sa Ube Price: P495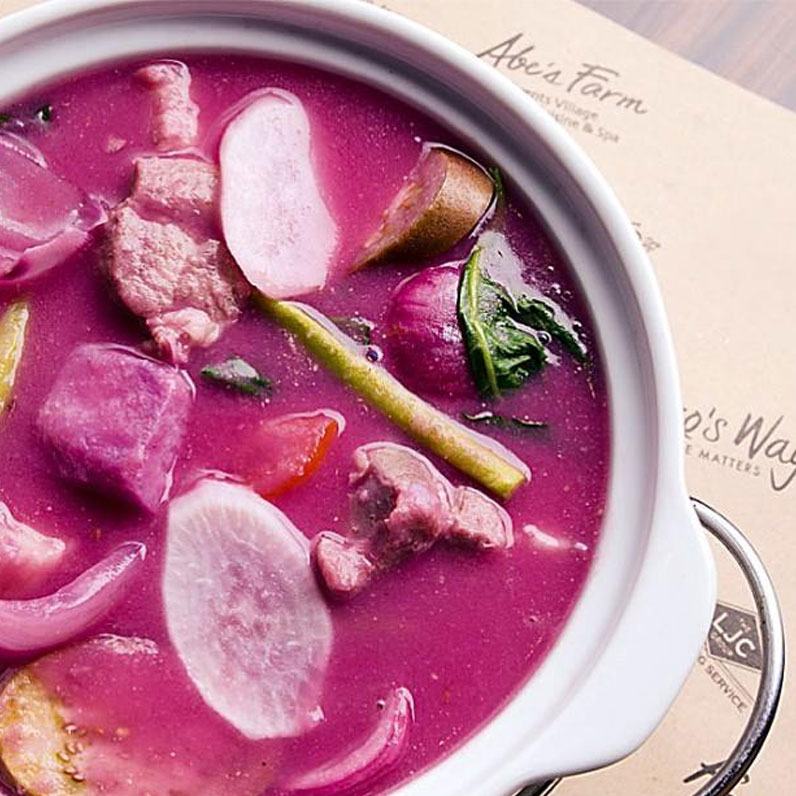 Instead of gabi (taro), this restaurant uses purple yam (ube) as the thickening agent which gives a creamy viscosity and purple-colored soup that might surprise you. Nonetheless, everything is balanced in this recipe.