5 Alternative Travel Spots Around the World
5 min read
Thanks to social media, we're more informed about all the beauties of popular travel spots across the world. We know about the cultural enrichment, foodie adventures, and beautiful sights we can experience at the world's most popular travel spots. But there's also still a lot out there to be excited about, places just waiting to be discovered.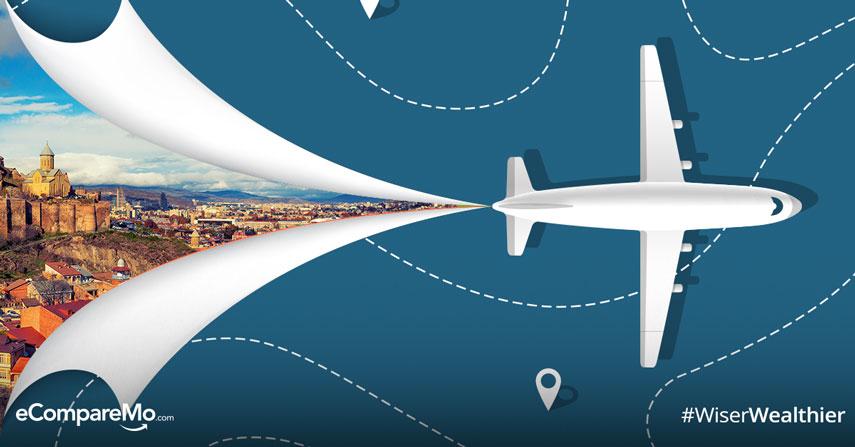 If you've been looking for unusual, exotic, or off-the-beaten places to travel to, we've handpicked five promising alternative travel destinations for you. These countries have developing tourism, and the number of tourists are expected to double in the next few years. We highly suggest you plan that trip and see them first, before you end up just seeing them on the 'gram.
1. Seychelles
Seychelles is a paradise perfect for honeymooners or tourists looking for a high-end, exclusive experience. This island off the east coast of Africa is known for its secluded beaches and pristine scenery – that have yet to be overrun and over-photographed by other tourists.
Must-see:
Morne Seychellois National Park – climb the Morne Blanc
Natural History Museum
Currency:
1 Seychellois Rupee (SCR) = 3.72 Philippine Peso (Php)
Visa:
A visitor's permit or entry Visa is required upon arrival. The permit is valid for 30 days max, but can be extended for up to one year.
Requirements include proof of sufficient funds, hotel or accommodation address, return tickets, and a valid passport.
2. Malta
Malta was the setting for the first season of Game of Thrones. If you follow the series, you know how awe-inspiring its old temples and medieval towns are – so, why not see it for yourself?
Go to the walled city of Mdina, which was the King's Landing setting and the arch of the Azure Window off the sea cliffs of Gozo where Khal Drogo and Daenerys Targaryen were wed.
But of course, one doesn't need to be a GoT fan to experience the rich culture and history of this Mediterranean island. Best time to go? Any time. Malta has year-round sunny weather, so just book that flight and plan your trip!
Events to watch out for:
Valletta Carnival – February to March
The Malta Jazz Festival and The

Malta Arts Festival – July, said to be the highlight of Malta's Cultural Calendar

Isle of MTV Malta Special in June – the biggest open air free concert in Europe.
Visa:
Malta is accessible for Filipino tourists with Schengen Visa.
Currency:
1 Euro (EUR) = 59.98 Php
3. Tbilisi, Georgia
One place just waiting to be discovered is Georgia. Its capital Tbilisi boasts beautiful architecture both classic and modern, along with a lively arts and cultural scene. Tourists have raved about Tbilisi nightlife and the warmth and hospitality of the locals.
Exploring Georgia shouldn't be limited to the capital as there's so much else to see, such as the town of Stepantsminda, in the Caucasus Mountains. It's one of Conde Nast's fourteen emerging destinations of 2017.  Into hiking? see the 14th-century Gergeti Trinity Church found at an altitude of 7,000 feet, giving you a breathtaking view of the surrounding landscape. According to tourists, it resembles Scotland, but even better as there's not a lot of people who know about this place yet. You can go trekking with a local guide – or, if you go in winter, indulge in adrenaline-pumping winter sports such as skiing and snowboarding.
Best time to go:
May, June, and September
Sights to See:
The Old Town
Svetitskhoveli Cathedral
Tusheti National Park, a northern slope of the Caucasian Mountains
Gergeti Trinity Church, Mount Kazbegi
Visa:
e-Visa application required from Georgia Visa HQ website. Submit health insurance and other required documents.
Currency:
1 Georgian lari (GEL) = 20.66 Php
4. Belgrade, Serbia
Number one on Conde Nast's list of 14 Emerging Destinations Around the World, it's made a name for itself as one of Europe's best nightlife places, said to rival old nightlife king, Berlin. Lonely Planet says, "this country doesn't do mild". So apart from the must-see wild late-night parties on floating clubs or Splavs, immerse yourself in the city's arts, culture, and cafe scene as well. Živeli! (Cheers!)
Best time to go:
The second half of April, May, June, and September, for pleasant and dry weather.
Famous Sights:
Stari Grad (Old Town)
Kalemegdan Citadel
Belgrade Beer Fest – mid-August one of the most visited festivals in Serbia
Belgrade fortress
Walk along the Belgrade Bohemian quarter Skadarlija, where you can taste the specialties of their National cuisine in one of the Kafana's (traditional tavern)
The city's historical district Zemun
Nikola Tesla Museum (yes, the genius Tesla was Serbian)
Visa: 
You may apply through accredited travel agencies, as the Serbian Embassy in Jakarta is the one who processes Visa applications for Philippine tourists. However, if you have a VALID US Visa on your Philippine Passport, it's valid for traveling to Serbia for a limited number of days.
Currency:
1 Serbian dinar = 0.50 Php
5. Baku, Azerbaijan
Aptly described by The Lonely Planet as "the architectural love child of Paris and Dubai", it's made it to Conde Nast's Emerging Destinations list because tourists are said to be "still a novelty" in this city. The thought of exploring this unfamiliar city without so many tourists should be enough to add this to your travel bucket list.
Your best bet to get a real taste of history and cultural diversity in this former Soviet-state is in its capital, Baku. There's a little bit of everything, old and new. From commercial hubs and skyscrapers to stone mansions and cobblestone squares and 5th-century old ruins.
Sights:
Walled Old City, a UNESCO World Heritage site
The royal complex of the Palace of the Shirvanshahs at the walled Old City, and the iconic stone Maiden Tower
The Palace of the Chars of Chirvan built in the 15th Century
Best time to go:
Between April to June to avoid the 40°C summer heat, and September to October to avoid the peak of winter from November to March.
Visa:
Like Serbia, it's best to apply through an accredited tourist agency as there's no Azerbaijan Embassy in the Philippines.
Currency:
1 Azerbaijani manat = 30.34 Php
Where ever you decide to go to explore this great big world, don't forget to explore safe and with complete peace of mind by applying for a SmartTraveller travel insurance policy from AXA.
With SmartTraveller, you're covered for:
Overseas Medical Expenses
Overseas Hospitalization
Travel Cancellation and Postponement
Baggage Delay
Baggage Loss or Damage to Personal Belongings, including electronics and travel documents
You can apply for a policy at least a day or 6 hours before your flight, but, be really smart and ready for anything by making it part of your travel planning and taking out your policy as early as six months before you leave.