Be Wary Of These New ATM Skimming Devices
4 min read
Local media was recently abuzz with news on how data thieves can get their hands into your ATM details.
Last month, police in Manila nabbed a Hungarian national named Robert Pap, who was caught planting a skimming device at an ATM in Bonifacio Global City. Reports said the suspect was arrested by the authorities while he was trying to retrieve the device.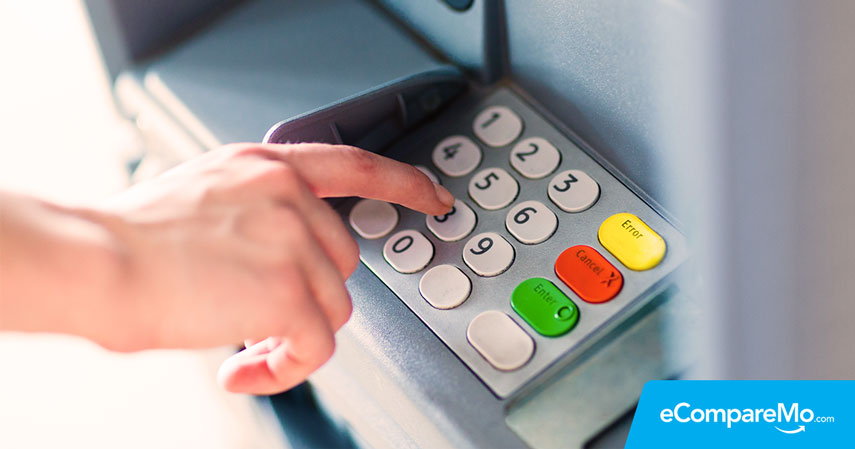 While ATM skimming devices have been used by syndicates for quite some time now, this time the culprit was caught with a key that can open the machine.
The first case of ATM skimming was discovered in the US in 2002, and since then digital thieves have become more cunning in stealing information from unsuspecting victims.
While the Philippines' banking industry constantly comes up with measures to prevent such scams, criminals just seem to be adamant at finding loopholes. Here are the latest methods used by ATM scammers to strip cash off unsuspecting victims.
Read: Top ATM Scams You Need To Watch Out For
Inside job
The newly exposed MO to the said ATM scam is quite alarming, especially that the skimmer can access the insides of the ATM with a key.
With the help of a key to open the ATM, thieves can put skimming devices right inside the machine. Even the savviest users will not detect the device until it's too late.
The only downside? The thief has to go back to the machine where it was installed and physically retrieve the skimmer. In the case of Pap, the bank security caught him on surveillance camera and waiting for him to go back for the day's big catch.
How not to be a victim: Choose only ATMs that are guarded 24/7. If possible, ask the person who made a withdrawal before you if the machine is working perfectly.
Pinhole cameras
Over the years, ATM manufacturers have been coming up with anti-skimming measures to deter thieves from being able to install skimming devices. However, some syndicates still find ways to virtually rob people.
In a report by tech reporter Brian Krebs, some skimming overlay devices use a legitimate-looking device that can both capture your ATM and record your keystrokes using a tiny pinhole camera underneath the machine. Since the contraption looks like a part of the machine, not everyone can spot it once installed. It can be easily yanked by the thieves once they have captured enough data.
How not to be a victim: Do the WIGL–watch your surroundings, inspect the machine, guard your PIN with your hand, and look for another ATM if you suspect something is up with the one you're at.
Keypad overlay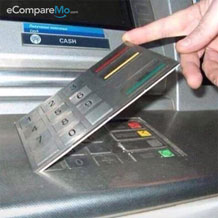 www.aol.com
Card thieves may be able to duplicate your account details and store them in blank cards to withdraw money. However, what separates syndicates from stealing your hard-earned cash is your personal identification number (PIN) code.
Last year, Rappler reported a new way on how card scammers can take your PIN code without the use of cameras. With the aid keypad overlay gadgets, every keystroke done by potential victims will be recorded on their device, which is stored in the gadget itself.
Fortunately, because the finish of the keypad doesn't match the rest of the machine, these devices can be spotted easily.
How not to be a victim: Carefully examine the keypad before inserting your card. Does it look too thick? Is it firmly in place? Are there signs of tampering?
Read: Use Your ATM More Effectively With These Tips
Black market parts
ATM scammers use different types of devices, ranging from crude, homemade skimmers to sophisticated gizmos that can fool the naked eye.
With the rise of technology, criminal syndicates can now just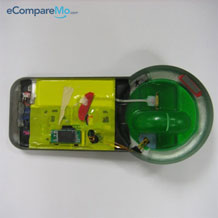 www.krebsonsecurity.com
outsource their parts from the black market and the rest is up to them.
Krebs found out in another report that some skimmers cover the entire panel that looks exactly like ATM dashboards, making them look more inconspicuous to the average user.
However, what makes this tech even more special is that it sends the captured information—both the card's and the keypad's—via a series of text messages. This makes physically retrieving the device unnecessary and the chances for them to get caught slim to none.
How not to be a victim: If you think you can't win it, WIGL it.
Storage devices
Some criminals try to make their devices blend in no matter the size, while others want to do it low-key—which means that it has to be small enough to not be seen.
According to gadget news site Gizmodo, one of the latest skimmers wasn't a card slot overlay, but a thin sheet of metal connected to a watch battery and a tiny storage device.
While its tech is more primitive than the others featured here, the skimmer is less visible and can be slid on the card slot to capture the magnetic data of all the cards going to the machine.
How not to be a victim: Stock up on cash you'll need for the day or week so that you won't be forced to make a withdrawal during unholy hours and at unfamiliar locations. Change your PIN regularly.