Adult Unemployment Rate At An All-Time High 45.5% In July 2020
3 min read
The Social Weather Stations (SWS) revealed in its most recent survey that unemployment in the Philippines has reached an all-time high almost 50 percent due to the longest-running lockdown in the world.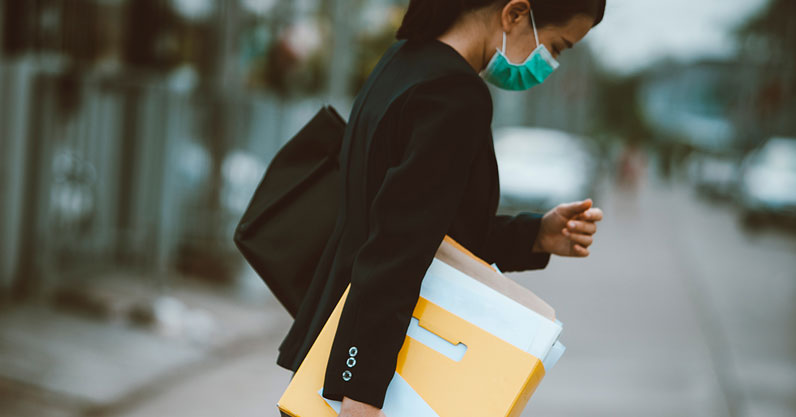 A few days ago, the social research institution revealed that 45.5 percent of Filipinos who responded their mobile survey lost their jobs due to COVID-19. The rate, which is the all-time highest in a long time, translates to 27.3 million Filipinos without a steady source of income.
To put it in perspective, joblessness in December 2019 was only at a 17.5 percent rate, or roughly eight million Filipinos. The figure jumped by a whopping 160 percent in just seven months—five of those months were the time Filipinos were placed under strict quarantine measures.
When was the last time the country experienced such widespread joblessness? According to the SWS, the company recorded high unemployment in March 2012. However, it's still 32 percent lower than the most recent rate at 34.4 percent.
The SWS said that one is considered unemployed they "voluntarily left their old jobs, are seeking jobs for the first time, or lost their jobs due to economic circumstances beyond their control," which is the closure of numerous companies and lockdown measures due to COVID-19 in this case.
Aside from joblessness, the economy is also now in a state of recession. Two weeks ago, the Philippine Statistics Authority published the figures for the second quarter of 2020. According to the agency, our gross domestic product is in the red at -16.5 percent.
Across-the-board unemployment
A more in-depth examination of the skyrocketing unemployment in the Philippines will reveal that no sector was spared. Based on the numbers provided by the polling agency, these are the changes in the numbers of people who lost their jobs over the past few months:
By area
National Capital Region – 44 percent (from 15 percent in December 2019)
Rest of Luzon – 45 percent (from 17 percent average in December 2019)
Visayas – 47 percent (from 16 percent in December 2019)
Mindanao – 46 percent (from 21 percent in December 2019)
By sex
Men – 36 percent (from 8 percent in December 2019)
Women – 56 percent (from 31 percent in December 2019)
By age group
18 to 24 years old – 63 percent (from 32 percent in December 2019)
25 to 34 years old – 49 percent (from 21 percent in December 2019)
35 to 44 years old – 42 percent (from 19 percent in December 2019)
45 years old and up – 40 percent (from 12 percent in December 2019)
By locale
Among urban dwellers – 44 percent (from 15 percent in December 2019)
Among rural dwellers – 46 percent (from 20 percent in December 2019)
'Not 100 percent'
According to Presidential Spokesperson Harry Roque, the government is elated that the figures are just 45.5 percent instead of 100 percent. In addition, Roque credited Filipino resiliency as the reason for this.
"Ako po'y nagagalak na hindi tayo 100% nawalan ng trabaho kasi sa tagal po na nakalockdown tayo, I'm still surprised at our resilience, at 45% pa lang po ang nawawalan ng trabaho," the spokesperson said.
It could have been worse kasi nga po complete lockdown ang nangyayari sa atin," he added.
The government lockdown, which is currently the longest of its kind in the world, has already affected the economy drastically. Filipinos lost their jobs and the economy plummeted, and because of this some businesses were also forced to close due to the inability to keep up with the zero foot traffic.
Despite the lockdown, COVID-19 cases in the Philippines are still on a rise. As of writing, the total number of Filipinos who got infected by the novel coronavirus reached more than 164,000. Deaths due to COVID were 2,681 as of writing and total reported recoveries were 112,759.
What to do when you lose a job?
If you're one of the many people who were part of the 45.5 percent surveyed by the SWS, it's not the end of the world. Here are some tips we can give you on how you can get back on your feet after a devastating blow to your finances:
Claim your unemployment benefits to help you weather the storm
Start your own online selling business
Recalibrate your budgeting strategies—and apply them when you're back on your feet
Be a "raket scientist" and earn through these smartphone apps
Earn some on the side with these handy tips on how to make extra money
Find a new job using these tried-and-tested methods on how to find a job during a crisis
Losing a job is not easy. At times, it may feel like a part of you has been taken away.
Although it is perfectly normal to pause for a while and mend your wounds, you need to get back on your feet as soon as possible. With the way things are, it seems like the coronavirus isn't going away anytime soon.