How To Sell Online In The Philippines: A Complete Starter Guide
14 min read
Anyone can start an online business, but how do you get a competitive edge over other sellers on the internet?
The pandemic and the closure of sectors forced us to take a hard look at how we earn and manage our finances. While some industries are not affected, others took a hard hit and caused massive layoffs and loss of income.
Tourism, food and beverage, entertainment—these are just some of the markets that dipped due to the community quarantine.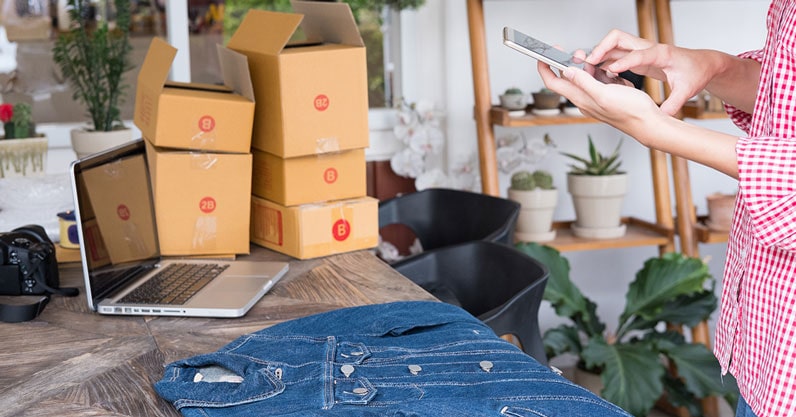 However, online selling remains untouched—and this venture just kept on getting more players.
With budding internet entrepreneurs multiplying increasingly, it can be difficult to stand out in a sea of mediocre products and terrible services.
Whether you're still in the ideation stage or have already put up your products on the web, here are tips on how to start selling online in the Philippines to make sure you're on the right track.
Why should you start an online business?
Getting rich and making profit may be the most compelling reason to enter any venture. But there's more to online selling than just making money.
If you think you can respond to these reasons positively, then online selling is definitely for you:
You have a great line of products that will give you the edge over other sellers.
You want to expand your reach to customers who are normally inaccessible to you.
You have the knack for technology and are unafraid to use it to your advantage.
You are a self-starter and you can pull yourself up by your bootstraps.
You want a low-cost way to incubate your business before you go physical.
Money is a great motivation to start selling your products online, but without other reasons to do so, expect your venture to flop before you even get it off the ground. Keep reading to seeks answers to questions about what and how to sell online.
How to start your online business
At this point, you're probably already convinced to start your own online selling business. But to be able to make sure it has everything to grow, you need to plan everything ahead.
Create a solid plan as if you learned it from a business school. Here's a no-nonsense, step-by-step guide on how to sell online:
1. Understand the market's demand
If you're going the physical store route, you need to understand the demographics of people who frequent your target area and figure out what they want. Unfortunately, the online marketplace follows a different rule than physical stores, with geography, age range, and others flying out of the window.
However, there are two ways to understand your market even more without commissioning a survey or doing a physical check of the area. For this, Facebook and Google are your friends.
Using Google Keyword Planner
To get started with Google Keyword Planner, just simply follow these steps:
Open Google Keyword Planner and go to your account
Once you're logged in, search for your potential product using basic keywords (e.g. "ube cheese pan de sal" or "coffee jelly")
On the topbar of the tool, you can set certain parameters like location, language, search network, and date range for a more detailed search
Google will show you the number of searches certain related keywords get and how stiff the competition is for ad buyers—or in this case, your potential competitors
Why should you use Google Keyword Planner for your business? This way, you can search for the interest for a certain product on search engines.
Customers who search for items already show intent in purchasing products they want. It's only a matter of time before you can turn them into your audience.
Using Facebook Marketplace
Meanwhile, Facebook will give you a more comprehensive look at your market.
With its Marketplace platform integrated to its searches already, it's easier to see how the competition fares in terms of pricing, packaging, and products.
To take advantage of Facebook Marketplace as a tool for market insight, just follow these steps:
Go to Facebook and select Marketplace on the topbar
Set the location filter to your current location and adjust the range depending on your potential area of service
Search the platform for keywords related to your products
You can now check the behavior of your potential competitors and you can freely analyze them for their strengths and weaknesses
That's it! Keep in mind that these tools are free and readily available for you whenever. By using these platforms, you can have a glimpse of both your market as well as your competitors without the need to go out.
2. Answer the theoretical questions posed by your clients
Selling is all about solving the problems of other people. Whatever your product is, you need to make sure that you can meet their demands and satisfy their needs right from the get go.
To get this, you need to ask yourself two questions that can be posed by your buyers, consciously or otherwise:
What's in it for me?
So what?
Abbreviated as WIIFM, this is a question that if answered, can allow you to create certain strategies that will help you convince shoppers to become buyers. It also applies if you're wondering how to sell online.
The first question will help you figure out what your strengths will be as a brand, eliminate your weaknesses or at least reduce their impact, and understand customers even more so you can serve them well.
Meanwhile, being able to answer so what allows you to connect with your customers a little bit more.
Since not every person has the same need or even the same level of demand for certain product, being able to address this will allow you to craft certain business decisions that can meet the specific demands of people.
For instance, this can translate into something like having different serving sizes of your offers or allowing same-day delivery for purchases confirmed before a certain time.
Answering these two will give you a competitive edge over others who haven't fully planned their business as you already try to address things before they even become problems.
Understanding your unique selling proposition through these questions is one of the key things if you're thinking about how to sell online. This will increase your chances of staying afloat.
3. Develop your product line and "star"
Related to the two questions above, your product can make or break you, especially in an increasingly competitive marketplace.
There already are dozens of mediocre products and sellers out there—and the last thing you want is to join them. So how can you avoid becoming an average seller with equally average products?
The secret is in what products you're trying to sell.
There are two ways to approach this: Either you have a brand-new and original concept that no one has ever executed yet or give time-tested classics a twist they badly need.
If you have an original product, your concept must be able to withstand the two questions above. In addition, it will be more difficult to market a new product to others—but we'll get to that later.
Although a brand new item in the market can be a challenge, the payoff will be great when you finally get recognition. And imitators.
Meanwhile, making a variation of beloved classics is easy: it will instantly pique the curiosity of others who already have an affinity to classics.
How do you sell a "star" product online? Some of the most recent innovative products that caught the attention include Kimmy Bakes Bakeshop's ube pandesal and Pop's Original Lumpianiza, among others.
Why is there a need for a unique product? Although you can also sell other things that your competitors offer as well, having even just one standout item on your list will make your menu more appealing to others.
Meanwhile, the unique product will become your signature product and therefore become associated with your brand.
A few examples: Baguio's Vizco's has become synonymous with the strawberry shortcake even if the bakeshop has other items on their menu. Likewise, the Mango Bravo is a product that only Conti's can do.
Both shops have other, more traditional products on their arsenal but having a standout makes them both memorable.
Whatever track you pick, don't be afraid to experiment until you find your award-winning formula. Who knows, the next social media food fad might start from your kitchen?
4. Prepare your capital for your online business
You can have all the great ideas in the world for a solid online business venture. But without any working capital, it will be impossible to manifest your business out of thin air.
Fortunately, there are many ways you can drum up initial funding for your online shop.
How do you get funds to start selling online? Here are some potential sources of capital and what are the advantages and disadvantages of them all:
Capital through savings
If you're savvy with your finances, having a savings account won't be a problem for you. However, chances are your average Juan aren't good with putting money aside for future use.
Although risking your savings can be tricky, this means that you don't have to pay for any interest or have the need to borrow from others.
Personal loan
You might be wondering "why should I avail a personal loan instead of a business loan?" The answer is easy: SME loans are only available for organizations that are already making profit for a while.
Meanwhile, a personal loan can be taken by any person as long as he can prove that they have the capacity to repay the amount with interest.
This is ideal for people who want to pursue an online selling venture as a side gig while still working on their 9-to-5 job.
Borrowing from friends/family
Now, we're only including this because it is a viable source of capital but only use this as a last resort.
For some people, borrowing from relatives or friends can be good option, especially since they can lend you money without interest.
However, the last thing you want is to be a hostage by utang na loob and become indebted to the person who provided you with capital until the end of time.
5. Find some trusted partners and suppliers
If you're worried that you still have to go to meccas like Binondo, Quiapo, or other places to find veritable supplier, then you'll be surprised that you can coexist with them. Fortunately, suppliers are now accessible via Facebook—and you can join their groups to find the right partner for you.
How do you start your search for suppliers? You can simply go to Facebook and use keywords (e.g. supplies, groups, wholesale, direct supplier, etc.) to filter your search. Join these groups and start searching for products within these groups.
When things are much better, the next best thing you can do to find quality wholesalers is to go to trade shows and conventions. These are the perfect avenues for upstarts to expand their network and find new partners who can help you improve your products.
Protip: don't forget to compare prices from different wholesale vendors and try to haggle. Bring out your inner Divisoria shopper even when online.
6. Create a solid plan to market your products
Your online presence is everything. After all, you won't have "Instagrammable" locations that will make customers whip out their smartphones and post them on social media.
Fortunately, you can approach marketing like a pro with these tips on how to market your business online:
Establish your brand's identity and voice. This will serve as the cornerstone for every post, every photo you share.
Create a simple brand book that will contain all the assets you need for your visual needs such as:
Logo (including variations with different colors)
Color palettes
Typography
Taglines
Preset layouts for your posts
Other communication materials
Secure the social media pages for your accounts, especially Facebook, Instagram, YouTube, and Twitter
Create a social media posting plan with a wide variety of posts such as:

Image posts
Testimonials
Memes
Product shots
Trendy photos
When jumping the bandwagon of trendy topics, only do it when you can relate it effortlessly with your brand and it won't sound cheesy or cringeworthy
Join a community such as Facebook groups and share
This is just a simple rundown of your brand's marketing plan. If you want a more in-depth guide to make your online presence stand out, you can find a handful of resources on the internet. But don't overthink it as people can sense if a brand is trying too hard to be relatable—and you will be crucified for it.
7. How to sell online legitimately: Register your business
Just recently, the government called on online sellers to register their business with the government or be slapped with sanctions. Although this was met with widespread criticism, there are many reasons why you should make your business legit.
Why should you go legit? If you're still not convinced to register your business, here are some compelling reasons to do so:
Having a registered business prevents you from being chased by the government for multiple violations such as penalties for unregistered companies, tax issues, and other sanctions
Legitimate online companies can easily transact with other businesses (e.g. bulk orders, special requests, trade fairs, festivals, etc.) that require official receipt from potential partners
When your online business grows and your books finally say that you're making profit, you can finally apply for a business loan and take your venture to the next level
You can take advantage of different government programs for entrepreneurs such as trainings, grants, and other schemes that will help you grow your business further
Take advantage of platforms beyond Facebook Marketplace and Carousell such as Lazada, Shopee, and other ecommerce marketplaces that only accept sellers
Read our comprehensive guide on how to register your online business with the Department of Trade and Industry, Bureau of Internal Revenue, and Social Security System.
When the government finally cracks down on online businesses that do not abide by the regulatory guidelines, you'll thank yourself that your brand is registered.
8. Get your financial solutions ready
Regardless of the size of your online selling gig, you need to set up payment platforms for your venture. After all, you should never mix your personal and business bank account. Just to help you get started, here are some financial tools you need to set up:
A dedicated savings account for your online business, which is from a bank that enables online and mobile transactions
Digital payment platforms tied to your online selling savings account, e.g. PayMaya, GCash, PayPal, etc.
Why should you separate your personal and business bank accounts even if you're only selling your items online?
Aside from preventing you from accessing your selling income for your personal gain, it will also be easier for you to track the money that comes in and goes out of your venture, making you well aware of the condition of your business.
In addition, having a separate savings account will eventually make you more attractive for banks to be qualified for SME loans or personal loans.
9. Pick an ecommerce platform
Now that you're almost ready to go, where do you advertise your products? Currently, these are the ecommerce platforms you can use to get to your audience:
Facebook Marketplace
Carousell
Lazada
Shopee
For Facebook Marketplace, this is most ideal for products that are perishable and easy to market to people, especially food and beverages. It's also perfect for instantaneous deliveries.
Carousell, on the other hand, is perfect for non-perishable goods like office supplies, furniture, apparel, and others.
How to sell online on Shopee and Lazada
As for Shopee and Lazada, they have a strict policy as to what items are permitted and prohibited. Check on their seller guidelines to see if your products are eligible or not.
Keep in mind that these platforms have strict policies in buying and selling so make sure you follow them—or you will lose your platform privileges.
Pro tip: When selling your items on Facebook Marketplace or Carousell, please include all the necessary details such as price, item description, multiple photos, and others. Not only that "PM is the key annoying" but also illegal.
10. Start selling
Congratulations! If you've made it this far, you're definitely ready to sell online!
Just wait for orders to trickle in and just keep on pushing your products out there—and eventually, your tiny online business setup will grow into an empire!