Acts Of Nature, Acts Of God: What You Need To Know About This Car Insurance Coverage
5 min read
A few weeks into the country's infamous rainy season and we've already seen how a small amount of rain can cause flooding.
Aside from the torrential rains brought by the southwest monsoon, Filipinos also must constantly contend with passing typhoons.
According to the Philippine Atmospheric, Geophysical and Astronomical Services Administration (PAGASA), at least one storm will hit the country per month. That's a lot of days your car will spend on waterlogged roads.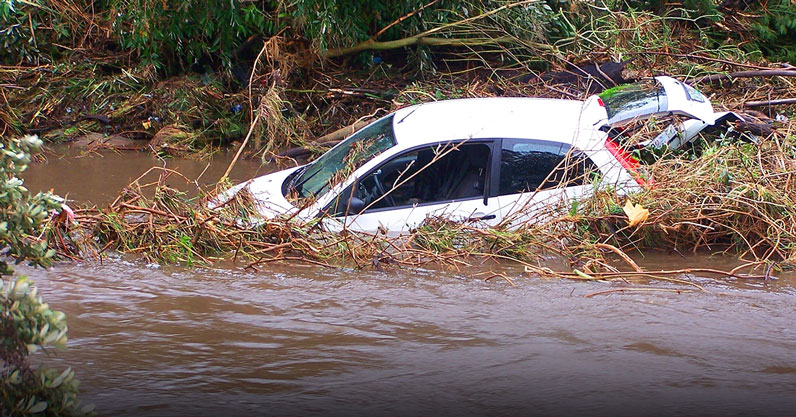 If you're a responsible car owner, you probably have comprehensive car insurance coverage for your vehicle.
Those who want to protect their vehicle from flooding and other types of environmental damage usually avail of an Acts of Nature, sometimes called Acts of God or AOG, coverage on top of their comprehensive insurance.
So what exactly is Acts of Nature insurance?
Acts of Nature, simplified
Acts of Nature is a type of insurance coverage that protects a vehicle from damages caused by natural occurrences.
Some of the catastrophes covered by the Acts of God are as follows:
Typhoons
Flooding
Earthquakes
Landslides
Animal damage
In the Philippines, you cannot purchase Acts of Nature insurance as a standalone policy. Usually, it is offered by car insurance companies as an add-on to your policy, along with comprehensive car insurance for maximum protection.
If you're wondering if Acts of Nature is worth it, let's do the math. Normally, a comprehensive car insurance is around 1-2 percent of the car's total value. If you choose to include Acts of Nature to your insurance policy, your net premium will be bumped up by a little.
For instance, a 2011 Toyota Vios can have a total premium of around P4,305. If you want to get more protection through Acts of Nature, you have to add a little more, which is around 30 percent of the total premium. This will make the total premium around P5,505.
With a few more taxes slapped on your car insurance policy, the total amount of the comprehensive car insurance with Acts of Nature will be around P6,847.
With that amount of premium, you can have the following coverage:
Own damage with theft: P240,000
Bodily injury: P200,000
Property damage: P200,000
Auto passenger personal accident: P50,000 per person (maximum of five persons)
Acts of Nature: P240,000
Why should you get Acts of Nature coverage?
When Ondoy struck in 2009, almost 15,000 vehicles were damaged as the flood brought by the torrential rainfall submerged almost the entire Metro Manila overnight.
A large number of cars were overturned by the flood, much to the disbelief of owners. After Ondoy, the country still saw several intense storms that ravaged the country without mercy.
But it's not just the onslaught of storms that threaten your vehicle. Nowadays, even the slightest monsoon rains can sink parts of the country and make them unpassable to vehicles. Unlucky car owners who have their vehicles parked or stranded in these areas will have to contend with the flood.
Even if a tropical storm doesn't make a landfall in the country, torrential rains brought by the habagat can last for days and cause flooding.
Earlier this month, Typhoon Domeng entered the Philippine space without making landfall. Despite this, it pulled torrential rains that caused flooding in certain areas in Metro Manila.
Although the chances are minuscule, geological disasters like earthquakes and sinkholes are also a threat to your car. An earthquake strong enough to cause trees or lampposts to fall on your vehicle can cause damage to your vehicle.
There are other instances where nature will pull a rug from under motorists. Unfortunately, you can never know when a natural disaster will strike you.
If you want to drive in peace without thinking of the dangers that lurk in every turn, it's best to not skimp on the best protection you can get with your money.
All about Acts of Nature claims
If you have availed of Acts of Nature coverage and want to make a claim, you can follow the standard claims procedure for comprehensive insurance.
However, not every claim you can make under Acts of Nature can be valid. If you want a hassle-free claims process, keep in mind the following:
There has to be an official announcement for respective agencies like the PAGASA, Philippine Institute of Volcanology and Seismology, and other related government bodies
A claim is valid if it happens suddenly and inevitably
Negligence on behalf of the car owner that results in a car sustaining environmental damage will not be covered under Acts of Nature. Some instances considered as negligence are, but not limited to, the following

Driving on a landslide-prone area despite the inclement weather and warnings from authorities about the potential occurrence of a landslide.
Risking it and charging your vehicle in a flooded area even if it already visible that the road is unpassable to vehicles.
Leaving your car windows open and then after a sudden downpour followed by a flash flood, the interior of your vehicle gets damaged by water.

Water damage from man-made sources like pipes and water tanks are excluded in Acts of Nature. However, if one of the calamities such as earthquake or typhoon listed in your policy caused it, then you can file a claim for such damage.
Wild animals, including migratory birds, that will cause damage to your vehicle or cause you to get in an accident are under Acts of Nature.
If a natural disaster caused damage to your vehicle or rendered it as a total loss, prepare the following documents for your claims before you call your insurance company:
Police report
Notarized affidavit
Photocopy of driver's license with official receipt
Photocopy of official receipt and certificate of registration
Photos showing the damage to your vehicle
eCompareMo is the first and only financial site to with a Car Insurance Concierge—one place for policy issuance, renewal, and claims. Call us at our dedicated customer service helpdesk at (632) 856-8856, or chat with us anytime via Facebook Messenger.