The Historical Costs of Volcanic Eruptions In The Philippines
6 min read
Taal Volcano erupted on Sunday (January 12), spewing ash as far as Central Luzon.
While the volcano's lava fountain is reported to have weakened today (January 14), the Philippine Institute of Volcanology and Seismology (Phivolcs) warns us that this can still change anytime today and in the coming days.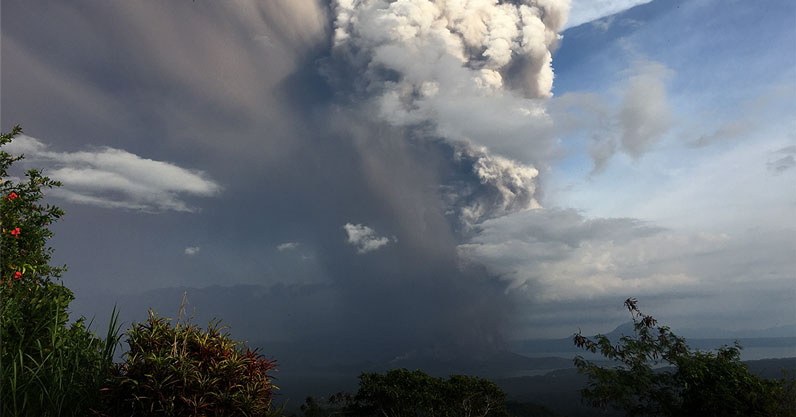 Phivolcs Undersecretary Renato Solidum in a DZMM interview earlier today said Taal volcano continues to spew lava, with smoke and ash reaching up to 2 kilometers.
Earthquakes are still going on, with Phivolcs observing 212 volcanic earthquakes around Taal, and 81 of those with intensities 1-5. These are all expected to continue, with Phivolcs not dismissing the possibility of a bigger eruption.
Solidum added that if this weak activity continues, they might lower the alert level. Currently set at Alert Level 4, he said lowering the alert level is done slowly and deliberately due to the volcano's intermittent and mostly unpredictable eruption patterns.
Economic cost of the current eruption
The last time Taal volcano erupted was in 1977, but is said to have "clearly been restless for a very long time," according to expert in volcanic risk Amy Donovan at the University of Cambridge. Noting the volcanic unrest recorded back in 2011, 2012, and 2014.
In terms of economic cost, authorities are said to be making "quick estimates" since the start of Taal eruptions, as this calamity could affect not only tourism and agriculture, but also the country's overall economic growth.
Finance Secretary Carlos G. Dominguez III said that affected areas in the NCR and the Calabarzon region contribute to 53% of the Philippines' gross domestic product (GDP). NCR made up 36% of the total GDP in 2018, while Calabarzon contributed to 17%. Dominguez said the country loses 1-2% of its annual GDP due to natural disasters, especially with the common occurrence of typhoons every year.
UnionBank of the Philippines, Inc. Chief Economist Ruben Carlo O. Asuncion said the country could lose up to P35 billion because of the Taal volcanic eruption.
In terms of short-term effects, there could also be a sudden increase in prices of commodities due to "temporary food supply constraints."
"This latest natural calamity could lead to some temporary supply and logistical constraints that could result in higher prices of food, agricultural products, fuel, transport and other basic commodities," said Rizal Commercial Banking Corp. (RCBC) Chief Economist Michael L. Ricafort, adding that this could lead to inflation.
(Read: Safety Tips For You And Your Car During Ashfall)
Lava fountaining at Mayon
This isn't the first year in recent memory that one of the Philippine's many picturesque "dormant" volcanoes decided to show its power and unpredictability.
Just two years ago, on January 15, 2018., Philvolcs reported that the Mayon Volcano in Albay showed a "lava fountaining."
This resulted in residents within an identified seven-kilometer danger zone being evacuated as a precautionary measure against an explosive eruption.
An explosive eruption means that the Mayon will start hurling rocks and lava that can go up to 60 kph and cause damage to property and loss of lives. In addition to the devastating damage caused by the volcano itself, the possibility of volcanic mudflow or lahar is also imminent due to the inclement weather.
The last time lava flowed out of the Mayon Volcano was in 2014 and it is considered the most active volcano in the country. But it's not alone. Among the 50 volcanoes in the Philippines, 23 of them are listed as active by the Phivolcs.
With the Philippines situated atop the Ring of Fire, earthquakes and volcanic activities are pretty much common. What is the cost of a volcanic eruption in the country and how do we rebuild from the ashes left in the wake of nature's most cataclysmic force?
(Read: In Case Of Emergency: Where To Get Calamity Loans And How To Apply For Them)
The rock of ages
In 1991, Mt. Pinatubo erupted, claiming lives and damaging property in the Central Luzon region. The effects of the volcano's eruption were made worse by the fact that the eye of Typhoon Diding was also passing near the area, bringing heavy rain that caused volcanic mudflow known as lahar. The ashfall and lahar buried entire communities, causing structures to collapse under their weight.
According to the United States Geological Survey, the devastation brought by the 1991 Pinatubo eruption caused the following damages in terms of amount per sector:
Agriculture
Crops – P547 million
Fisheries – P165 million
Sugarcane – P57 million
Livestock – P10 million
Trade and industry
Assets – P851 million
Production – P454 million
Capital investment – P424 million
Processed food – P97 million
Houseware – P60 million
Furniture – P156.5 million
Military
Military facilities – P3.8 billion
Natural resources
(Read: What To Do In Case Of A Disaster While Traveling Abroad)
To rebuild what was lost after the eruption of Pinatubo, the government spent the following amount to restore Central Luzon to the way it was before 1991:
Resettlement
Indigenous people – P349 million
Lowlanders – P1.689 billion
Livelihood programs
Bamboo development project – P80 million
Agricultural rehabilitation program – P197.4 million
Agricultural development program – P615 million
Productivity centers – P1.12 billion
Integrated cattle fattening program – P120 million
Integrated poultry livelihood program – P40 million
Deep sea fishing – P58 million
Financing programs – P3.718 billion
Basic social services
Relief services – P370.5 million
Health and nutrition services – P367 million
Agricultural development program – P615 million
Infrastructure rehabilitation and reconstruction
River systems rehabilitation and improvement project – P2.9 billion
Reconstruction and rehabilitation of roads and bridges – P1.5 billion
Development of alternate routes in Capas-Botolan Road – P537 million
San Fernando-Dinalupihan Road – P1.4 billion
Angeles-Porac-Floridablanca Dinalupihan Road – P169 million
Rehabilitation of damaged schools and public buildings – P982 million
Mobile health facilities – P40 million
Repair and rehabilitation of damaged of damaged national and communal irrigation systems – P228.6 million
Rehabilitation of railway facilities – P70 million
Money = movement
Mobilizing evacuation efforts in the event of a potential volcanic eruption also requires some serious cash.
Albay makes it a point to be prepared for both the potential onslaught of the Mayon Volcano and the annual storm season. In 2009, the volcano in Albay showed signs of activity that prompted former governor Joey Salceda to mobilize and evacuation program.
According to reports, the amount spent by the local government during the 20-day evacuation period in 2009 reached up to P1.5 million daily. This amount doesn't include the damages to schools used to house refugees. That reached P9.2 million. Another P17 million was estimated to be the cost of agricultural inactivity caused by the evacuation.
The real cost of volcanic eruptions
While the cost of volcanic outburst is easily quantifiable, one element in this is priceless: human lives. This is why the government mobilizes the military and other organizations to make sure that the safety of the citizens is top priority over anything else.
During the 1991 Mt, Pinatubo eruption, the death toll was 847. According to reports, most casualties were trapped by structures that had collapsed under intense ashfall.
While the Mt. Pinatubo eruption is the deadliest volcano eruption in recent history, there are other earlier eruptions that resulted in even more human casualties.
In 1911, Taal Volcano in Batangas erupted. The damage to property was extensive and the estimated number of people killed during this event was 1,335. Based on historic documents, some villages affected by the explosive outburst were totally obliterated, leaving no survivors behind.
It's still Mayon, however, that is thought to be the deadliest volcano in Philippine history. Back in 1814, Mayon erupted and killed 12,000 people. The force of this eruption is estimated to have been as destructive as the eruption of Mount Vesuvius in Pompeii.
News reports in 2014 suggested that the Mayon is long overdue for an eruptive activity since experts say that the volcano becomes violently active every 100 years or so. Although no one can predict when exactly it will erupt again, we can only stay vigilant and be ready to move at both the local and national levels when it does.—with additional reports from Kristel Serran
Other Sources: Asian Disaster Recovery Center, Rappler, GMA Network