Vehicle Classifications Guide: Which Segment Does Your Car Really Fall Under?
5 min read
When it comes to vehicle classifications in the Philippines, there is a gray area on whether the basis should be engine displacement or body type.
Although there are scores of cars available in the Philippine market right now, the truth is we don't have our own way to classify the cars we allow on our roads—yet.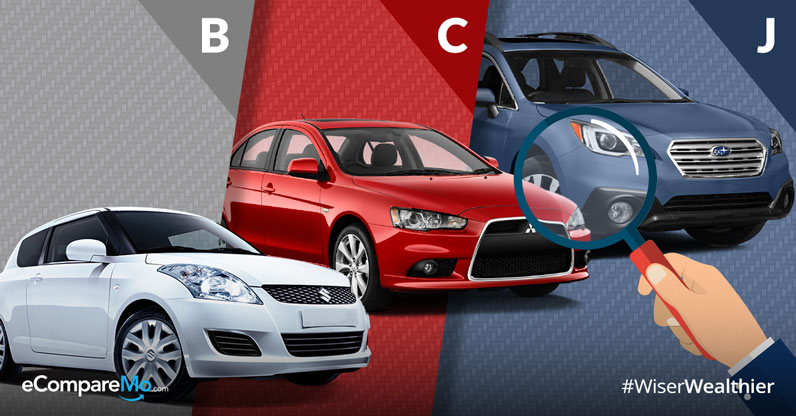 Countries like Japan and India have their own classification systems, which veered from the more traditional taxonomy. In these parts, here are the conventional means by which vehicles are classified.
According to body configuration
Currently, most people classify cars based on their body configurations. However, the number of terms you have to remember can often result in confusion among buyers, especially when you start to file them with their subcategories.
Regardless, these are the most basic car types in the Philippines based on their body configuration:
Hatchback
Sedan
Multipurpose vehicle (MPV)
Sport utility vehicle (SUV)
Pickup truck
Coupe
Station wagon
Vans
Keep in mind those are just the tip of the iceberg. In some cases, if the brand is costly, it considered and called a "luxury vehicle." For added prestige, people then append the term "luxury" to the body type. After all, you can't refer to a Maserati Ghibli as just a sedan.
(Read:  The Ultimate Guide To Getting Car Insurance In The Philippines)
To further complicate our current way of looking at cars, we also have to include their sizes. Did you know that there are "compact" SUVs and they're different from mid-size to full-size SUVs? Confusing, right?
To help you understand things better, we tried to classify sedans and SUVs, two of the most popular body types among car buyers, based on their size in their respective classes:
Sedans
Subcompact sedans
This is probably the most commercially attractive type in the segment, coming with all the basic features of the sedan but taking up less space.
Examples: Toyota Vios, Honda City, Mitsubishi Mirage G4, Kia Rio Sedan.
Compact sedan
A little bit above their subcompact brethren, these sedans offer slightly better performance, more room for passengers and cargo, and other upgrades. Most of them will also not go beyond an engine displacement of 2.0L.
Examples : Toyota Corolla Altis, Honda Civic, Mazda 3, BMW 3 Series.
Full-size sedans
Stylish from the inside out, these sedans are a cut above the rest with more premium features like better legroom, longer wheelbase, luxurious functionalities. They're also gas guzzlers though.
Examples : Toyota Camry, Honda Accord, Mercedes-Benz S Class, BMW 7 Series, Hyundai Genesis G90.
Sports utility vehicles (SUVs)
Subcompact SUVs
Also called crossovers, these tiny SUVs fare better than your standard small cars with a higher ground clearance, more powerful engine, and all-terrain setup.
Examples : Nissan Juke, Mini Countryman, Suzuki Jimny, Honda BR-V and HR-V.
Compact SUVs
They tend to have a bigger engine, bigger cargo space, foldable seats for more room, and higher ground clearance.
Examples : Honda CR-V, Nissan X-Trail, Mitsubishi Outlander, SsangYong Korando.
Mid-size SUVs
With better room for both front and back passengers, higher ground clearance, longer wheelbase, and larger frame in general. In addition, they can accommodate up to seven passengers without much hassle.
Examples : Toyota Fortuner, Ford Explorer, Chevrolet Trailblazer, Kia Sorento, Isuzu Trooper.
Full-size SUVs
If you want the longest, roomiest, most opulent SUV available go for the full-size. Mostly sold as more premium units, these behemoths are equipped with everything that says "I have money and I don't care."
Examples : Toyota Land Cruiser, Nissan Patrol, Ford Expedition, Chevrolet Suburban, Mitsubishi Pajero.Confusing, isn't it?
Keep in mind that we still haven't gone to other vehicle types. If we're going to adopt a new system to classify our vehicles, maybe it's about time we look past the brands and body type and merely look into their sizes.
According to segment producer
In 1999, the European Commission came up with a brilliant idea that changed the way the classified their vehicles.
Instead of a car taxonomy based on body type, the number of passengers, or brand, they categorized them based on their size. Even the names for the categories are simplified to one letter for easier remembrance.
(Read:  7 Upcoming Cars We Wish To See In The Philippines In 2018)
Although we're not part of the European Union, maybe it's time we try to narrow our car classes down to a few. Here is how the Euro Car Segment works and the examples that we have locally:
| | | |
| --- | --- | --- |
| Segment | Car Size | Examples |
| A segment | Mini cars | Kia Picanto, Suzuki Celerio, Hyundai i10, Chevrolet Spark, Toyota Wigo |
| B segment | Small cars | Ford Fiesta, Kia Rio, Suzuki Swift and Swift Dzire, Mitsubishi Mirage, Hyundai Accent |
| C segment | Medium cars | Audi A3, Subaru Impreza, Honda Civic, Volkswagen Golf, Mazda 3 |
| D segment | Large cars | Subaru Outback, Toyota Camry, BMW 3 Series, Honda Accord, Mazda 6 |
| E segment | Executive cars | Hyundai Genesis G90, Volvo V90, Audi A6, Mercedes-Benz E Class |
| F segment | Luxury cars | Jaguar XJ, BMW 7 Series, Maserati Quattroporte, Mercedes-Benz S Class |
| J segment | Sports utility cars | Ford EcoSport, Honda CR-V, Hyundai Santa Fe, Toyota Land Cruiser |
| M segment | Multi-purpose cars | Toyota Avanza, Kia Carnival, Toyota Hi Lux, Nissan Navara, Toyota Alphard |
| S segment | Sports coupes | Toyota 86, Ford Mustang, Audi R8, Mazda MX-5, Jaguar F-Type |
What makes the Euro Car Segment friendlier compared to other types of classification? According to the decision by the European Commission, traditional segmentation of cars have been blurred by a lot of factors such as size, accessories, and features.
To take them back to their simpler roots, a vehicle should be classified based on its size, streamlining the categories into simpler, easier to understand ones. Superficial information like price point, brand, trim, and other irrelevant information won't matter.
If the Philippines will adopt this, then it will be easier for Filipinos to pick from a wide list of cars. They can just check their needs and see if a certain segment can deliver.