13 Ways To Burn Your 13th Month Pay
7 min read
For employed individuals, December is the richest time of the year. There's the 13th month pay, company freebies, and, for some, an added Christmas bonus, too.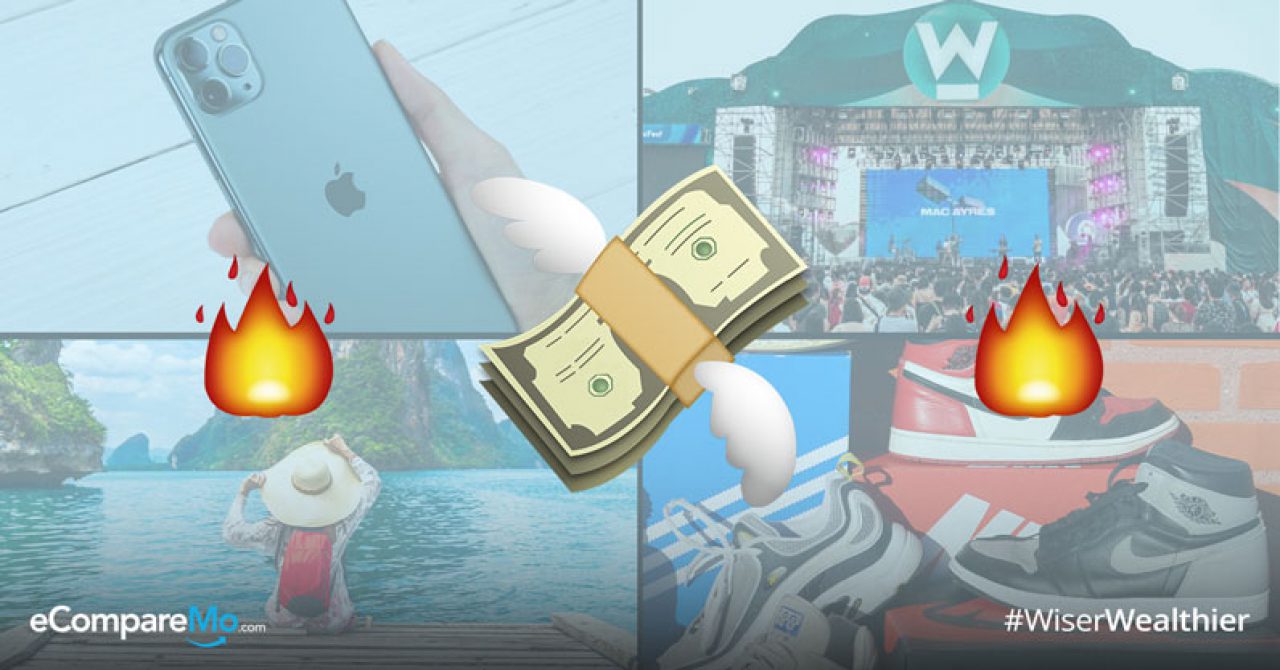 In honor of this season of blessings, we're giving you an insight on how terribly easy it is to make your 13th month pay vanish.
Disclaimer: We are not responsible for any sort of bankruptcy at the start of 2020. Read at your own risk!
1. Buy the iPhone 11 Pro
Go for the classic move and partake in "The Annual Purge," or the growing trend of discarding perfectly functional smartphones for the latest one.
Buy the iPhone 11 Pro. You know you want to. It's only fitting to have the new and arguably the month's best phone to tweet and repost how much you believe in simplifying your life and spend for experiences, not stuff – right?
2. Concerts, shows, and events
Speaking of spending for experiences…
The most recent announcement of a "not to miss" event for 2020 is Dave Chappelle's standup comedy act on January 14-15, at the Solaire Resort. This caught the fans off guard, especially those that have already set a budget for their 13th month pay.
The ticket prices range from P5,000 to P25,000 with the cheaper tickets already being sold out.
There's also Jo Koy's Just Kidding world tour. It's actually on the same dates as Chappelle's show but in different venues. The first one will be held in Cebu on January 14, and at the MoA Arena on January 15.
The ticket prices for Jo Koy are different too. It's actually so much more affordable for the Jo Koy fans to see him live, as ticket prices range from P1,750 Gen Ad, to P7,500 VIP.
And as for music, where do I even begin? There's just so many lined up, but we can start with the big ones.
There's Slipknot on March 29, with their most expensive ticket playfully sold at P6,660. Then there's Iron Maiden headlining the 2020 Pulp Summer Slam on May 16, 2020.
Two-day event Wanderland Music and Arts Festival on March 8 will bring the biggest and indie pop artists of the time, such as Sabrina Claudio, Ari Lennox, and Foals. The big local bands Ben & Ben, and IV of Spades are also going to be there.
Millennial Avril Lavigne fans are also set to have a ball with her concert announcement. Her Head Above Water World Tour will come to Manila on May 20, at the Araneta Coliseum.
Tickets for Lavigne's show go on sale on December 21, 2019 and these are the advertised ticket prices:
VIP – P8,925
Patron A – P7,875
Patron Box – P6,825
Box Premium – P4,725
Box Regular – P3,675
Upper Box – P2,625
GA – P1,050
(Read: 13th Month Pay Vs. Christmas Bonus: Know The Difference)
3. New Drip
Of course, having this much money in December might also get spent on stuff to reward yourself. This is especially good for people who practice the delayed gratification mindset. Walk through 2020 more confidently with some of these expensive shoes you can splurge on.
Adidas Ultraboost 20 – P9,500
Nike React Presto – P6,295
Air Jordan 11 Bred – To be announced
4. Roundtrip ticket to (insert your top dream destination here)
Of course, if we had our way, we would be traveling to our dream destinations next year. Make that a reality by spending some of your 13th month pay booking flights to your dream 2020 destinations. Remember, early-bird bookings will get you the cheapest flights—or you can set some money aside and wait for airline promos.
Maybe you can finally tick off "Aurora Borealis sighting" on your bucket list this 2020? How about that Southeast Asian backpacking trip your soul has been craving for? Or, let's not be strangers in our own country and check out local gems like Siargao, Batanes, and more. Make the most of your fat bank account this December. And by the way, always have enough budget to get a travel insurance on all your trips, whether local, or international.
5. Condo down payment
As far as burning money goes, this doesn't really cut it, as you're going to be making a huge investment. But, who doesn't dream of having a place all their own? If your bonus leaves you with an extra, say, P40,000 to spare, why not start looking at and investing in a property of your own?
Pre-sold condos have more affordable down payment options, as the turnover time may still be in a few years. Talk to a trusted real estate broker to get more details or do your own research to find the ideal condo unit. Oh, and don't forget to evaluate your finances and make sure that your monthly budget in 2020 can accommodate this investment.
(Read: 5 Important Things To Look For When Buying Your First Home In The Philippines)
6. Makeup haul
New year, new look, why not?
There are so many new releases to name this 2019, and you surely have some new makeup line you've been dying to try.
There are the time-tested MAC makeups, and of course, just about everything you can get your hand on Benefit products.
There's sure to be a lot of sales and bundles available from all your favorite and skincare lines this month. And if you feel like you need a skincare upgrade, now is the time to do just that.
7. For the high-functioning alcoholic
Ever the lavish drinker, of course, you wouldn't want to pass up the chance to burn money—and your throat. We went on Boozy and came up with a little price list of those high-class spirits you might not usually drink, but want to try over the holidays.
Suntory Yamazaki "Watami President Choice" 12-Year-Old Japanese Whisky 660ml – P28,999
Dom Pérignon Brut 750ml – P10,699
Moët & Chandon Ice Rosé 750ml – P4,499
8. Hi-fi stuff
Because 13th month is life, but good music is lifer — I mean, life changing. These are all prices taken from Lazada.
Bose SoundSport Free Wireless Headphones – Black — P16,500
Motorino MK. III — P8,499 (Source: Satchmi)
Pioneer DDJ-400 DJ Controller — P19,990
Novation Launchpad Pro 64 Pad — P35,354
9. Food
We can't get that money and spread the holiday cheers without even thinking about food, can we?  Now is the time to indulge for real. You've survived another year, so think about all the food you can eat with all the money you got. Take a look at all these hotel and buffet promos for December, so you can all indulge, at a discount.
10. Travel essentials
And since most people are already planning their 2020 trips as early as now, here's a list of a few travel essentials that you can spend your money on. They're truly worth it.
GoPro Hero8 Black  – P23,990 (Lazada)
Osprey Atmos AG 50 Backpack – P16,388 (Lazada)
Also, to help you out in your travel plans, here's a list of holidays for 2020. You're welcome!
11. Appliances
Maybe you want to gift your mom an automatic washing machine, and your dad a brand-new flat screen TV. Either way, you might want to use your big wad of cash this month to get the appliances you've always wanted.
These big-ticket purchases would be so convenient for credit cardholders though, because they can avail of the 0% interest installment plans of banks.
Given that you buy at your bank's partner establishment, credit cards allow you to pay these more expensive items in installments at zero interest. You also get to choose the payment period, say from 3 to 12 months. This makes it easier for you to manage and budget your 13th month pay. Some installment plans even go up to 24 months.
(Read: How To Save Money When Buying Big-Ticket Items)
12. Gadgets
If you really want to save more money, you can ask friends from nearby countries as Thailand or Singapore if they have it cheaper there, and get it sent to you. In here though, you can also make use of your credit card to pay for these gadgets at 0% interest.
13. It's all up to you
We can only give you so much advice on where to spend your money, but in reality, it's all up to you. So go easy or go big—just know that your spending decisions now may affect how long your January and the next few months are going to get. You know, in terms of budgeting and getting by.