Where To Go: 2019 Christmas Shows In Manila
5 min read
Christmas is a time of giving, but this doesn't mean you should be breaking your bank accounts just to enjoy it.
In the thick of holiday gift guide lists circulating the internet, here's a game changer. We have compiled a list of the ongoing Christmas shows around the metro to remind you that the merriest season is not just about gift-giving, but also a fun and memorable celebration for the whole family.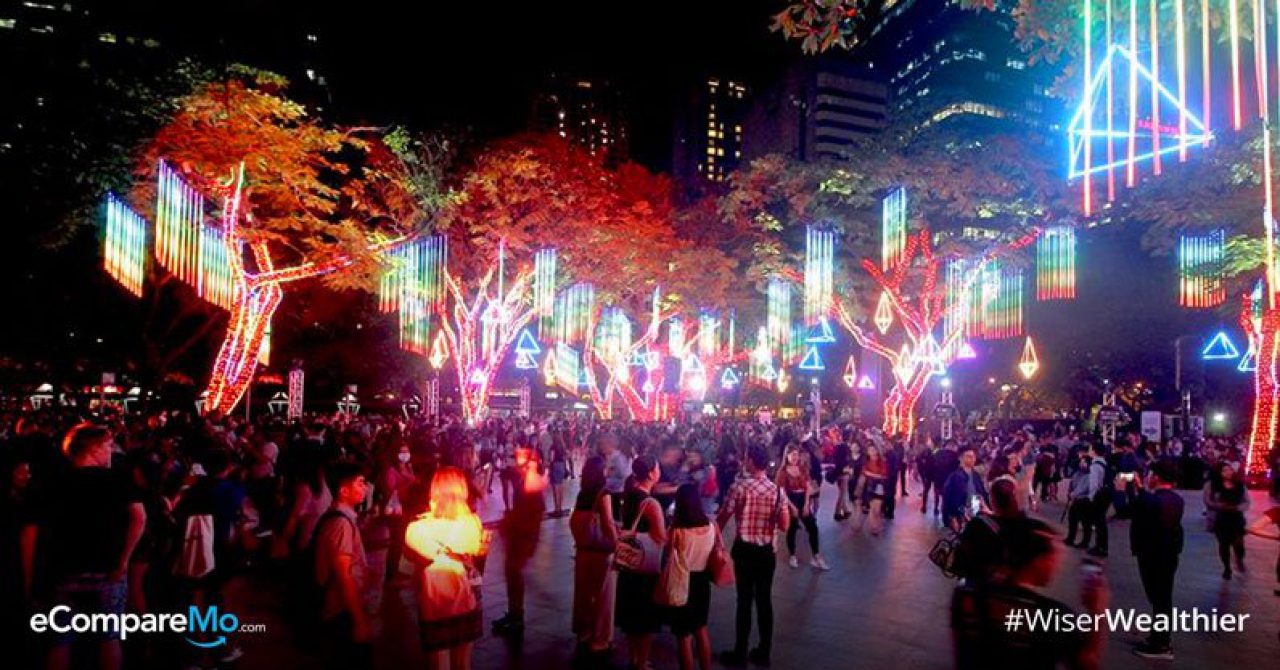 Check out these photo-op worthy Christmas attractions this 2020.
1. A Very Merry Christmas in Makati
Experience Christmas around the world feels! Head over to Century City Mall Makati and check out their activities and events lined up for the whole month of December.
Until December 25, 2019, every payday weekend (Friday and Saturday) from 6 PM to 9 PM, you will be serenaded by various groups and organizations with Christmas carols that'll heat up the start of the season.
Pet owners dressing up their furry friends in the cutest holiday costumes can also enjoy Century City Mall's 25 Days of Cookie Giveaway and A Christmas Boop Treat from December 1 to 25, 2019.
Regular shoppers can get up to 10% worth of rebatse as well as other exciting prices.
There will also be an ongoing Simbang Gabi at the mall's Padre Pio Da Pietrelcina Chapel from December 15 to 23, at 8 PM.
2. Flight of Lights at SM Aura Premier
Get your cameras ready, and pose for the best photos at SM Aura Premier's Flight of Lights featuring lively and colorful displays and events that will run until January 7, 2019.
From December 1 to 8, 2019, guests will be entertained by choral performances under a 33-foot Christmas tree adorned with opulent feathers and golden eventails at SM Aura Premier's main atrium.
On December 6 and 7, the whole family can enjoy a workshop called Letters to Santa, as well as a meet and greet on December 24 and 25.
Marvel at their interactive light displays featuring a giant phoenix and a golden bird cage. If you're already amazed just by reading this, wait until you see the giant bird emerge and fly above your heads!
Make sure to go see the mall's Skypark, located at the fifth floor. See the place light up, surrounded by glowing swings in vivid colors, mimicking the flight of fireflies.
3. A Frozen Magical Christmas
A winter wonderland here in the Philippines? Yes!
Visit SM City North Edsa's Frozen Magical Holiday display located at The Block Atrium. A 45-foot snowflake Christmas tree illuminated with sparkling lights that will definitely give you the winter wonderland feels.
You can wander through the birch tree lighted enchanted forest and towards the ice trail of light changing snowflakes mood room.
Gather the whole family and have a frozen-ish holidays at SM North EDSA's Frozen Magical Christmas exhibit. The display will run until January 5, 2019.
4. Let the Sky Garden Glow
Calling all kids and kids at heart! If you want to grant your kids' wish to see Santa Claus for real, check out SM City North Edsa's A Magical Science Show by Nutty Scientist on December 14, 2019.
You can share your heart's desires and have a Meet and Greet with Santa for a limited time, on December 8, 15, 22, and 25.
Check-out the Sky Garden to witness a 75-foot giant firefly Christmas tree surrounded by neon light snowflakes, and a stunning day of the Christmas countdown arch.
Mark your calendars and get yourselves ready because on December 6, 13, 20, and 27, the Sky Garden will also light up your holidays with a majestic firework display.
5. Ayala Triangle Gardens' Gallery of Lights
Ayala Triangle Gardens' Gallery of Lights has been going on for decades now. This show signals the start of a festive holiday season in the always-busy Makati CBD.
The entire stretch of Ayala Avenue is illuminated by fascinating ornaments and light installations, often highlighting the craftmanship of various Filipino artists.
Be amazed by the cultural theme and traditions represented by the light display. The laser lights show will run from  6 PM to 10 PM daily until January 12, 2020.
6. Ortigas East Christmas Street Musical Light Tunnel
Imagine kickstarting the holidays by listening to your favorite Christmas carols playing alongside an enchanting light display. It's all possible at the Street Musical Light Tunnel at Ortigas, open to the public daily, from 6 PM to 10 PM until January 5, 2020.
But wait, there's more! They have also gathered your favorite Filipino street foods all in one place.
The best part is, they are focused on eco-friendly and sustainable standards. Bring your own utensils so you can enjoy the lights and music show, all while savoring your all-time favorite Filipino street foods.
The StrEAT Food night bazaar will be open alongside the Street Musical and Light Tunnel from 6 PM to 10 PM until January 5, 2020.
7. A Grand Holiday Parade at City of Dreams Manila
City of Dreams Manila will be staging its grand holiday parade every Saturday and Sunday for the whole month of December, including the 24th, 25th, as well as January 1st, every 5 PM.
The parade will cover your favorite DreamWorks characters joined by a magical entourage of animated Christmas ornaments. So gather the whole family and experience a spectacular holiday festivity at City of Dreams Manila.
8. Laser Light Symphony at Greenhills
Greenhills will be launching its first ever Laser Light Symphony in celebration of the Christmas season this 2019. The show will be running until January 5, 2020 at the G-Strip parking area.
There will also be a Christmas night market in the area so get ready to enjoy and shop until you drop!
9. Pasko sa Palacio
Palacio de Memoria will be having its first ever holiday-inspired event which will be featuring various festivities of our country's glorious past.
On December 7, 2019, the Palacio together with the Parañaque City Tourism Division, will be setting up a music and dance fest highlighting songs and folk dances practiced in many parts of the country during the Simbang Gabi season.
Celebrating the season has never been this fun. Get ready to dance through the night while remembering the Philippines' colorful history all at the same time.
10. Gift of Wonders at Tiendesitas
Tiendesitas will be starting off the season right with their Gift of Wonders, a bigger-than-life Christmas display installation that will awaken the gift-giving spirit this Christmas season.
Come and visit Tiendesitas, and immerse yourself in the holiday spirit. The display will run until January 5, 2020 at the Food and Pet Village area of Tiendesitas.
Other Sources: The Philippine Star