10 Best Budget Museums In Manila
6 min read
Feel like channeling the inner culture vulture or nerd in you? This National Arts Month, why don't you take a break from malls and beaches and head to an art or science institution near you?
Be reminded of your roots, get a refresher on Philippine history, or be entertained with science with your friends and loved ones. Here's a list of the best museums in Manila worth your every visit.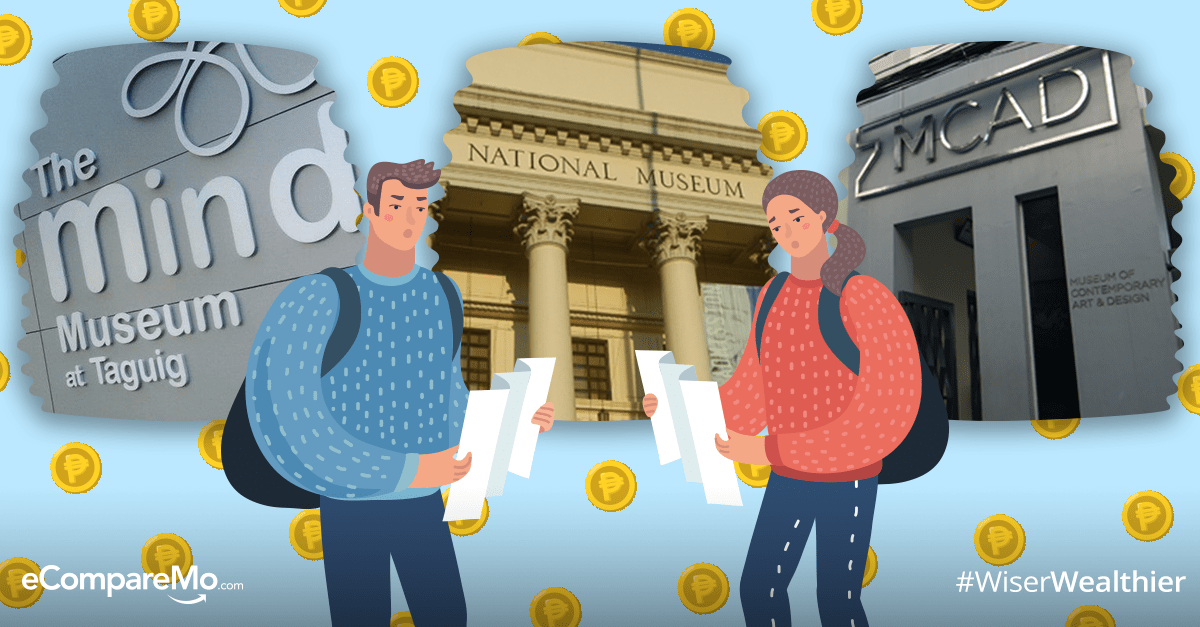 You might need a full day trip to truly appreciate the displays in these halls. And since the entrance fees to these budget Manila museums won't burn a hole in your pocket as much as, say, a movie, you can always go back, or visit a new one whenever you feel like it.
1. National Museum of the Philippines
Where : Padre Burgos Ave., Ermita, Manila
Operating Hours : Tuesdays to Sundays, 10 a.m. to 5 p.m.
If you want to get to know your Filipino roots and history, the National Museum of the Philippines is one of the best places to start exploring.
The National Museum houses the four flagship museums of the Philippines, namely the National Museum of Fine Arts, National Museum of Anthropology, Natural History, and the Planetarium.
The grand hall of the National Museum of Fine Arts is where you will find what is arguably it's most famous exhibition piece, Juan Luna's Spoliarium . You will also see the works of other National Artists such as Vicente Manansala, Fernando Amorsolo, and the sculptures of Guillermo E. Tolentino.
You'll find that a single visit is not enough to truly explore this place, as there's so much to see and learn. The good thing is that it now has free entrance for all, even foreigners.
2. Mind Museum

Where : J.Y. Campos Park, Third Avenue, Bonifacio Global City, Taguig, 1634
Operating Hours: Tuesdays to Sundays, from 9 AM to 6 PM
Feed your curiosity at the Mind Museum, the Philippines' first world-class Science Museum. This place is great for kids and families.
There are five main galleries and interactive exhibits to explore at the Mind Museum. There's the Hall of Philippine Science where you can learn about world-renowned Filipino Scientists and the Spaceshell where you can lie back on memory foam while gazing into the artificial night sky and learning about the planets, the stars, and extraterrestrial life.
Regular rate is P600 for adults, P450 for students, and P150 for Public School students and Teachers, all for three (3) hours . But the Mind Museum currently has a February promo. From February 1 to 28, you can avail of P1600 all-day pass for two persons, and P2760 family pass for four.
3. Yuchengco Museum

Where : RCBC Plaza, Corner Ayala Avenue and Senator Gil J. Puyat Avenue, Makati, Metro Manila 1200
Operating Hours : Monday to Saturday, from 10 AM to 6 PM.
For those living in or visiting the Makati area, the Yuchengco Museum is conveniently located inside the RCBC Plaza. It's a great place to see and learn more about art.
The Yuchengco Museum is privately owned and holds a collection of works from National and International artists alike. Though relatively smaller compared to other museums in Manila, the entrance fee is only P100 for regular visitors and P50 for senior citizens.
4. Metropolitan Museum of Manila
Where : BSP Complex, Roxas Blvd, Malate, Manila, Metro Manila
Operating Hours : Monday to Saturday, at 10 AM to 5:30 PM
If you really want to know more about Filipino artists past and present, the Metropolitan Museum of Manila is the place to go.
The Met, as it is also called, holds a world-class gallery of Filipino art, from the 8th century to present . They also have exhibits of pre-colonial gold ornaments and pottery , bought by Bangko Sentral during the Marcos administration. Two of their long-term exhibitions are the 'Classical Philippine Goldwork of the 8th to the 13th Century', and the 'Classical Philippine Pottery of the 8th to the 13th Century'.
The entrance fee only costs P100 for regular guests and P80 for senior citizens and persons with disabilities. Guided tours can be booked ahead for P500 per person.
5. Museum of Contemporary Art and Design (MCAD) Manila
Where: Ground Floor, Benilde School of Design and Arts Campus, Dominga, Malate, Manila
Operating Hours: Tuesday to Saturday, from 10 AM to 6 PM.
The MCAD is owned by De La Salle – College of Saint Benilde (CSB). The exhibits and programs at the MCAD are designed to be in line with the courses offered at CSB: film, fashion design, animation, multi-media, photography, architecture, as well as music production.
MCAD produces exhibitions in collaboration with both local and International artists and curators. It allows both CSB students and the general public to experience contemporary artworks .
Admission is free for everyone.
6. Casa Manila Museum
Where : Plaza San Luis Complex, Cor. Real and Gen. Luna Sts. Intramuros, Manila
Operating Hours : Tuesday to Sunday, from 9 AM to 6 PM
The Casa Manila Museum is two-story house decorated with 19th-century furniture, donated by different sources.
This carefully preserved house gives visitors a glimpse into life during the Spanish Colonial era . There is also a café and a souvenir shop right at the museum.
The entrance fee costs P75 for adults, and P50 for senior citizens .
7. Rizal Shrine
Where : Fort Santiago, General Luna Street, Intramuros, Manila
Operating Hours : Monday to Sunday, from 9 AM to 6 PM
The Rizal Shrine is located in an area that the Spanish used as a military fortress. Filipino and American prisoners of war during the Spanish colonial period were held here.
Perhaps the most famous prisoner here was Philippine National Hero, Dr. Jose Rizal . Rizal was spent his last days here before ultimately being sentenced to death by firing squad in nearby Luneta.
You can the rooms where Rizal was imprisoned and tried here, as well as memorabilia and personal belongings – including copies of his novels Noli Me Tangere and El Filibusterismo.
The entrance fee to Fort Santiago only costs P75 for regular visitors .
8. Museo ng Katipunan
Where : 29 Pinaglabanan St., Brgy. Corazon De Jesus, San Juan City
Operating Hours : Tuesday to Sunday, 8 AM to 5 PM
This is the place to go to know more about the anti-Spanish revolt led by the Kataastaasan, Kagalanggalangang Katipunan ng mga Anak ng Bayan (KKK).
The place has documents, weapons, and even amulets of the Katipuneros displayed in interactive exhibits, which makes it a great place for everyone to learn about this part of history.
The Museo ng Katipunan also has an e-Learning room, and an augmented reality feature with visual and sound effects, just some of the features in the museum that gives visitors the interactive learning experience.
There's no entrance fee to Museo ng Katipunan.
9. Calvo Museum
Where : Muelle Del Banco Nacional, Binondo, Manila, Metro Manilachitecture
Operating Hours : Monday to Friday, 9 AM to 5 PM, and Saturday from 9 AM to 12 PM
You may have already walked down the heritage site of Escolta and considered it a trip down Old Manila, but it's going to Calvo Museum that completes your Manila history visit.
If you want to know more about Manila during the Spanish colonization , the Calvo Museum will take you back in time with all their memorabilia.
Entrance fee for adults is P50 and P20 for students.
10. Pinto Art Museum
Where : 1 Sierra Madre St. Grand Heights Rd, Antipolo, Rizal
Operating Hours : Tuesday through Sunday, 9 AM to 6 PM
The Pinto Art Museum is a little further than the other museums on this list — located about an hour away from Metro Manila. But this is one museum that's definitely worth a visit for all its contemporary art exhibits .
The exhibits aren't the only draw at Pinto, however. The museum buildings are a lovely mix of rustic and Mediterranean-inspired interiors, making it an Instagrammable place perfect for families, friends, and couples to explore.
The entrance is only P200 per head for adults . They also have an in-house restaurant you can lounge in after going through all the displays.